Wondering what vegan gifts to get your vegan (or non-vegan) friends and family? Looking for the best vegan gifts for her (or vegan gifts for him), but no clue where to start? Whether you're searching for vegan birthday presents or Christmas gifts for vegans, I've got suggestions for good gifts for vegans for every occasion. Here are more than 101 gifts for a vegan, whether they're a foodie, traveller, chef, sports enthusiast, fashionista or techie. (And if you're not sure what their interest areas are, I have some suggestions for anyone out there.) Just click on the links below in the menu to be taken to the section for that interest area. I've got you covered with more than a hundred ideas of gifts for vegan loved ones.
Gifts you shouldn't give
What Shouldn't You Give a Vegan?
Vegan gift giving needn't be complicated, but it can be. Especially if you know and love a vegan but aren't sure what to get them or even 100% certain what is and isn't vegan. Vegan gift giving can be fraught because so many seemingly innocuous products aren't vegan — like that shower gel you always used to buy Anton before he went vegan, or the sweater you found that would be perfect for Susie, except it contains silk.
Here's what you should never buy a vegan:
Non-vegan food (food that contains meat, fish, eggs, dairy, honey, gelatin, whey or other animal-derived ingredients)
Makeup that has been tested on animals or that contains non-vegan ingredients (frequently used non-vegan ingredients include lanolin, beeswax and carmine)
Bath and body products that have been tested on animals or that contain non-vegan ingredients
Clothes made out of fur, leather, wool or silk
Coats or bedding made with down or feathers
Jewellery made with leather, feathers or pearls
Homewares made with bone china
Candles or other items made with beeswax or other bee products
Non-vegan wine, champagne, beer or cider – that's right, some alcohols aren't vegan as some brands are filtered through egg whites or fishbladder. Find out which ones are vegan on Barnivore.
If you're vegan…
If You're Vegan…
Help! I'm a vegan and I don't want to get non-vegan gifts!
On the other side of the coin, if you're vegan it can be incredibly awkward to receive presents that aren't vegan. We all want vegan presents that we can appreciate and use, so take the time to educate your friends and family about what is and isn't vegan, or give them some suggestions of what you'd like to receive (by forwarding this list, for example!).
You could put together a list of what you'd like, whether that's a vegan travel guidebook for your next trip, a vegan snack box or a vegan online cooking class. Make it easy on your family and friends to buy you vegan gifts you'll love.
And Cadry's got you covered on how to deal if you do end up receiving a non-vegan gift.
What to get a vegan
What to buy a vegan then?
Need vegan present ideas? No matter whether the vegan (or non-vegan) in your life is a food lover, an avid fitness enthusiast, a travel lover or fashionista, you'll find vegan gift ideas for them here.
Click on the menu items above to see the best gift ideas for vegans in each interest area. Searching for vegan gifts UK or US wide? Clicking the Amazon links to products will take you to the Amazon page for your country. :)
Looking for vegan gift baskets? Click here to see my guide to the best vegan gift baskets!

Vegan Gifts
Vegan Gifts
Popular Vegan Gifts
Bestsellers/Most popular vegan gifts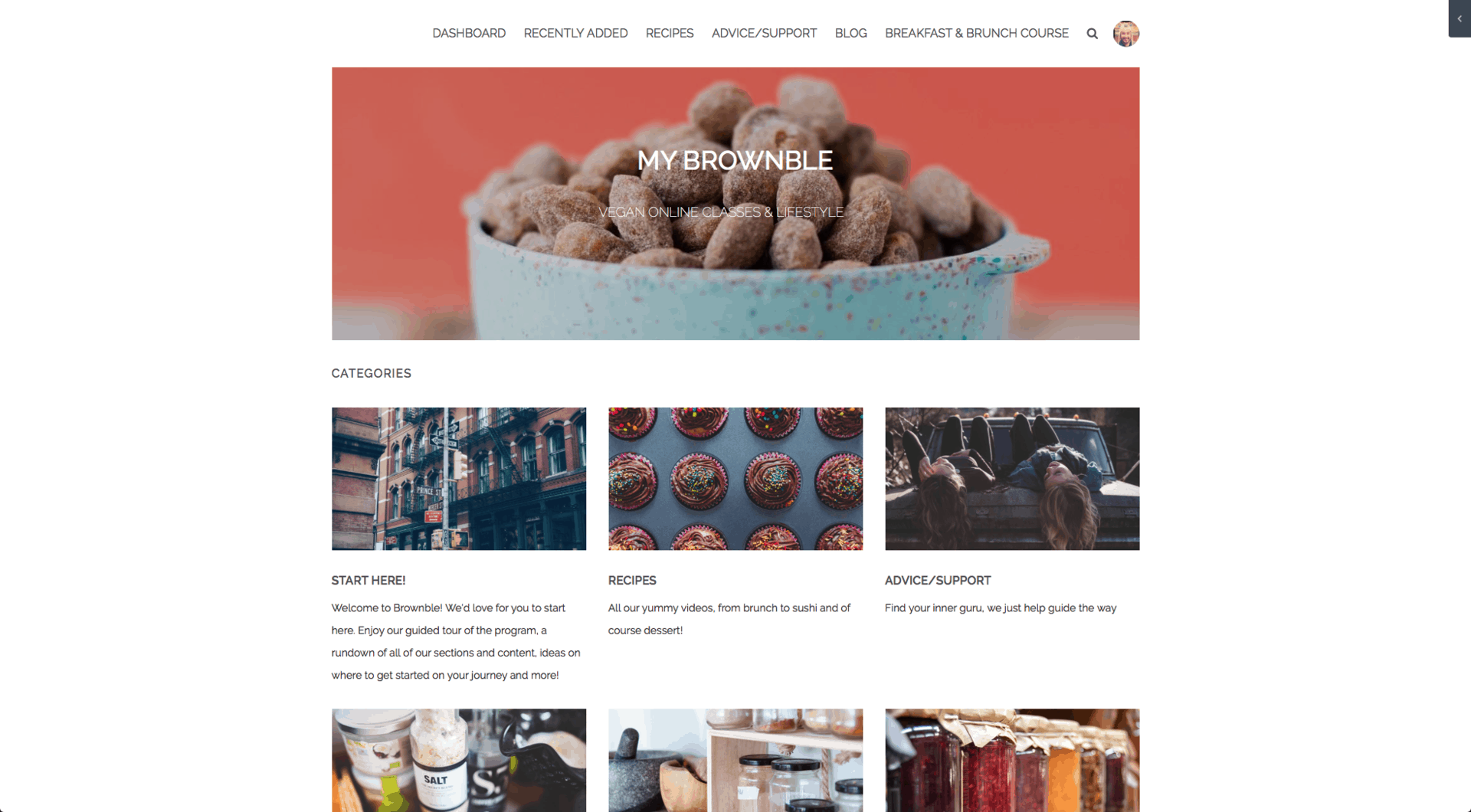 The online vegan cooking course run by my friends Kim and her husband Carlos at Brownble is amazing. It's so comprehensive, with over 300 videos (and new ones added each week!). As well as recipes, they cover stocking your pantry, organizing/meal prepping and self-care.
Best of all, it's all online so can be completed from anywhere. I've had the fortune of tasting Kim's food before and it's incredible. She's also a wonderful and patient teacher!
You can gift the vegan cooking course (as a 3-month, 6-month, 1-year or lifetime membership).
Vegan Cuts make the best vegan snack boxes — they were one of the first ones (if not the first) and still offer their classic vegan snack boxes.
With a selection of vegan treats each month, they're perfect for anyone who loves trying different foods.
You can send them a monthly gift subscription, or just a one-off box.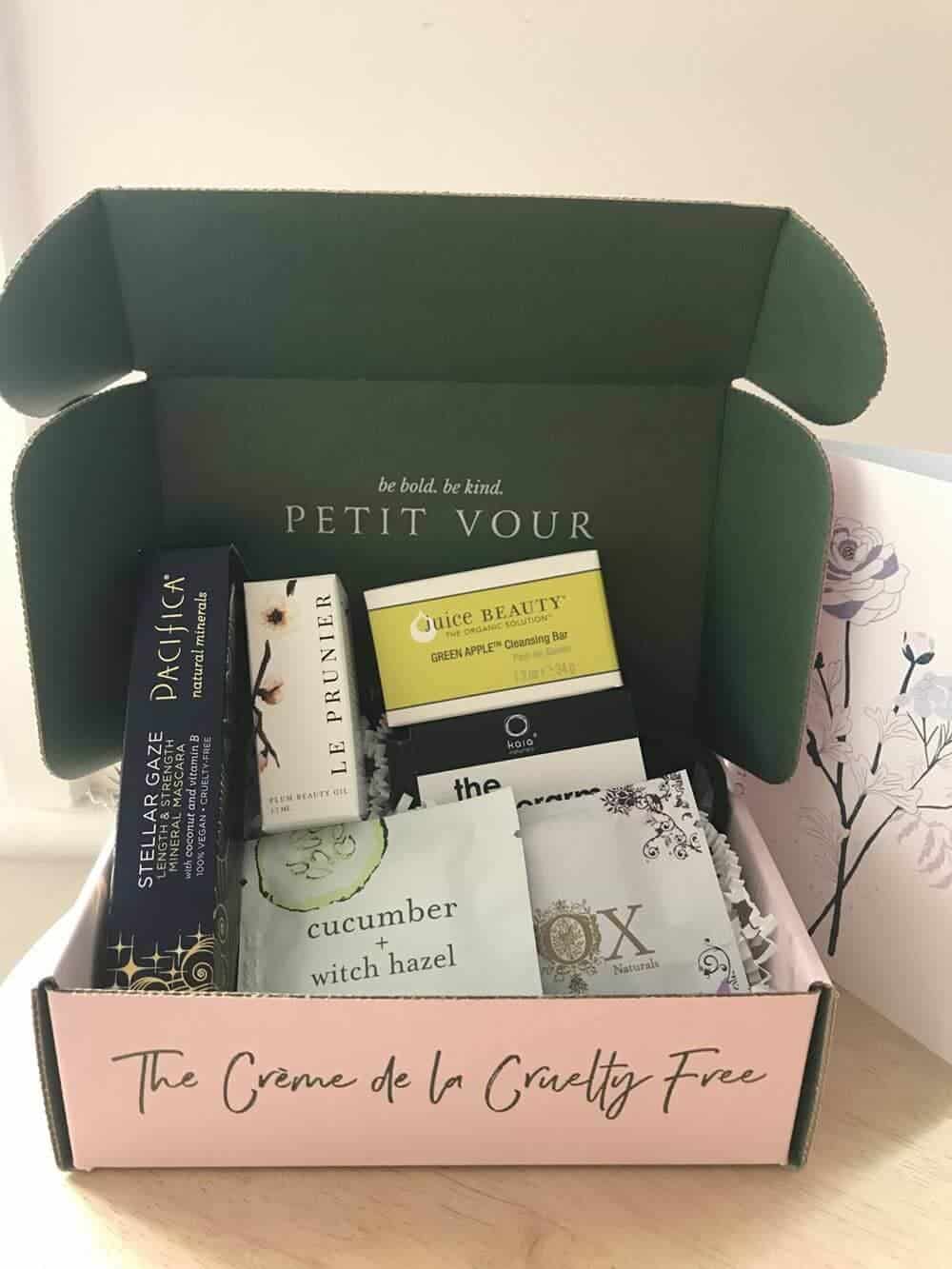 A Petit Vour vegan beauty box is perfect if your gift recipient loves vegan beauty and makeup.
Each box contains $45-60 worth of products and prices start at just $15 per box. Every Petit Vour box contains 4 products.
You can gift a single box or a subscription.
Discount: Get 25% off your first box with code "theveganword"
Click here for more information about the Petit Bour beauty box.
This apron is the perfect funny gift for a vegan. Full of phrases every vegan has heard at least once (or five thousand times) it's relatable for all vegans.
Click here to check the latest prices.
If you've come across any vegan recipe videos on Facebook, it's likely they're made by BOSH! Their video channel has millions of followers thanks to their easy-to-make vegan versions of comfort dishes.
Click here to see the latest prices.
It's amazing how simply cutting vegetables in a different shape can impact their texture and how you use them in a dish. I love spiralizing carrots to add to noodle salads.
For any raw vegans, or anyone looking to eat healthier in the new year, a spiralizer is a perfect addition to the kitchen.
This spiralizer comes with multiple blades to cut veggies into different shapes.
Click here to see the latest prices.
This mug is perfect for the snarky vegan. (Don't gift to anyone offended by swearing!)
If you're looking for a funny vegan gift, though, it's perfect.
Click here to see the latest prices.
Chef
Vegan gifts for the chef

Vegan Online Cooking Class
Looking for gifts for vegetarians or vegans or who love to cook? For anyone interested in expanding their vegan recipe repetoire, or just in learning more about vegan cooking, Brownble's online vegan cooking classes can be taken anywhere in the world and are available as a monthly, annual or lifetime subscription. It's my favourite vegan cooking class around!
Click here to see the latest prices.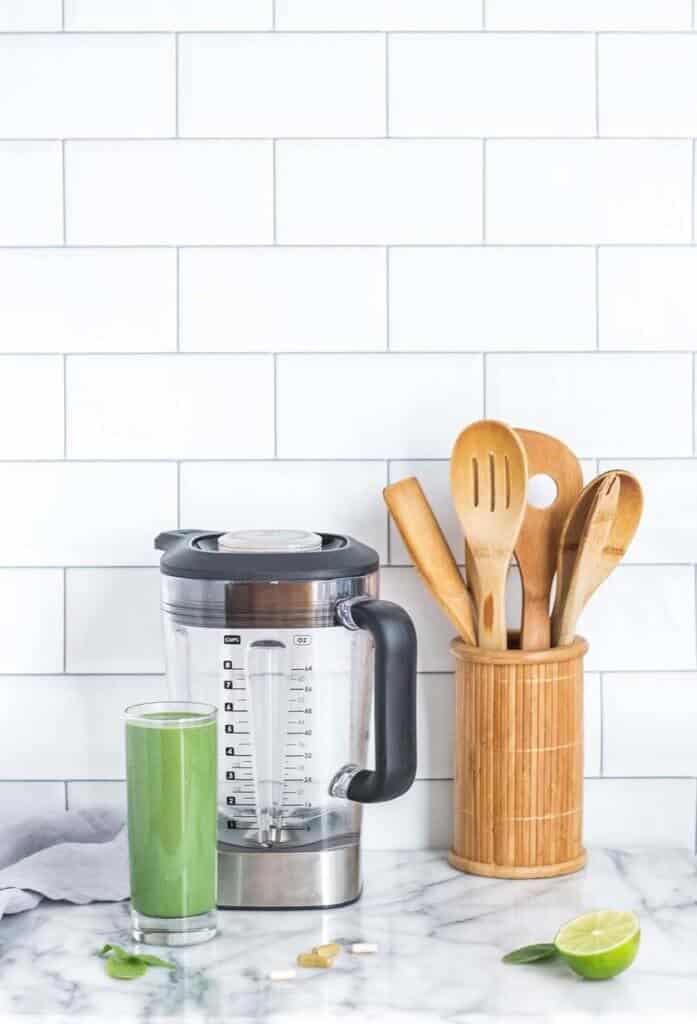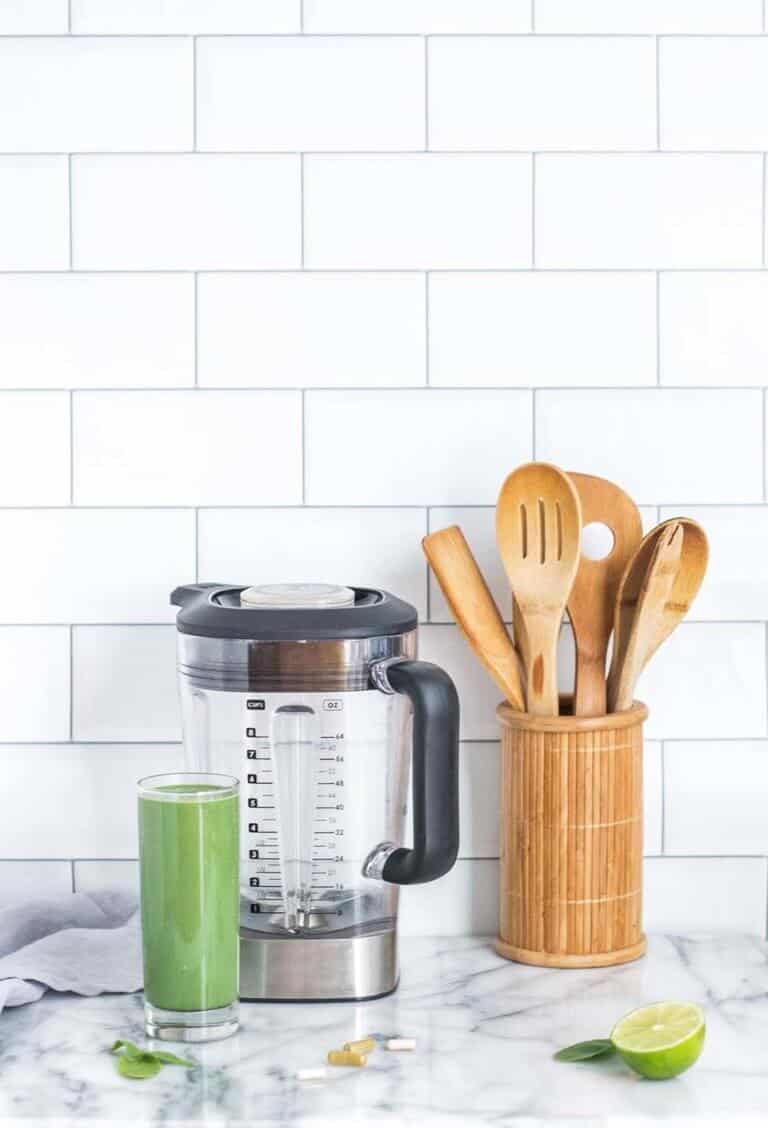 Like many vegans, I'm slightly obsessed with my blender and have even taken it around the world with me. A good blender is an essential item in any well-stocked vegan kitchen and they make a great vegan Christmas gift (or vegan birthday gifts, Hanukkah gifts, or any-occasion presents) for anyone who loves cooking. It's durable, with a heavy duty glass jug, and blends smoothies and crushes ice to perfection. The VitamixVitamix is widely regarded as the best in the world, and will keep running strong for years to come. Click here to find the latest prices. For those in Europe/UK who want a more wallet-friendly option, I highly recommend the Magimix Blender. I've got a whole guide to vegan blenders here.
Click here to see my vegan blender buying guide.
Click here to check the latest prices on the Vitamix.
Instant Pots have topped the sales charts for 2 years running, and are fast becoming a 'must-have' kitchen appliance. They're incredibly useful for quickly cooking beans from scratch, making soups, stews, rice and even non-dairy yogurt. They can be used as a slow cooker or pressure cooker. The most popular is the 6-quart option, which is neither too large nor too small for most kitchens. Click here to check prices.
This cute little Cuisinart mini food processor is one of my favourite kitchen implements. It's the perfect size for making sauces, pesto and cashew cheese – plus it's small so fits perfectly on your counter.
Cuisinart make fantastic food processors that last for years — my parents have had theirs almost as long as they've had me! I've put together an entire guide to food processors here.
Click here to read my food processor buying guide.
Click here to check the latest prices.
I love cast iron, because it's relatively inexpensive, incredibly durable (these things have been passed down through families for hundreds of years!), work on any cooking surface including campfires, can go directly from stove to oven, are naturally non-stick, add iron to your food (nutrition!) and most importantly can double as a weapon of self-defence if an intruder breaks into your house.
Lodge are the cast iron manufacturer of choice, and I recommend this 10 1/4 inch skillet. It's just the right size.
I've got more kitchen tools suggestions in my guide to the essential vegan kitchen tools.
Click here to read my vegan kitchen tools guide.
Click here to check the latest prices.

Making your own vegan ice cream is pretty exciting. I love my Cuisinart ice cream maker and think it's the best in its price range (I researched ice cream makers for several weeks before purchasing!). They make excellent presents for a vegan. The 2-quart automatic ice cream maker gets a lot of use every summer.
Click here to check the latest prices.
For the vegan baker…

Every baker needs a rolling pin and marble rolling pins are the best. They last forever, require less force (the weight of the marble helps push the dough out) and look beautiful. If you need a gift for vegan friend who's into baking, treat them to a marble rolling pin.
Click here to check the latest prices.
Searching for a vegan Christmas present? Cookie cutters are the best gifts for vegans who love to bake. This set of 18 metal cookie cutters would make good vegan gifts for anyone who loves baking cookies.
Click here to check the latest prices.
Looking for funny gifts for vegans? These aprons tick the box, plus they're perfect for the vegan baker in your life. They'd make excellent birthday presents for vegans.
Click here to check the latest prices.
Anyone into vegan baking will have heard of (and possibly experimented with) aquafaba, the water from a chickpea tin, which somehow miraculously whips up into meringues and can be used as an egg white replacer. The cookbook Aquafaba, by Zsu Dever, is a perfect choice for the vegan baker.
Click here to check the latest prices.
For the raw vegan chef
A spiralizer is the perfect gift for a vegan who loves zoodles (zucchini noodles) or other vegetable pasta.This 5-blade spiralizer comes with 5 different blades to cut vegetables into whatever shape noodle you want.
Click here to check the latest prices.
To go with the spiralizer: Nourishing Noodles ($14.71), a cookbook with 100 plant-based recipes for spiralized vegetable noodles, makes a perfect companion.
A dehydrator is a feature in many raw vegan kitchens. They're perfect for drying fruits or veggies, for making kale chips or other vegetable chips and for making raw vegan cheeses. This 9-tray dehydrator is an excellent present for vegan raw chefs. It has 15 square feet of drying space (that's 1/5 of the square footage of my first flat in London) but fits most counters, and also comes with an automatic shutoff.
Click here to check the latest prices.
A salad spinner might seem like a strange present but for anyone who loves eating fresh salads frequently, they're a huge help. They make great vegan housewarming gifts. (Only get this for someone who you're sure would appreciate it!)
Click here to check the latest prices.
Although they might not be preparing meat, any chef would love a good set of knives. Chopping tough veg like squash can be really difficult – and even dangerous! – with subpar knives. This 15-piece knife set are made with high carbon stainless steel and come with a lifetime warranty. They'd be great Christmas presents for vegans.
Click here to check the latest prices.

Anyone who loves fresh pasta or vegan ravioli needs a pasta maker in their life. Imperia's machines are consistently rated the best, so get your pasta aficionado this Imperia pasta maker machine. They're great gifts for vegans.
Pick up a ravioli cutter to go along with the pasta maker.
Click here to check the latest prices.
The Best Vegan Cookbooks: Bestsellers & Best of All Time
Ah, the cookbook, a classic gift for a vegan. A firm favourite of vegan gift-giving, I've received many vegan cookbooks over the years. These are always a good bet for vegan cooks and those interested in experimenting in vegan cooking. If you're after vegan Christmas gift ideas, these are perfect as I've rounded up a mix of the bestselling vegan cookbooks of all time and this year's hottest titles. I've got a full guide to the best vegan cookbooks here.
If you want to give the gift of a book that's not a cookbook, I've got a guide to the best vegan books (non-cookbook books that cover topics from ethics to the environment, travel and more) here.
BOSH! vegan cookbook
The bestselling vegan cookbook of all time, according to Plant Based News, Bosh's celebrated online cooking shows spawned this immensely popular cookbook. It's full of easy-to-make hearty dinners, celebratory feasts, filling breakfasts and more. Click here to check the latest prices.
Eat Feel Fresh
Looking for a healthy cookbook? One of this year's bestsellers, this contemporary, plant-based Ayurvedic cookbook utilises the Ayurvedic cooking system to make healthy, gluten-free and vegan recipes. As well as being good for you, they look beautiful, from the pink rose cardamom latte a Durga bowl packed with protein-filled quinoa, hummus and hemp seeds.
Click here to check the latest prices.
Vegan 100
Gaz Oakley's 2018 bestseller Vegan 100 showcases flavor first and foremost. Known for his popular blog and Youtube channel Avant Garde Vegan, his cookbook features recipes such as deep purple potato soup, raw cacao dairy-free cheesecake and sage and smoked chilli vegan dogs.
Click here to check the latest prices.
Thug Kitchen Official Cookbook
Thug Kitchen's cookbook is written in their signature tongue-in-cheek, sweary style (don't get this one for anyone who's offended by cursing). Any of their cookbooks make good presents for vegans who like their humor. Their recipes are simple and delicious, vegan spins on comfort food. Click here to check the latest prices.
Minimalist Baker's Everyday Cooking
Minimalist Baker's cookbook is full of the kind of recipes you can make after a long day of work. Great for your everyday evening meal, these are simple and satisfying recipes to make any time. The popular blog is known for recipes with a short list of ingredients, that anyone can make quickly and easily at home.
Click here for the latest prices.
The Homemade Vegan Pantry
One of the most used cookbooks on my shelf, The Homemade Vegan Pantry makes an excellent present for any vegan who loves cooking and wants to learn how to make more of their own pantry staples such as pancake mix, vegan meats such as chicken or fish sticks, salad dressings and non-dairy yoghurt. I love this book, especially the recipe for vegan butter, which I make regularly. I also frequently make the granola and like to keep some of the mac and cheese mix on hand.
Click here to check the latest prices.
Forks Over Knives Cookbook
Ask any vegan their favorite documentaries about veganism, and Forks Over Knives is probably in the top 5. The Forks Over Knives cookbook is perfect for anyone (vegan or not!) who wants to eat healthier and more plant-based food.
Click here to check the latest prices.
Veganomicon: 10th Anniversary Edition
One of the most iconic vegan cookbooks ever published, Veganomicon has been called the 'vegan Bible' for over 10 years now, and last year they produced a 10th anniversary edition. It's impossible to go wrong with a cookbook by Isa Chandra Moskowitz, one of the most beloved vegan cookbook authors.
Click here to check the latest prices.

The Ultimate Vegan Cookbook for Your Instant Pot
Instant pots are one of the fastest selling appliances, and this cookbook by bestselling cookbook author Kathy Hester shows how to make delicious vegan meals in the instant pot. Save time and money by cooking quick, easy and inexpensive dishes in the instant pot.
Click here to check the latest prices.
Sometimes there's nothing better than a nourishing meal in a bowl — plus eating everything from one bowl makes clean-up a lot easier.
Click here to check the latest prices.

Aquafaba: The Cookbook
Since aquafaba, or bean water, burst into the vegan scene just a few years ago, amateur chefs and foodies have been discovering all the ways it can be used to replace egg whites in baking. Looking for cool vegan gifts to show you know what's up in the vegan world? This cookbook (the first ever on aquafaba!) shows the trendsetting vegan how to use aquafaba.
Click here to check the latest prices.
For the raw foodie in your life, this collection of mostly raw and all vegan recipes is from YouTube Tastemade star Laura Miller.
Click here to check the latest prices.
↑ Jump back to the top of the page
Foodie
Vegan food gifts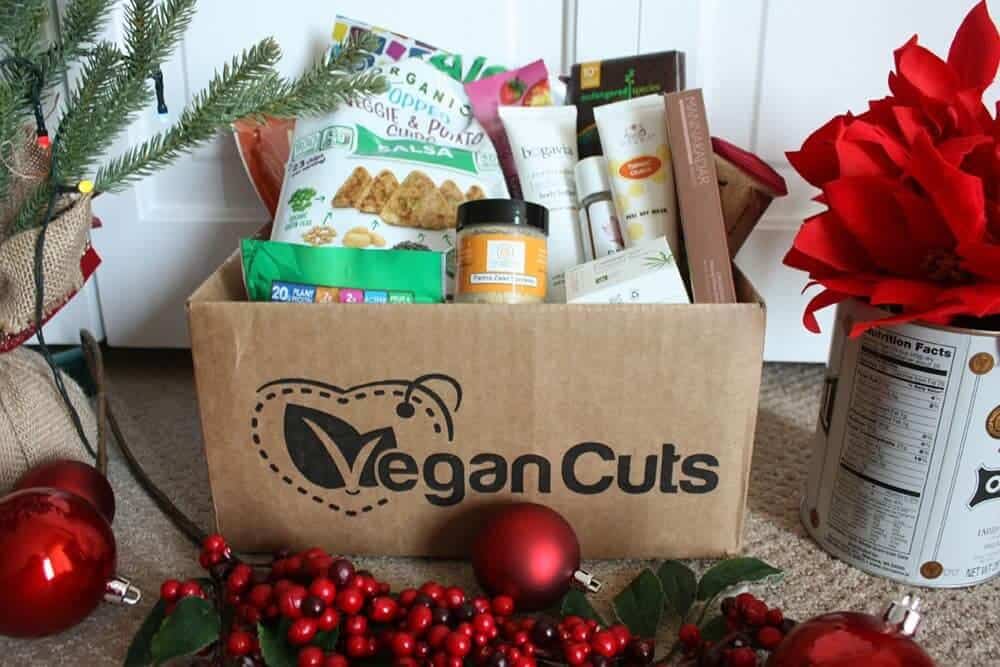 Vegan Cuts was one of the first and still one of the most popular vegan snack boxes around. Give the gift of a box of vegan snacks — there's nothing better! You can gift a single box or a monthly subscription. Each month the box contains new vegan treats. Perfect for the vegan food lover.
Click here for the latest prices.
Selection of salts
Salt might just be salt to you, but to a foodie there are a million different kinds of salts. Salt selection boxes make great food gifts for vegans. A great starter selection of different salts comes in the form of this salt selection from Sea Salt Shack, which has Himalayan pink salt, French grey sea salt, Red Alaea Hawaiian salt and Black lava Hawaiian salt.
Click here to check the latest prices.

Spices
A foodie always has a well-stocked spice cupboard. But even the best stocked cupboard likely doesn't have all the spices featured in this world spice blend set. Sice sets are perfect vegan food gifts According to food trend analysts, among the spices that will gain in popularity this year are asafoetida, za'atar, piri piri, harissa, ras el hanout, horseradish and baharat, and several of these are featured in the set.
Check the latest price on the spice gift set here.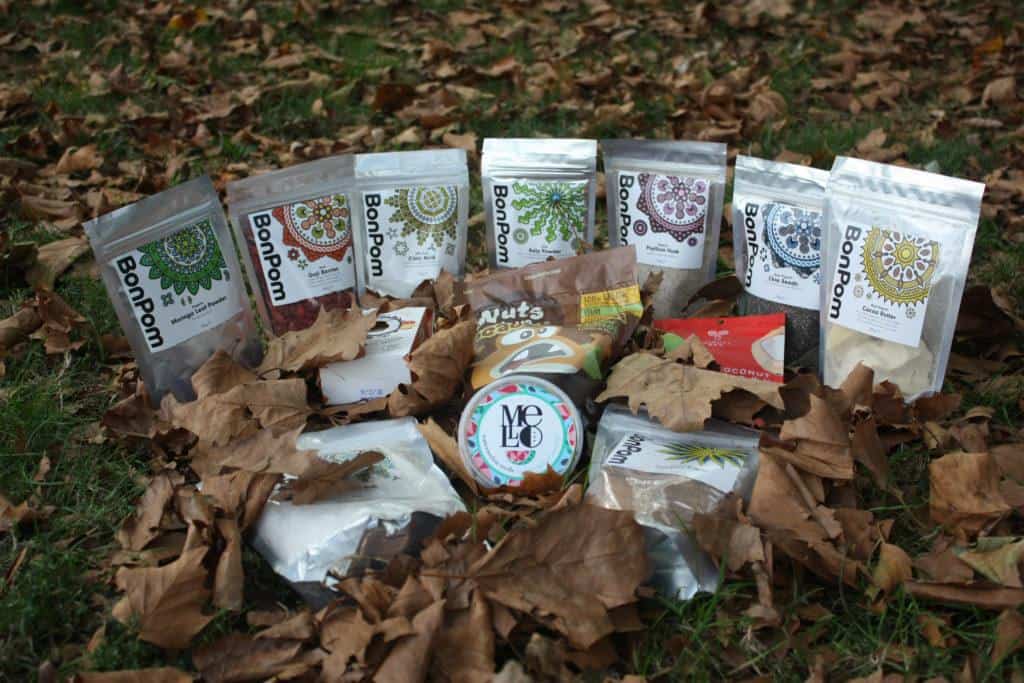 Superfoods and other health foods
For the healthy vegan foodie, you can't beat a selection of superfoods and supplements as a vegan food gift. Bonus! Baobab, lucuma, maca and moringa are all predicted to be food trends, as is turmeric drink.
Pick up maca, psyllium husk powder, baobab, raw lucuma powder or moringa powder.

Vegan cheeses
Get your vegan foodie the gift of cheese – vegan cheese, that is! They're fantastic vegan xmas presents – think how great they'll be on a Christmas cheese board (better yet, give them to your family so you can share them too). While a lot of vegan cheeses have a reputation for tasting and feeling like plastic, in recent years a whole slew of amazing artisan vegan cheeses have sprung up, leaving their industrial plasticky counterparts in the dust. These new cheeses are usually made from nuts and often aged in a way similar to cheese, and they make an amazing vegan present.
Miyoko's Kitchen artisan cheeses, which make cashew-based cheeses in California, are available in Whole Foods (US only).
Think the vegan foodie in your life is up for a challenge? One of the best presents for vegans who love artisan food-making is the cookbook Artisan Vegan Cheese.
Little Secrets make the most amazing looking vegan M&Ms. They look light years better than M&Ms, in fact, with delicious twists on classic flavours. Several of their candies are dairy-free, like sea salted peanut, classic dark, and raspberry. Just double check ingredients as some, like coconut, peanut butter and pumpkin pie, contain dairy!
Vegan caramels
Cocomels are the best vegan caramels, made from coconut milk and are organic and GMO-free.
Click here to check the latest prices.
Upton Naturals meal kit pack
If you'd rather go for savory food, Chicago-based Upton Natural's, who make a popular seitan bacon or jackfruit. This pack comes with 6 different Upton Naturals meal kits..
Click here to check the latest prices.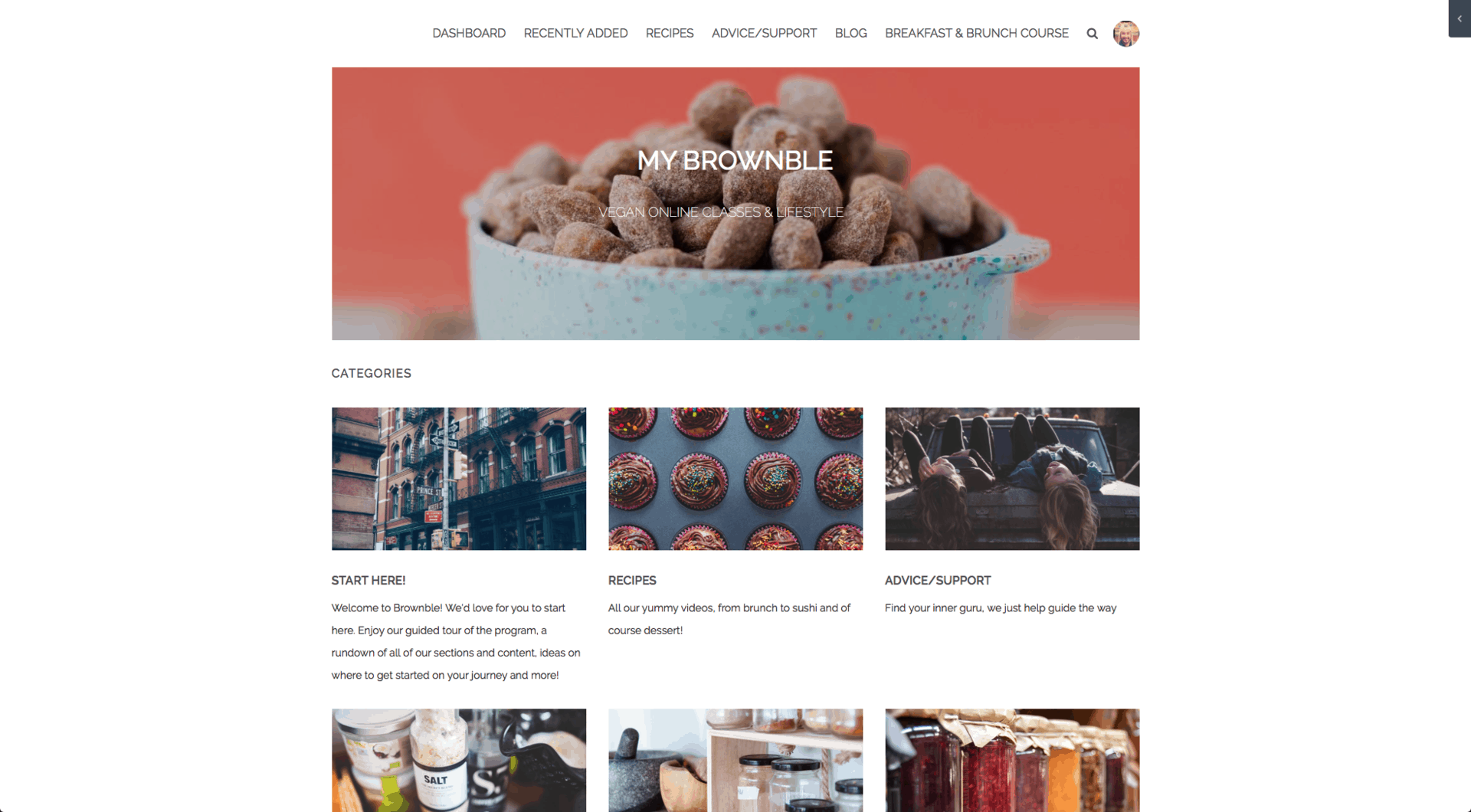 With over 300+ videos, and more added every week, the Brownble online vegan cooking classes are THE place to be for any vegan foodie. Kim is an amazing cook, and covers all kinds of vegan recipes, plus how to organise your pantry, food prep and more!
You can gift 1-month, 3-month, 6-month and 1-year subscriptions, or a lifetime membership.
Click here to check the latest prices.
↑ Jump back to the top of the page
Travel lover
The best travel gifts for vegans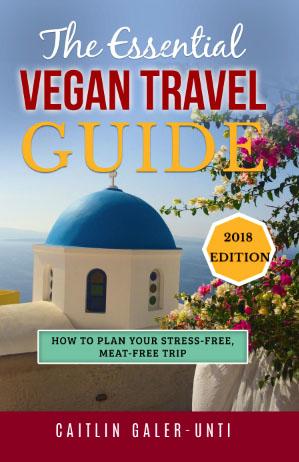 The "Vegan Travel Bible"
Vegan travel can be tricky, but it doesn't have to be. My book shows vegan travelers how to find vegan food anywhere in the world. In this guide, your vegan gift recipient will learn how to find vegan restaurants and vegan-friendly accommodation, events and more, wherever they end up in the world. Going on a cruise, road trip or camping? I've got you covered. And if they're interested in vegan retreats or cruises, or in learning how to stay healthy on the road, I've got sections for that, too. As one Amazon reviewer said, it's "the vegan travel bible."
Click here to check the latest prices.

See all my favourite vegan travel resources here.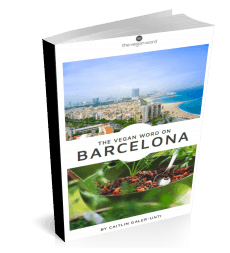 Heading to Spain this summer? My vegan guidebook to Barcelona will be the perfect present for the vegan on your trip. Buy your copy here and email the receipt to [email protected] for exclusive freebies: bonus discounts and coupons, a downloadable map to vegan/vegan friendly places in Barcelona, a bonus chapter on travelling to Barcelona with non-vegans (including the best non-veg restaurants with vegan options) and a bonus chater of vegan Barcelona-inspired recipes.
Click here to check the latest prices.

A vegan travel memoir
Vegan travel lovers can indulge their desire for armchair travel with this memoir by Kristin Lajeunesse of Will Travel for Vegan Foodthis memoir by Kristin Lajeunesse of Will Travel for Vegan Food. It recounts her tale of quitting her job to travel the country and break free, while visiting over 500 restaurants in 48 states.
Click here to check the latest prices.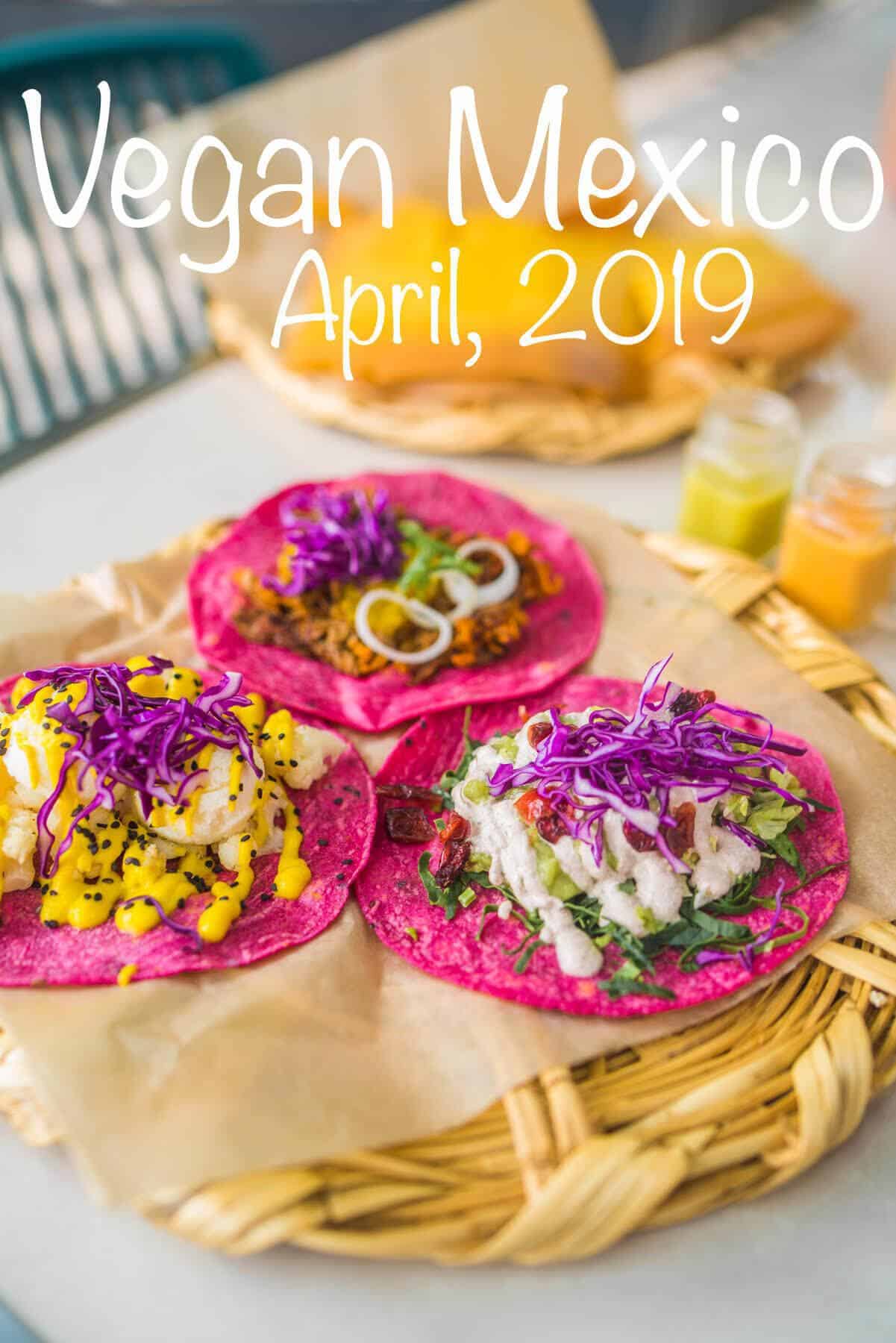 Go on a vegan tour of Mexico (or Cuba) with vegan-friendly tour operator Escaping NY. You'll find meditation and mole in the increasingly vegan-friendly capital of Mexico City.
Click here to see prices and dates.

Vegan passport
These handy little pocket-sized guides, put together by the Vegan Society, only cost £4.95 and contain an explanation of vegan food and ask for vegan food to be prepared for the passport holder. Now in 79 languages (covering 96% of the world's population), an intrepid vegan traveler can just pop a book in their bag and whip it out at any restaurant if they don't speak the local language. They're great vegan Xmas gifts for the traveler.
Packing cubes
Packing cubes may not sound like the most exciting vegan gift out there, but they're one of the most useful pieces of travel kit I've ever found. I can't go on a trip without them! They keep your clothes separated and handily compress them, meaning you can fit more in your backsack. This Eagle Creek 3-piece set of cubes is what I use and love.
Click here to see the latest prices.
Vegan travel clothes
Some travelers swear by travel clothes, which are clothes specifically made for travel, because they dry quickly, are wrinkle-free or are great for warmth. However, vegans beware because many clothes marketed as "travel clothes" contain silk or wool! If you want to get a vegan gift that will delight your vegan travel lover, then steer clear of these and opt instead for items like this bamboo tank top, which is antimicrobial, moisture-wicking and resistant to odour-causing bacteria or these cushioned travel socks, which are also compression socks.
Click here to check the latest prices on the socks.

Portable cutlery
Portable cutlery is any traveler's best friend, especially the vegan traveler who likes to cook in Airbnbs and holiday apartments. This 4-piece stainless steel cutlery set comes with a knife, fork, spoon and chopsticks and also a carrying case.
Click here to check the latest prices.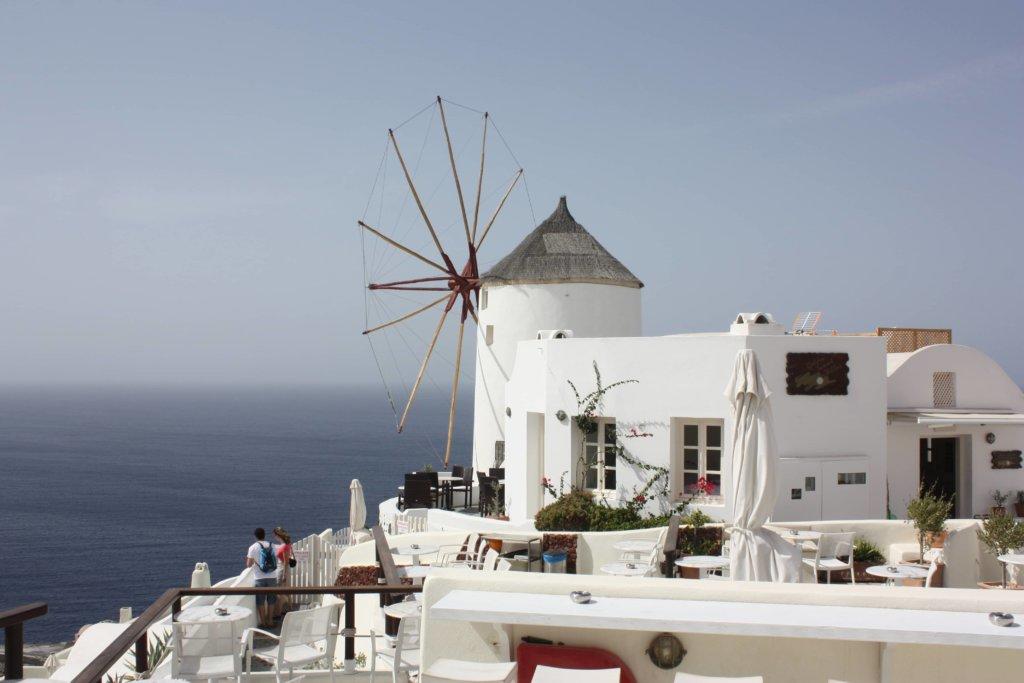 Vegan tour or retreat
If you really want to treat your vegan (or non-vegan) loved one, gift them with a place on the vegan trip of a lifetime.
Treat them to a vegan tour of Italy, Ireland or San Francisco courtesy of Vegan Travel Club.
Click here to see the latest tour dates and prices.
Want more travel gift ideas? Click here to see my full list of vegan travel resources here.
↑ Jump back to the top of the page
Sporty vegan
Vegan gifts for the fitness guru

Smart watch
The Apple watch is one of the most popular smart watches for fitness tracking, is water-resistant and has GPS. The Apple watches with "sport bands" like this midnight blue Apple watch are made of fluoroelastemer, a synthetic rubber, rather than leather.

Plastic-free water bottle that will keep your drink cold 24 hours
Fitness enthusiasts always need water bottles for their workouts, so a BPA- and plastic-free bottle would make a great vegan gift for the sporty vegan. Check the latest prices here.

Vegan runner t-shirt
Vegan runners can show their pride with this t-shirt. Click here to check the recent prices.

Vibram five fingers shoes
These toe shoes are favoured by many fitness enthusiasts because they're allegedly closer to natural barefoot walking/running than other running shoes, and improve your posture to boot (boot! haha). Most (though not all) of the Vibram range is leather-free and vegan. Some models have a leather/hemp sole, but most are rubber. This cross-training pair is leather-free, making it a perfect vegan gift for a runner who likes running in Vibrams. Check the latest priceCheck the latest price.

Swim gear
A swimmer friend told me what she'd most love is a pair of "magical" anti-fog goggles. Pick up a pair of anti-fog (and UV filtering) Speedo goggles for the swimmer in your life. Buy them here.
If I were getting a swimming-related present, I'd love this waterproof iPod, which comes with waterproof headphones. See the latest prices.
↑ Jump back to the top of the page
Fashionista
Vegan gifts for the fashionista
Vegan shoes
One of my favourite shoe brands is Beyond Skin, who make beautiful and long-lasting vegan shoes. Wondering what to get a vegan for her birthday? Beyond Skin come with adorable stamps on the bottom that say "Genuinely Not Leather". For men's shoes, my favourite brand is Wills.
Matt & Nat handbag or wallet
Matt & Nat are the (non dairy) creme de la creme of vegan bags and wallets. This vintage crossbody bag is cute and comes in a color called kale – what could be more vegan?! They make beautiful and durable designer vegan goods. Many are lined with recycled materials too. They really do last – I've had my wallet for over 5 years! A perfect gift for the vegan fashionista.
Click here to see my guide to the best vegan weekender bags and backpacks for travel.
Click here to check out the latest styles and prices here.
Non-silk ties
A lot of neckties are made out of silk, but this Retreez tie is vegan. Check the latest prices here.

A beautiful winter coat
Vaute Couture makes gorgeous, warm and most importantly long-lasting vegan coats. The first vegan designer coat company, Vaute now also make sweaters. I've written before about how much I love my Vaute coat (I've since acquired a second extra-warm Vaute coat that I wear in winter, and my first one is my spring/autumn coat!). I've owned it for half a dozen years and it's been to more than a dozen countries with me and still holding up strong! All Vaute coats are made in the US.
Vegan shirt
Another great vegan gift for the fashionista is a vegan t-shirt. Gone are the days of functional tees, I've seen so many cute vegan t-shirts recently. This cute racerback tank is cute and comes with a vegan message. Shop vegan t-shirts here.

Eco-friendly sunglasses
Velo (from €100) make the perfect vegan gift for the fashionista. Cute, eco-friendly and vegan (leather and animal glue-free) sunglasses made in Greece of materials from Italy, France or Greece, with a portion of profits being donated to animal charities.
Jewellery
This super cute necklace from LoveLibby is part of their wider range of vegan jewellery available on Etsy. Vegan necklaces make lovely vegan birthday gifts for her (or presents for any holiday). Etsy, an online marketplace for craftsmakers, is an excellent place to find vegan gifts; in addition to jewellery you can find vegan candles, knitwear and more.
In terms of recycled and vegan jewellery I absolutely love Christy Robinson's. Click here to check out Christy Robinson's range of recycled metal vegan jewellery on Etsy. They make great gifts for a vegan girlfriend.pe
↑ Jump back to the top of the page
Beauty lover
Vegan gifts for the beauty lover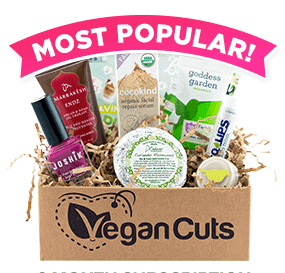 These boxes from the most popular vegan box company, Vegan Cuts, contain five vegan beauty products. The products rotate monthly but might include serum, lip balm, lotions and more and start at under $20. You can gift a single box or a subscription!
Click here to check the latest prices.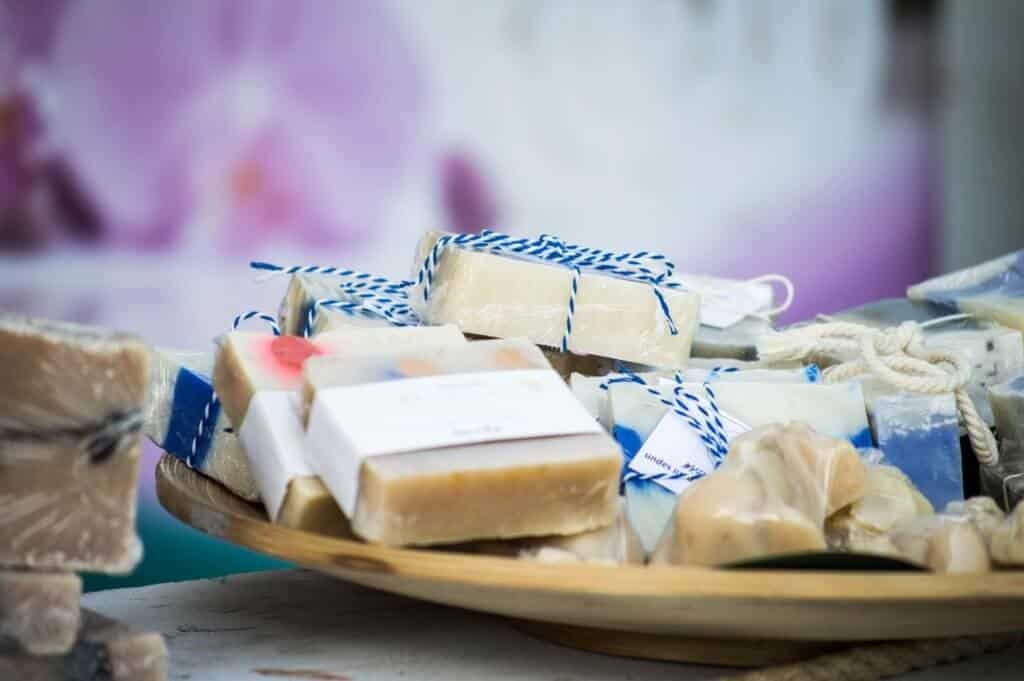 Bath bars and bombs
Looking for vegan gift ideas for her? A bath bar or bomb is perfect. Once you've had a bath with a luxury bath bomb it's hard to go back. I usually get my bath stuff from Lush, who have shops in a lot of countries now and do a lot of vegan items (and always mark them as vegan). If you don't have a Lush near you, or you'd rather the ease of ordering online, order from The Dirty Vegans on Etsy. Not only do they have a great name, the Dirty Vegans do a popular gift hamper for shower or bath products. Their products are also SLS and parabens free. Click here to see the latest prices on the vegan bath bomb gift hamper.

Vegan eyeshadow palette
The Shade + Light shimmer eyeshadow palette from Kat Von D is vegan and very popular, like many of Kat Von D's palettes (many of which sell out). Click here to see the latest prices on the eyeshadow palette.
Vegan nail polish
Sparitual make excellent vegan gifts for her; these high-quality vegan nail polishes last a lot longer than other brands, in my experience. Go for a classic like Higher Self or something completely different such as Disco Inferno. Click here to check the latest prices on Sparitual nail polish.
Body Scrub
This cool mint lemonade salt body scrub from Giovanni probably smells mind-blowingly amazing if their other products are anything to go by. Click here to the price on Giovanni vegan body scrub now.
Spa pass
There's nothing more indulgent and perfect gift material than a pass to a (vegan-friendly) spa. Call up a local spa or salon and ask them if they can provide vegan services. More and more spas can, and if they're not sure, they can usually check their products to see if they're vegan and cruelty-free.

Hurraw lip balm
When it comes to vegan lip balm, there's only one brand (not literally, I mean in my heart), and that's Hurraw. All-vegan, raw, organic and fair trade, this stuff is amazing. My favourite is Black Cherry, which has a slight red tint, although they all smell amazing. This 3-pack of black cherry, cinnamon and grapefruit looks like a perfect vegan gift. Click here to buy the 3-pack gift set of Hurraw vegan lip balms.
Men's shaving brush
For reasons unbeknownst to everyone, including me (I think it was one of those internet rabbit hole-type situations) I spent some time awhile back reading about men's shaving brushes and soaps. From what I read, it seems that using a shaving brush offers the best shaving experience and is likely easier on sensitive skin than not using a brush. Many shaving brushes aren't vegan (they're made with animal hair bristles), but this 2-piece shaving kit wihich comes with shaving cream and a brush is vegan, parabens-free and has great reviews. Obviously never having shaved my face I can't confirm, but it's popular and if I were to shave my face, I'd want it! They'd make great vegan gifts for men.Click here to see the latest prices.
Makeup Box
Beauty lovers will rejoice at the sight of a monthly box of vegan products allowing them to discover new brands and experiment. Vegan Cuts offer a quarterly makeup box, which ships every 3 months so that vegan beauty lovers can stay up to trend with the season's styles, for $39.95 per quarter.
In the UK, The Vegan Kind sell a beauty box from £12.75, and in Australia The Vegan Box ships every 2 months with 5 – 8 new beauty products ($49.95 every 2 months)
↑ Jump back to the top of the page
Techie
Vegan gifts for the techie
Vegan leather iPhone wallet
This vegan leather wallet has space for an iPhone (7 or 8) plus money or cards plus has RFID theft protection and an easy-to-open clasp.
Eco-friendly personalized phone cover
This Etsy shop in California, iMakeTheCase, makes customized iPhone covers out of eco-friendly bamboo. Or you can choose from premade designs. Check the latest prices and designs here.
Vegan leather Kindle cover
I love my Kindle cover by rooCASE – it's really durable and easy to use. When I open and shut the cover it automatically turns the Kindle on and off. Their latest version for Kindle Fire also turns into a stand. Click here to see the latest prices.
Vegan leather iPad cover and stand
This vegan iPad cover and stand would make a great vegan gift for any tech lover. Click here to check the latest prices on the vegan iPad cover.
Vegan leather briefcase with an iPad sleeve
Matt & Nat do it again with this beautiful vegan leather briefcase. Click here to check the most recent prices.
↑ Jump back to the top of the page
Children
Vegan gifts for children
Clothes
Children's clothes, just like adult clothing, might contain wool, cashmere, silk, fur, felt, mohair or leather, making it not vegan. These baby gowns are made of super-soft organic cotton. Click here to check the prices.
Crayons
To go with your coloring book, these Melissa & Doug crayons are vegan. Check the latest price by clicking here.
Veggie Finger Paint
This vegan finger paint is made out of veggies that's even safe to eat! Click here to check availability and the latest prices.
Homemade play dough
It turns out play dough is easy to make – and safe to eat if made following this recipe, which uses just flour, cream of tartar, salt, olive oil, water and vegetables or fruit for dyes. You could make some little tubs (and even attach personalised labels) for vegan friendly gifts that are homemade.

Stuffed toys
How cute is this crate of stuffed veggies? Plus, they're made with 100% organic cotton. Click here to check the latest prices.
A vegan-themed children's book
I haven't read it, but I've heard so many good things about Ruby Roth's Vegan Is Love, which explains veganism in a child-friendly way. Click here to check availability and prices.
↑ Jump back to the top of the page
Dogs and cats
Vegan gifts for dogs and cats
Vegan dog treats
Fruitables dog treats in pumpkin and apple flavour are vegan and my dog loves them (check because not all of the Fruitables flavours are vegan). Click here to check the latest prices.
I've got a whole guide to vegan dog food and treats here.
Rice bones
Great for dogs who love to chew,these "bones" are completely meat- and cruelty-free and made of rice! They make the best vegan presents for dogs. My dog absolutely ADORES them — though be warned, they can be a little messy. And always keep your eye on the dog while they're chewing anything destructible like this in case of choking. Though they're much safer than bones (which aren't vegan anyway!), which should never be given to a dog because they can splinter and cause choking. Click here to check the most recent prices.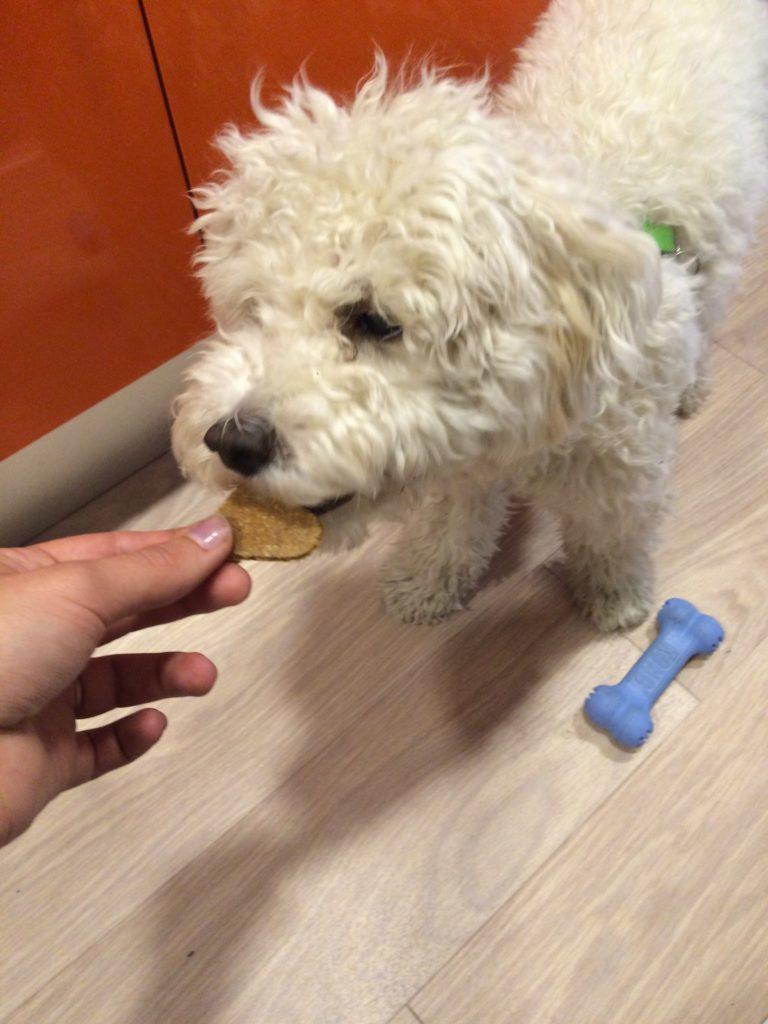 Handmade vegan dog biscuits (UK only)
I brought a pack of the peanut butter and cinnamon dog biscuits from Lincoln's Lunchbox back from VegFest one year, and my puppy loved them (see photographic evidence above). They're £2.99 for a bag and they do a range of other flavours too. Just a word of caution though – as tasty as your pup might find them, they don't taste good to humans (or at least not to this one!).

Vegan dog treat bundle
Not sure what kind of treat the dog you're buying for likes? This bundleThis bundle comes with 4 different kinds of vegan dog treats so they can sample to their little heart's content. Also, the sweet paw-tato knots that come in the bundle are very popular with my dog and some of his doggie friends. Click here to check the prices.
Plush dog toy
Some dogs love plush toys while others couldn't care less (mine pretty much only likes plush toys). If the dog you're buying a present for is a stuffed toy fan, then they'll love these. The adorable bird pictured above is an organic cotton knit squeaky toy and would make an excellent vegan gift. Click here to check the latest price.

Catnip
This candy-cane toy is stuffed with organic catnip. Click here to check the latest prices.
Ball for cats filled with bells
I don't know much about cats but my friend's cat, who was never very playful, refused to play with most cat toys (even catnip!), apart from those little plastic balls filled with bells. She loved chasing them! Just be careful to only use them under supervision as some more curious cats may try to chew on the ball, and don't give these to households with dogs as the dogs will most likely chew them. Check the latest prices.
↑ Jump back to the top of the page
Funny
Funny vegan gifts
Magnet
These magnets are a funny vegan gift, and magnets make the best gift for a vegan friend since you don't have to worry about it being their size or style. Click here to check the latest prices.
Water bottle
A funny water bottle? Kale yeah! This water bottle makes an amusing gift for a vegan, and a useful one too. Check the most recent prices here.
Avocado toast mug
Looking for the perfect cute gift for your vegan girlfriend? This mug is the perfect vegan gift for her! Click here to check availability and buy.
Apron
Perfect for zombie- and pun-lovers (and as a present for vegan friend s), this vegan apron is a great gift. Check availability and prices here.
Vegan definition mug
Is your boyfriend sick of explaining to his family what he does and doesn't eat? These mugs[/easyazon_linkmake great gifts for a vegan boyfriend! [easyazon_link identifier="B074HG4FG1" locale="US" tag="thvewo-20"]Click here to check the latest prices.
Snarky vegan mug
Great for your BFF with the snarky sense of humour. This mug will be her new fave! Click here to check the latest prices.
T-shirt
The perfect prank or gag gift, this t-shirt is perfect for everyone with a slightly gross sense of humour. Click here to check the latest prices.
Romaine calm mug
This mug will make the perfect gift for the vegan foodie in your life. Click here to check the latest prices.
Vegan apron
This apron would be the best gift for vegan cooks in your life. Click here to check the latest prices.
Vegan Problems Coloring Book
This coloring book is an amusing take on coloring for vegans. Check the latest prices here.
Crayons
Who would have thought crayons might not be vegan? Some brands are made with beeswax and some with beef tallow, but these plastic crayons from Melissa & Doug are completely vegan, and their triangular shape makes them easier for little fingers to grasp. Check the latest price by clicking here.
↑ Jump back to the top of the page
Anyone
Vegan gifts for anyone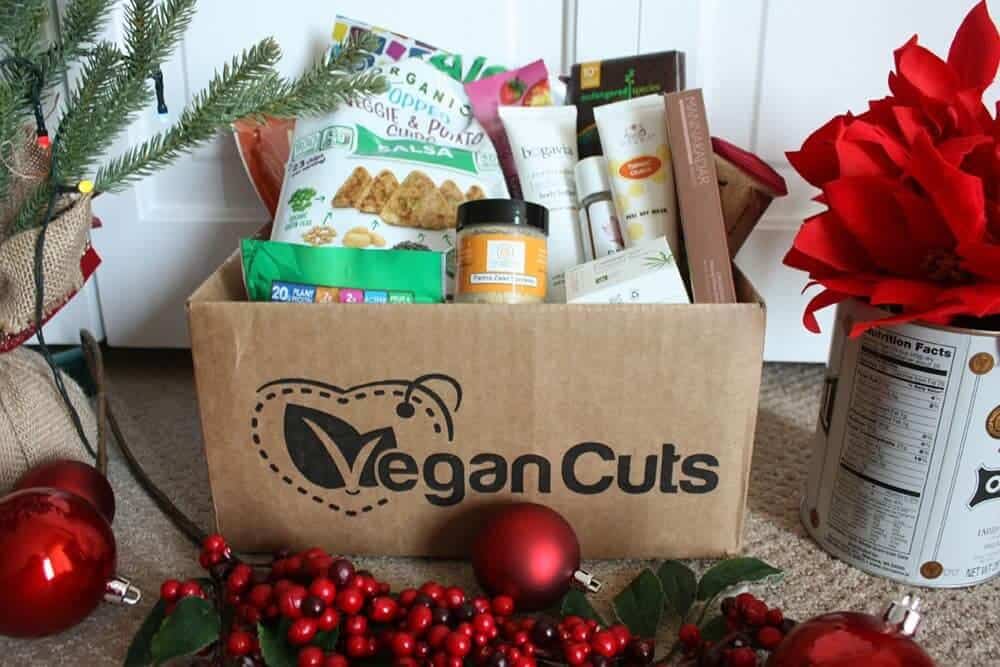 Who wouldn't want a gift box full of yummy snacks? These make the best birthday gifts for vegans, or perfect vegan Christmas presents. A selection box of vegan snacks contains something for every taste and preference. This box from Vegan Cuts is the most popular vegan box and you can buy a single box or a monthly subscription.
Click here to check the latest prices and availability.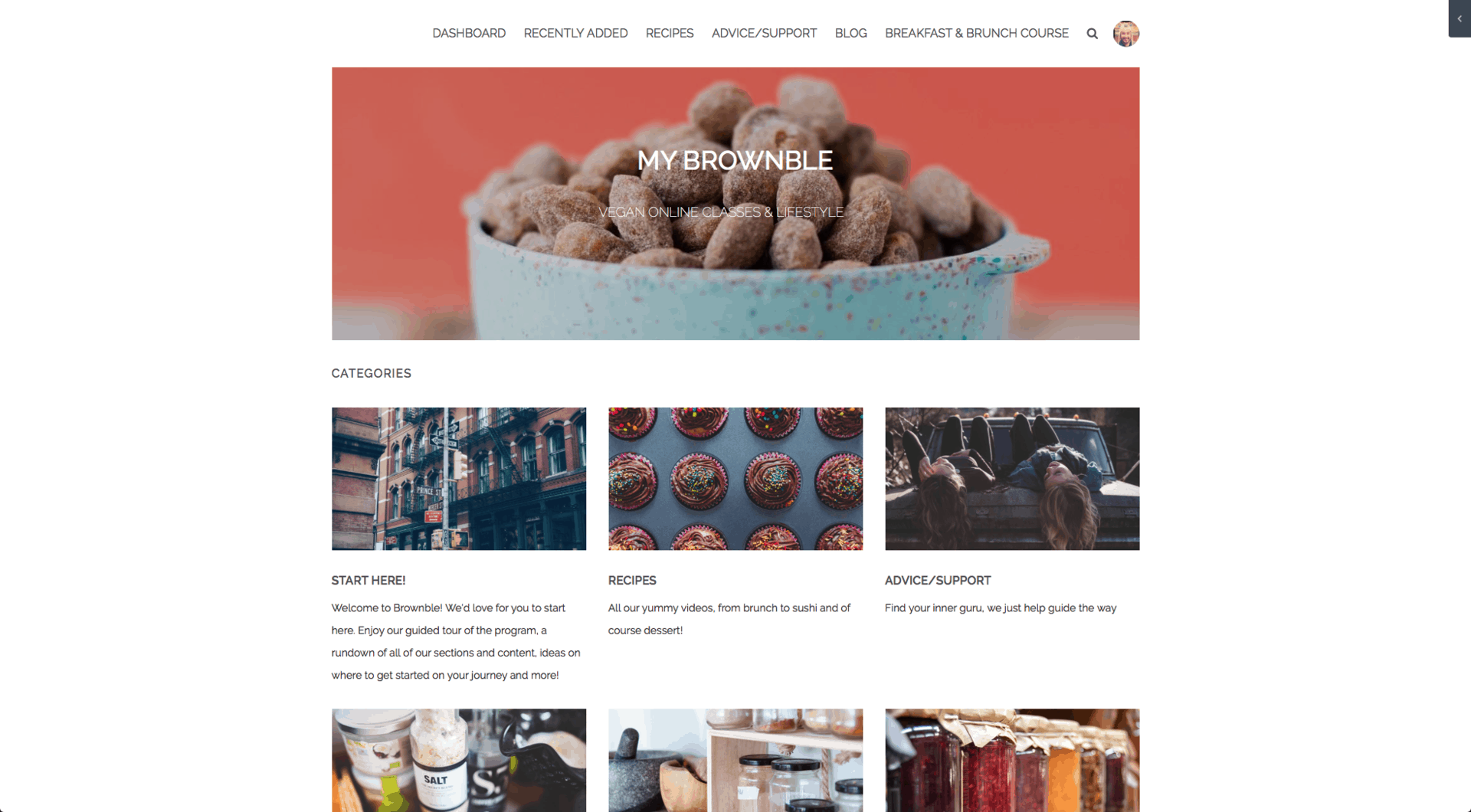 Brownble's online vegan online cooking class has over 300+ videos for vegan recipes for every meal. It also includes lessons on food prep, stocking a vegan pantry and more. Kim's a great teacher and an amazing cook, so her classes are the best.
Click here to check the latest price.
Canvas tote bag
With more and more people opting to carry their groceries in canvas tote bags, this cute and vegan-themed bag makes the perfect gift. Click here to check the latest prices.
Vegan t-shirt
T-shirts are the perfect gift for anyone. This vegan t-shirt is the best gift for anyone living a plant-based life. Click here to check the prices.
Vegan pins
The perfect gift if you're not sure what t-shirt size the recipient of your gift wears, this set of vegan pins comes with three pins. Click here to check the latest prices.
Donation to a local animal sanctuary
Not sure what to get your vegan friend? Make a donation in their name to a local animal sanctuary, or better yet make a donation and take them on a trip there. Animal sanctuaries offer refuges for farmed (and non-farmed) animals rescued from horrific conditions, and more and more are opening each day, so you can likely find one in your area. Google "animal sanctuary near me", and Google should show you a list and even map. It's best to call or email the sanctuary and check it's a vegan sanctuary.
Donation to the Vegan Society
You could also make a donation in their name to the Vegan Society, to support their work for the vegan cause.
Vegan candles
Some candles aren't vegan as they're made with beeswax, but these candles are made from soy wax and essential oils. Plus they're organic. Click here to check the latest prices.
Magazine subscription
A great vegan gift for anyone, get the vegan in your life a subscription to a vegan magazine such as firm favourite VegNews magazine, or a subscription to Vegetarian Living (available in the UK or US), which features my monthly vegan travel column (so I am slightly biased!) as well as plenty of vegetarian and vegan recipes.. Click here to check the latest prices.
I've got a guide to the best vegan recipe and lifestyle magazines here.
The ultimate gift: Go vegan yourself
If you're not already vegan, give the best gift: go vegan yourself, or at least try being vegan for a month! Ask your friend or loved one for help (they'll likely be more than happy to help), take the The Roadmap (a course from Brownble on how to go vegan) or order yourself a copy of the 30-Day Vegan Challenge for a step-by-step guide to going vegan. Click here to check the latest prices on the 30 Day Vegan Challenge book.
Chocolates are a classic host/hostess gifts and these Booja Booja chocolates are the best vegan truffles. In fact, the Booja Booja Easter egg won a competition for the best Easter chocolate (not just the free from category, the overall category). Click here to check the latest prices.
If you decide to bring alcohol, keep in mind that some beers, wines and ciders (and occasionally spirits) aren't vegan, so check Barnivore to find out what's vegan.
↑ Jump back to the top of the page
Hope you've found this guide helpful!
If you have any suggestions for other products that would be great, please drop me a line ([email protected]).
Pin this for later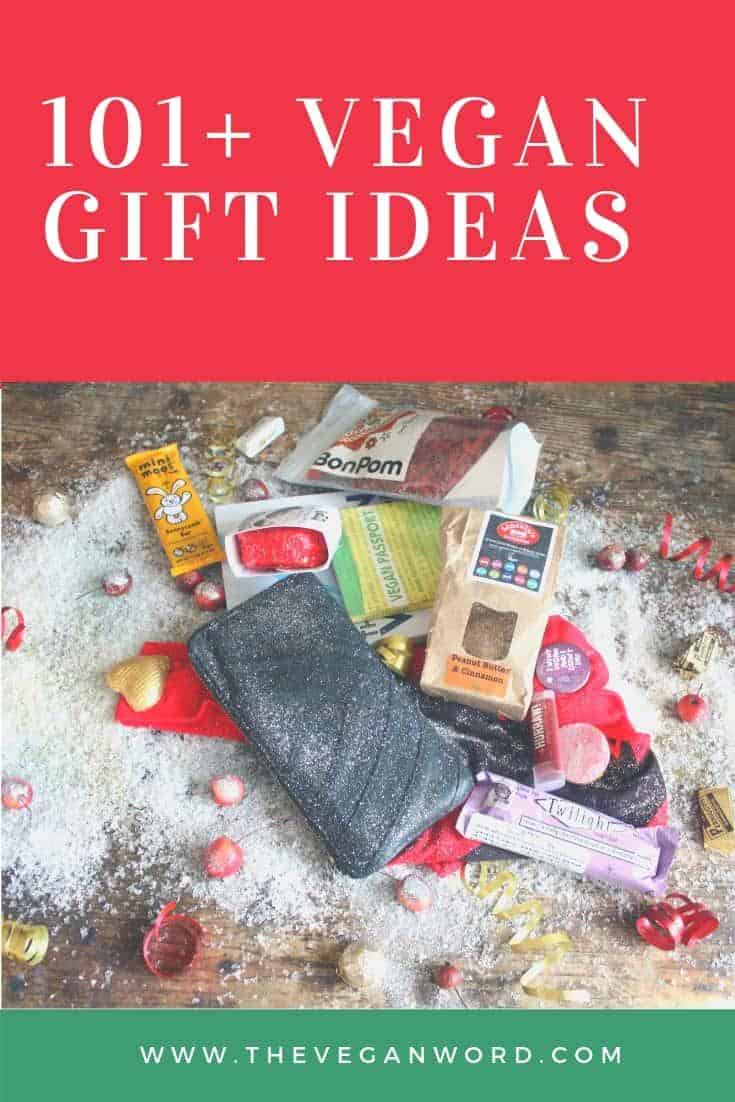 Please note, this post contains affiliate links for some products. This means that I'll receive a small percentage of the sale, at no extra cost to you. I've only recommended products that I use and love or would love to receive.