Looking for the best vegan quiche recipe?
Craving a rich and creamy vegan quiche but find the typical vegan tofu quiche falls flat?
Enter…my perfect, creamy vegan quiche with my secret ingredient! Can you guess what I add to my vegan quiche that makes it extra rich and creamy?
How is this vegan quiche recipe different?
I've tried lots of vegan quiche recipes and most are made with tofu (some with chickpea flour or vegan egg replacers).
The trouble with tofu on its own is that it lacks the creaminess of a non-vegan quiche, in my opinion.
Most quiches are made with eggs and cream, and without adding a rich and creamy ingredient, your typical tofu quiche recipe can feel a bit worthy.
That's why I add something extra to mine (more below).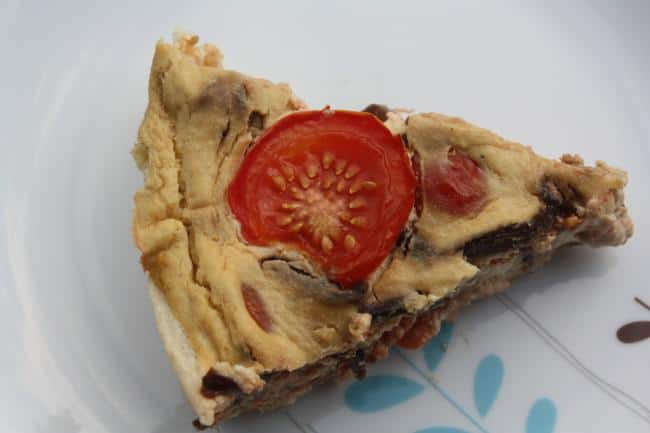 I was never a big fan of quiche – or anything with eggs, really – in my pre-vegan days, but for some reason I really like vegan eggy food, such as my vegan egg pasta, my vegan egg custard tarts, or my vegan pasta carbonara.
So, I decided to apply the theory that I like eggy food made vegan (even if I didn't like the non-vegan version) and see if it applied to quiche. I discovered that yes, the theory does hold true for quiche, too.
I wanted to make my quiche a bit cheesy, so I added nutritional yeast as well as some miso, tahini and lemon juice (which I normally add to my cashew cheese).
This quiche was creamy, cheesy and just a little bit eggy. Perfect.

What ingredients you'll need for this recipe for vegan quiche
Shortcrust pastry (handmade or a storebought vegan version)
Tofu
Cashews (my secret ingredient for creaminess!)
Kala namak/black salt, for eggy flavour
Corn flour/cornstarch
Non-dairy milk
Vegan cheese or a mix of nutritional yeast, miso, tahini and lemon juice
Your favourite veggies for quiche — I like to use caramelised onions and tomatoes. You could use broccoli, spinach or even add vegan bacon if you want to make vegan quiche lorraine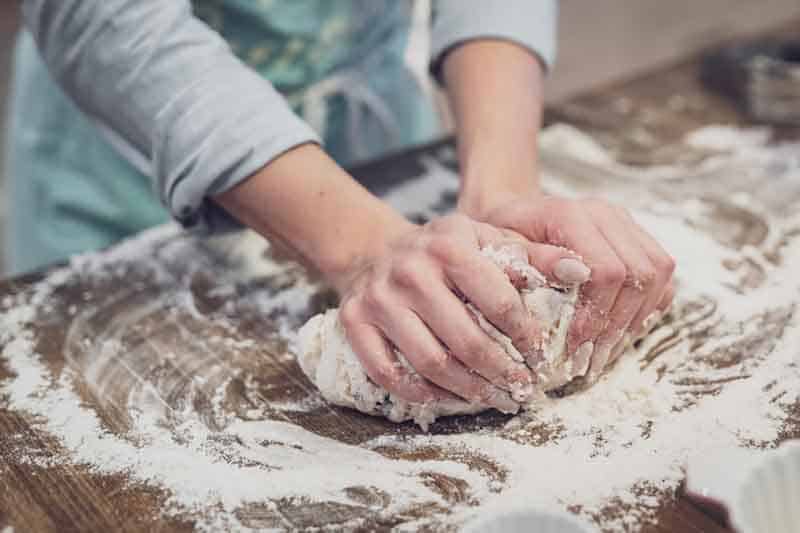 Shortcrust pastry
When it comes to the crust, you can either make it yourself or take a shortcut and buy ready-made shortcrust (just double-check the ingredients to make sure it's vegan!).
I used to baulk at making my own pastry until I realised just how easy it is! Here's an easy recipe that you can make vegan by using vegan margarine and non-dairy milk.
Better yet, it freezes well, so I often make a double batch and then freeze half. When you're ready to use it, just defrost and roll out as usual to make a vegan mini quiche recipe, savoury pie (for desserts, you'll probably want to make a sweet shortcrust recipe with sugar) or whatever else you fancy.
If you're short of time and want an easy vegan quiche, then don't hesitate to use ready-made shortcrust. It's still going to be good!
And what if you're after a vegan crustless quiche? Just leave it out, but be sure to grease your tin well or use parchment paper so the quiche mixture doesn't stick.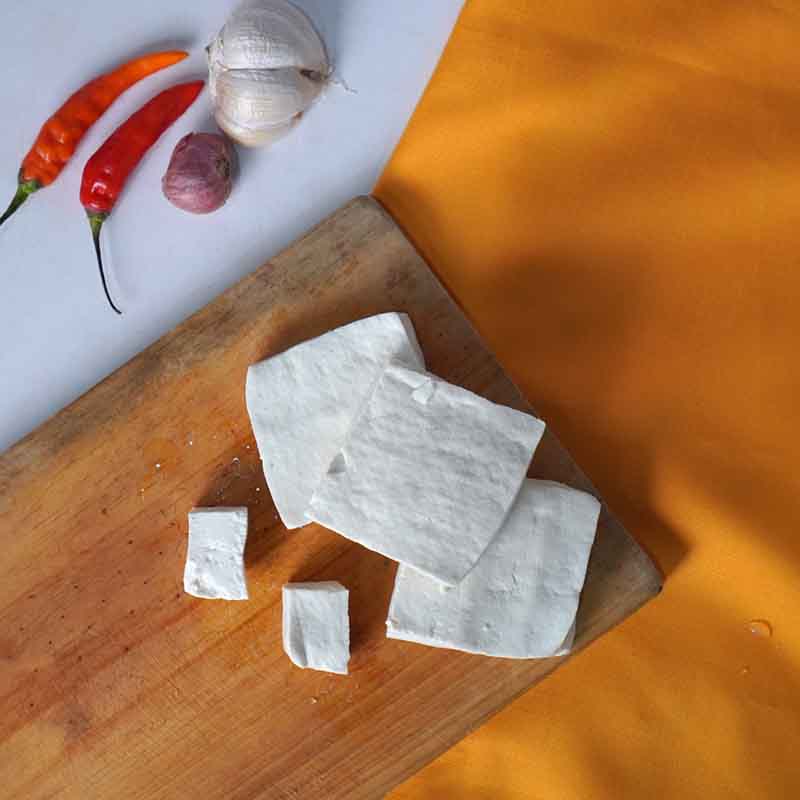 Tofu types
When making vegan quiche with tofu, it raises the eternal question: which type of tofu?
For the uninitiated, the sheer breadth of tofu on offer can be overwhelming. Firm? Extra firm? Cotton? Silken? What's the deal?
What you need to know is that broadly speaking, there are two main categories tofu falls into: firm and silken.
Silken tofu falls apart at the slightest touch, and is ideal for blending into desserts. (I also love it for vegan scrambled tofu.)
Firm tofu can be sliced and fried or baked. It has a much firmer (you guessed it!) texture, which makes it suit quiche, in my opinion. Other people sometimes make their with silken tofu, so you can try it that way if you prefer a softer set quiche, or only have silken tofu to hand.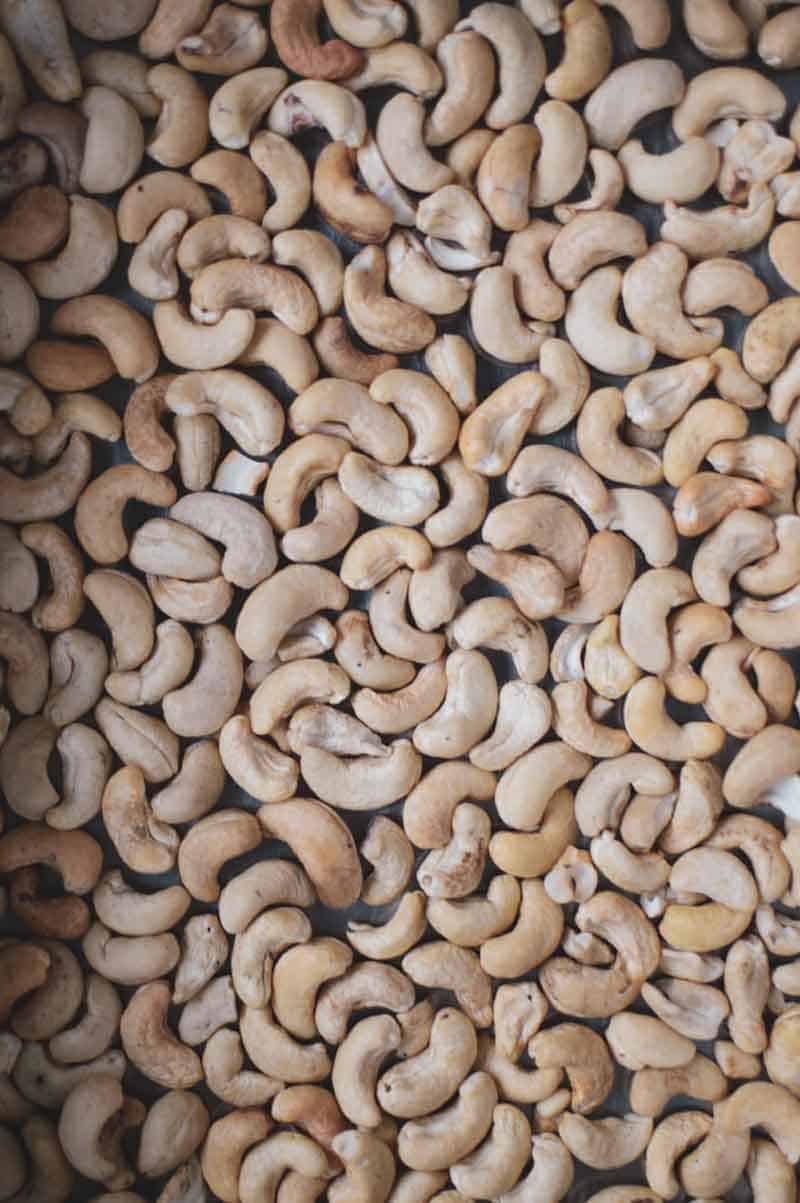 Cashews
Now onto what makes my plant based quiche just so creamy: cashews!
As I mentioned before, most recipes for vegan quiche filling call for just tofu or vegan egg substitutes as their base, but non-vegan quiches usually call for cream as well as eggs. So where to get the creaminess? Enter cashews.
If you can't use or don't have cashews, you can substitute blanched almonds.
As with most of my recipes, I prefer to grind my (unsoaked) cashews up finely in a spice/coffee grinder and then add to the blender to blend with everything else. It's my hack to save quite a bit of time.
If you don't have a spice grinder/coffee grinder, you can soak the cashews in water overnight, then blend them. What I've found is that unless you have a super-strength blender, it's hard to get all the pieces finely blended when using the soaking method.
That's why I prefer to grind mine in a spice grinder first and then blend with the rest of the ingredients again in the blender — plus it involves less prep work and thinking ahead!
If you have a coffee grinder and don't want to get coffee grounds in your quiche, simply grind a few tablespoons of rice first, empty it out and then grind the cashews up (rice absorbs the coffee grounds and their flavour). You can do the same after grinding the nuts if you don't want nuts in your coffee!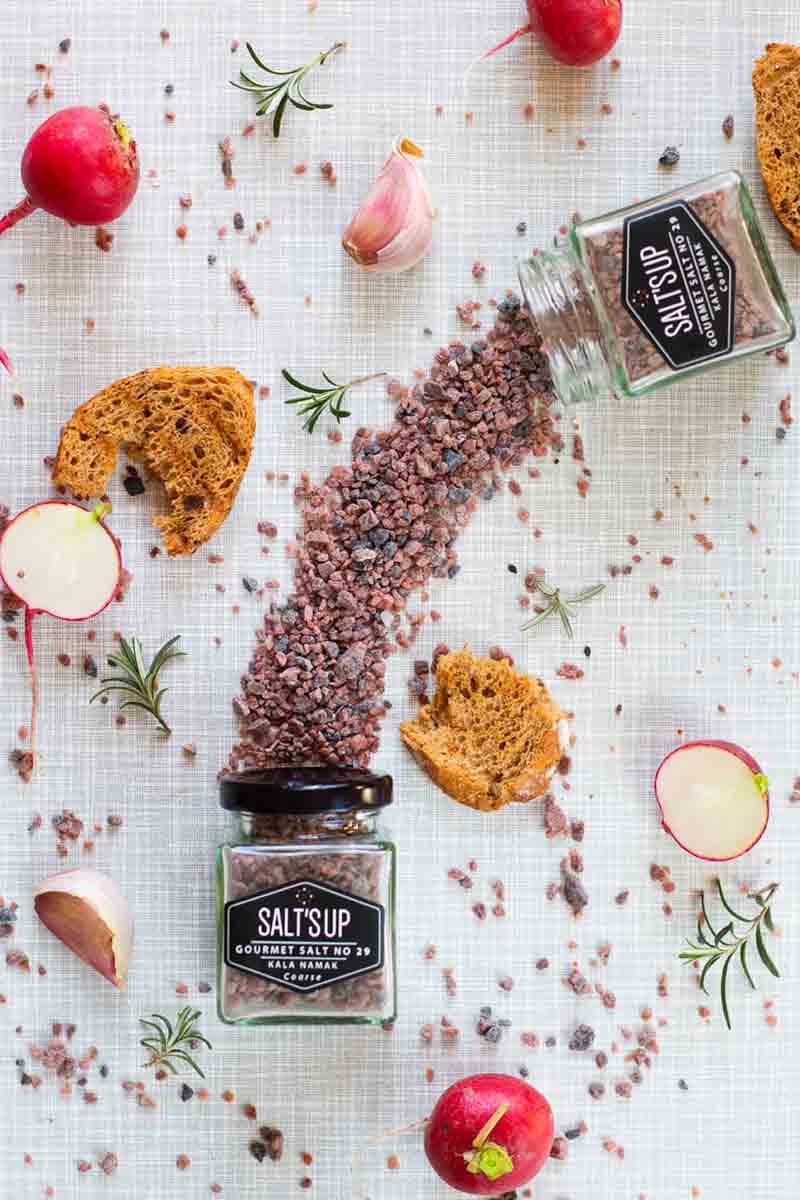 Black salt/kala namak
If there's one thing you need for your eggless quiche filling, it's kala namak, also called black salt.
If you're wondering why, it's what gives an eggy flavour! Kala namak is a sulphurous salt used in Indian cooking (and available in Indian supermarkets or online), often used in vegan cooking to give food an egg-like taste.
Contrary to the name, it's not black, but in fact a grey-pink tone. If you don't have an Indian supermarket near you, you canbuy it online.
If you prefer, you could use a commercial vegan egg substitute instead, such as Just Egg or Vegg, but kala namak is a lot cheaper. And most commercial egg substitutes contain kala namak for eggy flavour anyway…
One note: don't be alarmed if you open the bag and are overwhelmed by the sulphurous smell (sulphur causes a distinctive scent which some say smells like hard-boiled eggs or rotten eggs)! You only need a pinch, and a lot of the strongest flavour gets cooked out.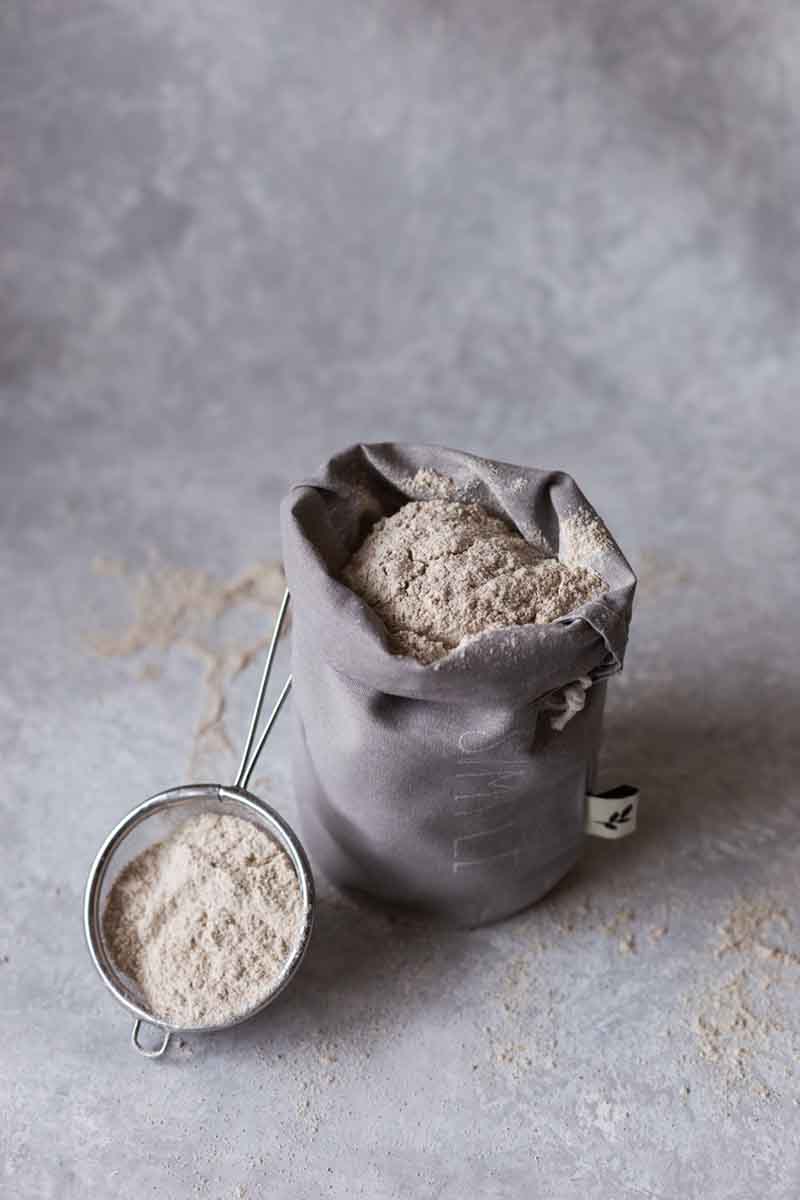 Cornflour/cornstarch
Cornflour, or cornstarch, is a thickening agent often used to thicken gravy, sauces and other food. It's flavourless, which makes it ideal for lots of different uses.
It's also naturally gluten-free (though if you're making a gluten free quiche with gluten free crust be sure to buy cornflour that's labelled gluten free in case of cross contamination).
In this quiche, it also helps thicken without eggs.
Non-dairy milk
Just like non-vegan quiche, my recipe calls for milk (except the difference is using non-dairy milk, obviously!).
There are so many non-dairy milks these days. A trip to any supermarket is sure to show dozens of different varieties. Oat, soya, almond, coconut, buckwheat, potato milk…how to choose?!
You can use whatever plant milk you prefer/have in your house, but to make the best vegan quiche I recommend using a milk that doesn't have a strong flavour (eg not coconut), because who wants quiche that tastes like coconut? (If you do, no judgement here. Enjoy your coconut quiche.)
I usually use soya milk (oat milk also works well, with a neutral flavour).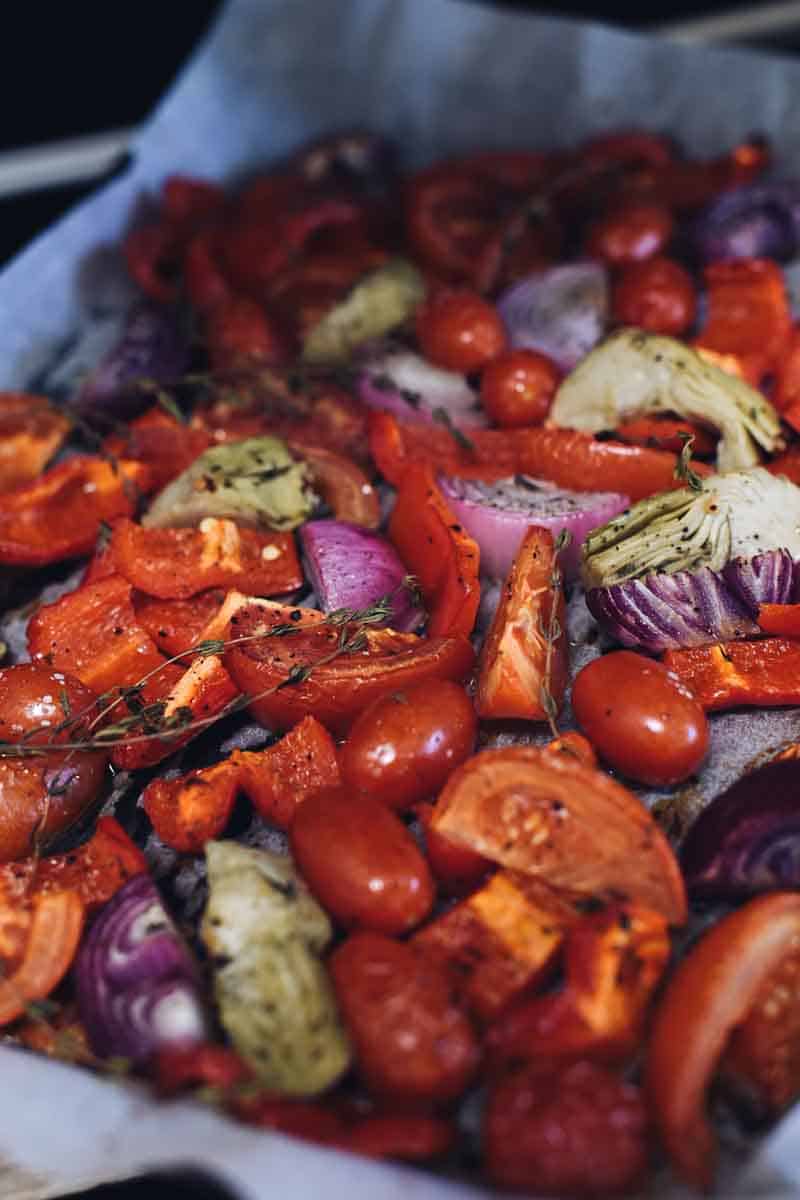 Vegan cheese or nooch
Love a cheesy quiche? Who doesn't!
You can easily make a cheesy vegan quiche by adding your favourite vegan cheese, along with whatever veggies you like.
However, I usually make mine cheesy by adding nutritional yeast. After all, the cheese is just going to get blended up with the tofu and cashew mixture. Vegan cheese can be expensive, whereas nutritional yeast is cheap as chips (well, maybe not quite).
I like to add a mix of nutritional yeast, miso, tahini and lemon (the cheesiness of nutritional yeast, fermented goodness of miso, tang of lemon and umami/savoury-ness of tahini really work well together) to make my cheesy flavour.
If you have some vegan cheese in the fridge that needs using up, feel free to whack that in instead.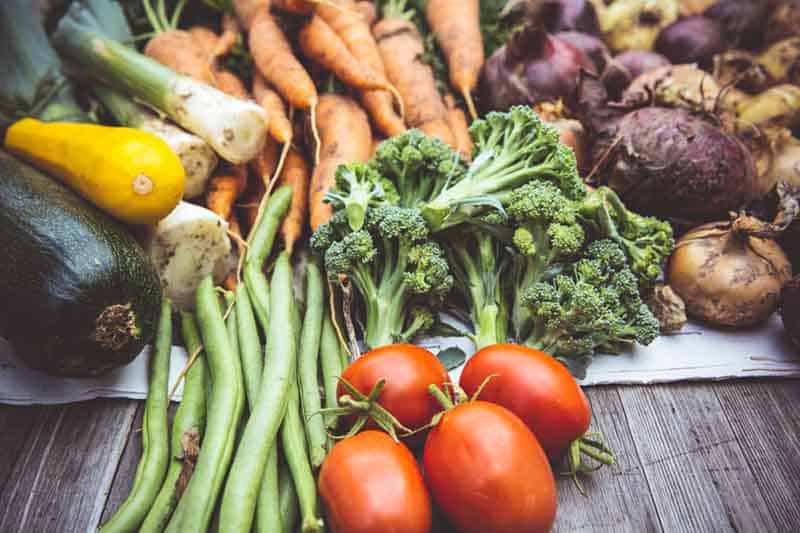 Veggies
If you're looking to make your quiche vegan, recipe formulas can only take your so far. Sometimes I think it's better just to experiment and find the flavours that you like best! That's why I recommend using your favourite veggies.
I personally love a cheesy caramelised onion and tomato quiche. But maybe your tastes are different.
Want vegan spinach quiche? Use spinach! (Though I recommend cooking it and pressing out the water first, or else your quiche will get soggy.)
Vegan broccoli quiche cravings? Sub broccoli instead!
Want vegan quiche Lorraine? Add vegan bacon and vegan quiche!
Quiches are also a great way to use up leftover veggies.
Have mushrooms left over from a fry up? Make vegan mushroom quiche!
One thing that is a must, however, is cooking vegetables prior to making quiche (though I don't normally apply this rule to finely sliced tomatoes). They won't fully cook submerged in a quiche, so unless you want still-crunchy broccoli or raw mushrooms, make sure to cook vegetables/mushrooms first.
Also, vegetables release water when cooking, and you don't want watery quiche. So be sure to pre-cook them or use leftover cooked veggies.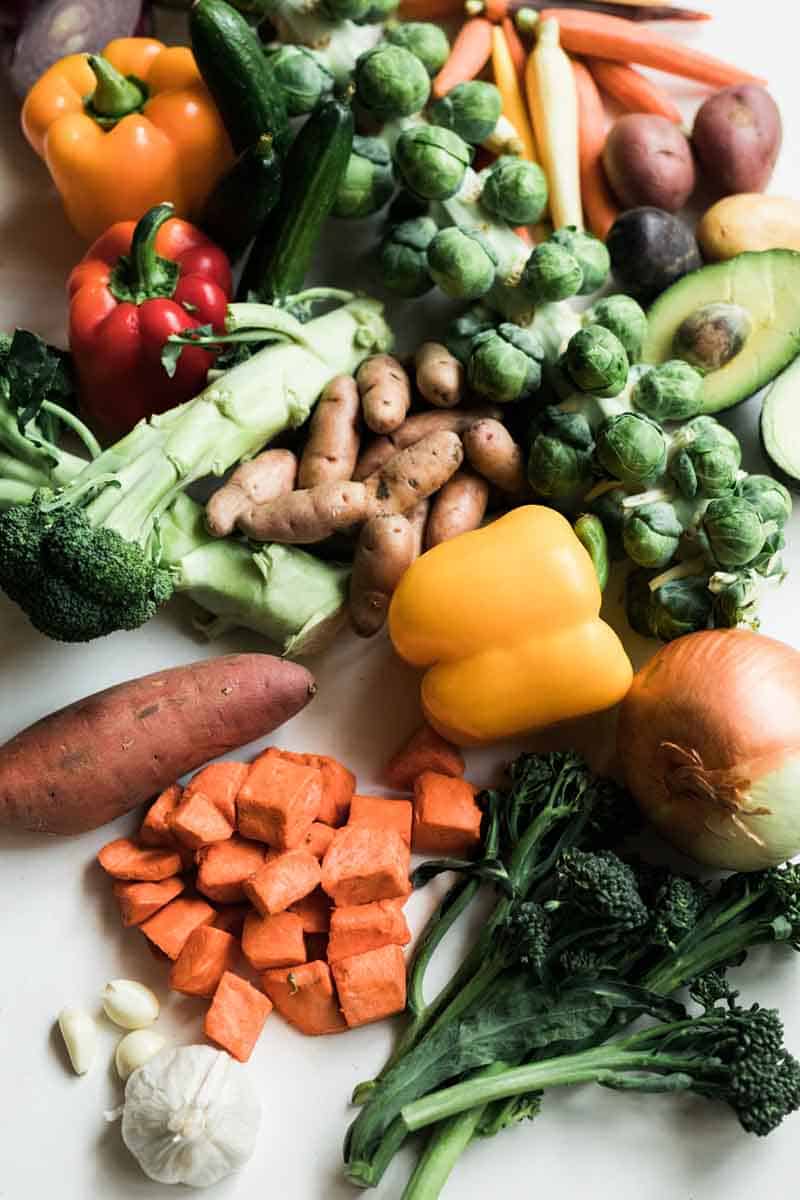 Customise your quiche
One of the best things about this easy vegan quiche recipe is that it's pretty much endlessly customisable.
Use leftover veggies or whatever veggies you like best, and experiment with different flavours.
Need vegan gluten free quiche? Substitute a vegan, gluten-free shortcrust pastry and make sure to buy corn flour that's labelled gluten-free to avoid cross-contamination.
Want mini quiches, vegan style, for a party? You can miniaturise the recipe!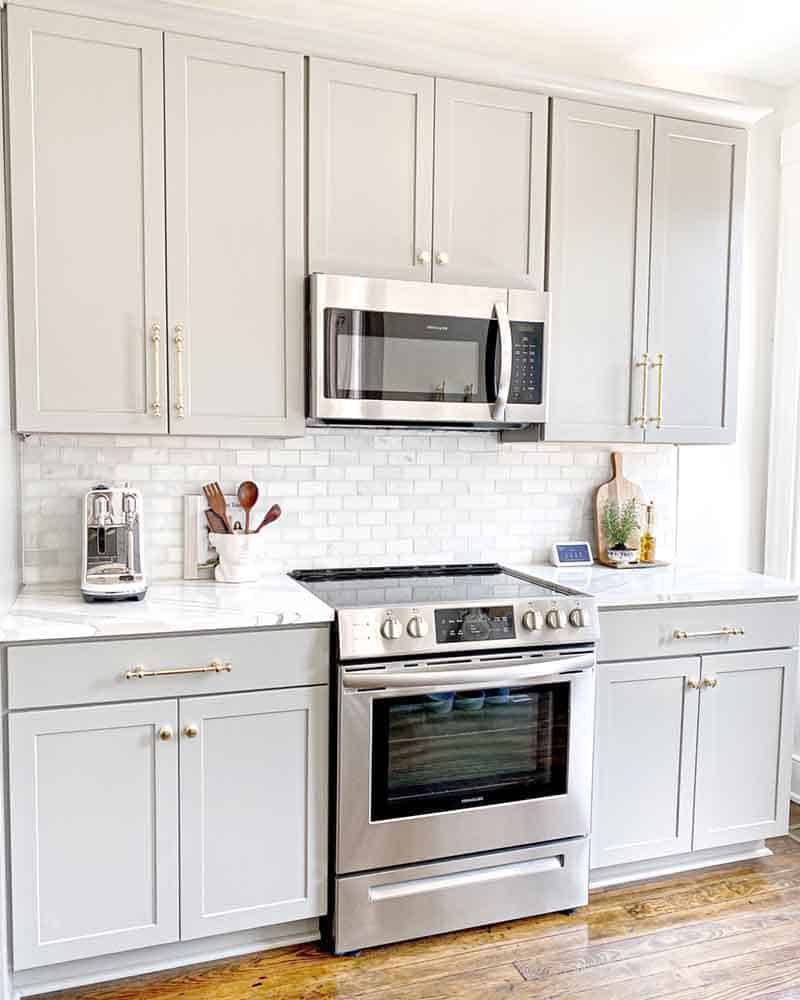 What equipment you'll need for this recipe
An oven – you'll definitely need an oven. ;)
Beyond this, you'll need a blender and a pie tin for baking.
You may also want a coffee/spice grinder.
To blind bake the crust, you'll need parchment paper and ceramic baking bins, pie weights, dried beans or rice.
What is blind baking and why do I have to do it?
First of all, you don't have to blind bake…but it's essential if you want to avoid the dreaded soggy bottom (and who wants a soggy bottom?).
When you put a liquid mix (such as the filling for quiche, pumpkin pie or filling for a tart) onto a pastry base and bake it as is, the liquid starts to leach into the pastry and create the infamous soggy bottom. (In famous if you've watched Great British Bake Off, at any rate.)
By baking the crust first, on its own, BEFORE adding the filling, you allow the crust time to cook and crisp up before adding liquid on top of it.
You simply line the pastry with parchment paper to stop anything sticking, then put pie weights on top to keep the pastry from puffing up.
You don't need pie weights or ceramic baking beads (though you can use them), by the way. Rice or dried beans on top of parchment paper will also work!
So don't fear if you don't have them. We love a DIY kitchen hack around here.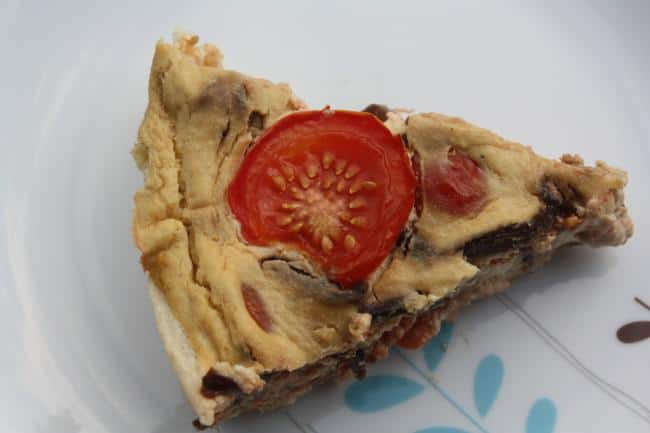 Vegan quiche
Creamy vegan quiche recipe made with leftover veggies of your choice
Ingredients
1

Vegan shortcrust pastry sheet (storebought or make your own)

1/4

cup

raw cashews

45 g

14

oz

firm or extra-firm tofu

400g

1/2

cup

non-dairy milk

125ml

1

tbsp

cornstarch/cornflour

2

tsp

kala namak/black salt

1

pinch

salt

1/2

cup

precooked veggies of your choice
For cheesy quiche use either handful grated vegan cheese or:
1/4

cup

nutritional yeast

7g

2

tsp

lemon juice

1

tsp

white miso

1

tsp

tahini
Instructions
Pre-heat the oven to 200 C /180 C fan / 350 F.

Either soak the cashews in water (preferably overnight), or grind the cashews finely to a dust-like consistency in a spice grinder. Add the ground cashews, tofu, corn flour, kala namak/black salt, table salt, soya milk and, if using, the vegan cheese or nutritional yeast, miso, tahini, salt and lemon juice to the blender.  Blend everything together until smooth.

Lightly grease a round cake tin.  Line it with the pastry sheet, trimming off any excess. Line the pastry with baking parchment.

If you have ceramic baking beans/pie weights, place them on the pastry, or use rice or dried beans (or a smaller pastry dish) to hold down the pastry.

Bake for 15 minutes, until crust is golden, and remove from the oven. Remove the weights and the parchment paper.

Pour the blended mixture onto the pastry sheet, then add your vegetables and stir in. 

Bake at 200 C/ 180 C fan / 350 F for 30-35 minutes, until the pastry is just beginning to brown and filling is set.

Let cool 15-20 minutes before serving (until filling is set).
Notes
You can use your favourite vegetables or leftover veggies, but be sure to cook them first (if they cook in the quiche they'll release water and make the quiche soggy). Ideas: pre-cooked caramelised onions, broccoli, zucchini/courgette, spinach and/or mushrooms.
Pin this for later
Looking for more vegan egg recipes? Check out my vegan egg custard tarts (pasteis de nata) and my silken tofu scramble!
I also have a recipe for vegan egg pasta.
Find all my vegan recipes here.