My Vegan Mofo theme is Suitable for Non-Vegans: delicious, non-scary food you can feed your non-vegan friends and family — food that will show them that you're not crazy (well, not crazy for being vegan!). Like my page on Facebook to get the latest Mofo/Suitable for Non Vegans posts.


This recipe is truly one that I developed to be Suitable for Non Vegans. It started with a trip to Sicily, and my non-vegan boyfriend telling me that his favourite pasta dish is spaghetti carbonara, followed by me saying I would make a vegan version for him, without having ever had the dish or realising what it was. It wasn't until I started looking at recipes online that I realised the only vegan ingredient in traditional recipes was the dried spaghetti! Furthermore, I was working under my boyfriend's requirement that no veggie bacon be used. A lot of non-vegans are scared of mock meats — and I understand, because I'm not a huge fan myself. So, I brainstormed a vegetable I could make bacon out of. Lots of people seem to make it out of coconut. But, I tried coconut chip bacon recently after my trip to Vida Vegan Con in Portland in May, and I wasn't a huge fan — nor was my boyfriend.
The idea of courgette (zucchini) bacon popped into my head one day, and he agreed it sounded nice. Of course, I wasn't trying to create something that tasted exactly like bacon — I think that's a key point here. In fact, I wouldn't even call it bacon (that's why I've referred to it as crispy courgette bits), especially if I were feeding it to a non-vegan. I think that would create an expectation of it to be just like bacon (and therefore be a disappointment when tasted), and of course it's not. Instead, I tried to replicate key flavour elements of bacon. Now, being a lifelong vegetarian and never having tasted bacon, that was difficult, but I read a few other recipes for vegan bacon (some made of courgettes/zucchini and some of aubergine/eggplant) and tried to replicate this:
Fatty: achieved with plenty of oil
Salty: achieved with salt and miso
Sweet & peppery (several recipes used maple syrup and pepper): brown sugar and black pepper
Savoury/umami: often achieved with liquid smoke, but I opted for Worcestershire sauce because I vehemently hate liquid smoke, and when I gave some to my boyfriend to taste so did he. Miso also lends some savoury notes.
I created a marinade, soaked the courgette in it for an hour, and baked at 200 C. Other recipes baked on very low heat for 4 hours, but I'm too impatient for that.
Next up was veganising the rest of the dish. I used non-vegan recipes but just substituted and it was much easier than the bacon replacement adventure. Cream got replaced by soya cream (Alpro brand), the cheese got replaced by nutritional yeast and parmesan from Artisan Vegan Cheese, and the egg was replaced with the amazing Vegg (which tastes eerily like egg yolks!). The verdict? Yum. And the boyfriend was happy.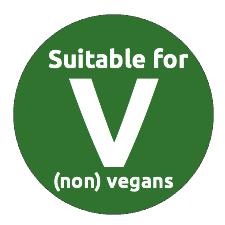 Spaghetti Carbonara with Crispy Courgette Bits
Makes 2-3 servings
Ingredients
0.5 lb (250 g) dried spaghetti
1-2 tablespoons olive oil
1 clove garlic, minced
1 recipe crispy courgette bits (recipe follows)
1 tsp Vegg + 1/4 (60 ml) cup water, blended
1/4 cup (60 ml) single cream
2 tablespoons nutritional yeast
black pepper, freshly ground
vegan parmesan, optional
Instructions
Boil the pasta water and cook according to package instructions.
While the pasta is boiling, heat the olive oil in a frying pan over medium heat. Add the minced garlic and saute until just starting to brown. Add the courgette bacon and fry until beginning to brown and crisp slightly
In a small bowl, whisk the blended Vegg, the cream, and the nutritional yeast together.
When the spaghetti is cooked, drain and add to the frying pan with the garlic and courgette bacon. Add the Vegg, cream and nutritional yeast mixture and mix to combine with pasta. Remove from heat, sprinkle with lots freshly ground black pepper (it should be quite peppery, but do it to your own taste preferences), and mix to combine. Top with grated vegan parmesan (I used the parmesan from Artisan Vegan Cheese), if desired.
Crispy Courgette Bits
Ingredients
2 courgettes, thinly sliced
3 tbsp oil
1 tsp brown sugar
1 tsp white miso
pinch salt
pinch pepper, preferably freshly ground
1 tsp vegan worcestershire sauce, or sub liquid smoke if you like it
Instructions
Finely slice courgettes into long strips. Mix other ingredients to form marinade. Put courgette slices in a Ziploc bag or plastic container coated in marinade for an hour minimum.
Preheat oven to 200 C.
Spread courgette slices out evenly on a baking tray. Bake until crispy (keep checking, depending on how thin or thick your slices are, this could take 15 minutes to an hour). If using in spaghetti carbonara, cut into 1 cm pieces (like bacon bits).