My Vegan Mofo theme is Suitable for Non-Vegans: delicious, non-scary food you can feed your non-vegan friends and family — food that will show them that you're not crazy (well, not crazy for being vegan!). Like my page on Facebook to get the latest Mofo/Suitable for Non Vegans posts.

Much like my last recipe, Spinach "Crack", this dish was an accident of sorts.  It started with a trip to Sicily, and everyone telling me I had to try the typical Sicilian dish of pasta alla norma, a pasta with aubergine (eggplant) and ricotta salata.  I tried a cheese-free vegan version in Sicily, but I was eager to try a version with vegan cheese when I got home.  Unfortunately, I didn't read recipes carefully enough to realise that usually pasta alla norma is topped with ricotta salata, a salted ricotta cheese which is hard and crumbly.  Instead, I used my normal cashew tofu ricotta, which I mixed straight into the sauce.  But no matter, even if it wasn't a traditional pasta alla norma, it was delicious.  And my (non-vegan) boyfriend/Taste Tester approved, making this recipe Suitable for Non Vegans too!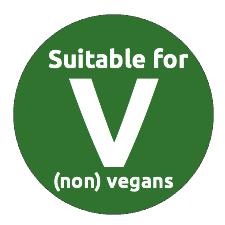 Creamy Aubergine Ricotta Pasta
Makes 4-5 servings

Ingredients
2 aubergine (eggplants), quartered and sliced into small strips, white fluffy inner parts removed
2 tbsp olive oil
1 tsp dried Italian herb mix or dried oregano
1 clove garlic, peeled and finely chopped
2 tins of chopped tomatoes in their juices
salt and pepper to taste
500 g dried penne or fusilli pasta
1 recipe cashew-tofu ricotta, recipe below
Instructions
Heat olive oil in a frying pan or wok over medium heat.  Quarter the aubergine and remove the fluffy white innards. Cut into small strips (about the length and width of the penne).  Cook the aubergine in batches until you can slice through them easily with the side of a fork.
Return all the aubergine to the pan, add the minced garlic and dried Italian herbs, and cook until the garlic is browned.
Add the tomatoes to the pan, and cook for 10-15 minutes, stirring frequently.
In the meantime, boil a large pot of water and add the penne pasta.  Cook according to packet instructions, the drain and set to one side.
When the tomato-aubergine mixture has finished cooking, add it to the pasta in a large pot.  Add the ricotta and stir to combine.
Top with vegan parmesan, if desired.
Vegan Ricotta
1 package (approx 1 lb) firm tofu, drained and pressed
1/2 cup cashews
2 teaspoons lemon juice
2 teaspoons olive oil
1 garlic clove, chopped
1/4 teaspoon salt
1/4 cup nutritional yeast flake
10 fresh basil leaves, chopped
fresh black pepper to taste
Italian dried herb mix to taste
Instructions
In a spice grinder, grind cashews until fine.
In a food processor, blend cashews, tofu, lemon juice, olive oil, garlic, salt, nutritional yeast, tahini, miso, basil, black pepper, and Italian herb mix until it forms a thick paste.
Adjust seasonings to taste.