This post may contain affiliate links (see full disclaimer here). This means if you make a purchase after clicking, I may get a small percentage of the sale, at absolutely no extra cost to you.
Ready to learn how to make a quick silken tofu scramble in 10 minutes?
Not a fan of rubbery tofu? Soft tofu scramble is the way to go. Looking for silken tofu breakfast recipes? Check. And best of all, this rainbow tofu scramble only takes around 10 minutes to make.
I used to think I didn't like tofu scramble after eating a few too many rubbery tofu scrambles in restaurants. Overcooking extra firm tofu can make it dry and rubbery. Save your regular extra firm tofu for other recipes, like these mojito-marinated tofu summer rolls!
Then, I came across a recipe for vegan tofu menemen (Turkish scrambled eggs) on Serious Eats. In it, the author, Kenji Lopez-Alt (who creates brilliant recipes) suggests using firm silken tofu to make smooth, silky scrambled tofu, closer in texture to a soft scrambled egg dish. To me, soft tofu 'scrambled eggs' has a much better texture, and much closer to eggs, than a standard tofu scramble made with extra firm tofu. I started making silken tofu scramble and never looked back.
Now, I eat silken tofu scramble at least once a week.
Best of all, it stores and reheats well, so you can make a big batch at the beginning of the week and have breakfasts for several days!
Equipment You'll Need…
The key to a great tofu scramble (apart from the silken tofu!) is using the right equipment. A skillet or a wok is a must-have! It might surprise you to hear that I make my tofu scramble in a wok — it's naturally non-stick and the high sides make it easier for me to move the ingredients around without spilling over the side and making a mess.
Click here to see the skillet I recommend.
Whatever you use, I recommend avoiding nonstick coating. Not for health concerns (I don't know whether that's true or not, although if you want to avoid it that's fine) but because I find they have a much shorter lifespan than a stainless steel frying pan or a carbon steel wok, both of which can last a lifetime. Eventually the nonstick coating starts flaking off and it's gross to find flakes in your food.
Grab a stainless steel skillet and some olive oil instead.
I recommend this stainless steel skillet. Click here to see the latest prices.
Ingredients You'll Need…
What veggies and extras to put in your tofu scramble
I often roast a big batch of veggies one night to have in a meal or throughout the week and I love throwing leftover vegetables in my silken tofu scramble.
You can use whatever leftover vegetables you have on hand (or you can leave out the veggies completely if you prefer) but I love using vegetables of different colours to create rainbow tofu scramble.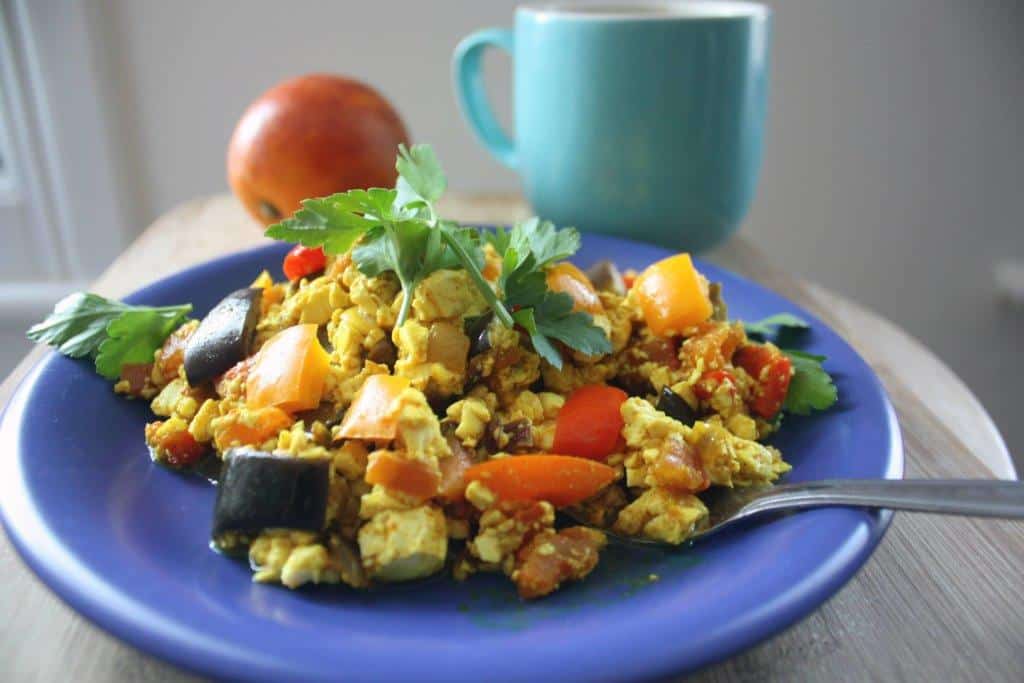 Black salt adds an eggy flavour. You can buy black salt (which is actually pink, in spite of the name, and sometimes called kala namak) online here, or in an Indian supermarket. It's inexpensive and you only need a little bit to get a big punch of eggy flavour! If you're transitioning to veganism and missing eggs, it's well worth seeking out.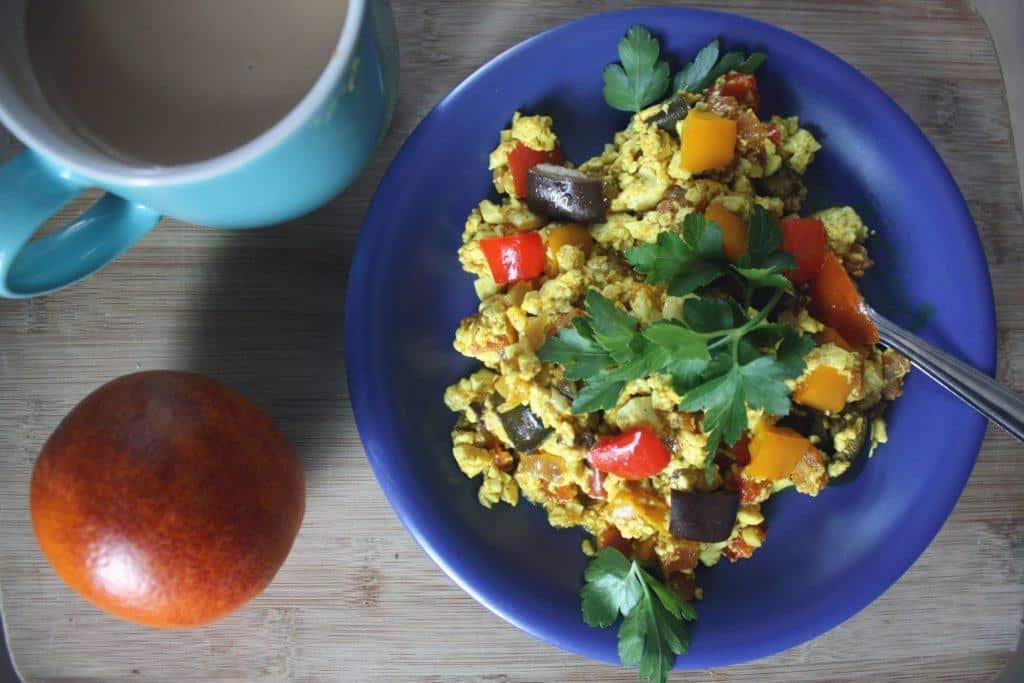 Quick Rainbow Silken Tofu Scramble
2018-02-23 11:06:36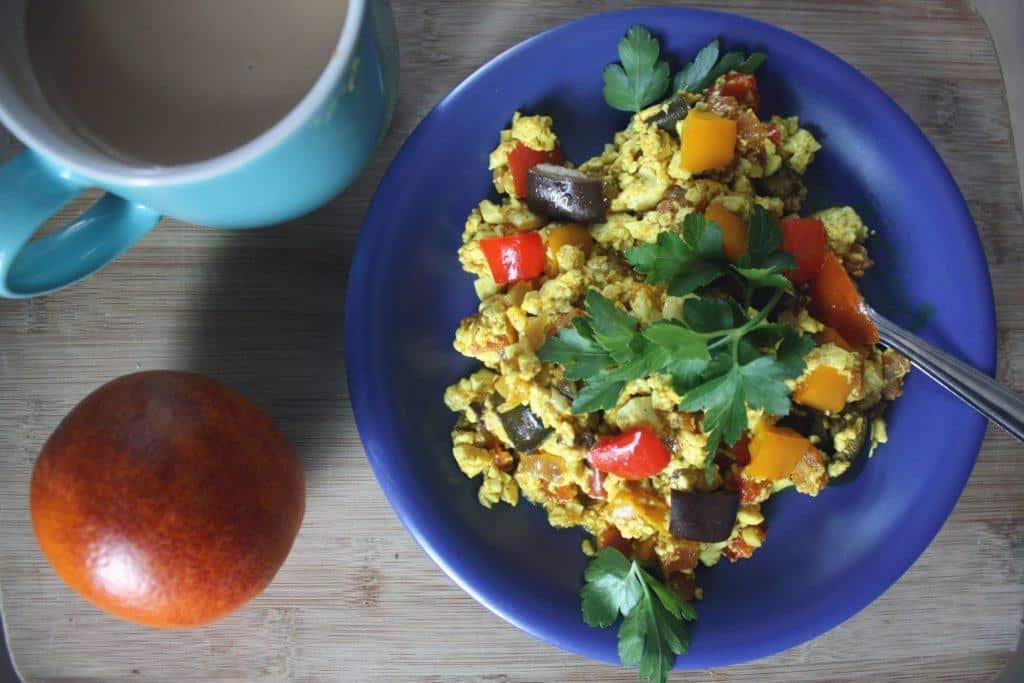 Ingredients
1 onion, chopped

Handful peel and chopped carrot (optional)

1 clove garlic, minced

1 tomato, cut into quarters and then halved (optional)

Handful of chopped bell pepper (optional)

1/4 teaspoon black salt

1 teaspoon turmeric (to give it a yellow colour)

1 package (approx 350g) silken firm or extra firm tofu

Leftover veggies, for example roasted aubergine (eggplant), courgette (zucchini) or whatever vegetables you have on hand (optional)
Add ingredients to shopping list
If you don't have Buy Me a Pie! app installed you'll see the list with ingredients right after downloading it
Instructions
Saute onion and carrot (if using) in olive or vegetable oil in a frying pan until the carrots start to soften and onion begins to turn translucent.
Add the garlic and saute until it begins to brown slightly.
Add the chopped tomatoes, black salt and turmeric and cook until the tomatoes have softened and released their juices.
Open the tofu and drain off any water. Then, crumble it into the frying pan and stir to mix with the other ingredients.
Add any leftover veggies and mix everything together. Season to taste with salt and pepper and cook another minute or two, until the veggies and tofu are hot. Add more black salt if you want a stronger eggy flavour.
Notes
Stores and reheats well, so store any leftovers in Tupperware and reheat before serving.
Print
The Vegan Word https://theveganword.com/
# Your Food
If you make this dish, please share — use #theveganword on Instagram or send me your pics and tell me how it turned out!
Pin it for later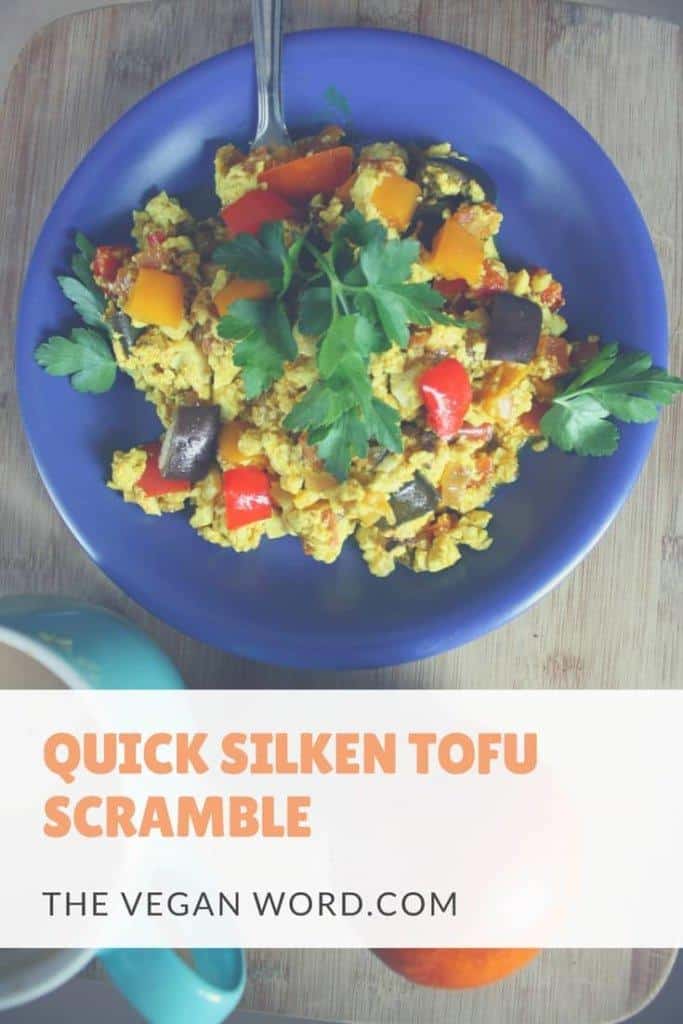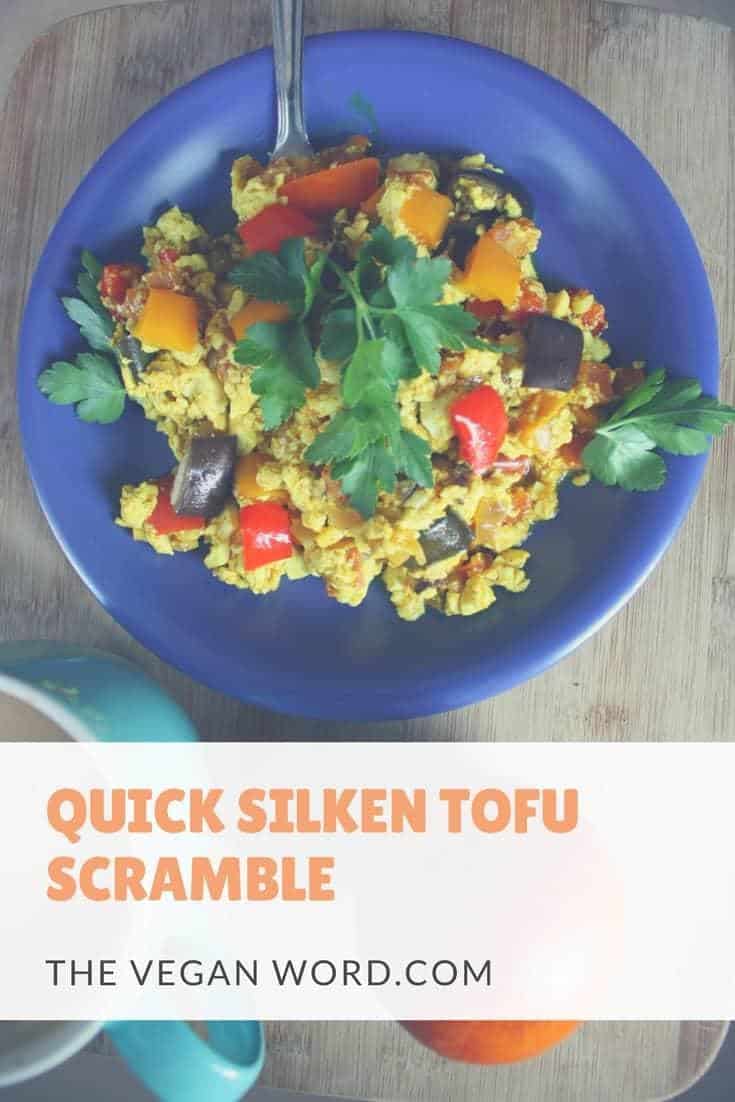 Looking for more cooking inspiration? Check out all my vegan recipes here.
As an Amazon Associate I earn from qualifying purchases.