My Vegan Mofo theme is Suitable for Non-Vegans: delicious, non-scary food you can feed your non-vegan friends and family — food that will show them that you're not crazy (well, not crazy for being vegan!). Like my page on Facebook to get the latest Mofo/Suitable for Non Vegans posts.


In March of 2013, I went to Lisbon for a week. As I've mentioned before, I kept eyeing the famous egg custard tarts (pasteis de nata or pasteis de Belem) all over Lisbon, and I alluded to the fact that I planned to make them. Unfortunately back in 2013 vegan pasteis had not yet come to Lisbon, though times have changed (yay!), veganism is spreading and you can now get vegan pasteis at a place called baaBeat.
Pasteis de nata consist of egg custard (normally flavoured with cinnamon and lemon peel, it would seem) on a pastry base. I wanted to veganise it, but a lot of recipes made it seem really complicated to prepare (so I kept putting it off).
Later I discovered the main reason the recipes are so complicated is to prevent overheating the egg when mixing it into the milk mixture, which could cause it to start to separate and get an almost scrambled egg-like texture.
I figured there wasn't the risk of the that with the Vegg, so I opted for a much simpler technique, and it turned to be pretty easy to prepare with the Vegg. Instead of heating sugar, the milk and flour, and the egg separately (using up to 3 pans!), I opted to cook everything in one pan. You can buy the Vegg on Amazon.
I've since used Follow Your Heart's VeganEgg, and while it was still tasty, it actually seemed to separate a little. It was absolutely fine once I poured it through the strainer, though! So if you only have access to VeganEgg, use that. (You can also buy VeganEgg on Amazon here, or in many health food shops. It's a similar price to Vegg but the package is smaller so Vegg works out cheaper.)
A few things to consider:
You can use a regular muffin tray or a large one, depending on how big you want your pasteis.
Only fill the pastry cases 3/4 of the way full! I made the mistake of over-filling mine and was greeted with an explosion of custard all over the muffin tray when I opened the oven door. The entire tray was coated in extremely sticky custard. I wish I'd stopped at 3/4, even if I would have had some custard left over.
In bakeries, they cook pasteis at very high temperatures (up to 700 F). If you want the characteristic blackened spots on your pasteis, broil them for a minute after they've finished baking. But be careful and watch closely to make sure they don't burn!
I've never had pasteis de nata before, so I can't say how authentic they are. However, I can say that I loved them, and so did my non-vegan taste testers — meaning these recipes are suitable for non-vegans. Want more recipes that are tried, tested and approved by non-vegans.
Get your free copy
of Suitable for Non Vegans, a collection of our 10 best recipes that you can serve to your vegan AND non-vegan friends and family and are guaranteed they'll all adore them!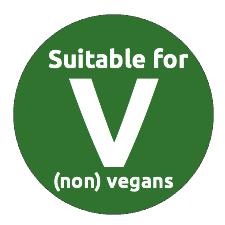 Vegan Pasteis de Nata/Pasteis de Belem (Portuguese Custard Tarts)
Ingredients
350g package puff pastry sheet (I used Jus Rol)
1 cup (250 ml) soya milk, or other vegan milk
3 tablespoons cornflour / cornstarch
1 cup (200 g) sugar
2 slices fresh lemon peel
1 stick cinnamon
2 tsp Vegg + 1/2 cup (125 ml) water
Instructions
Preheat the oven to 375 F / 190 C. Mix the soya milk, sugar, corn flour (cornstarch) in a small saucepan. Add the lemon peel and cinnamon and cook over medium heat until it just starts to thicken. Add the blended Vegg and stir over medium heat until the mixture is quite thick and custard-like, 3-5 minutes. Remove from heat and strain, so the solid bits (like lemon peel and cinnamon) are strained out. I strained mine into a glass measuring cup for easy pouring.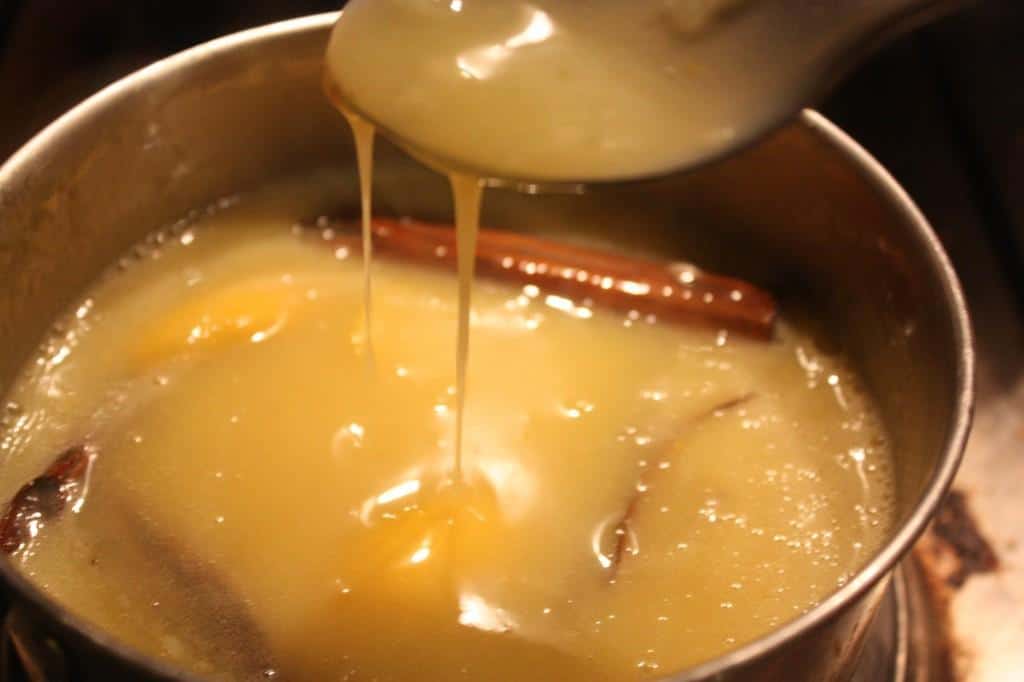 Lightly grease a muffin tin.
Remove the puff pastry sheet from its wrapping and roll along the long end. Cut into 12 pieces.
Put a piece of pastry in a muffin tin hole, and press it until it starts to cover the hole in a rounded shape.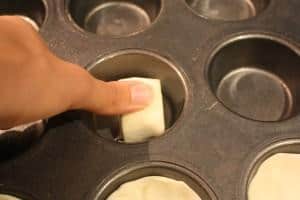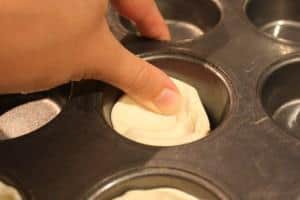 Pour the custard (soya milk/Vegg mixture) into the pastry shells, filling them only 3/4 of the way full.
Bake at 375 F/190 C for 20 minutes. If you want blackened spots on top of your pasteis like the traditional ones, broil them for 1 minute, keeping a close eye on them to make sure they don't burn.
Remove from the oven and allow to cool down for 5-10 minutes, then remove from the muffin tin and move to cooling rack to cool down completely. Serve warm and coated in icing sugar/powdered sugar, if desired.
Want more recipes that your vegan AND non-vegan friends and family will adore? Learn how to make vegan food that everyone will love…click here to get your free cookbook, Suitable for Non Vegans, our collection of our 10 most popular recipes, tried, tested and approved by non vegans!
Please note: This post contains affiliate links, which means if you make a purchase through one of these links, I'll make a small commission, at no extra cost to you. Thanks for supporting my blog!