Several years ago, a group of friends and I decided to have regular brunches. Somehow these turned into weekly drinks punctuated by the odd brunch, and brunches became later and later affairs, often beginning in the afternoon and stretching until late at night. In fact, they could hardly be called "brunch" anymore, late as they were and since they usually involved lots of crisps and other distinctly un-brunch-like food.
But one thing remained constant, and that was my friends begging me to make vegan cinnamon rolls. We're an odd bunch – vegan, pescetarian, those who won't eat chocolate in desserts, those who won't eat 'unusual' foods or those that mix flavours. But the vegan cinnamon rolls satisfy everyone.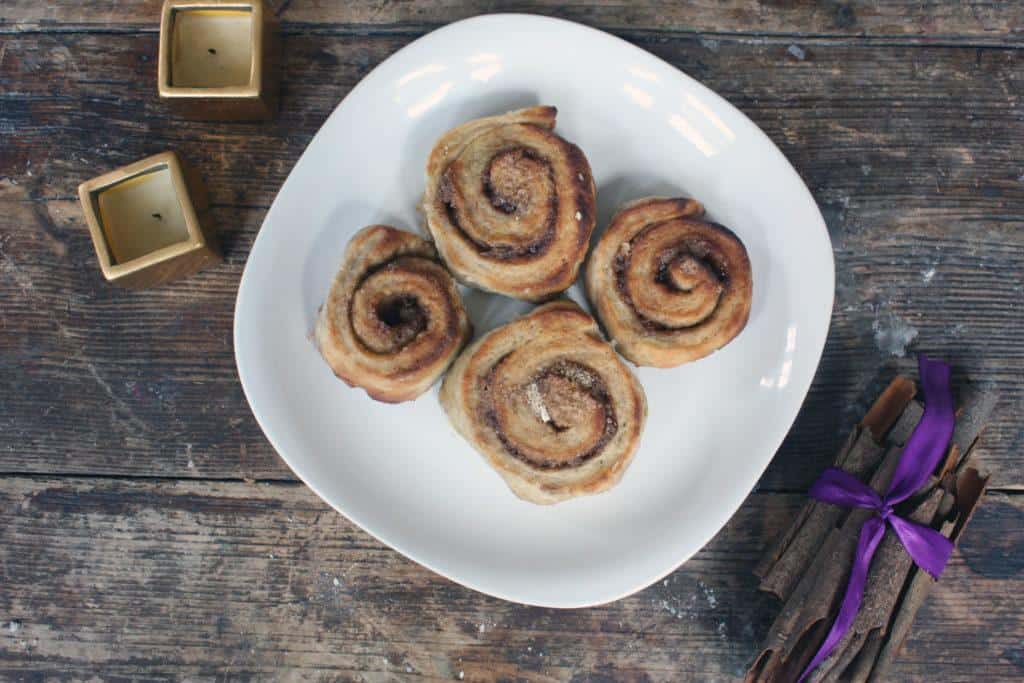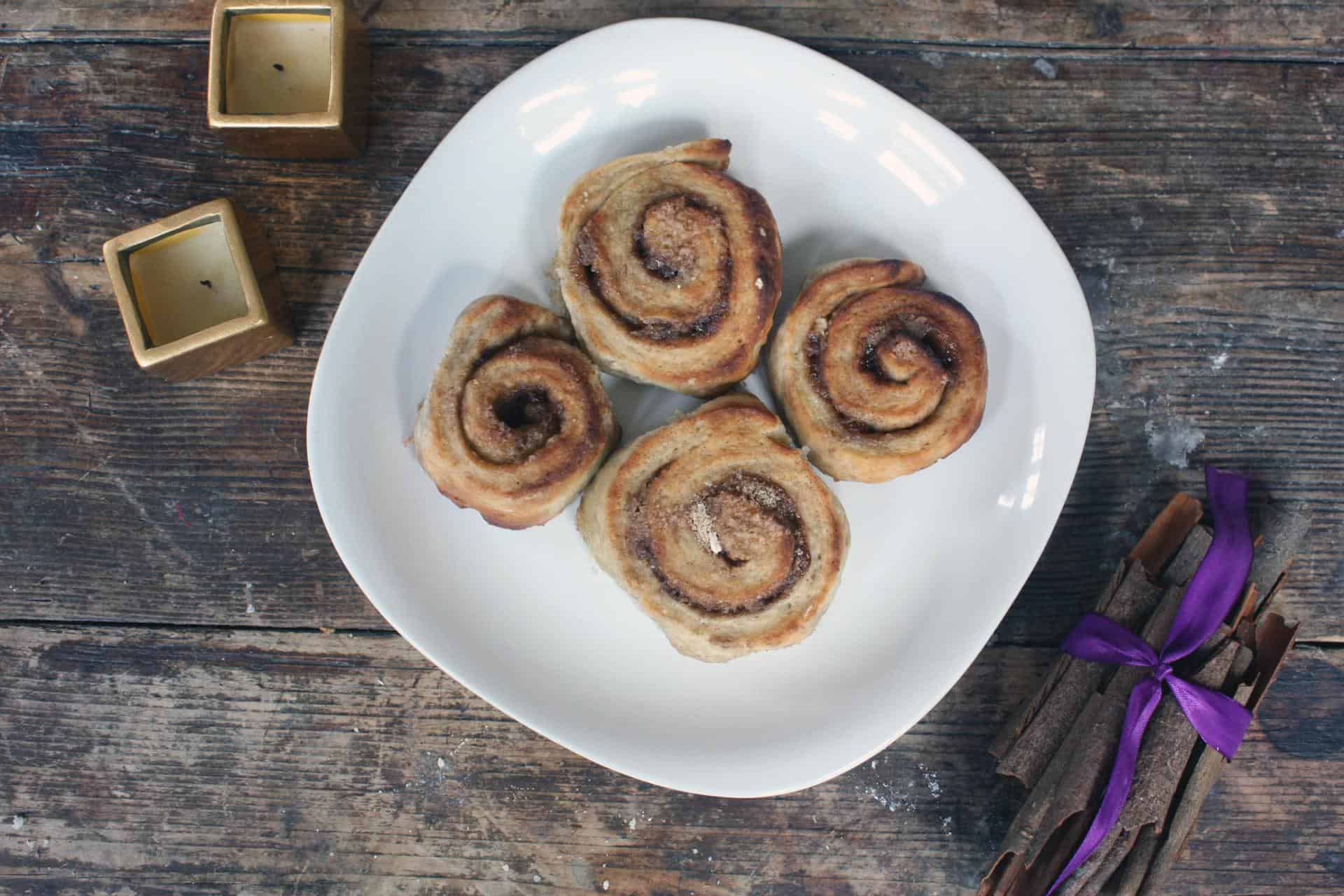 So the next time you're making Sunday brunch – or just the next time you fancy a hot, gooey, cinnamon-doused treat, make these.
These are based on the brilliant vegan cinnamon rolls in Vegan Brunch, which is worth buying for the omelette recipe alone.
I infused the milk with cardamom to give a bit of balance to the cinnamon and a bit of Scandinavian flavour (like cardamom buns), but you can leave that out, or even infuse the milk with cinnamon sticks to give it even more of a cinnamon flavour.
Vegan cinnamon rolls
Ingredients
For the dough
Warm water 1/2 cup (125 ml)

Active dried yeast 2 tsp

Sugar Pinch

Non-dairy milk 3/4 cup (185 ml)

Vegetable oil 1/3 cup (85 ml)

Salt Pinch

Ground cinnamon 1 tsp

Plain flour approximately 4 cups (500 g)
For the filling
Brown sugar 1/4 cup (100 g)

White (granulated) sugar 1/4 cup (100 g)

Ground cinnamon 1 tbsp

Plain flour 2 tbsp

Vegan margarine 1/4 cup (55 g)
For the icing
Powdered (icing) sugar 1 cup (110 g)

Non-dairy milk 2 tbsp (30 ml)

Vanilla extract 1 tsp
Instructions
Sprinkle the sugar and yeast over warm water and leave for a few minutes until the yeast begins to go a bit foamy/fizzy.

Add the milk, oil, salt, cinnamon and half the flour. Mix to combine. Add the rest of the flour, half a cup at a time, until the dough comes together and is no longer sticky. You may need a little more or less depending on the humidity of your kitchen and the flour you've used.

Place the dough in a bowl and cover with a dish towel. Leave to rise for about an hour, until it's doubled.

After an hour, punch down the dough. Flour a work surface and roll out the dough. You want to create more or less a rectangle, approximately 12 inches by 18 inches.

Lightly grease an 11 x 13 inch baking pan.

Mix together the brown sugar, granulated sugar, cinnamon and flour (NOT the margarine). Sprinkle this over the rolled-out dough, and then scatter small pieces of margarine over this.

Roll up from the long side, so that you have a long log of dough. Cut into 12 equal rolls – the easiest way to do this is to cut the log in half, then cut each half in half again (so you have 4 smaller logs). Then cut each of these into thirds.

Place the cut cinnamon rolls onto the baking tray and cover the tray with a towel. Leave to rise for half an hour to three-quarter of an hour. They should nearly double in size. You can even leave them to rise in the fridge overnight (I've done this before) and bake the next morning.

Preheat the oven to 375 F (190 C).

Bake for 18 to 22 minutes, until just starting to brown. While they're baking, mix the icing ingredients together. Remove the finished rolls from the oven and drizzle the icing over them. Serve them while hot!