I was never a big fan of quiche – or anything with eggs, really – in my pre-vegan days, but for some reason I really like vegan eggy food, such as my vegan egg pasta, my vegan egg custard tarts, or my vegan pasta carbonara.  So, I decided to apply the theory that I like eggy food made vegan (even if I didn't like the non-vegan version) and see if it applied to quiche.  I discovered that yes, the theory does hold true for quiche, too.
I wanted to make my quiche a bit cheesy, so I added nutritional yeast as well as some miso, tahini and lemon juice (which I normally add to my cashew cheese).  This quiche was creamy, cheesy and just a little bit eggy.  Perfect.  I gave some to my non-vegan boyfriend, who approved.  And I also got some envious looks at the work lunch table!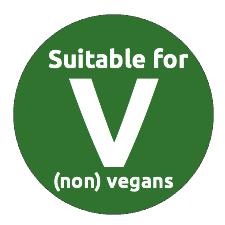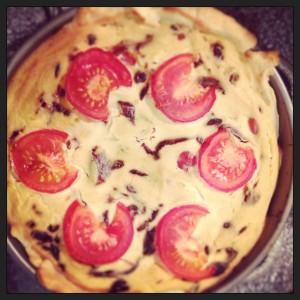 Cheesy Tomato and Caramelised Onion Vegan Quiche
As with most of my recipes, I prefer to grind my (unsoaked) cashews up finely in a spice/coffee grinder and then add to the blender to blend with everything else.  If you don't have a spice grinder, you can soak the cashews in water overnight, then blend them.  What I've found is that unless you have a super-strength blender, it's hard to get all the pieces finely blended when using the soaking method.  That's why I prefer to grind mine in a spice grinder first and then blend with the rest of the ingredients again in the blender — plus it involves less prep work and thinking ahead!
Ingredients
Shortcrust pastry sheet (Jus-rol do a vegan one)
2 onions (approx 200 g), sliced and caramelised
2 tbsp Vegg (optional, will give an eggier flavour)
1/4 cup (62.5 ml) water
1/4 cup (45 g) cashews
400g firm tofu
1 tbsp cornstarch/corn flour
1/2 cup (125) soya milk
1/4 cup (7 g) nutritional yeast
1 tsp miso
1 tsp tahini
pinch salt
2 tsp lemon juice
1 cup (150 g) grape tomatoes, cut in half
2 tomatoes (approx 120g), sliced
Instructions
Slice and caramelise the onions (instructions here), and set aside.
Pre-heat the oven to 180 C / 350 F.
Blend the Vegg powder and water in a blender.  It will form an egg yolk-like consistency.
Grind the cashews finely to a dust-like consistency in a spice grinder.  Add the ground cashews, tofu, corn flour,  nutritional yeast, miso, tahini, salt, lemon juice, and soya milk to the blender along with the Vegg yolk mixture.  Blend everything together until smooth.
Lightly grease a round cake tin.  Line it with the pastry sheet, trimming off any excess.
Pour the blended mixture onto the pastry sheet, then add the halved grape tomatoes and caramelised onions and mix.  Top with the slices of tomatoes.
Bake at 180 C for 40 minutes, until the pastry is just beginning to brown.