Playing pizza jenga with pesto pizza with zucchini blossoms
Sometimes life likes to play shit jenga, as my friend described it recently. Life just keeps piling on the shit, waiting to see how much it can stack on before you you break beneath the bone-crushing weight of it all, like a flimsy piece of wood falling down.
So what do you do when life is playing shit jenga with your life?
You make pizza jenga.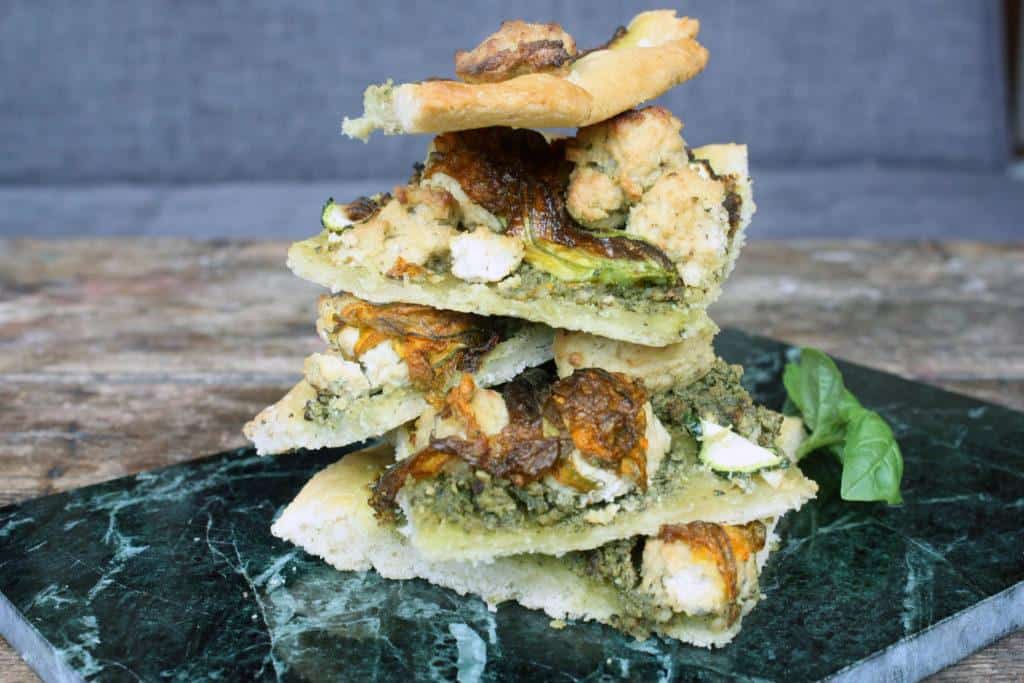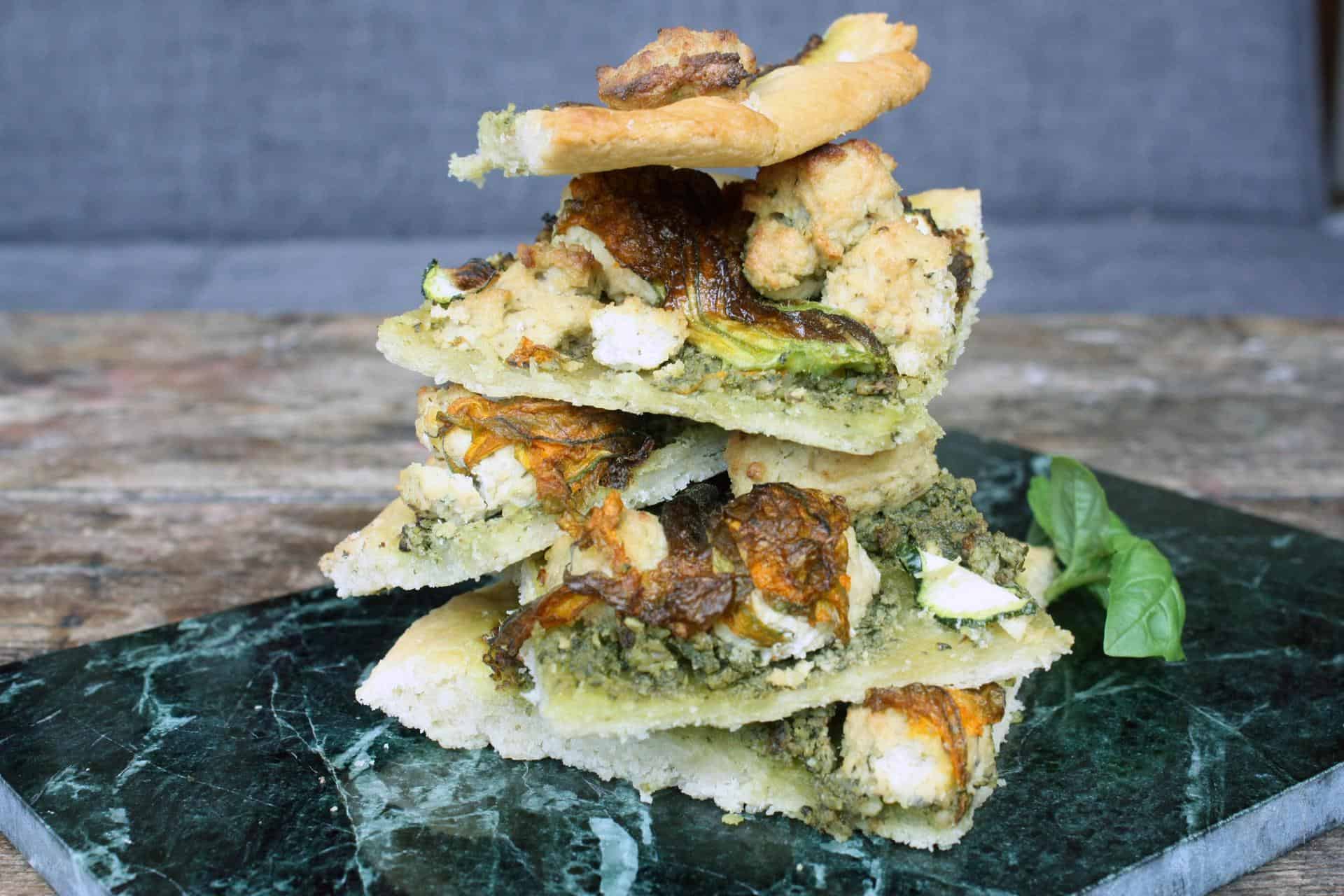 Because pizza makes everything better. Especially if you stack it up like jenga pieces, your own private two-finger salute to life.
This pizza pile was inspired by the jenga of life.
The pizza itself was inspired by the beautiful courgette flowers (zucchini blossoms) and courgettes I found at the market the other day. Continuing with the green theme, I topped the base with pesto, and added some cashew ricotta for good measure.
How to make pesto pizza with zucchini blossoms and cashew ricotta
Step 1: Go to the market.
Step 2: Buy all the vegetables that look nice.
Step 3: Panic-Google what to do with them.
Step 4: Settle on veganising a recipe you find.
Step 5: Panic more.
Step 6: Throw out the recipe and start over.
Step 7: Decide that pizza will make everything better.
Step 8: Bash your frustrations into the pizza dough as you knead it.
Step 9: Pile everything onto the pizza.
Step 10: Pile all the pizza slices on top of each other.
Step 11: Eat, rinse and repeat.
I highly recommend you bake away your frustrations with this pizza, too.
Equipment you'll need to make this pizza
Pesto Pizza with Zucchini Blossoms and Cashew Ricotta
Ingredients
For the dough
Active dry yeast (quick rise) 1 tsp

Lukewarm water 1/2 cup + 2 tbsp

Sugar 1/2 tsp

Flour 1 1/2 cups + 2 tbsp

Salt 1/2 tsp

Olive oil 1/4 cup
For the pesto
Fresh basil 1 cup

Walnuts 3 tbsp

Mix of pine nuts, cashews and sunflower seeds 2 tbsp

Fresh garlic 1 clove

Nutritional yeast flakes 2 tbsp

Salt to taste

Splash of lemon juice, optional

Miso, optional 1/2 tsp

Tahini, optional 1/2 tsp

Salt

Good quality extra virgin olive oil (enough to form the pesto into a paste consistency in the food processor)
For the cashew ricotta
Extra firm tofu, drained and pressed 1/2 lb (1 package)

Cashews 1/4 cup

Lemon juice 1 tsp

Olive oil 1 tsp

Garlic clove, chopped

Pinch of salt

Nutritional yeast flakes 2 tbsp

Tahini 1 tsp (optional)

White miso 1 tsp (optional)

5 leaves of fresh basil

Black pepper to taste

Italian herb mix to taste (optional)
For the pizza
Pizza dough 1 recipe

Pesto 1 recipe

Cashew ricotta 1 recipe

1/4 of a small zucchini (courgette), thinly sliced

5 zucchini blossoms (courgette flowers), remove the stems and the stamen (pistils?)
Instructions
For the pizza dough
Mix the sugar into the lukewarm water in a large mixing bowl and sprinkle the yeast over it.

Leave for 5 minutes or so, until the yeast has started to go fizzy and develop.

Mix in the salt, flour and olive oil.

Knead for a few minutes and leave to rise in a warm place for 1 1/2 to 2 hours.
For the pesto
Blend all the ingredients in the food processor until it starts to hold together and form a thick paste-like consistency.
For the cashew ricotta
In a spice/coffee grinder, grind cashews until fine.

In a food processor, blend the ground cashews, tofu, lemon juice, olive oil, garlic, salt, nutritional yeast, tahini, miso, basil, black pepper, and Italian herb mix until it forms a thick paste.

Adjust seasonings to taste.
For the pizza
Preheat oven to 475 F / 250 C (as hot as your oven gets!).

Roll out the pizza dough on a lightly floured surface and place on a baking tray.

Prick the dough with a fork and cook for 3-5 minutes, until the top firms up a bit (you're pre-baking so the pesto doesn't create a soggy pizza crust).

Remove from the oven and spread pesto over the pizza, then top with cashew ricotta (I formed mine into cheese balls), the slices of zucchini and zucchini blossoms.

Cook for another 5-10 minutes, or until the crust is just browning around the edges. Remove from the oven, cool for a few minutes and enjoy!
Notes
The dough needs one and a half to two hours to rise but you can easily prep it in the morning and leave it to rise during the day – it won't hurt it to have a bit longer to rise.

It's important to use the best quality olive oil you can find for the pesto, and use it generously until the pesto forms a good consistency in the food processor.