I spotted a recipe for black bean flautas (vegetarian rather than vegan, due to the cheese) over on Oh My Veggies the other day, and I couldn't stop thinking about it.  I immediately put it on my 'to make' list.  Dishes often languish on that list for months, but the flautas lasted all of five days before I made them.  These were very popular with my non-vegan boyfriend, who loves Mexican food.
As usual, I made some adaptations.  I lined the tortillas with vegan cheese, so it would melt into the flautas, rather than sprinkling on top.  I also had both salsa and guacamole as dipping sauce.  And since I had half a leftover courgette in the fridge, I decided to fry some up with corn, in a Mexican spice mix, to add some more flavours to the flautas.  Since you can't easily obtain refried black beans in supermarkets in the UK, I decided to make my own.  I made it in the slow cooker (crock pot).  If you have one, I highly recommend this method – you can make it on low heat while you're at work, on in 4 hours on high heat.  It's low effort, high flavour, and makes the house smell amazing!
While the beans are low effort, the flautas are not, what with all the frying and holding them together with toothpicks – but they are well worth the effort, trust me!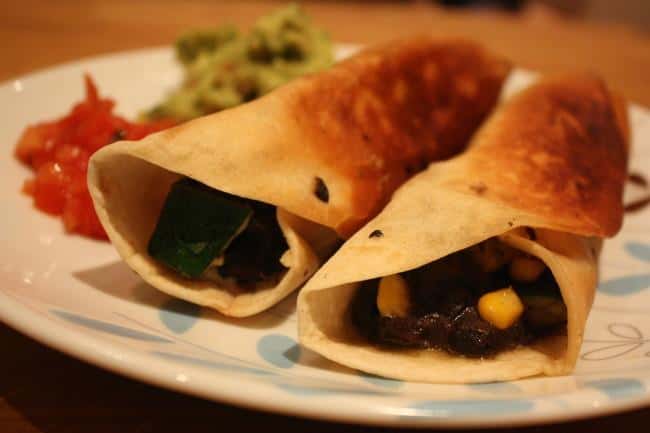 Black Bean, Courgette (Zucchini) & Corn Flautas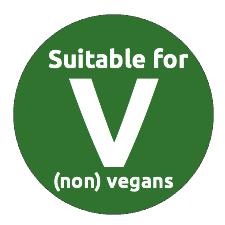 Serves 2
Ingredients
Tin of refried black beans or 1 recipe refried black beans, below
8 tortillas
Toothpicks
Enchilada or Mexican spice mix
1/2 courgette (zucchini), chopped into cubes
1/2 cup frozen corn
Vegan cheese, optional
Salsa
Guacamole
Vegan sour cream, optional
Instructions
Preheat oven to lowest setting, to keep flautas warm (optional).
Heat 1 tbsp vegetable oil over high heat in a frying pan or wok.  Add chopped courgette and spice mix, and stir fry until soft.  Add frozen corn and fry until the corn is cooked through and the courgette begins to brown.  Remove from heat.
Construct flautas by spreading cheese on a tortilla, topping with refried black beans and courgette/corn mix.  Roll up and seal shut with 3 or 4 toothpicks.
Heat oil over high heat in a frying pan or wok.  Add as many flautas as you can fit and fry on each side until browned.
If you want to keep them warm, place on a tray in the oven while you fry the other flautas in batches.
Serve with salsa, guacamole, and vegan sour cream to dip.
Refried Black Beans
Ingredients
1.5 cups dried black beans
Enough water to cover beans by 1 inch
1 tsp onion powder
1 tsp garlic powder
1 tsp cumin
Instructions
Add all ingredients to slow cooker.  If cooking while you're at work, leave on low heat.  Otherwise, you can cook in 4 hours on high heat.
Remove 1 cup of liquid and reserve to the side to use as needed.
Drain water from beans and return to slow cooker or place in a mixing bowl.
Mash with a potato masher.  Add more water from the reserved bean water if needed to aid mashing, or add a bit of olive oil.