I don't really "do" simple recipes.  I'd rather spend the time making a more complicated dish that tastes good.  Or eating nutritional yeast-toast (like a vegan cheese toastie!) for dinner. Though thankfully it's been a few years since I've had to resort to nooch-toast because I've started building up a repertoire of simple but still delicious recipes that meet my taste standards.
When I came across this recipe for Mediterranean baked sweet potatoes on Minimalist Baker I knew I had to try it.  With some adaptations and having swapped the hummus sauce for a garlicky yoghurt lemon-tahini sauce infused with cumin, it's became a favourite dinner.
Just stick the sweet potatoes and chickpeas in the oven and while they're baking, chop up some tomatoes and cucumbers and mix together the sauce.  If you're not feeling up to even some light chopping, skip the tomato-cucumber salad.  It still tastes good with just sweet potatoes and chickpeas!  Then off you go to do whatever else you fancy (like reading books with funny, sweary titles) until the sweet potatoes are done in the oven.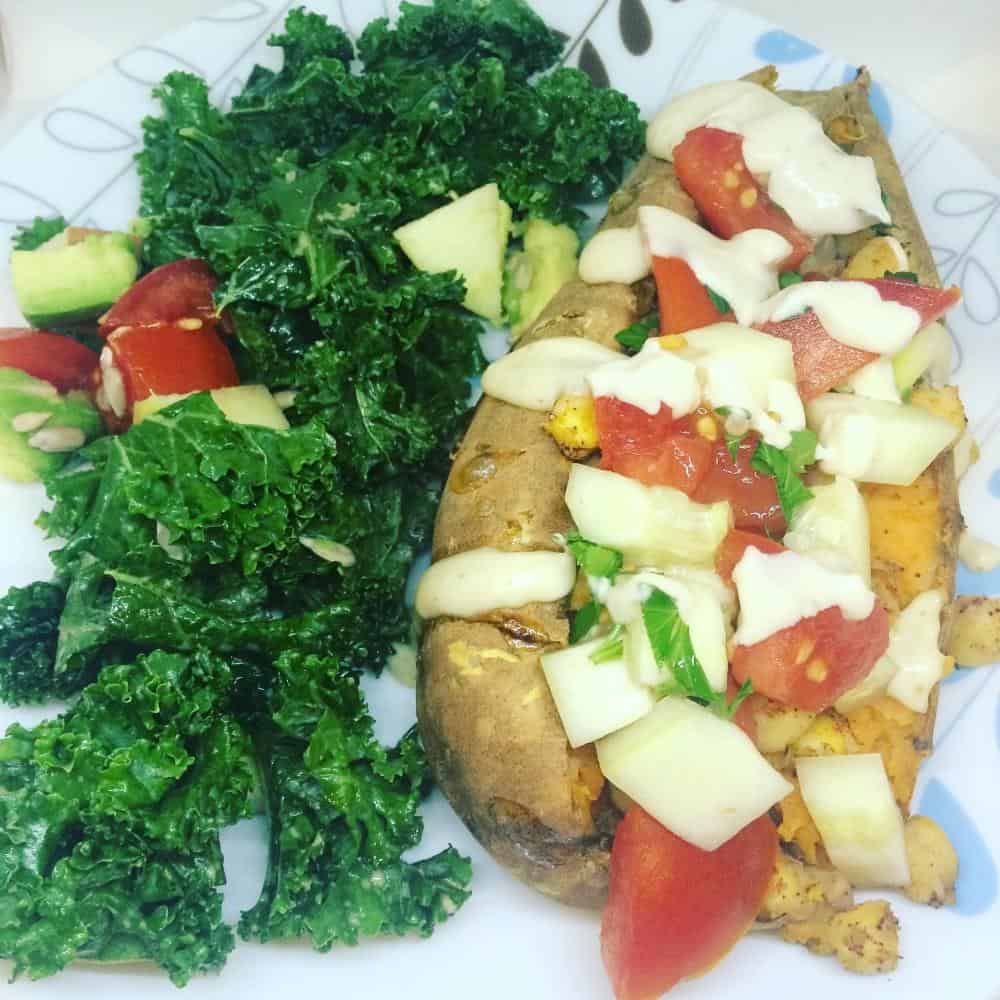 Roasted Sweet Potatoes and Chickpeas with Garlicky Lemon-Tahini Sauce
Adapted from Mediterranean sweet potatoes on Minimalist Baker
Makes four servings
Ingredients
4 sweet potatoes
400g chickpeas or one tin (approx 15oz)
Dash of olive oil
1 tsp cumin
1/2 tsp paprika
1/2 tsp garlic powder
1/2 tsp cayenne, optional
Two medium tomatoes, chopped
Half a cucumber, chopped
2 tbsp chopped parsley
Juice of half a lemon (approx 1.5 tbsp)
Garlicky lemon-tahini sauce, recipe below
Instructions
Preheat the oven to 200 C / 400 F.  Prick the sweet potatoes all over with a knife and bake on a baking tray for approximately 45 minutes to an hour, until you can easily pierce into them with a fork.
Mix the chickpeas, cumin, paprika, garlic powder and cayenne.  About 15-25 minutes before the sweet potatoes are done (don't stress if you're not sure exactly when the sweet potatoes will be done – this is approximate!), put the chickpeas in the oven to roast.
Mix the tomatoes, cucumber, parsley and lemon juice in a bowl separately.
Remove the sweet potatoes from the oven when you can easily pierce them with a fork, and the chickpeas when they are golden brown.
Cut the sweet potatoes in half and top with chickpeas, then tomato-cucumber mix.  Finally, drizzle with garlicky lemon-tahini sauce.
Garlicky Lemon-Tahini Sauce
Ingredients
1/2 cup vegan yoghurt
2 tbsp tahini
Juice of half a lemon, approx 1.5 tbsp
1/2 tsp cumin
1/2 tsp garlic powder*
*If, unlike me, you like the taste of raw garlic, you can substitute 1-2 cloves of fresh garlic, minced.
Instructions
Mix all ingredients together.  Serve the sauce over the sweet potatoes, chickpeas and cucumber-tomato salad.