For today's Vegan MoFo*, the prompt was a meal made of seasonal ingredients. I racked my brain, certain I wouldn't be able to do this one because I don't know what's in season in Spain right now. Then I remembered the bag of potatoes from my neighbour's brother's farm sitting on my counter, and how she said they made excellent tortilla, and the basis of a meal started to form (I first wrote 'farm' instead of 'form' – shows how focussed my brain is on this whole local and seasonal thing!).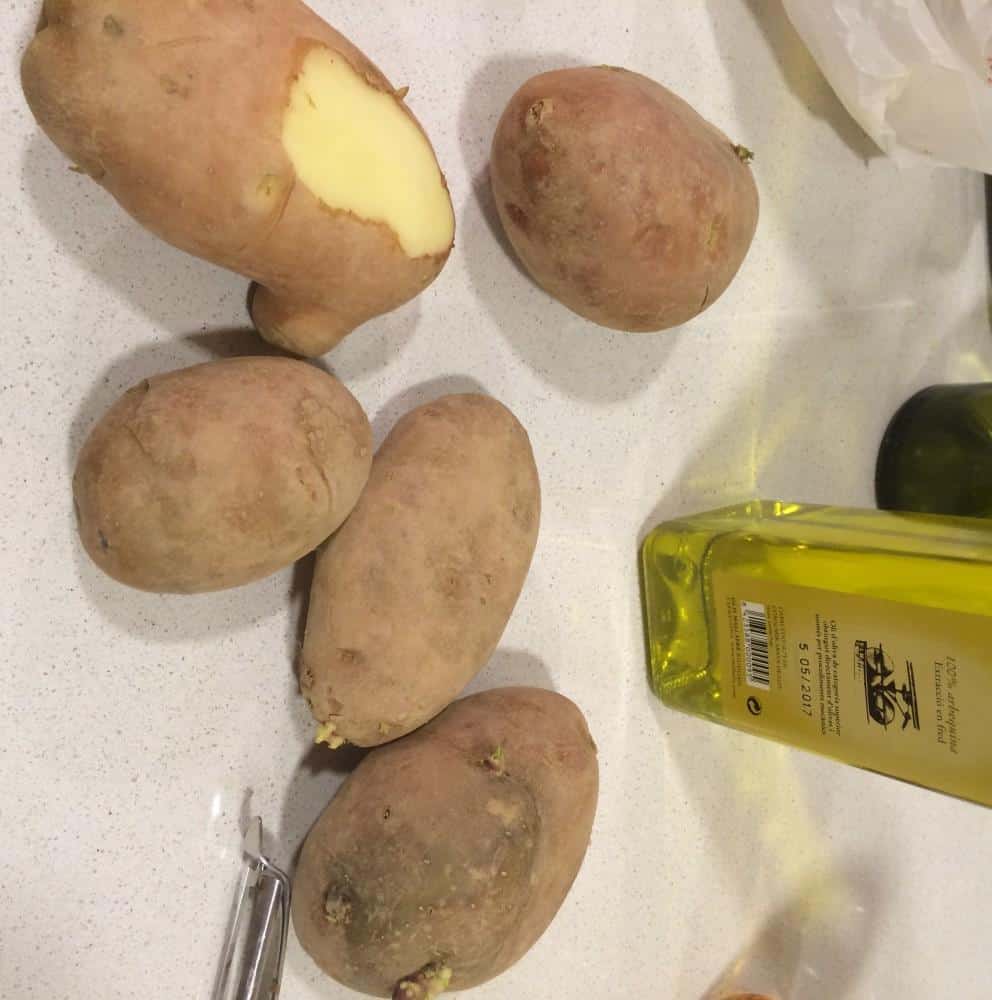 If you're not familiar with tortilla (or Spanish tortilla), it's a delicious potato omelette that traditionally consists of potatoes and onions, which are fried, then loaded onto a skillet with eggs and fried on each side like a pancake. It's carb-y and delicious comfort food at its best. It's pretty easy to make a vegan version with chickpea flour, and you can make it healthier by baking it (and boiling the potatoes, as I've done here).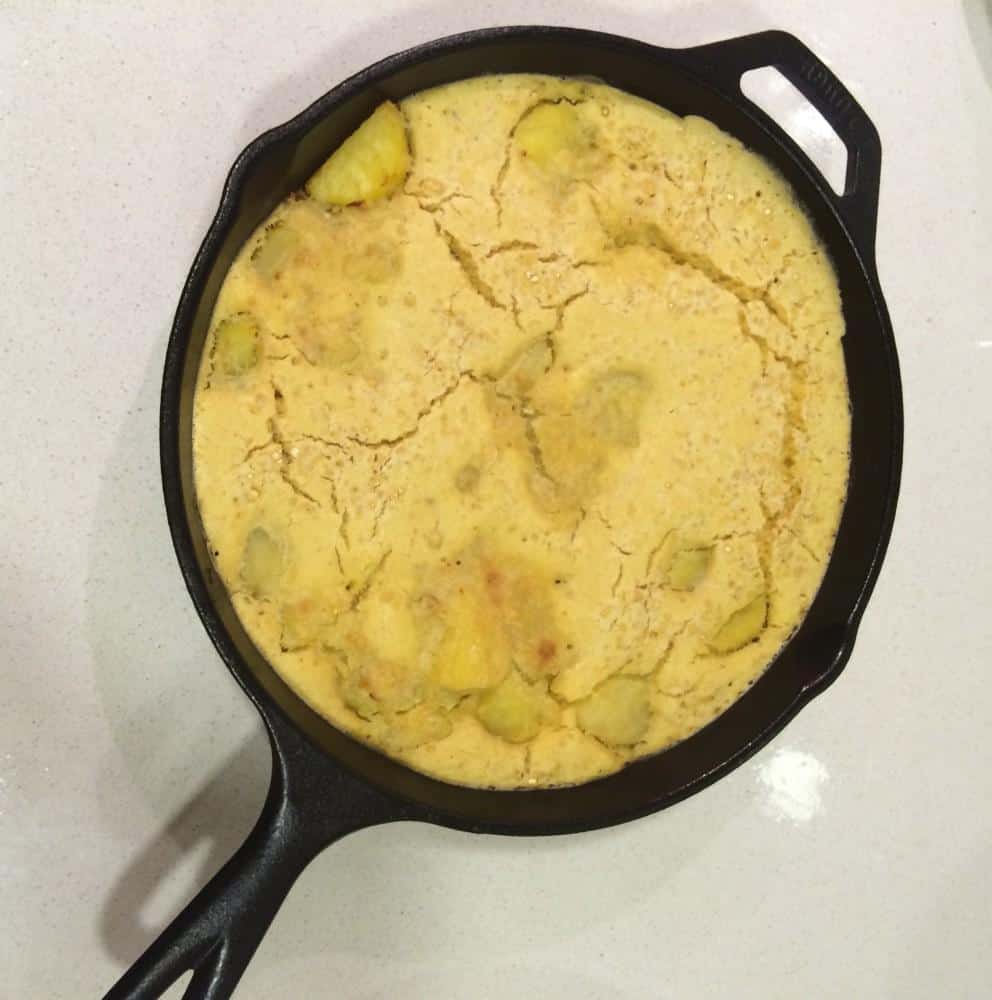 I decided to focus my meal on not just seasonal but local ingredients as well. The tortilla was made from potatoes from my neighbour's family farm, onions from the local market, chickpea flour (not made locally but purchased from a small business locally), and local olive oil.
I baked the tortilla so it's a little healthier than the normal version, but I still wanted something green and healthy on the side so I made kale salad on the side. The kale is from a local, organic shop, which also happens to be the only place I've found that sells kale here (shout out to the lovely folks at Vacka, aka the restaurant I'd take Obama, who pointed me in the direction of this kale source). While I was in the organic shop, I spotted a small basket of some courgette flowers, which they said had just arrived a few hours before… (now that's seasonal!). I love courgette flowers, so I couldn't resist them. I stuffed them with vegan gorgonzola from The Living Food (an amazing shop where they make their own nut cheeses, which I wrote about here), also produced locally, and fried them in a light chickpea flour batter. They were so delicious!
Overall I was really happy with how the tortilla turned out, except that it was a tiny bit crispy and dried out on top. My oven runs reaaaaally hot so if you make this please let me know how it goes and how your tortilla top turns out.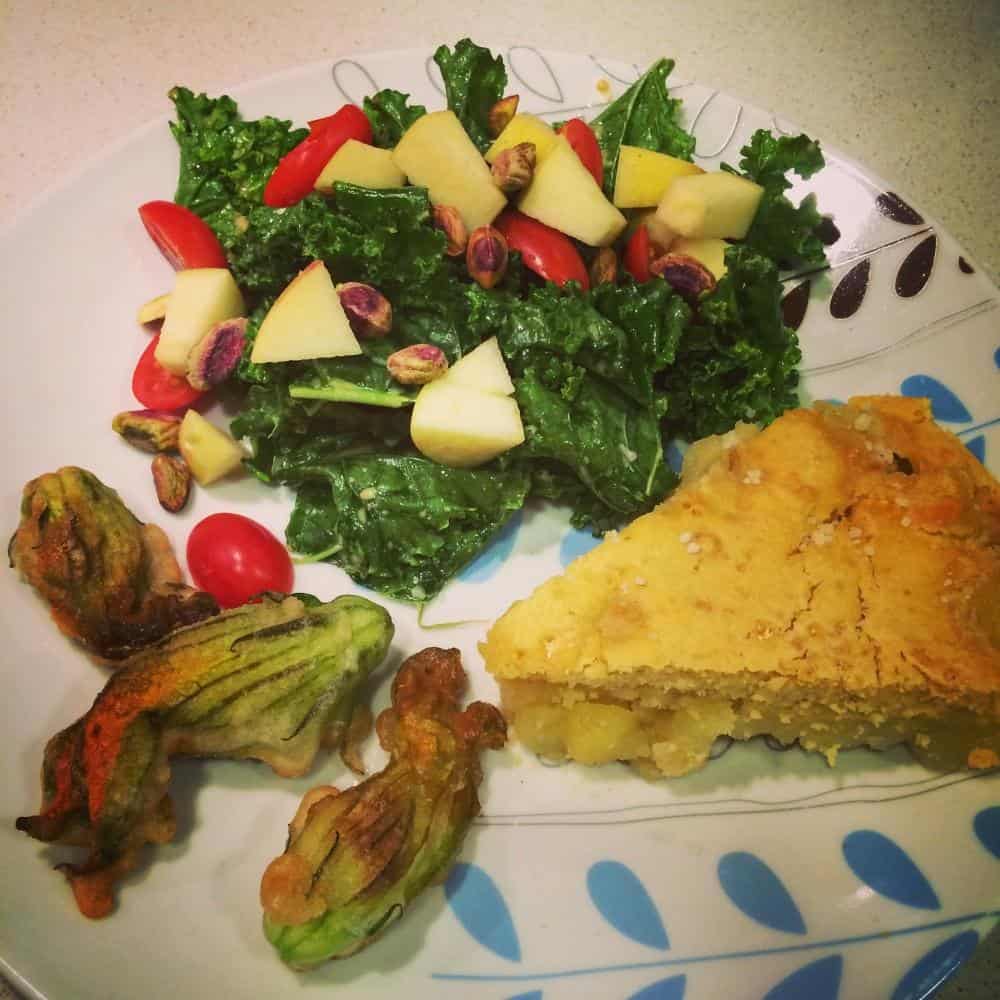 Baked Spanish Tortilla
Ingredients
Onion, chopped
1-2 cloves of garlic, minced
4-5 potatoes, sliced 1/8 inch thick and then chopped in half
1 cup chickpea flour
1 cup water
1-2 tbsp olive oil (optional, but will give it more of a traditional flavour since tortilla is normally made with potatoes fried in olive oil)
1 tsp baking powder
Pinch of salt
Pinch of kala namak aka black salt (optional; this is an Indian salt that lends an eggy flavour)
Instructions
Preheat oven to 200 C/390 F. Heat olive oil over medium heat in a saucepan. Sautee onion until just beginning to brown. Add the garlic and sautee for one minute longer.
Add the potatoes and enough water to just cover them. Bring to a boil and reduce the heat to low.
Cook for around 15 minutes, until the potatoes are cooked through and you can easily pierce them with a fork.
While they are cooking, mix the chickpea flour, water, olive oil, baking powder, salt and kala namak (if using). Whisk with a fork until all lumps are gone.
Once the potato mix is done, drain any remaining water.
In a cast iron skillet or oven-safe skillet (if you have one*), add the potato mix. Place on medium-low heat and add the chickpea flour mix. Cook for 3-4 minutes or until the top has set just enough that the liquid no longer runs when you tip the skillet.
Place the skillet in the oven and bake for around 15 minutes, or until the tortilla just begins to brown on the edges.
*If you don't have an oven safe skillet, I would recommend skipping step 6, and putting the potatoes directly into a cake tin or other baking tin, pouring over the chickpea flour mixture and baking for an extra 5 minutes or so, until it looks lightly browned around the edges and on top.