Today's Vegan MoFo theme is "something blue". I spent ages thinking about this. There really is a dearth of naturally-occurring blue food, isn't there? Blueberries and the rare blue corn and blue potatoes…apart from these, I couldn't think of anything blue!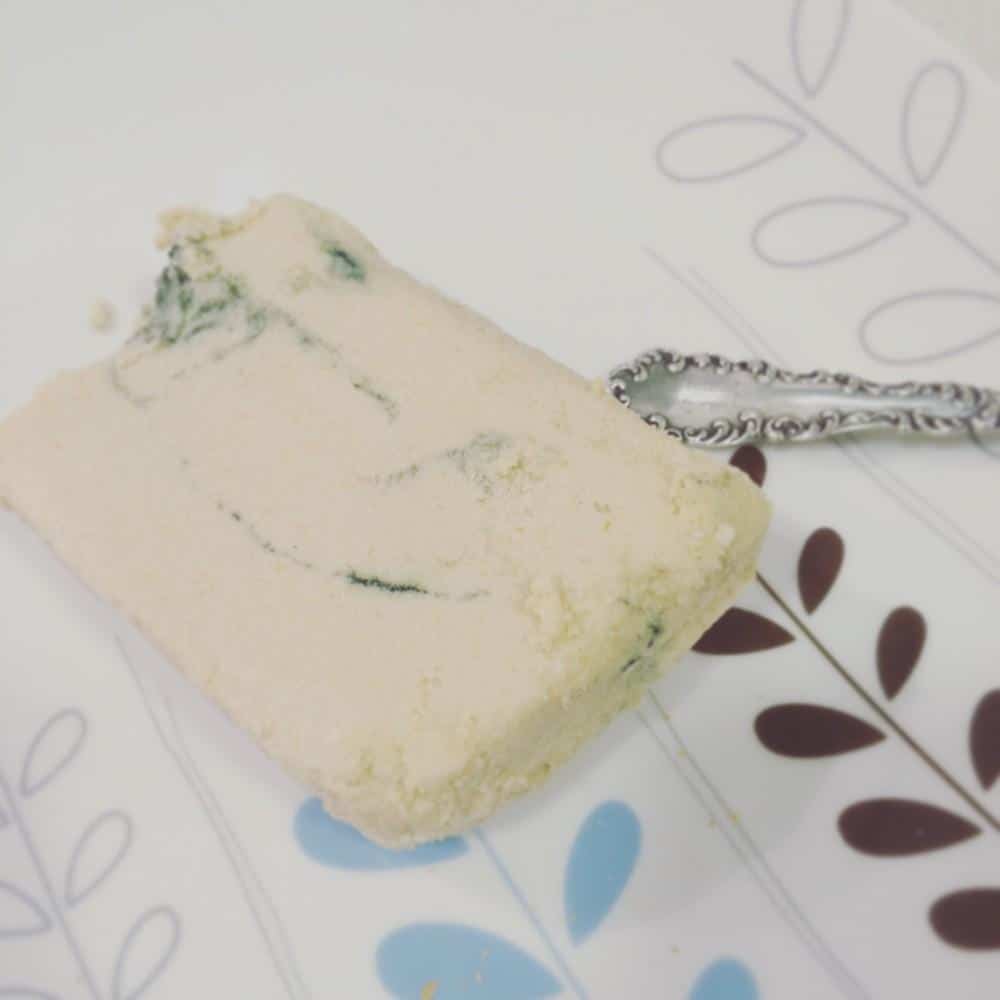 Then it hit me…I have a vegan blue cheese in my fridge!! Yep, you read that right – VEGAN BLUE CHEESE! The latest jewel in Barcelona's vegan crown is an organic, vegan and mainly raw shop in the Sant Antoni district, The Living Food, where they make and sell their own handcrafted, fermented nut cheese. I ended up having a long chat with one of the owners, who is extremely knowledgeable about vegan cheese-making techniques. It seems that they follow and are in touch with many of the leaders in the vegan cheese space. He mentioned Miyoko Schinner, Vromage (a vegan cheese shop in LA) and Russell James in London, plus someone in Germany I hadn't heard of. I've had the good fortune of tasting cheeses from Miyoko's Creamery as well as sampling a cheese platter Miyoko made for for the Vida Vegan Conference in 2013 and they are delicious. I haven't been able to try Vromage but I've heard amazing things. So, I had a suspicion that I was on to something good here – and that this just might be part of the new wave of vegan cheese that is completely changing the face of vegan cheese.
I started perusing the shelves and was intrigued by a lot of the flavours I saw – from goat cheese to feta to cheddar, they all looked pretty good. And then my eyes settled on gorgonzola. Gorgonzola??? I have never seen a vegan gorgonzola! You guys, this is not just any vegan cheese, it actually has blue veins – which they told me they make out of algae.
In addition to the gorgonzola, I bought a block of cheddar, and the very nice owners also gave me a free block of the spreadable cashew cheese to sample. I ended up walking away with over a kilo of cheese to "sample" – as you do.
If you're in Barcelona, definitely go check out The Living Food, and let me know what you think of the cheese! Everyone's tastes are different plus I haven't had cheese in so long I can't really remember what it tastes like, so I'm curious to know what you think! However, their cheeses seem to be proving pretty popular. When I was there, they'd just reopened after August holidays (which they'd spent making cheese) – and they'd sold 24 blocks of cheddar in around 4 days. They also said most of their customers aren't vegan, they are just curious to try nut cheese – which is amazing. Cheese is such a HUGE stumbling block for many people who are vegan-curious. Imagine if we could actually win people over with good vegan cheese, and show them that being vegan isn't that hard – you don't even have to give up your cheese! :)
Now, onto the pizza. If you aren't in Barcelona and you can't find vegan gorgonzola, you can make it. I found at least one recipe on Google although I haven't tried it and can't vouch for how good it is. Or, you can substitute your favourite vegan cheese.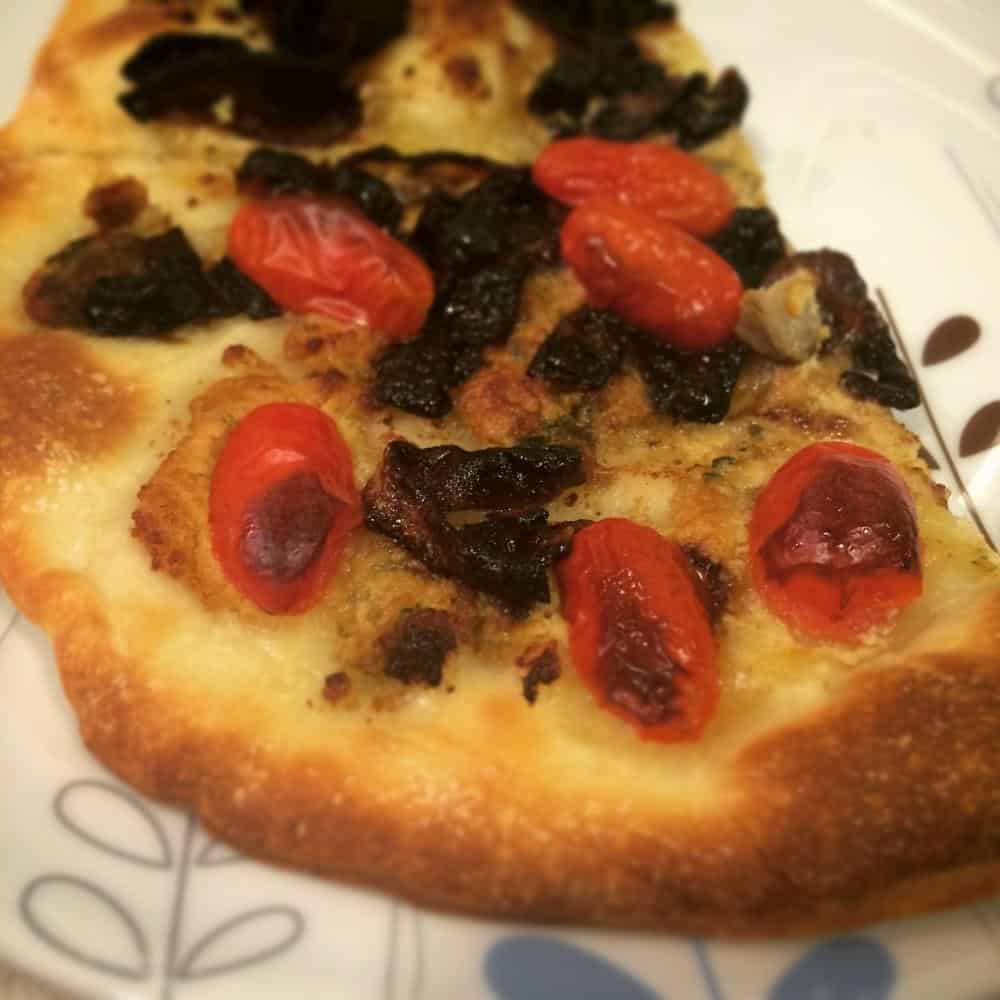 My jaw dropped when I took this pizza out of the oven and saw the cheese had melted. I've had so many experiences with bad vegan cheese (which often doesn't melt on pizza) that I still get excited when vegan cheese melts. And because this cheese was so crumbly, I didn't expect it to melt. It was delicious, as well. To me it tastes like I remember gorgonzola (which is weird because the gorgonzola SMELLS like salad dressing to me, rather than cheese) – but like I said it's been so long I'm not sure! If you try it, please let me know what you think.
This is pretty easy to make apart from caramelising the onions. I sampled a few different flavour combinations and my favourite was the plain gorgonzola and caramelised onion, but it was also nice with artichoke hearts and cherry tomatoes. Or add your own favourite vegetable.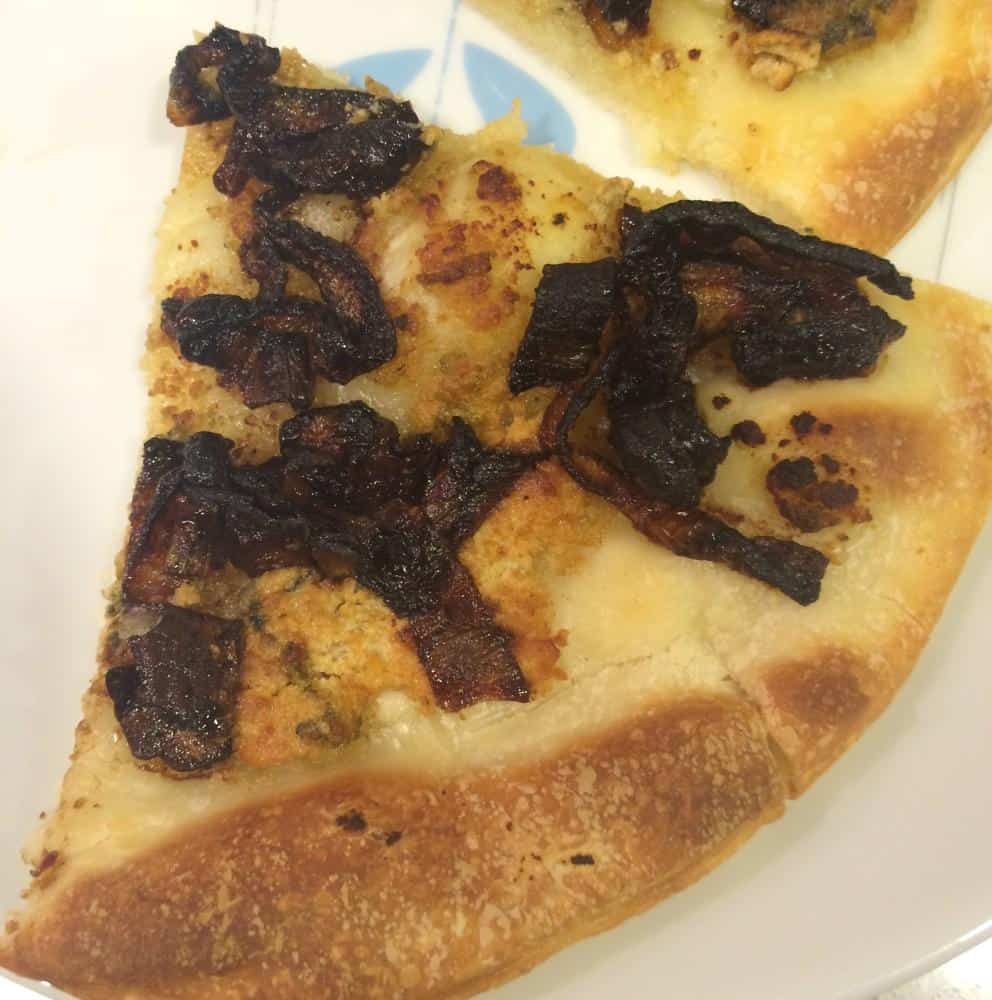 Gorgonzola and caramelised onion pizza
Pizza base (storebought or from scratch)
150g vegan gorgonzola or vegan goat cheese (enough to sprinkle and coat the pizza)
Caramelised onions (instructions on how to caramelise onions here)
Optional: halved cherry tomatoes, artichoke hearts
1. Preheat oven to the highest setting (around 250 C / 480 F).
2. Top the pizza base with crumbled gorgonzola and other toppings. Bake at 250 C/480 F for 10 minutes.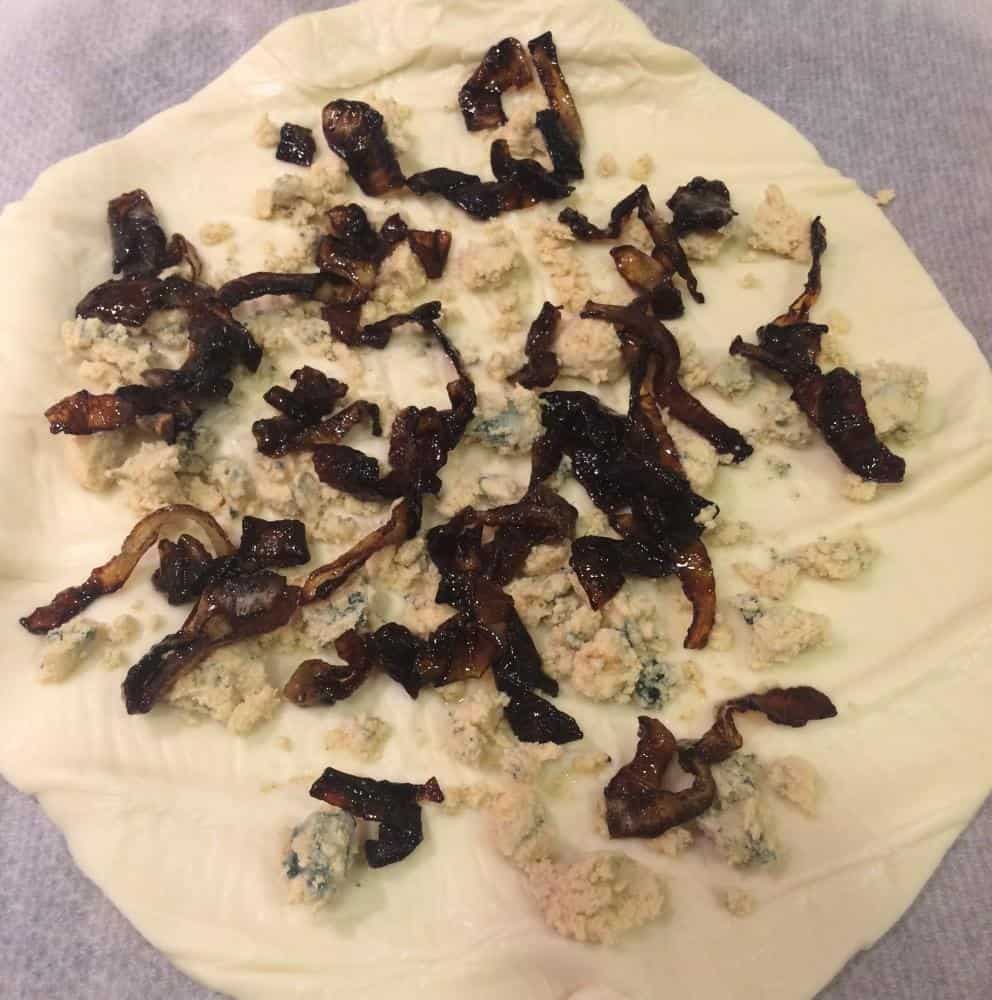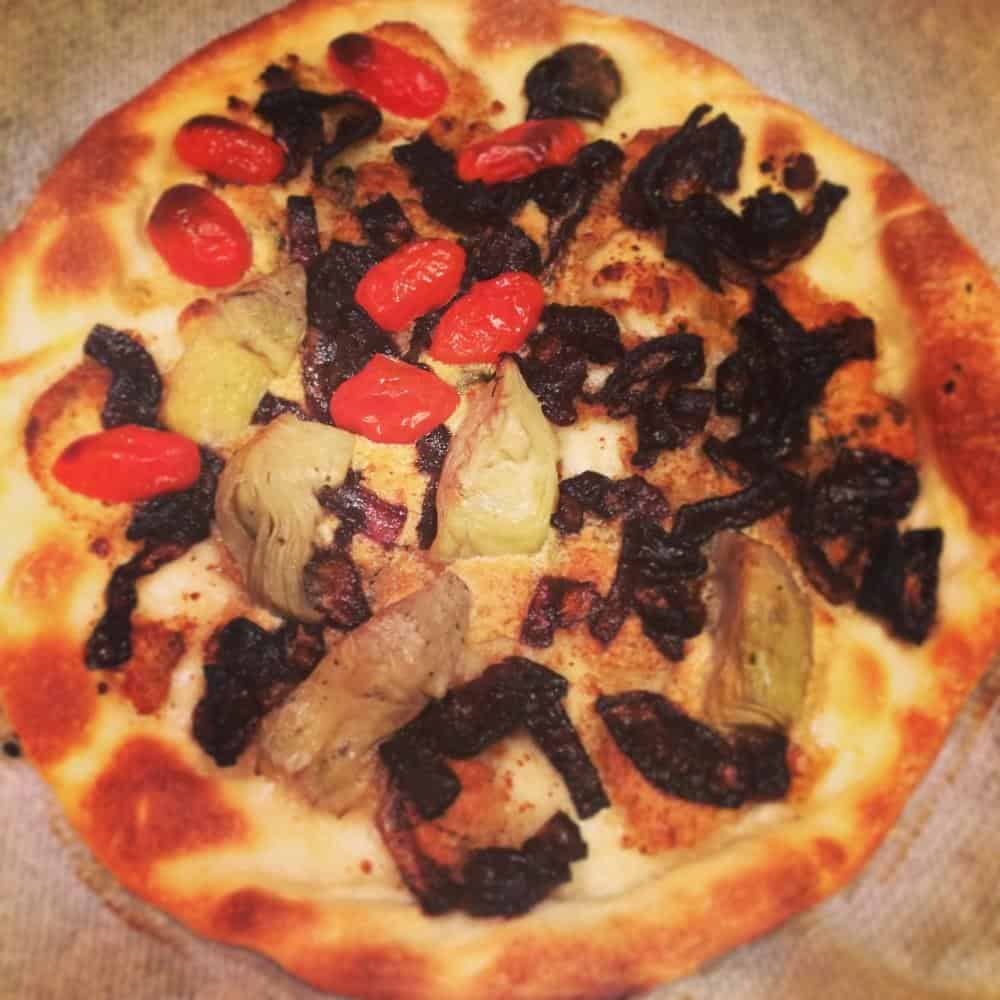 —
Are you in Barcelona or planning a visit soon? Want to get your free copy of Barcelona's 5 Best-Kept Vegan Secrets and a discount on my Barcelona vegan guidebook? Click on the button below:

—
This year's Vegan MoFo (a month-long vegan blogging and social media challenge) is taking place all of September, with the challenge to post every day! This year I won't be posting daily on the blog, but rather my daily MoFo posts are all on Instagram and/or Snapchat, so please follow me there (username: theveganword)! I've just recently started to use Snapchat – any tips? Any snapchat users out there? Tell me your username so I can follow you!