This dish is like autumn on pizza dough.  It's hearty, yet tastes rich, with the soft cheese in place of tomato sauce on the pizza base (but really, it's not as rich as it tastes, it's made with silken tofu — shh!, I won't tell anyone if you don't).
This pizza comes together beautifully if you can manage to prepare a few things in advance.  The butternut squash got roasted at the beginning of the week for another recipe, and the caramelised onions also got made in a big batch on a Sunday (did you know you can freeze caramelised onions? This knowledge has changed my life, honestly.).  Save time by buying premade pizza dough, or making a bunch in advance and – you guessed – freezing it.  If you do these parts in advance, it will only take you 5 minutes to whizz up the soft cheese in your food processor, another 5 minutes to assemble and 10 to 15 minutes to bake.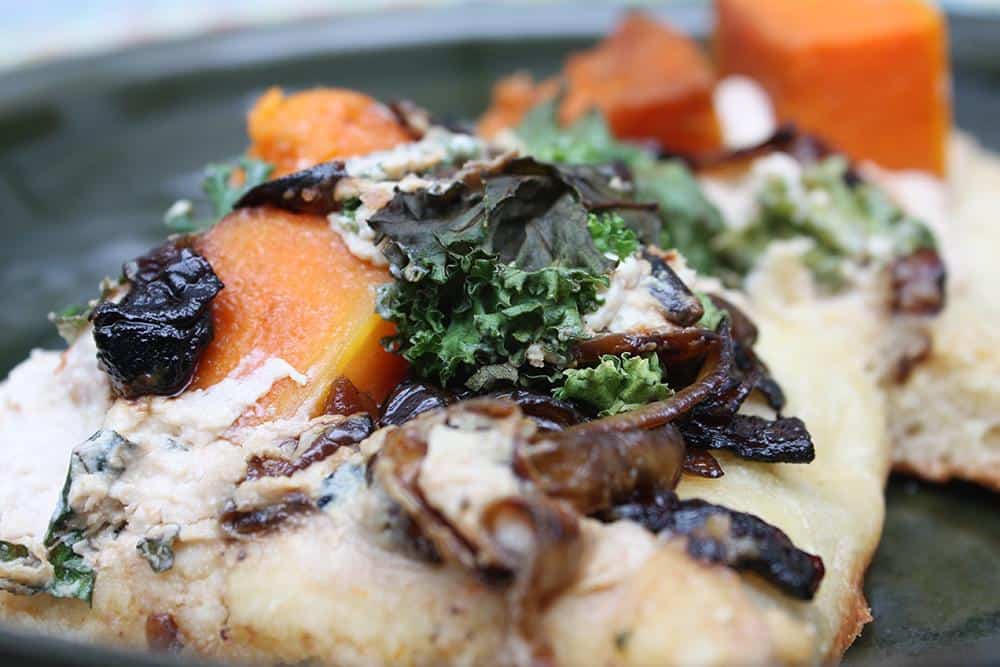 Butternut Squash, Kale, Caramelised Onion and Soft Cashew Cheese Pizza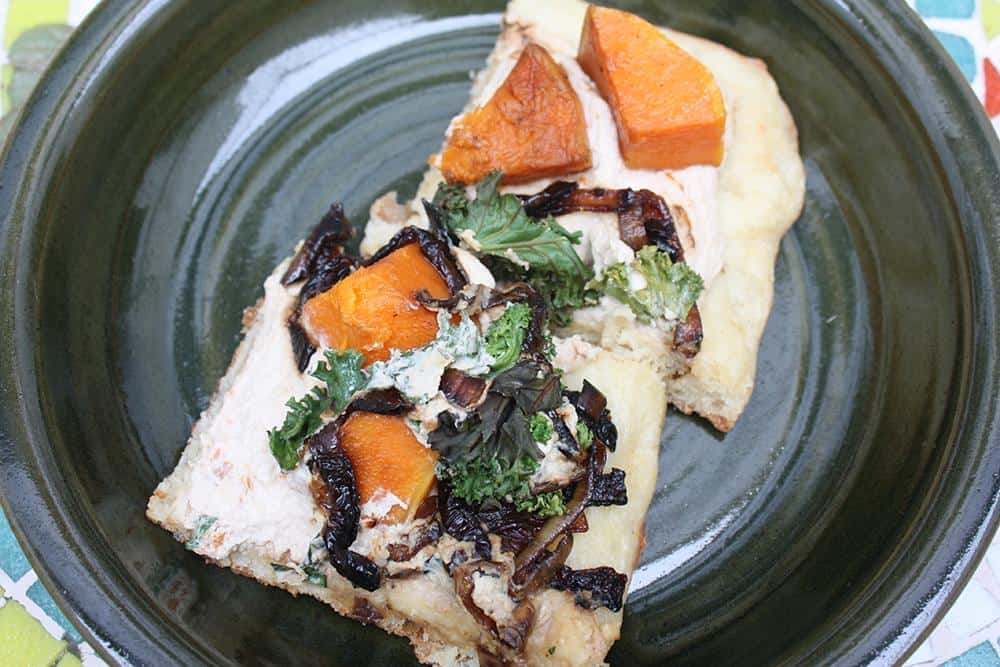 Ingredients
1 recipe olive oil pizza dough (recipe below)
1 recipe soft cheese (recipe below)
Butternut squash, diced and roasted
Handful of kale
1 onion, sliced and caramelised (instructions on making in the link; use vegetable oil or vegan margarine instead of butter)

For the pizza dough

1 tsp active dry yeast
1/2 cup + 2 tbsp lukewarm water
1/2 tsp sugar
1.5 cups + 2 tbsp flour
1/2 tsp salt
1/4 cup olive oil

For soft cashew cheese

3/4 cup cashews, ground in a coffee grinder
12.3 oz / 350g silken tofu
3 tbsp nutritional yeast
1 tbsp miso
3/4 tbsp lemon juice
1 tsp tahini
1/2 tsp garlic granules/powdered garlic
Pinch of salt
Dash dried Italian herb mix
Instructions
Preheat oven to 230 C / 450 F. Roll out the pizza dough, then spread it on a lightly greased baking tray. Spread the cheese out evenly over the surface of the pizza, then sprinkle with butternut squash pieces, torn up kale pieces and caramelised onion.
Bake pizza for 10 to 15 minutes, until the edges of the crust start turning golden brown.

For the pizza dough

In a large bowl, dissolve the yeast and sugar in the warm water. Let rest for 5 minutes, until yeast begins to foam.
Add the oil, salt and flour and mix using a wooden spoon, incorporating the flour as much as possible. Knead the dough for 10 minutes, until it becomes soft and elasticky. Put the dough in a lightly oiled bowl and cover with a kitchen towl. Leave to rise in a warm place for 1 1/2 to 2 hours. It should double in size.
When the dough has doubled in size, punch it down, then roll out the amount desired (this recipe makes enough dough for 2 medium pizzas), and put on a baking tray.

For the soft cashew cheese

Add all ingredients to food processor and blend.
https://theveganword.com/butternut-squash-kale-caramelised-onion-soft-cashew-cheese-pizza/