So, last week was basically a doughnut detox after the extreme doughnut eating at VegFest. It consisted of loads of salad and overnight oats. I wanted something simple and light for dinner after all the doughnuts, but my usual go-to salad seemed too summery. I needed something more autumnal… And what's more autumnal than roasted butternut squash? Inspired by a salad topped with roasted veg I had at Dean & David, a salad restaurant in Hamburg, Germany, I decided to top my salad with roasted butternut squash and sweet potato, roasted courgette, roasted pepper, and roasted broccoli, with some toasted sesame seeds and pumpkin seeds to boot. For a dressing, I opted for a lemon miso-tahini dressing. It was fresh and light without being too light — absolutely perfect for autumn!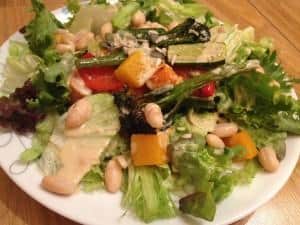 Autumn Roasted Vegetable Salad with Lemon Miso-Tahini Dressing
Ingredients
Roasted vegetables (you can use any that you like – I used broccoli, courgette, pepper, sweet potato and butternut squash)
Pumpkin seeds and/or sunflower seeds, optional
Salad leaves
1.5 tbsp white miso
2.5 tbsp tahini
2.5 tbsp rice wine vinegar
2 tbsp nutritional yeast
zest of 2 lemons
4 tbsp lemon juice
2 tbsp water
2.5 tbsp toasted sesame oil
Instructions
Mix the miso, tahini, rice wine vinegar, nutritional yeast, lemon zest, lemon juice, water, and sesame oil together to form the dressing.
The vegetables are up to your tastes. I recommend using your favourite roasted veg and seeds (the seeds add a nice crunchy contrast).
Place a bed of salad leaves on a plate, top with the roasted veg and seeds of your choice, and top with dressing. The dressing will keep 3-4 days in the fridge.