This year my Mofo theme is all about food for non-vegans — the perfect dish to make to impress a non-vegan (or the perfect restaurant to take them to).  Of course, in addition to being Suitable for Non Vegans, all my dishes are suitable for vegans and I recommend making them for yourself, even if you don't have any non vegan friends around to feed!  Please subscribe to my Facebook page to stay up to date; I'll be putting links to all new posts there!

Tonight's dish is…salad!  I hear you sighing.  A lot of people have this misconception that vegans only eat twigs and grass, and by feeding them salad, surely we feed that incorrect assumption, right?  I used to be afraid to serve non-vegans salad, for fear they'd think that was all I could eat.  That is, until I started making vegan feta and creamy Italian dressing.  Now this is a salad that goes beyond leaves and bark; this is a salad to be reckoned with!  The tofu-based feta and the cannellini beans make it really filling.  Serve with some toasted sourdough bread and this makes an excellent meal.  It's also a great way to feed non vegans tofu without them realising what they're eating (if they're tofu-phobic).
My official taste tester (aka my non vegan boyfriend) declared this the best salad he'd ever had when he tried it, and he always gets excited (for salad!) when I'm planning to make it.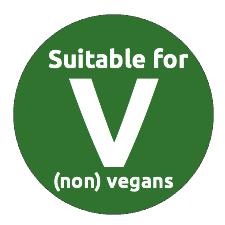 The Perfect Salad
Serves two
Ingredients
350 to 400 grams mixed salad leaves (1 large bag of mixed salad or 2-3 hearts of romaine, torn into pieces)
Handful of cherry tomatoes, or chopped fresh tomato (approx 100g)
200 g tin cannellini beans (1/2 of a 400g or 14-oz tin)
120 g artichoke hearts (4.25 oz)
One recipe vegan feta, recipe below
Creamy Italian dressing, recipe below
Instructions
Put the salad leaves in a large bowl and pour the dressing over the leaves.  Mix well to combine, so that all leaves are equally coated in dressing.
Add the other ingredients (tomatoes, artichoke hearts, cannellini beans, feta) and toss to combine.
Vegan Feta
Ingredients
200 g firm tofu (I used Cauldron brand), crumbled roughly to feta-size chunks
1 tbsp white miso
1 tbsp white wine vinegar
1 tbsp lemon juice
pinch of salt
1-2 tsp dried Italian herb blend
3 tbsp nutritional yeast
1 tsp tahini
2 tbsp water
Instructions
Crumble tofu roughly into a bowl.
In a separate bowl, mix the miso, vinegar, lemon juice, salt, Italian herb blend, nutritional yeast, tahini and water until thoroughly combined.  Pour this mixture of the tofu and mix thoroughly.
Refrigerate.   Leave to marinate overnight.  Best served after it has marinated overnight, as the flavours will have melded better.
Creamy Italian dressing
Ingredients
3 tbsp white wine vinegar
2 tbsp olive oil
3 tbsp nutritional yeast
1 tbsp white miso paste
1 tbsp water
1/4 tsp Italian spice blend
pinch of salt
Instructions
Mix all ingredients thoroughly (being careful to mix the miso paste in well) in a jar.  You can store for a few days in the refrigerator — just shake to combine before serving.
Please like my (brand new!) Facebook page to get updates with each of my new Mofo posts!