Want in on poke bowls but aren't sure where to get a vegan poke bowl? It's easy to make your own!
When I first heard about the poke bowl trend early last year (or was it the year before?) I largely ignored it because it seemed most poke bowls seemed distinctly not vegan-friendly. But then I realised that a vegan poke bowl would be easy to produce, and with the vegan tomato fish I make, it would even be easy to add some vegan fish to the bowl.
What's a vegan poke bowl?
What's a poke bowl? And what's in a vegan poke bowl?
A poke bowl is a traditional Hawaiian dish. It's traditionally a raw fish salad with Japanese seasonings, and may or may not include rice. My understanding is that it may or may not be served on rice.
In the various poke bowl restaurants that have sprung up around the US and Europe, a poke bowl is usually rice with various veggies, fish and sauces on top. It would be probably be more accurate to call these rice bowls.
A Vegan Poke Bowl/Sushi Bowl/Rice Bowl?
Call this a vegan rice bowl or vegan sushi bowl. I'm just calling it a vegan poke bowl so you understand where it fits with the poke trend.
You can make your vegan poke bowl with whatever veggies and toppings you like.
I like to start with a base of seasoned sushi rice (because to me this is like a deconstructed sushi bowl), then top it with whatever vegetables I have on hand (usually carrots, cucumber, avocado, roasted or raw peppers), baked or dry fried tofu and topped with a variation on ponzu sauce (soy-citrus sauce).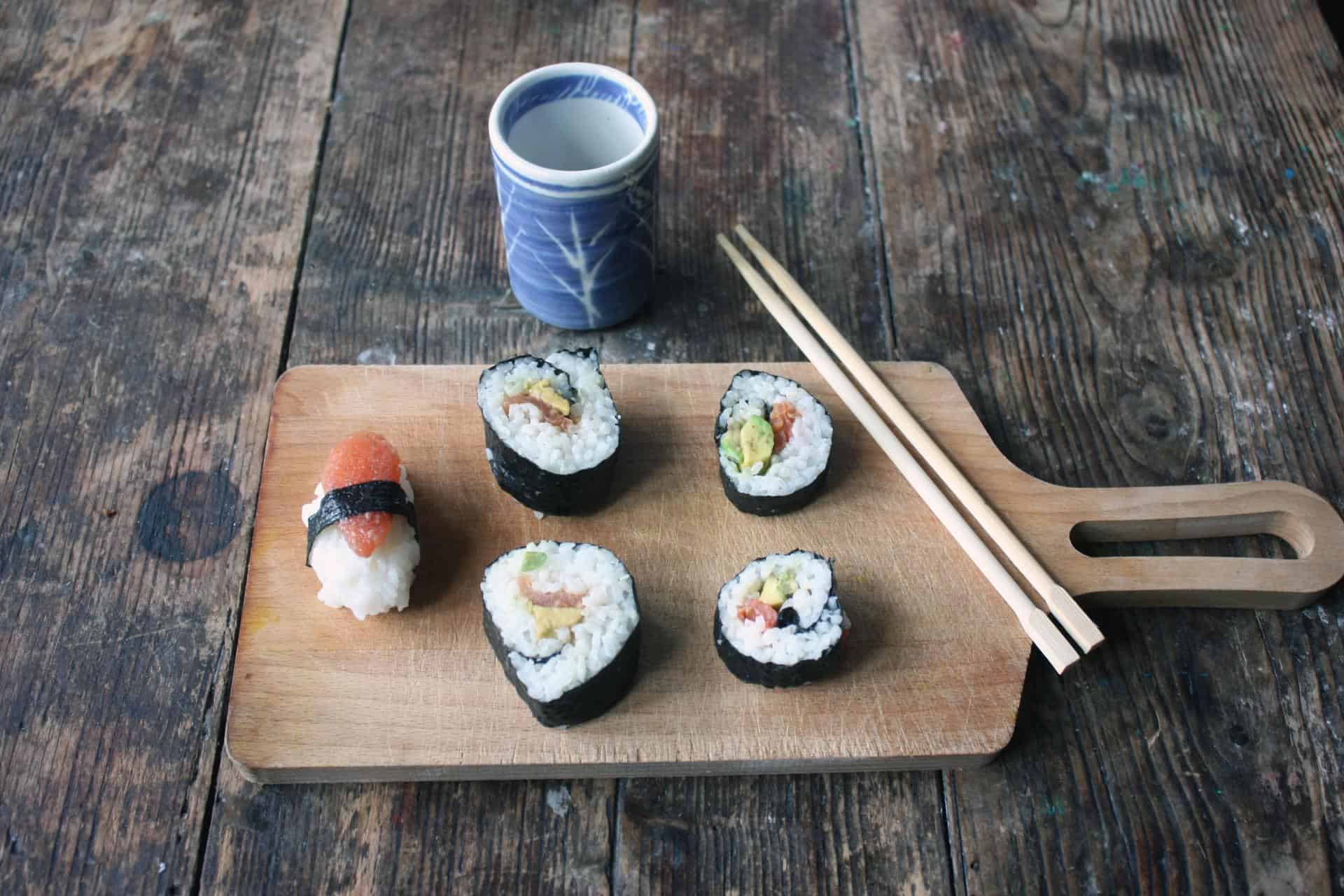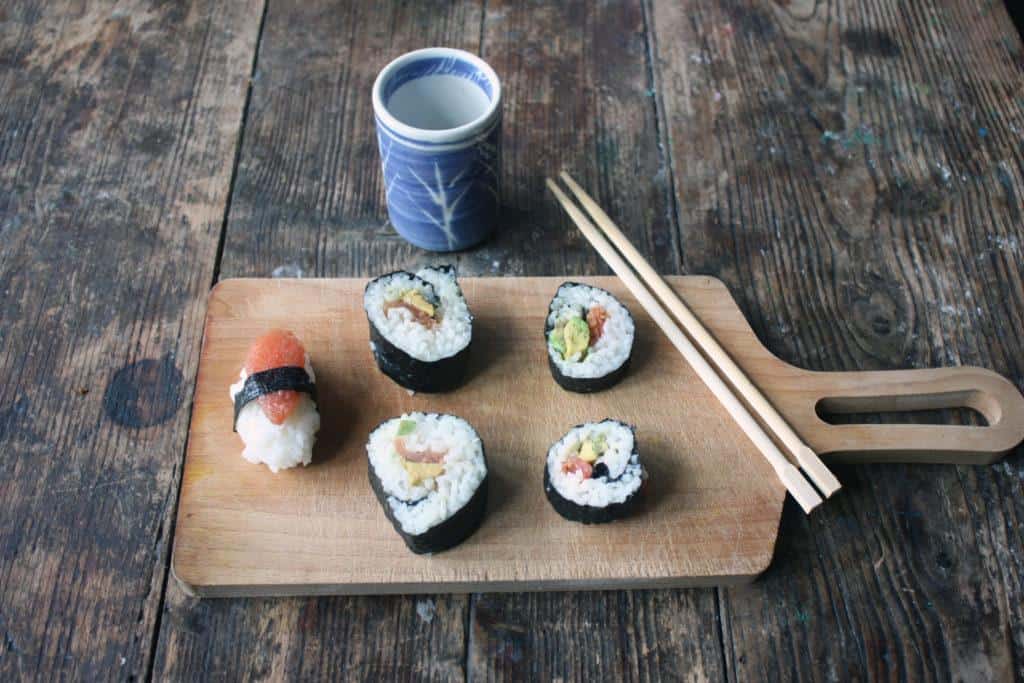 If you want to give it a fishy flavour, my vegan tomato fish (which I developed for sushi) is a great addition.
Feel free to adapt this to the ingredients you have on hand.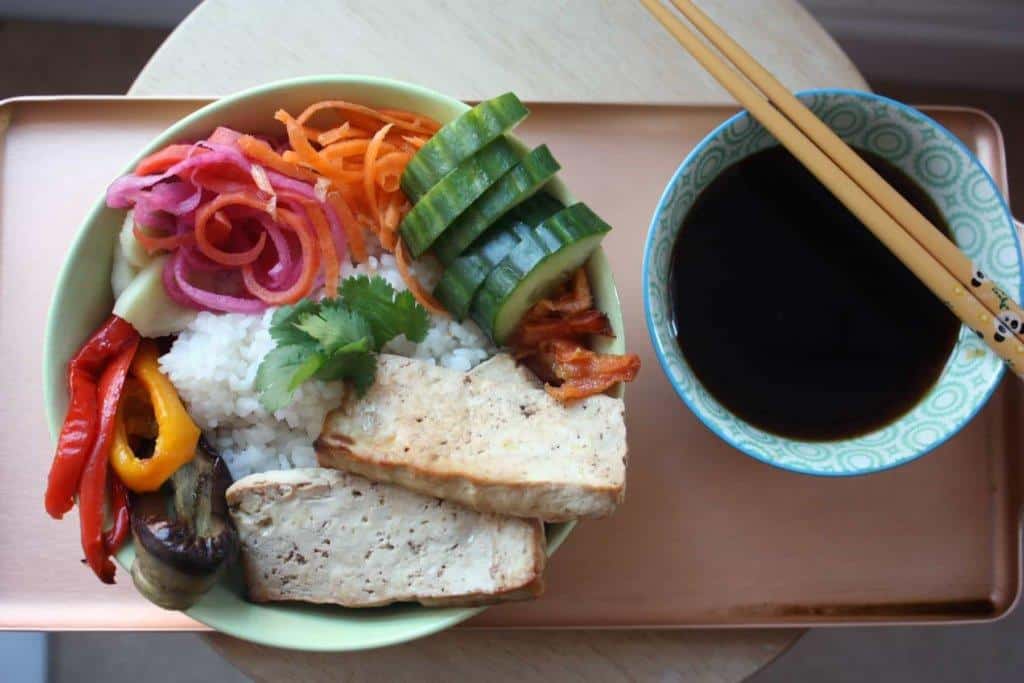 Vegan Poke Bowl with Tomato Fish
2018-03-06 10:27:50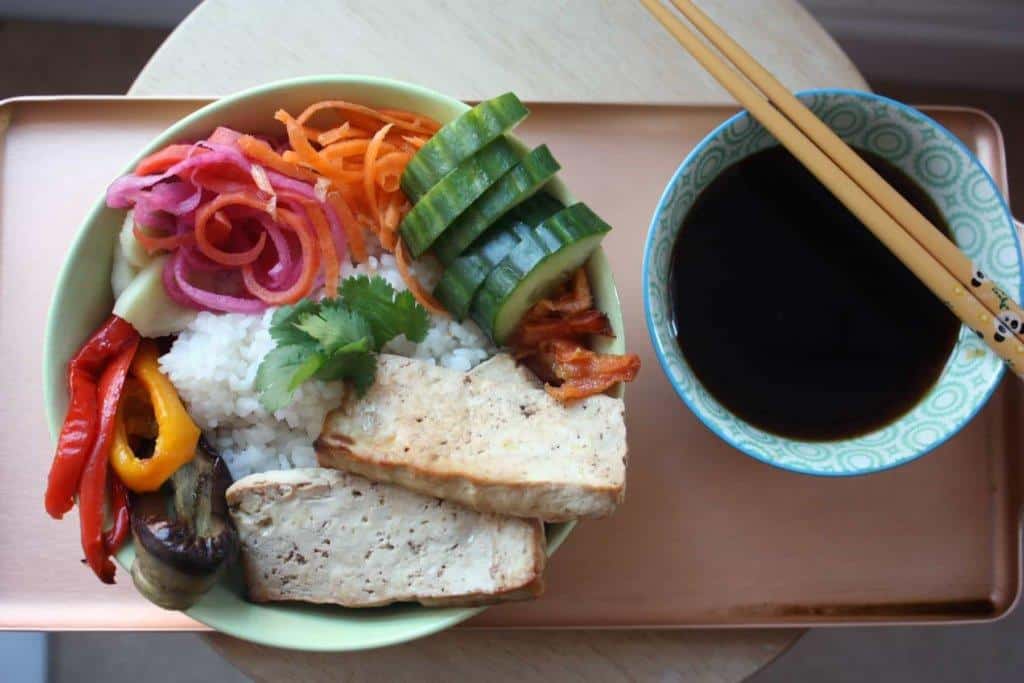 Serves 2
For the vegan poke bowl
1 cup sushi rice

1.25 cups water

2.5 tbsp rice wine vinegar

0.5 tbsp salt

0.5 tbsp sugar

Sliced vegetables (e.g. cucumbers, carrots, avocado, peppers, pickled ginger, etc.) -- choose what you have on hand or your favourites

Tomato fish (optional, see recipe below)

Marinated tofu (optional, see recipe below)

Soy-citrus sauce (recipe below)
3 tbsp mirin

3 tbsp soy sauce

3 tbsp fresh squeezed orange juice

1 tbsp fresh lime juice

1 tsp rice wine vinegar
For the tomato fish (optional)
2 small tomatoes (preferably the least flavourful, most orangey supermarket variety)

1 tbsp oil

1 tsp kelp powder
For the tofu (optional)
200 g extra firm tofu (approx half a packet)

1 tbsp soy sauce

1 tbsp rice wine vinegar

1 tsp toasted sesame oil
Add ingredients to shopping list
If you don't have Buy Me a Pie! app installed you'll see the list with ingredients right after downloading it
For the vegan poke bowl
Prepare the rice first. Put the rice and water in a medium pot and bring to the boil, then reduce to a simmer and cover with a lid. Cook for 10-15 minutes (it tends to cook faster on gas than electric), until all the water is absorbed.
While the rice is cooking, heat the vinegar over low and mix in the sugar and salt until absorbed.
After the rice is done cooking, mix the vinegar-sugar-salt mixture in and mix until absorbed. (If you're making sushi, you should spread the rice to cool at this point, but if you want your poke bowl warm you don't have to do this.)
Put the rice in bowls, then layer veggies, tomato fish (if using) and tofu (if using), then pour soy-citrus sauce on top.
For the soy-citrus sauce
Mix all ingredients together in a small bowl.
For the tomato fish
Preheat the oven to 80 C (180 F).
Cut an X on the bottom of each tomato. Heat water to the boil, drop the tomatoes in and remove after 1-2 minutes, or after tomatoes float the surface. Run tomatoes under cold water, then carefully peel the skin off each.
Cut the tomatoes into eighths and remove the seeds.
Place the tomato strips into a bowl.
Mix the oil and kelp powder together in a separate bowl, then drizzle over the tomato strips. Make sure the tomato strips are thoroughly coated.
Heat the oven to 80 C (180 F) or the lowest setting.
Place the marinated tomato strips on a baking tray covered in parchment paper and place in the oven for 20 minutes.
Remove the tomato strips from the oven.
For the tofu
Preheat the oven to 180 C (350 F) if you're going to bake the tofu (as opposeod to dry frying).
Cut the tofu into slices and press the water out (there are ways to do this with fancy-pants gadgets like a tofu press or you can just do it between some paper towels, using a book as a weight -- or if you're lazy like me just put some paper towels or a clean towel on top and lightly press down a few times).
Mix the soy sauce, rice wine vinegar and sesame oil together and pour over the tofu slices. Leave to marinate for 5 minutes or over night, depending on whether you forgot to do this in advance.
Now, you can choose to either bake the tofu for 30 minutes on 180 C (350 F) or heat a nonstick skillet or cast iron pan over medium heat. Place the tofu in and sprinkle any remaining marinade on top, cooking until browned. Then flip over and cook on the other side until lightly browned.
Notes
This might look a little complicated because the recipe contains multiple recipes (for tomato fish, tofu) but if you want a quick meal, just cook up some rice and top with veggies and soy-citrus sauce.
Print
The Vegan Word https://theveganword.com/
Pin this Post for Later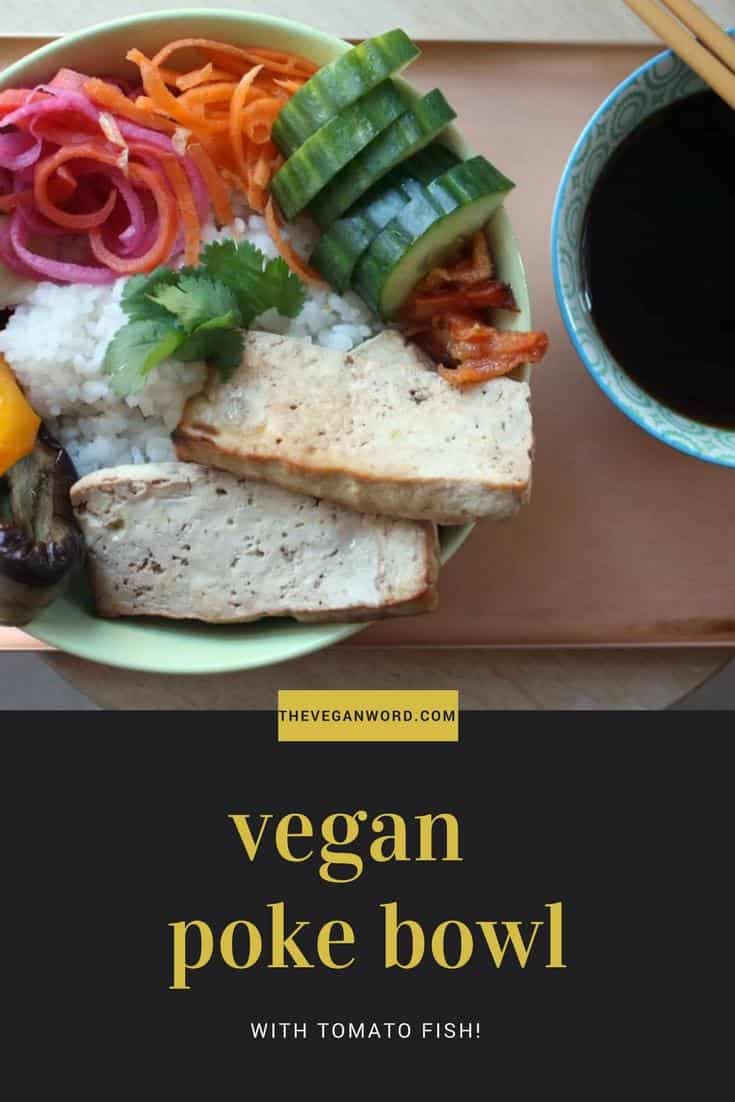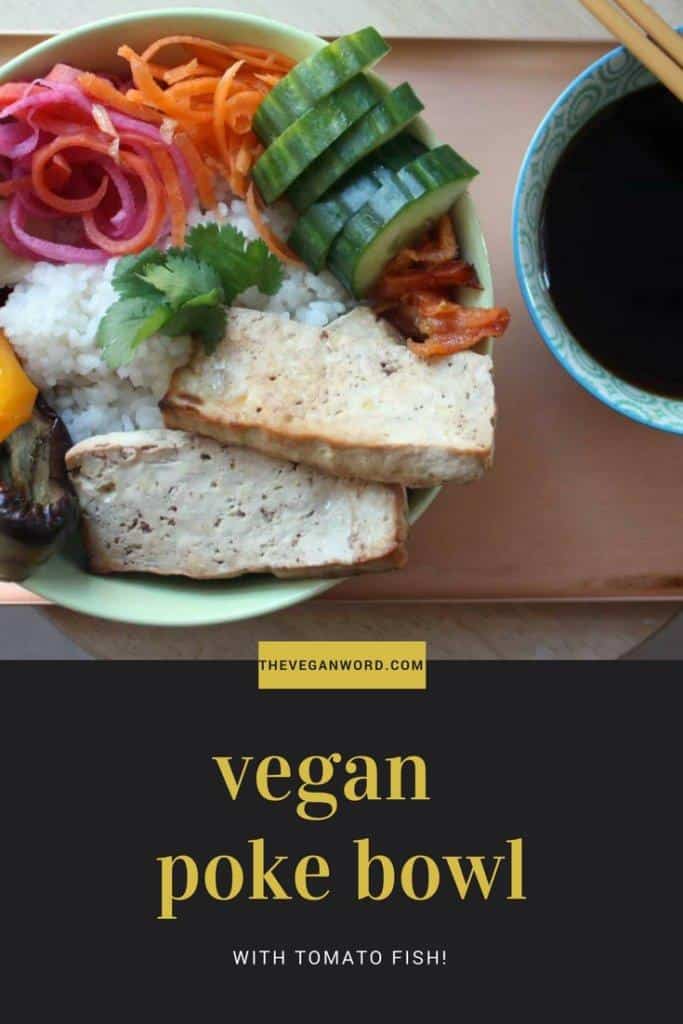 This post contains an affiliate link; if you choose to buy the product I'll receive a small commission. As always, I only recommend products I regularly use and love, or as in this case, really wish I had.
As an Amazon Associate I earn from qualifying purchases.