I love packing exciting lunches.  It gives me something to look forward to all morning (I am NOT a morning person and I need every incentive I can get to stay awake!), as well as a way to make my friends and colleagues jealous.  Often I have leftovers from my dinner the night before, which gives me something to look forward to if I really liked the dinner, and I also love packing a big salad (by big I mean really big, so big it overflows off my plate!) in a jar using a layering technique.   But even when I have a quintessential lunch food such as a sandwich I like to upgrade it to something a bit more exciting, like this sandwich.
Although I usually bring lunch, I like going for a walk at lunch to get some fresh air and hopefully sun, and I often end up in Pret with workmates who are browsing the selection.  For those of you who don't know, Pret a Manger is a sandwich chain in the UK who promote themselves as using fresh, healthy ingredients, and they usually have at least one vegan sandwich option, and sometimes vegan soups as well.  At the moment, their vegan sandwich is a hummus wrap, which isn't the most exciting sandwich as just about every restaurant has hummus as their vegan option.  Don't get me wrong, I'm really happy that it's getting easier and easier to get vegan food out in restaurants and on the go, and while I do love hummus, I'm just a bit tired of it being the go-to vegan option on everyone's menu.  While we were in Pret the other day my eye wandered from the hummus wrap to a sandwich near it, the grilled asparagus, herb and nut pesto.  It wasn't vegan as it the sandwich contained cheese, but I couldn't stop thinking about how good the sandwich sounded.  It haunted me for a few days until I decided to take matters into my own hands and make my own!
This sandwich is easy to make if you roast your asparagus and tomatoes the night before, and then in the morning before work or school all you need to do is assemble it.  I'd suggest using a good quality crusty bread or baguette, plus your favourite pesto (I make my own because I like the fresh flavour but you can use storebought if you prefer) and your favourite vegan cheese (I had some cashew ricotta to hand so I used that – I've included the recipe below).  Or leave out the cheese if you're not a fan – it will taste just as good without!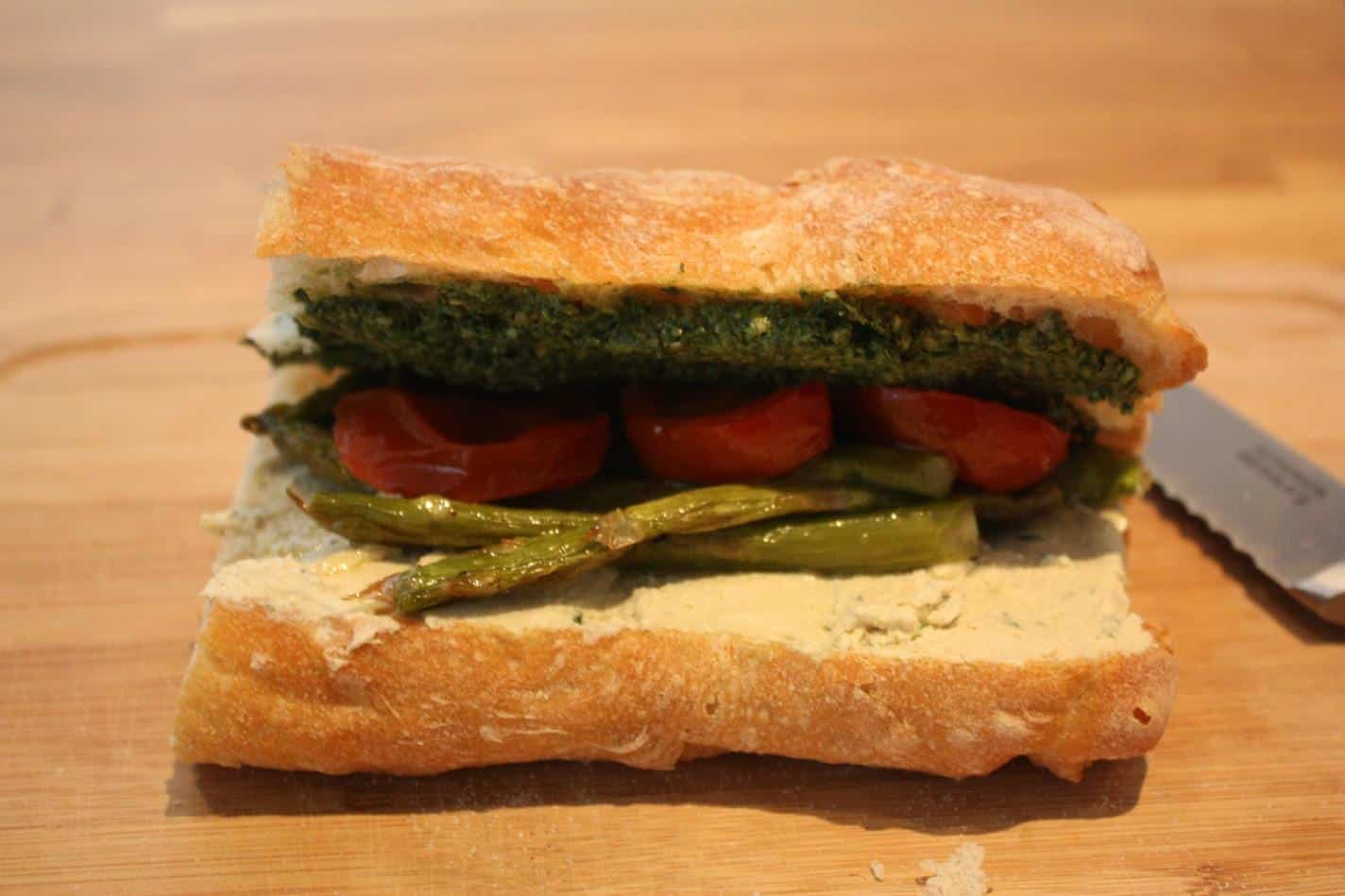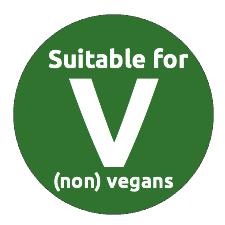 Pesto, cashew cheese and roasted asparagus and tomato sandwich
Ingredients
Baguette or crusty bread
Bunch of asparagus
4-6 medium sized tomatoes, sliced
Your favourite pesto
Your favourite vegan cheese
Instructions
The night before making the sandwich, roast your asparagus and tomatoes.  Preheat oven to 200 C/400 F/gas mark 6.  Line a baking tray with parchment paper or grease lightly with oil.  Line up the asparagus and sliced tomatoes and drizzle with olive oil and sprinkle with sea salt.  Bake in the oven for 15-20 minutes, or until the asparagus is beginning to brown and the tomatoes are shrivelling slightly.  Depending on the size of the asparagus it will take different lengths of time so check every 5 minutes or so until they are roasted!  Store the asparagus and tomatoes separately overnight in Tupperware (don't store them together or any crispy bits on the asparagus will be softened by the tomato juices!)
When you're ready to assemble the sandwich, cut baguette in half (and toast if you're planning to eat it immediately rather than pack it in a lunchbox), and spread one or both sides with pesto.  Add vegan cheese if using, and roasted asparagus and roast tomatoes.
Vegan Ricotta
Makes enough for approx 4 sandwiches
1 package (approx 1 lb) firm tofu, drained and pressed
1/2 cup cashews
2 teaspoons lemon juice
2 teaspoons olive oil
1 garlic clove, chopped
1/4 teaspoon salt
1/4 cup nutritional yeast flake
10 fresh basil leaves, chopped
fresh black pepper to taste
Italian dried herb mix to taste
Instructions
In a spice grinder, grind cashews until fine.
In a food processor, blend cashews, tofu, lemon juice, olive oil, garlic, salt, nutritional yeast, tahini, miso, basil, black pepper, and Italian herb mix until it forms a thick paste.
Adjust seasonings to taste.