This post may contain affiliate links (see full disclaimer here). This means if you make a purchase after clicking, I may get a small percentage of the sale, at absolutely no extra cost to you.
It is my dream to one day attend a somen "fishing" party. Somen are a little like a thinner version of soba, a buckwheat noodle popular in Japan. Apparently in Japan in the summer families cut up bamboo reeds and prop them up around the garden, then use a hose to run water over the bamboo and send somen noodles flowing downstream in this makeshift river. Then everyone tries to "catch" somen noodles with chopsticks as they flow by – it looks tricky, given how thin somen noodles are (around angel hair thickness). But it also looks super fun, and I hope one day I can attend – or break out some bamboo reeds myself.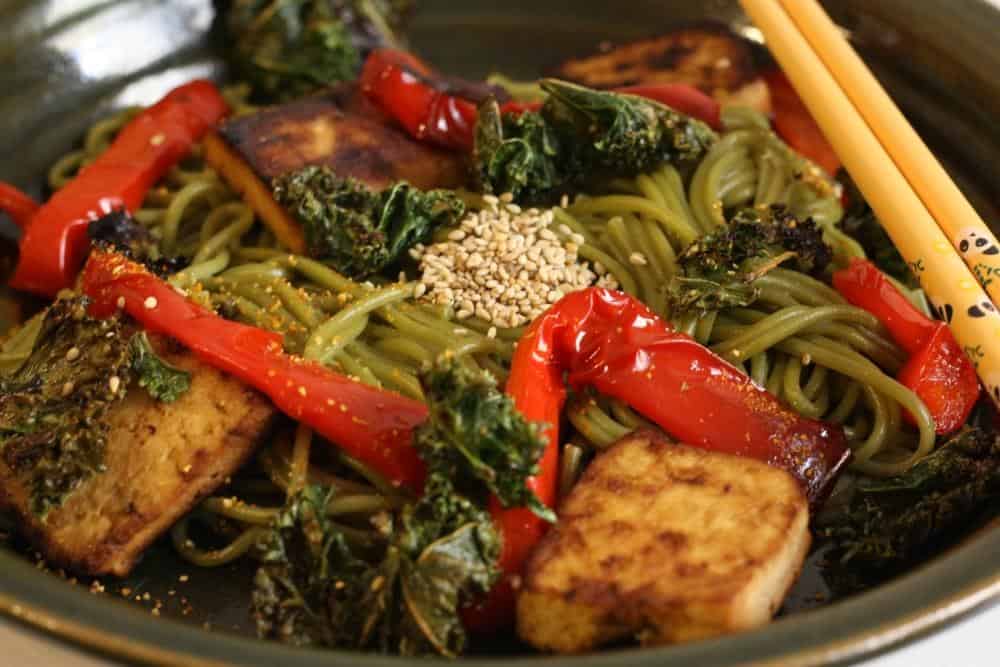 No noodle parties for us, but I can promise you a delicious Japanese-inspired dish that's really versatile and goes with pretty much any vegetable toppings you like (and tofu, if you want). You can get matcha soba noodles (soba noodles infused with green tea powder) at Japanese or Asian supermarkets, but if you can't find any, feel free to substitute standard buckwheat soba noodles. Now, the crispy kale is not a requirement but I think the crunch really adds to the dish and the dark green of the kale contrasted with the light green of the matcha soba looks pretty, too.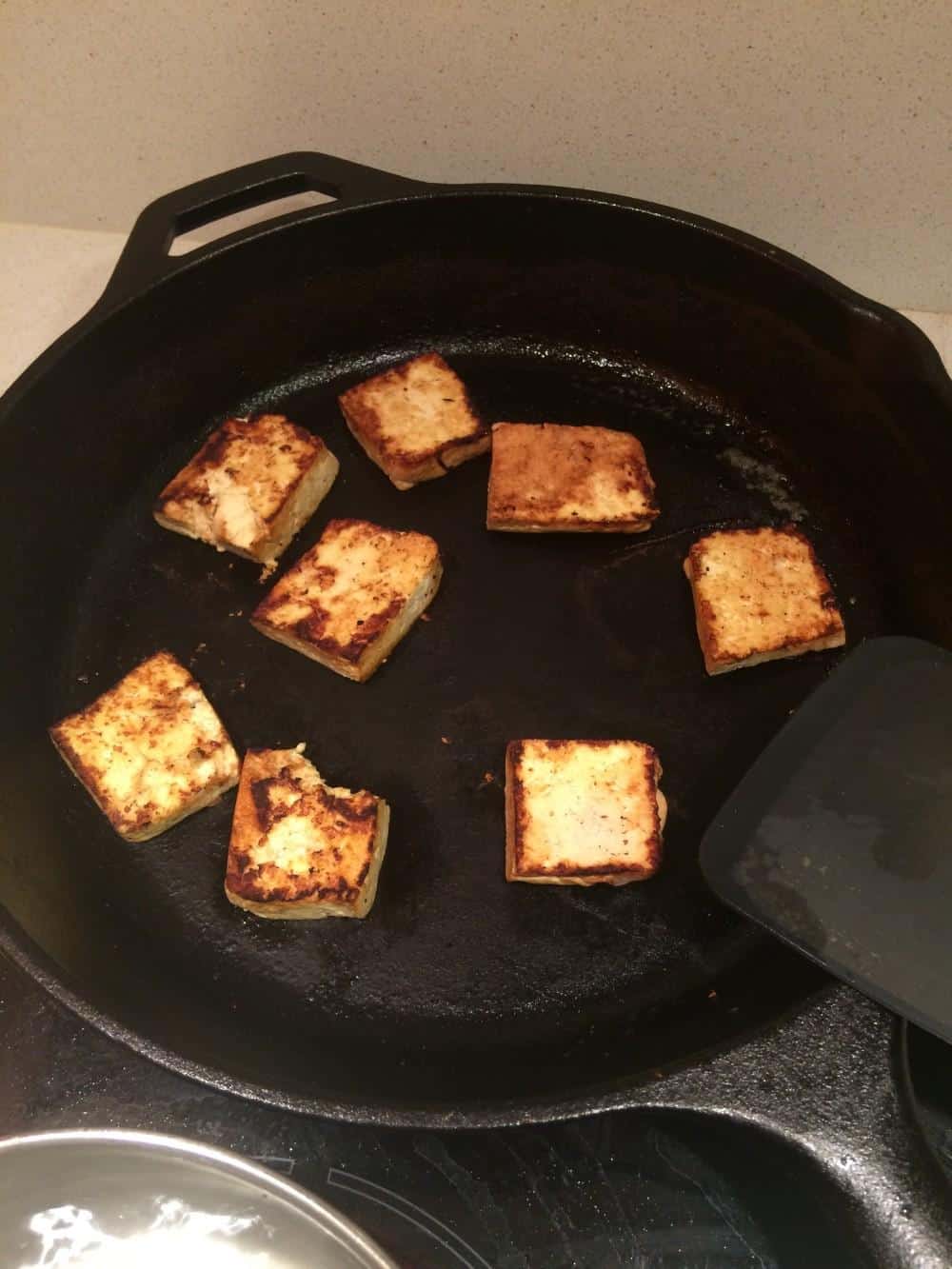 Optional Tofu
I don't always add tofu but I happened to have some frozen tofu on hand and it's really easy to make some in a nonstick skillet if you want to add make the dish more filling. If you haven't had frozen tofu, freezing your tofu changes the texture and makes it "meatier", some people say (having never eaten meat, I can't confirm!). I do feel like it absorbs sauce a little better after having been frozen and for this I made a super-quick mix of equal parts soy sauce and rice vinegar to coat the tofu.
To make: defrost the tofu, then press the water out. Now, you're supposed to place paper towels on top of the tofu followed by something heavy like a textbook but I'm lazy so I always just cover it with paper towels and press down with my hands a few times (changing paper towels when they get soaked). Never seems to do any harm. Then, add to a nonstick skillet you've pre-heated on medium to high heat and cover with half the sauce. Cook off the sauce and then flip the tofu over when it's browned on the underside. Add the rest of the sauce and cook until it's browned on the other side.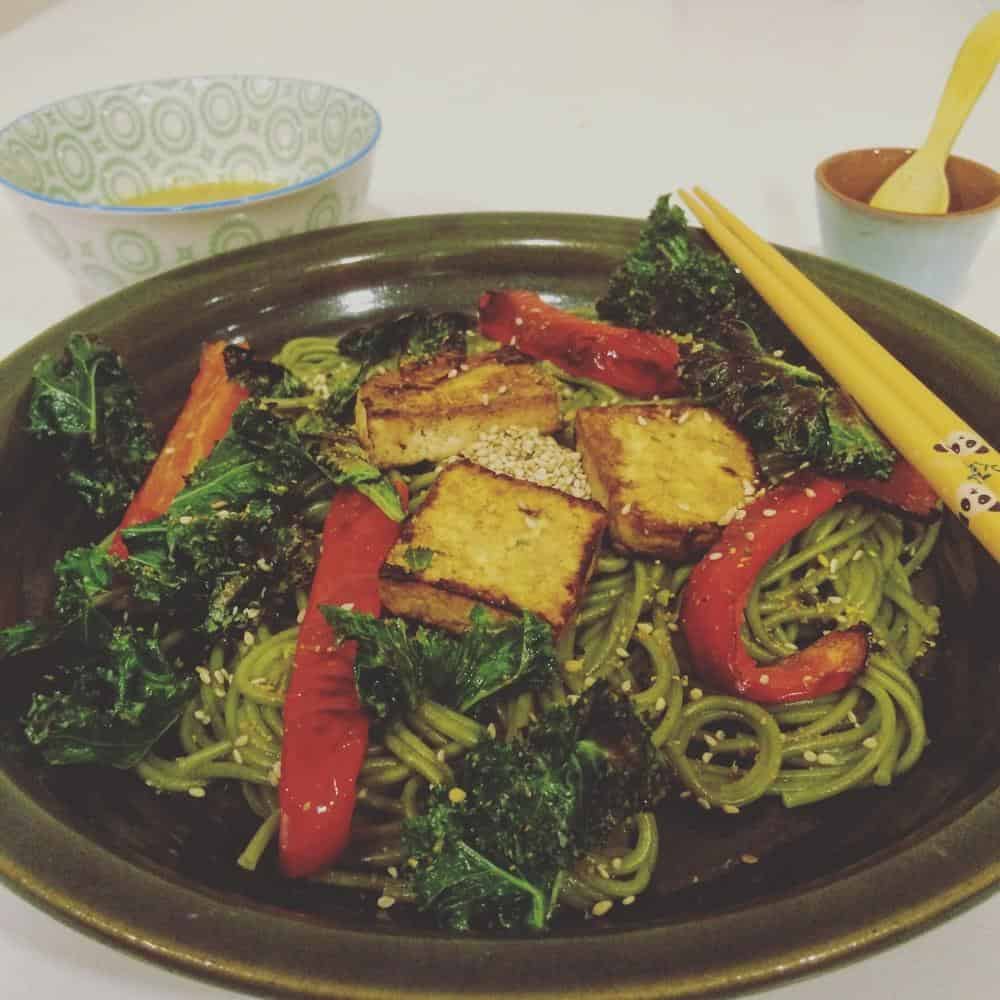 Japanese-Inspired Green Tea Soba Noodles with Miso-Lime Sauce
Makes two servings
Ingredients
150g matcha soba noodles
Handful of chopped kale, fried in nonstick skillet with a dash of ginger powder and garlic powder
Vegetables of choice, for example steamed sugar snap peas, chopped green onions, roasted red peppers, etc.
Tofu, optional (see instructions above on how to fry it with marinade, or you can buy pre-marinated tofu)
Miso-lime sauce (see below)
Instructions
Prepare any vegetables you want to add to the dish, along with tofu if you're using it. I've tried all sorts of seasonal veg (roasted and steamed) and it all tastes good!
Preheat a nonstick skillet over medium-high heat. When it's hot, add the kale and a dash of garlic powder and ground ginger powder. Fry until the kale is crispy and browned on the edges.
While you're frying the kale, bring a pot of water to boil and prepare your matcha soba noodles according to the instructions on the packet (normally they need to be boiled around 5-6 minutes).
Drain the noodles, and place on a plate or in a bowl. Add your vegetables and tofu (if using it).
Drizzle the miso-lime sauce on top and mix everything to combine. Then, add the crispy kale on top (note: add the kale just before you are planning to eat so it retains the maximum level of crispiness – once it comes into contact with other foods it will start to lose the crunchy/crispiness that makes it great).


Miso-lime sauce
Makes enough to top two servings of the soba noodles dish.
Note: shichimi togarashi seasoning
is a Japanese spice blend you can find in Asian supermarkets. If you can't find it, feel free to leave it out. Please note it can be a bit spicy so adjust to your taste!
Ingredients
2.5 tbsp red or white miso
2 tbsp rice wine vinegar
3 tbsp warm water
1 tbsp lime juice
Dash of ground ginger powder
Dash of shichimi togarashi seasoning (optional, see note above)
Instructions

Mix together all ingredients and stir well to combine. The miso can be difficult to thoroughly mix to make sure that it's well incorporated and there aren't any clumps left.
As an Amazon Associate I earn from qualifying purchases.