Somehow we're almost in the last week of Vegan Mofo! My theme for the month is 'Places I've Been', and I'm picking a different country each post and creating, recreating or just eating vegan food from that place!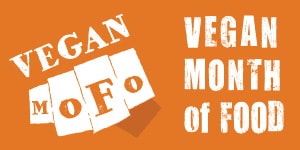 My country for today is the US, where I was born and raised. I grew up in the Midwest, and moved to London four years ago. My life now is so different to life in a small Midwestern city that it's kind of crazy. When people here think of my life in the States, I think they tend to imagine life in New York or LA, and imagine it's like the movies/TV. They don't really imagine the Midwest! I grew up in the cornfields, and every year in my hometown they had a corn festival.
Corn husks left over from the corn festival: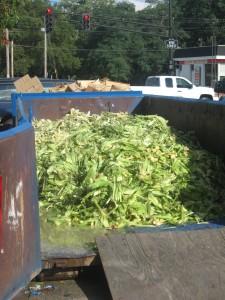 It's incredibly flat where I'm from. The first time I saw a large hill, I thought it was a mountain!
Then I went to university for two years in an even smaller town (population 8,000):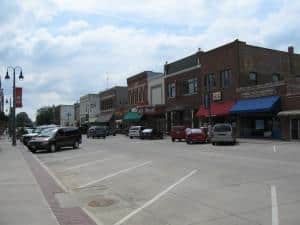 And then I moved to Central London (I live in Bloomsbury).
I'm not really the kind of person that gets homesick. I miss people, but not places. And weirdly, I miss pickles. Pickles here just aren't the same. Luckily, I got to experience pickles, GRILLED CHEESE and much more at a Little Bird supperclub recently (this was the second Little Bird supperclub I attended; I also attended a Japanese night there). What's more American than grilled cheese? Not much. Grilled cheese was a childhood staple in my pre-vegan days. Thanks to the Little Bird supperclub, I got to experience grilled cheese again, in London.
Our evening began with some iced tea, and then we were asked to select our sandwich choice off a menu.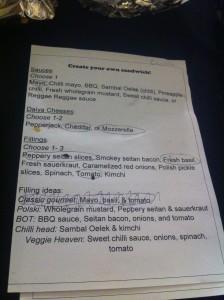 This was really difficult, as there were so many amazing choices and all the combinations sounded fantastic. We had to select a sauce from the wide array of options (I kind of wanted to try all of them, especially the Reggae Reggae sauce — I love the name!), 1-2 Daiya cheeses (Jhenn's mother was responsible in a way for this night after she brought a suitcase full of Daiya cheese over from the US — thank you Jhenn's mom!), and 1-3 fillings. Again, I had trouble deciding on a filling. I'm not a huge fan of mock meat, but Jhenn's homemade seitan (which she sells at Ms Cupcake) is kind of famous around the London vegan scene, so I decided to try it. I might not like mock meat but the seitan was incredible!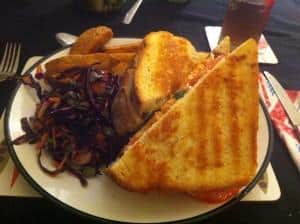 The grilled cheese was great, as the Daiya melted to a gooey perfection in the sandwich (just like I remember grilled cheeses as a kid!). It was HUGE so I took half home for lunch the next day (it was still really good reheated in the oven the next day, as the oven crisped up the bread). The grilled cheese came with slaw, JoJos (really thick potato wedges — can't go wrong there) and pickles. Lots of homemade pickles. I was in pickle heaven. It might seem strange to focus on the pickles when there was a Daiya grilled cheese next to it, but I've been pickle-deprived for four years now. I've tried all the pickles I could find in the UK, but I found even the dill ones kind of sweet, and I hate sweet pickles. I've been searching and searching for vinegar-y dill pickles to no avail, so when I tasted these homemade pickles I couldn't help myself scarfing down practically the whole jar. I may have to start making my own pickles. We finished off the meal with a bowl of pomegranate seeds, which was very refreshing after the heavy dinner.
Here's a close up shot of the melted Daiya cheese: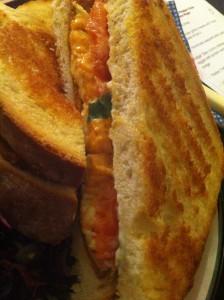 Apart from grilled cheese, what is the next most American food? Pumpkin pie! But pumpkin is not just for pie anymore, and it's not just for the US. Pumpkin spice lattes jumped the pond this year, and UK Starbucks goers rejoiced. But sadly, pumpkin spice lattes are not vegan as the mix contains milk. So what's a pumpkin spice latte-loving vegan to do? Make your own vegan pumpkin spice latte, of course! I recently did some experimenting, and came up with my own version of a pumpkin spice latte, which I think I prefer to Starbucks' version. It tastes different as it's made with real pumpkin rather than pumpkin flavoured syrup, but surely the real thing is better. ;) I'll end this post with the recipe. I suggest you make a big batch at once (double the recipe if you like) as the pumpkin milk will keep in the fridge for 4 or 5 days.
Pumpkin Spice Milk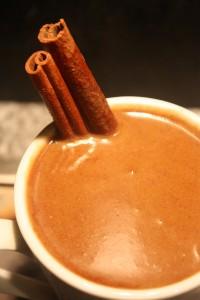 Makes 2 servings
Ingredients
2 cups soya milk or other vegan milk
1/4 cup canned pumpkin puree (I buy it at Waitrose in the UK)
1/2 tsp pumpkin spice mix (if you don't have this, you can make it with 1/2 tsp ground ginger, 1/2 tsp ground nutmeg, 1/2 tsp ground allspice, 1/2 tsp ground cinnamon)
1 tsp vanilla extract
4-5 tbsp brown sugar (depending how sweet you like it)
Instructions
Mix all the ingredients together until the sugar is dissolved and the pumpkin and spices are mixed well into the milk. The pumpkin and spices may settle if you don't use the pumpkin milk right away, so be sure to shake/stir before using.
To make a pumpkin spice latte, heat one cup of the pumpkin milk in the microwave or on the hob/stove. Make one to two shots of espresso or very strong, concentrated coffee and add to the pumpkin milk. If you're using instant coffee (not that I recommend this, I'm a bit of a coffee purist!), mix that into the hot pumpkin milk or mix in while it's heating. Top with vegan whipped cream (or make your own coconut whipped cream, which I highly recommend!) and pumpkin pie spices.