This has been an exciting week!  As I mentioned, I've started contributing to One Green Planet.  My second post (5 Healthy, Whole Food Plant-Based Meats) went live this week and it's got over 2.5K shares!!!  I'm so thrilled that it's been shared so many times, and I hope people (especially anyone who can't afford to buy storebought mock meats, or can't find them in their area) have found it helpful. I'd love it if you could share it, too!
Now, onto today's smoothie…
First, a word of advice on smoothies.  If you are craving both a smoothie and a coffee, DO NOT decide to mix the two!  I did this yesterday, thinking it would taste like a frappuccino.  It didn't.  If you want some caffeine in your smoothie, then I'd suggest this one!
Last month, I started a new series, Pin to Plate, which is basically just a way to force myself to finally make those recipes I pin but never get around to trying.  For this pin to plate (or pin to pitcher, rather?), I chose a peach green tea smoothie from one of my absolute favourite blogs, Keepin' it Kind.  However, I took so many liberties with it it barely resembled the original recipe (I've included the recipe I used below!).  The only real resemblance was that it started with peaches and matcha.  I don't really know what happened after that….  But the end result was delicious!

Now, I almost always end up changing recipes when I make them, because I like experimenting and I like subbing in ingredients I have.  I also like adding spices and making things even more complicated for myself.  Because that's just the way I am.  In this case, I went the opposite way for once, and took out ingredients I didn't have, like buckwheat groats, hemp seeds and maca powder. Next the greens came out, because I was for a making a smoothie for my boyfriend for once (as a banana-hater, he won't eat my usual smoothies) and I thought starting out his first time with a kale-infused smoothie might be too much for him.  Next, soya milk (which is what I had in the fridge) stood in for almond milk.  Finally, I took out the mango slices and added frozen strawberries, because I snagged a bargain package of strawberries (about to expire).  Oh, and extra matcha, because I had a beautiful-looking package of matcha my friend brought back from Japan recently.   Recipe below, if it can be called that.
First, the pin that inspired this experiment:
Matcha Peach-Strawberry Smoothie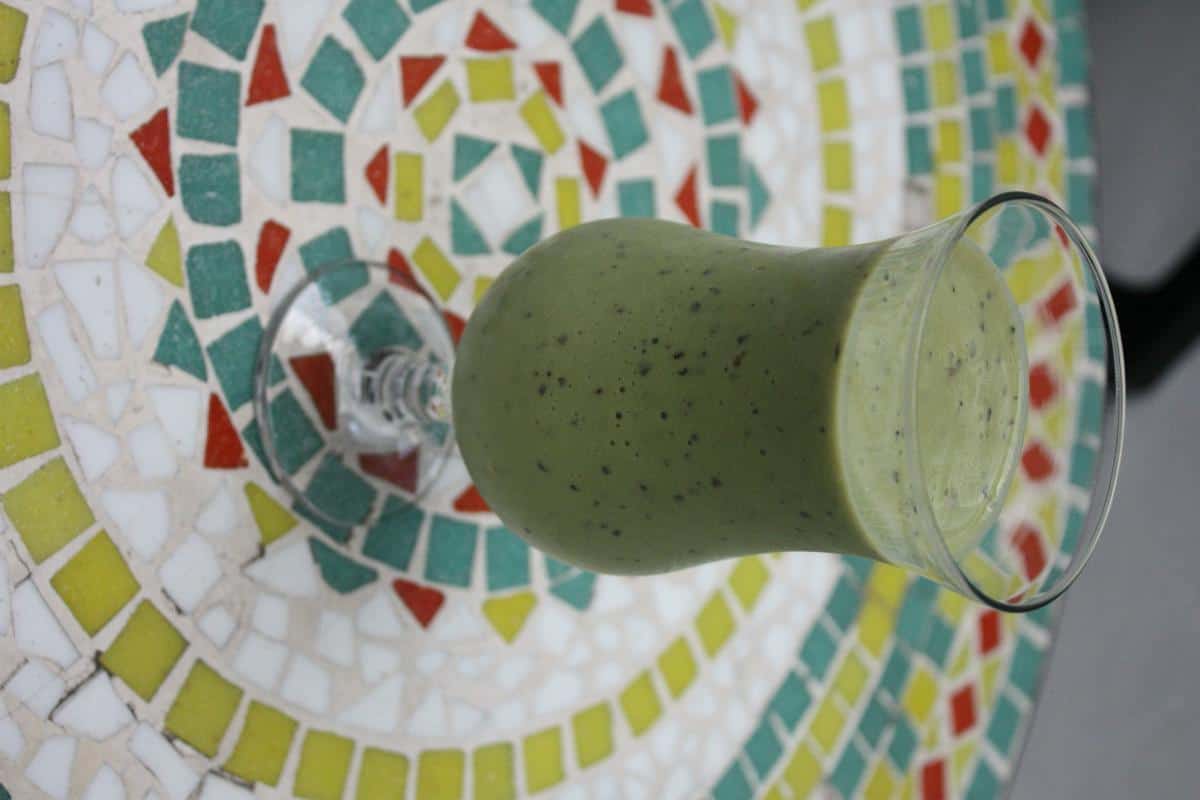 Inspired by the amazing-looking peach green tea smoothie on Keepin' it Kind
Ingredients
3/4 cup frozen peaches

1/2 cup frozen strawberries

Enough soya milk to cover the fruit in the blender

3/4 tsp matcha
Instructions
Mix all ingredients together in the blender until smooth.