I love coffee in just about any form, but until recently I'd never had Vietnamese iced coffee as it's normally made with sweetened condensed milk. Last week, I read about making condensed milk with coconut milk; around the same time, I stumbled across some delicious-looking pictures of Vietnamese iced coffee. It seemed perfect for the warm weather we were experiencing in London at the time, and it was.
This sweetened condensed milk is extremely coconut-y — the resulting iced coffee tasted like coconut candy! Everyone who tried it loved it, but if you're not a coconut fan I wouldn't recommend it as the coconut flavour is very strong. I'm guessing you could use the same method to make sweetened condensed soya milk or almond milk. The sweetened condensed vegan milk would also go nicely in baked goods, I imagine. :) I can't wait to try it!
Sweetened condensed coconut milk
Note: If you want, you can use 4 tablespoons of agave (and leave out the sugar) if desired. I like the flavour the brown sugar imparts. This recipe is very sweet, but add less sugar/agave if you like it less sweet.
Ingredients
1 can of full-fat or half-fat coconut milk
2 tbsp brown sugar
2 tbsp agave nectar
Instructions
Bring the coconut milk, brown sugar and agave to a boil. Reduce the liquid by 1/4 to 1/2 (depending how thick/rich you like it) and remove from the heat.
To make a Vietnamese iced coffee, add coffee (the stronger the better) and ice to a glass: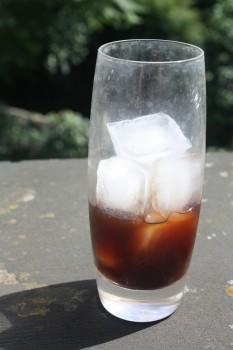 Fill the rest of the glass with sweetened condensed coconut milk: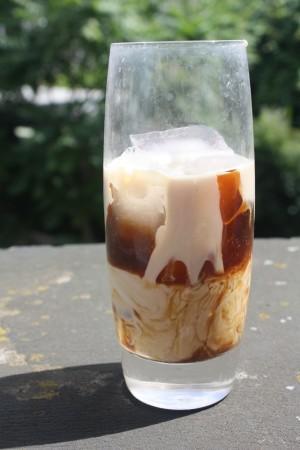 Stir, taste and add more milk if desired: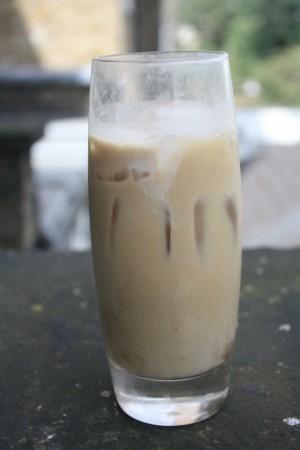 My Vietnamese coffee made a perfect accompaniment to a Sunday afternoon picnic on my balcony along with a sandwich of herbed Boursin-style spread, tomato slices, roasted peppers and salad on a crusty sourdough bread (and yes I did put the coffee in a reused cup from you-know-where, because it's pretty spillproof and I'm clumsy sometimes!):