My MoFo theme is 'Places I've Been', and I've been covering a different country each day, with an accompanying recipe of something I ate or wanted to eat in each country.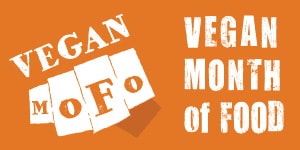 Today we take a culinary journey to South Korea, land of beautiful old temples, shiny modern skyscrapers, breathtaking fall foliage, bi bim bap and fiery kimchee…  I spent a week in Korea and wished I'd spent longer!  I knew my stay in Seoul was off to a good start when a woman on the airport bus not only called the hostel for me and asked for directions but actually insisted on leading me to the hostel door.  The ever fickle travel gods must have been smiling on me, because the next day more happy coincidences awaited me!
I got up the next day and Googled 'best vegan restaurants in Seoul' and immediately came across the wonderful Aliens Day Out blog.  Mipa, the blogger, kept talking about a coffee shop that served her vegan muffins.  As soon as I saw the word muffin, I knew I'd have to visit.  I'd been travelling around Asia for a few weeks and while I loved all the amazing vegan dishes I got to sample in Hong Kong, China and Taiwan, there had been a serious lack of baked goods in my life.  So I headed over to the coffee shop.  While ordering my soy latte, a girl approached me and asked if I read Aliens Day Out — turned out it was Mipa herself!  She gave me loads of vegan foodie advance about where to try in Seoul, and we ended up meeting up later that week to try out a food market (she helpfully ordered bi bim bap — vegan style — in Korean for us!) and to see a lantern festival.  There's nothing like having a local to show you around!
Thanks to Mipa's advice, I have nothing but fond memories of Seoul — especially the bi bim bap, and an amazing meal I had a few days later which involved the largest number of food dishes I've ever seen on one table at once (and it was ALL MINE!).  Somehow, though, I didn't have any jap chae while I was in Seoul, which seems a serious oversight.  But that's okay, because I've worked out how to make a delicious jap chae now!  Recipe after some photos from Korea.
Lantern festival in Seoul: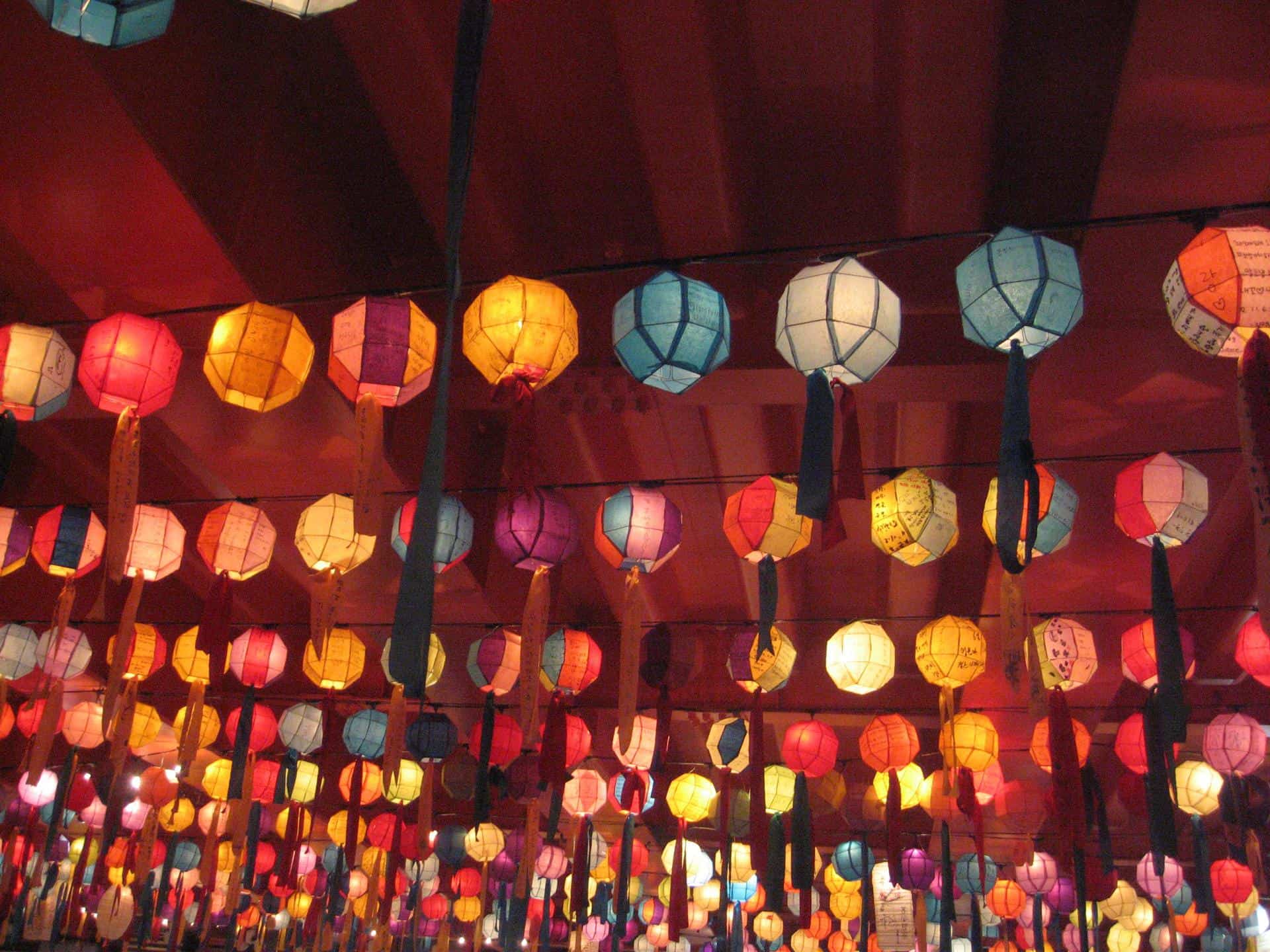 The biggest food spread I've ever had: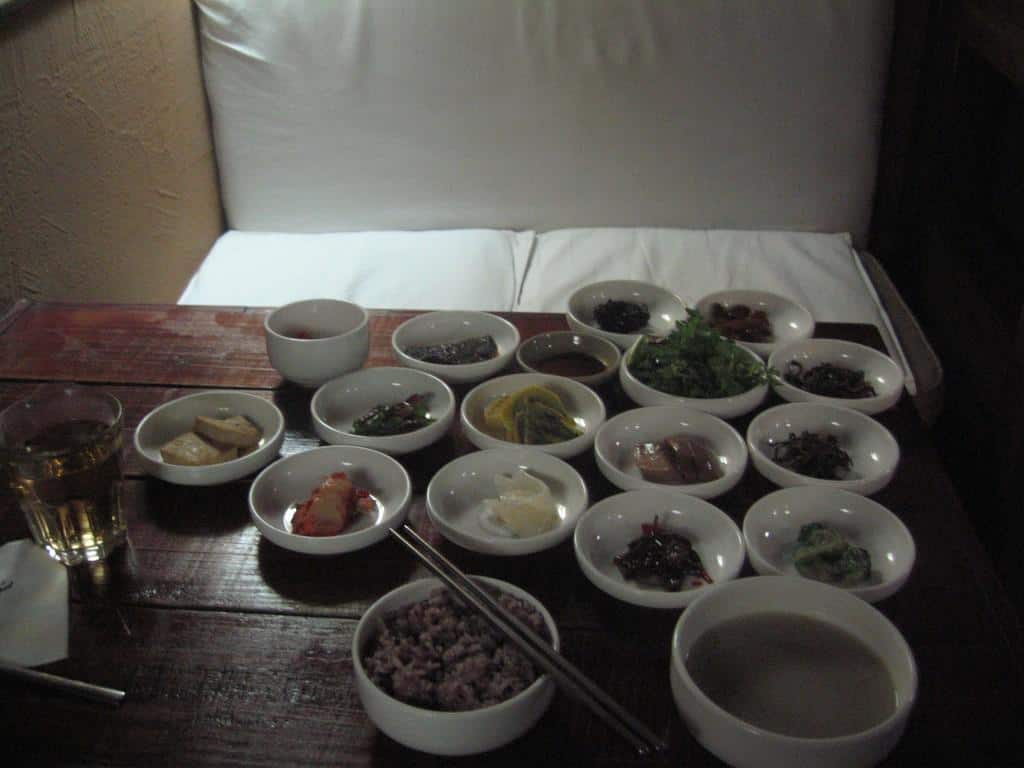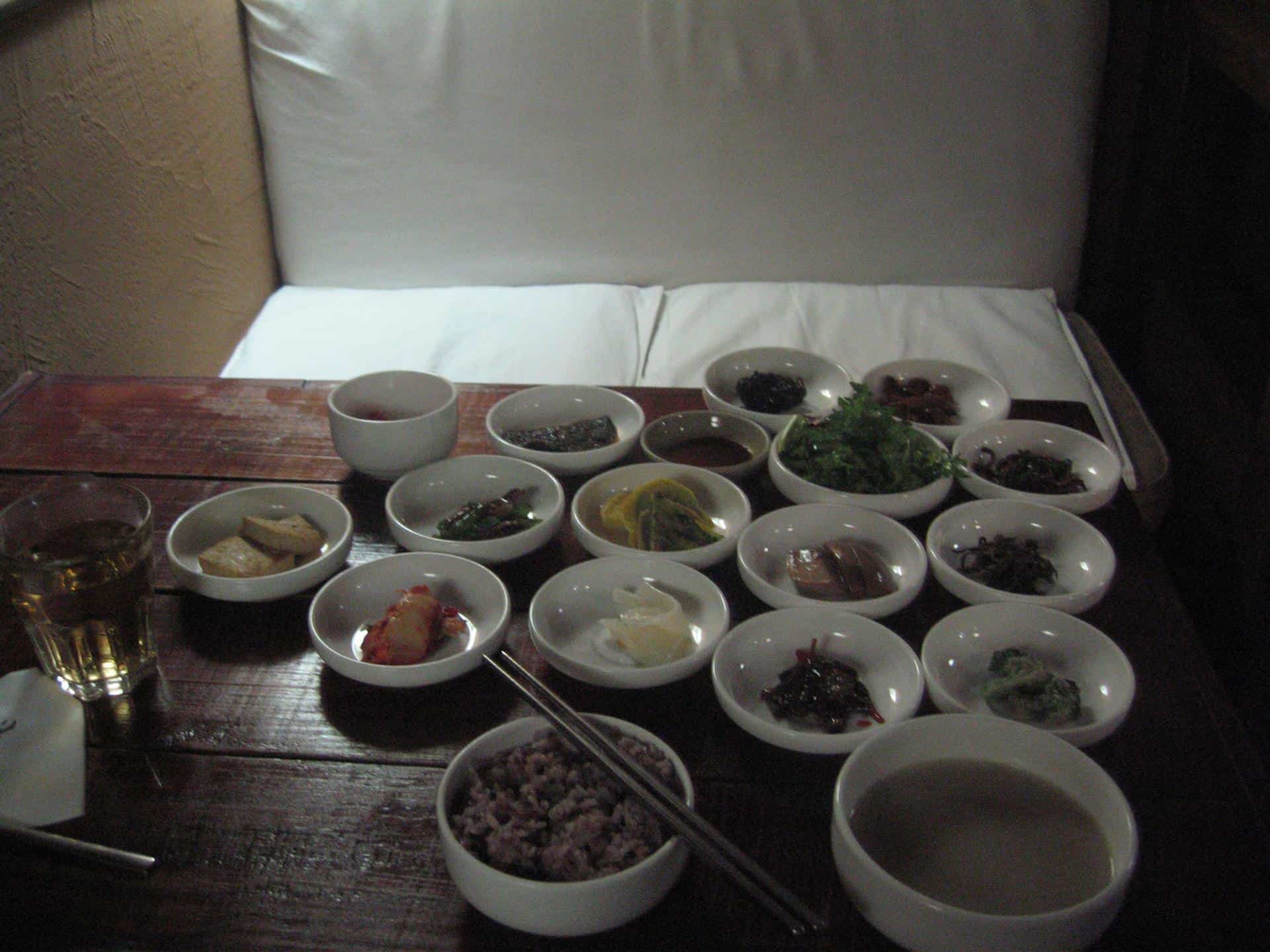 Jap chae, or chap chae, is a noodle dish made with dang myun, or sweet potato vermicelli.  Dang myun are key to the dish, with their characteristic chewy texture and ability to absorb flavours easily.  You may not to be able to pick them up at your local supermarket, but you should be able to get them from an Oriental supermarket, and it's worth seeking them out!
The dish is very adaptable, so feel free to use the vegetables you prefer or have to hand.  I like to use courgette, spinach or bok choy and bell pepper, but you could use carrot or bean sprouts.  You can also add mushrooms or mock beef if desired.
Jap Chae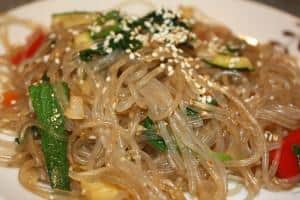 Makes 4 servings
Ingredients
200g (7 oz) package of dang myun noodles
3 tbsp toasted sesame oil
2 tbsp chilli oil, or another 2 tbsp of sesame oil
2-3 cloves of garlic, minced
1 small white onion, finely chopped
1 bell pepper, chopped
100g spinach leaves
1 courgette, cut into thin strips
1/2 tsp sugar
3 tbsp soy sauce
1 tbsp sesame seeds
Sesame seeds, to garnish (optional)
Instructions
Boil water and cook dang myun noodles according to package diretions (normally 5-6 minutes).  Drain and rinse under cold water.
Heat the sesame oil and chilli oil in a wok or frying pan on medium heat.  Once the oil is hot, saute onion until translucent.  Add the minced garlic and saute until browned.  Add the pepper, courgette and spinach (or other vegetables/mushrooms/mock meat if using), turn the heat to high and stir fry for 3 minutes.
Add the sugar and soy sauce, toss the vegetables and reduce heat to medium.  Add the noodles and sesame seeds and toss to coat them in the sauce.  Saute for 1 minute and remove from heat.  Garnish with more sesame seeds if desired.