It seems like it's soup season here in London.  This winter hasn't been too cold so far, but it has been dreary, grey, and rainy — not very pleasant!  So I've turned to soups to keep me warm and happy.  There's just something so comforting about a bowl of soup.  I've also had a monster flu lately, so soup has helped me feel better!  I got an inspiration to make chickpea and roasted red pepper soup from Appetite for Reduction, which I got for Christmas, but I made a lot of changes (including making it a lot more fattening with the addition of coconut milk, but I'm not on a diet so I don't mind taking a recipe from a low-fat cookbook and making it more fattening!).  I also added spinach, basil (why not?), some Italian herbs, and nutritional yeast – because everything tastes better with nutritional yeast.  This soup was quickly consumed by my boyfriend, who, while not vegan, now on par with the best of us scoffs nutritional yeast by the spoonful.  Oh, and this soup is also Suitable for Non Vegans.  If you're one of those weirdos that doesn't like nutritional yeast, you can leave it out.  Although I won't pretend to understand.
Creamy Roasted Red Pepper & Chickpea Soup
Serves 4
Ready in 30 mins or less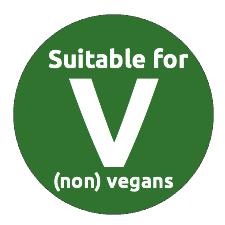 Ingredients
1 tbsp olive oil
Medium onion, chopped
3 cloves garlic, minced finely
2 tsp Italian herb mix
400g tin chopped tomatoes
1 litre vegetable stock
200ml (half a tin) coconut milk
800g (2 tins) of chickpeas
390g jar roasted red peppers (or make them yourself!)
2 tbsp nutritional yeast, optional
2 tbsp chopped fresh basil
250g fresh spinach
Instructions
Heat the olive oil over medium heat in a large saucepan.  Once the oil is hot, add the onion and fry until translucent and just beginning to brown.  Add the minced garlic and fry until the garlic browns.
Add the Italian herb mix and cook, stirring, for 1-2 minutes, then add the tin of chopped tomatoes and cook for another 1-2 minutes, until softened.
Add the coconut milk, vegetable stock, chickpeas, roasted red peppers, and nutritional yeast and turn the heat to high, bringing to a boil.  Once the soup has begun to boil, reduce heat to low and simmer for 3-5 minutes, or longer.
Place half the soup in a blender and blend until smooth and creamy, then return to the saucepan with the rest of the soup.
Five minutes before you plan to eat the soup, add the fresh spinach and basil and and stir into soup, cooking until the spinach has wilted, 3-4 minutes.
Remove from heat and serve.  This soup is also great as leftovers the following day.