I'm really excited because today I restart my vegan traveler interview series!  Here, I show you a wide variety of vegan travelers.  They might be from different places originally and have headed to different locations, but they all have one thing in common – they show how easy and fun it is to travel as a vegan!
First up I have Wendy from The Nomadic Vegan.  I had the pleasure of having lunch with Wendy and her husband when they were visiting Barcelona recently and Wendy is extremely well-versed on travel.  Wendy's travelled to an impressive 97 countries (whoa!), with no intention of stopping anytime soon.  Wendy says when she went vegan, she was worried it might get in the way of her travels but that it did anything but: "As a vegan I experience different cultures and cuisines in ways I never did before. Veganism has opened up a new window onto the world and has given my travels much deeper meaning. I created my blog, The Nomadic Vegan, to show people how fun and fulfilling vegan travel can be."  Wendy has also written a free mini-ebook showing how to make vegan travel simple and enjoyable, 8 Steps for Fun and Easy Vegan Travel.
Over to Wendy!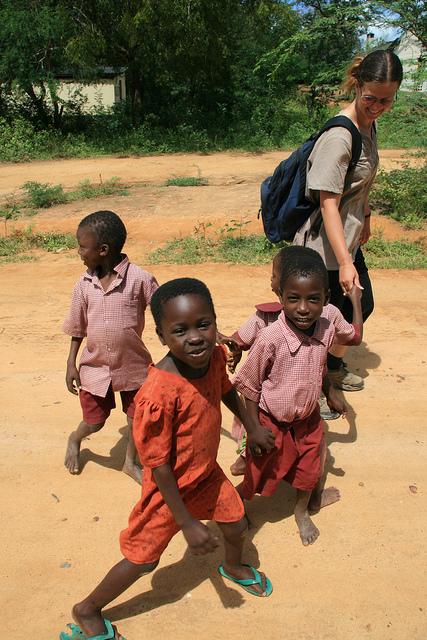 How long have you been vegan? How many places and where have you traveled since you've been vegan?
I became vegan in September 2014 while travelling in Greece. I'm currently based in Geneva, Switzerland, so most of my travels since then have been in Western Europe. Specifically, I've travelled around France, Germany, Greece, Italy, Portugal, Spain and the UK. And Switzerland, of course! I also made a brief visit back to my hometown of Mobile, Alabama in the US to see my Mom. On that trip, I shopped at a Whole Foods for the first time and discovered a whole new world of vegan junk food!
What's your favorite place or places you've traveled as a vegan?
My favourite country, both before and after I became vegan, is Italy. Many people assume that Italian food is all about cheese and therefore can't be vegan friendly, but that's not true at all! There's so much more to Italian food than the standard pasta dishes everyone thinks of, like spaghetti bolognese, which in fact is not a real Italian dish at all! Real Italian food includes an enormous variety of local and regional specialities, so the cuisine changes quite a bit as you travel from one part of the country to the next.

While you can easily find delicious vegan food anywhere in Italy, the south is particularly vegan-friendly. Not because there is a strong vegan movement there (although that's starting to happen too), but just because so many of the traditional dishes are naturally plant-based, like these for example.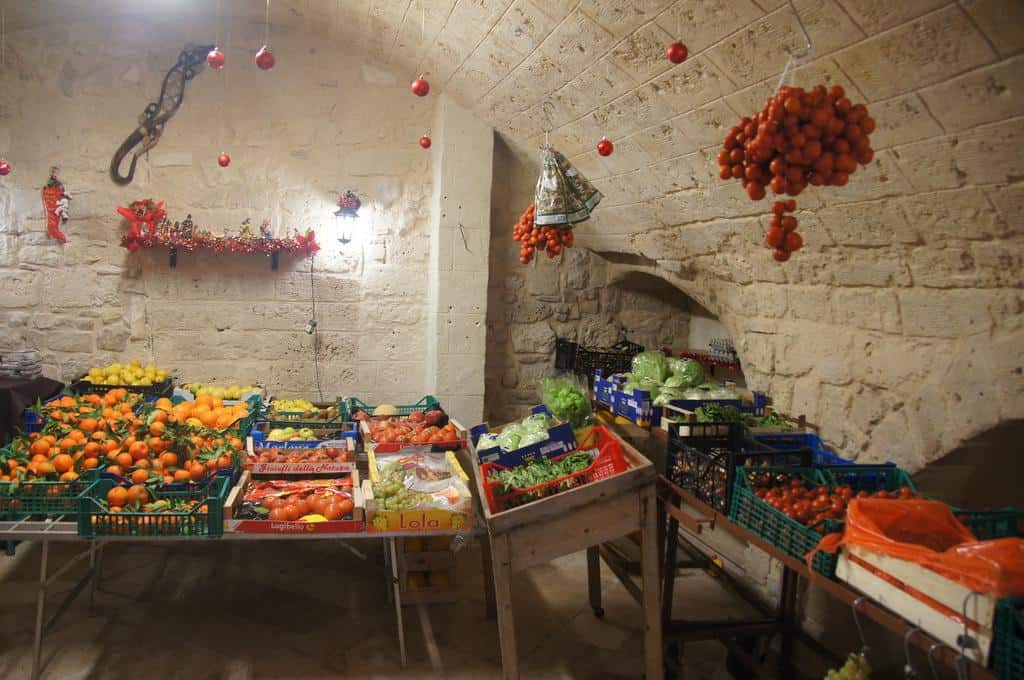 What was the best vegan meal you've had while traveling? How did you find the restaurant?

Geez, do I have to pick just one? That's so hard! Well, there's a vegan tapas bar in Madrid called Vega that I really love. They serve main courses too, but both times I've been there I've ended up just sharing a few tapas plates with my husband Nick. That way we can try lots of different dishes! They also make some delicious cold soups, like gazpacho, and the mushroom croquettes are to die for. And on our first visit there, the dessert of the day was a blueberry cheesecake that just blew my mind.
Vega was recommended by a friend of a friend, and then in my pre-trip research I saw that it got great reviews on Happy Cow. We only had time for one meal in Madrid on that trip, and we decided it should be at Vega. We weren't disappointed!
What was the hardest place to be a vegan? How did you find food? What did you eat?
The hardest was probably travelling around Normandy, France for Christmas holidays in 2014. But "hardest" is relative, because it really wasn't hard at all! True, the local cuisine is full of meat and dairy, but there are always other cuisines available. On that trip we had some great meals at Italian, Moroccan and Chinese restaurants.
And then a couple of times we ate at French restaurants attached to the hotels where we were staying. There was nothing remotely vegan on the menu, but the staff was happy to make something for me on request. I was still new to vegan travel at that point, and it was not until that trip that I realized I wasn't limited to what was listed on the menu. If you explain what you need and ask politely, you'll almost always get it. That was a real eye opener for me!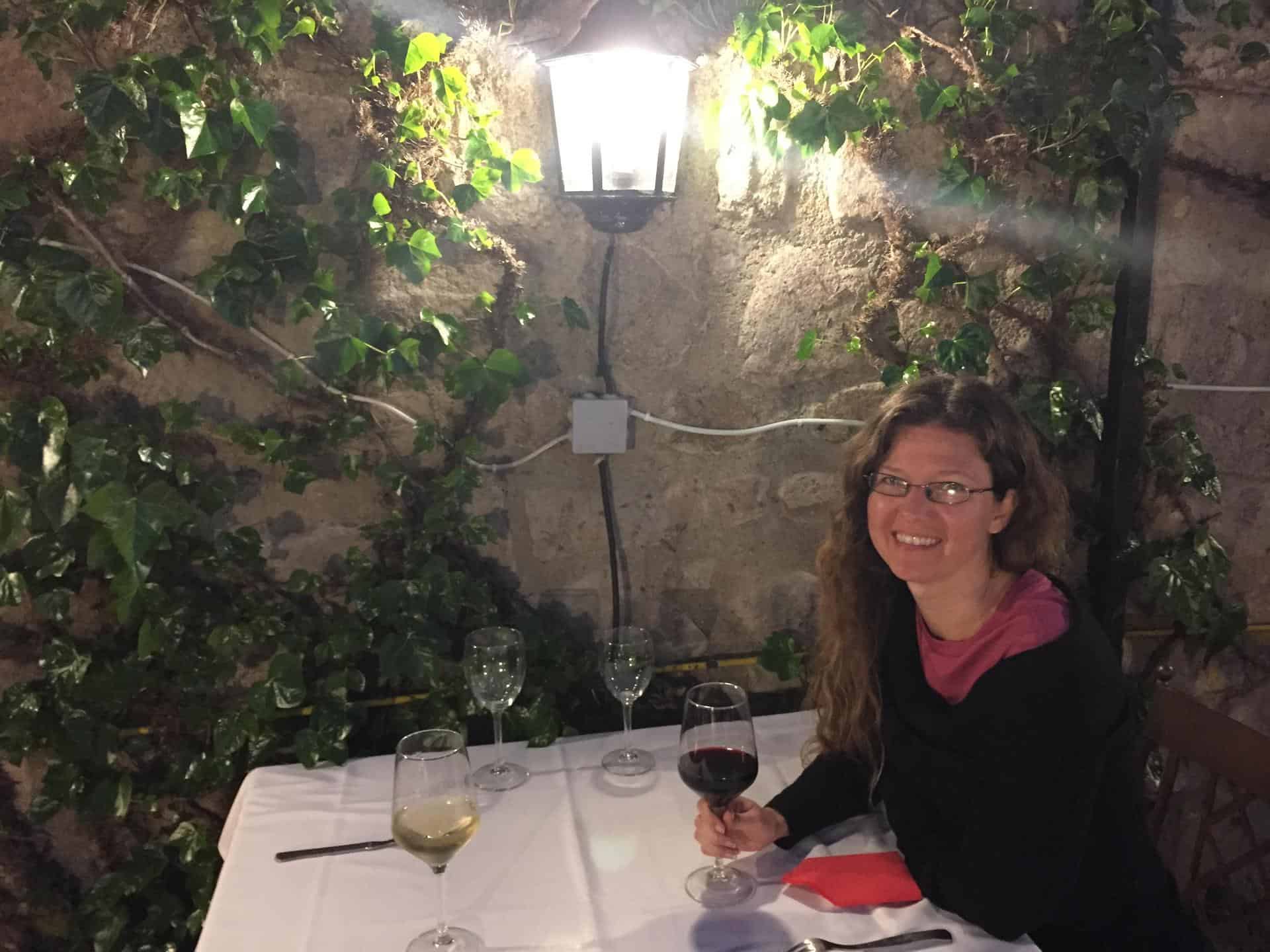 Where are you planning on going next and what vegan places will you be checking out?
We have several little weekend trips planned in the near future, including one to London, where my brother-in-law has very kindly offered to take me out to dinner at Vanilla Black for my birthday. It's much fancier than the kinds of restaurants I normally frequent, so that will be a real treat!
And then our next major trip will be to Spain over Easter holidays. It's a country we know well, but there's always more to explore. After a quick stop-off in Madrid to meet up for dinner (maybe at Vega!) with one of my favourite vegan bloggers, Kim of Brownble fame, we will spend the rest of our time exploring the regions of Aragón and Castilla La Mancha.
Like Italy, Spain also gets a bad rap as being difficult for vegans, but I know from experience that that's not true either. We will likely spend most of our time in smaller cities and towns where there aren't any vegetarian or vegan restaurants, so we'll just look forward to enjoying some of our favourite naturally vegan Spanish dishes. Zaragoza, the capital of Aragón, does have several vegetarian eateries though, and even an all-vegan restaurant called El Plato Reberde that I'm really looking forward to trying!
Check out Wendy's site, The Nomadic Vegan.  You can download her free mini-ebook, 8 Steps for Fun and Easy Vegan Travel, here.
—
Want to have the best summer ever this year?  Click here to get your FREE copy of The Ultimate Vegan Summer Travel Guide!
What will you find inside this free 24-page guide?
-The top destinations this summer, chosen for you by top travel bloggers (including Dale!)
-Tips for vegan-friendly camping, cruises, road trips, air travel, retreats & more!
-Groups you can join, such as vegan surf camp in France, vegan tours of Italy and a vegan trip to India
-Packing your vegan bag – the very best cruelty-free suncare, sandals & clothes
-And more!