This week we're joined by Dee of Veggie in Chiang Mai for our vegan traveler interview! Originally from London, Dee lives and works as a teacher in Chiang Mai. In addition to blogging, she is also a marathon runner and animal lover, and lives with her rescued dog and her cat.
Dee started Veggie in Chiang Mai a year ago to promote the vegan scene in the city, as well as report on other parts of Thailand. She also writes about other places she travels such as London, other parts of England and other parts of Asia she's visited.
How long have you been vegan? How many places and where have you traveled since you've been vegan?
I have been a vegetarian since I was about seven years old and I started cutting out dairy as a teenager. I was around twenty when I became fully vegan. That was seventeen years ago. Since then I have travelled to America, Australia, Spain, Italy, Holland, Belguim, Laos, Thailand, Cambodia, Malaysia and Singapore as a vegan.
What's your favorite place or places you've traveled as a vegan?
My favourite place to travel to as a vegan is the small beach area called Sri Thanu in Ko Phangan, an island in the South of Thailand. I heard about this vegan paradise via the website Happy Cow.
What was the best vegan meal you've had while traveling? How did you find the restaurant?
The best vegan meal I have had was at a restaurant called Green Gallery in Sri Thanu as mentioned earlier. I had several meals there and they were all Israeli dishes which I had never tried before. I had a sharma sandwich and a raw vegan cheesecake. It was amazing. I knew about the restaurant as it featured in the aforementioned HappyCow video.
Close to this would come the amazing vegan bakery in Bangkok called Veganerie. I heard about this restaurant via a friend from England. Every dish they serve is a little piece of heaven. The owner is an animal rights activist and a very inspiring lady.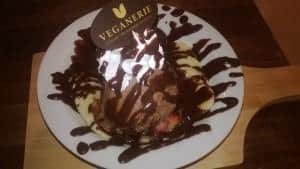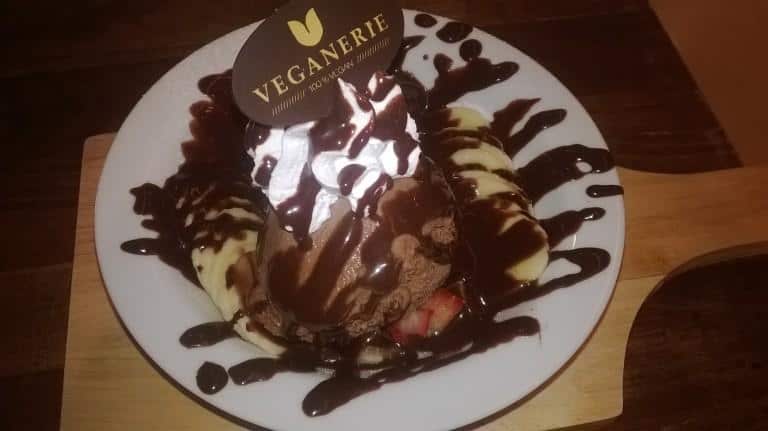 Veganerie – Bangkok (photos by Veggie in Chiang Mai)
What was the hardest place to be a vegan? How did you find food? What did you eat?
I have never found anywhere particularly difficult. Some remote provinces of Thailand that are not on the tourist trail have been more difficult, such as Si Saket, but Thai food can be veganised quite easily. Every restaurant in Thailand can make a simple dish of rice and vegetables.
Where are you planning on going next and what vegan places will you be checking out?
The next place I want to go to is Siam Reap in Cambodia. I will be checking out the restaurants such as Chamkar House that have been recommended by fellow vegan bloggers at Vegan Food Quest who previously lived there.
Thanks, Dee!
Follow Dee on Veggie in Chiang Mai if you want to know more about the vegan scene in Chiang Mai and to stay up to date on her travels. You can also follow Dee on YouTube.