This week Caryl of Vegan Food Quest joins us for our vegan traveler interview series.  Caryl and her husband, Paul, have been travelling full time since January 2014 when they left the UK on a vegan adventure where they look for the best vegan food they can find.  On Vegan Food Quest, they write about all kinds of travel and vegan food but specialise in finding vegan luxury, just to prove that you don't have to miss out on the finer things in life when you choose to go vegan.
Over to Caryl…
How long have you been vegan? How many places and where have you traveled since you've been vegan?
I've been vegan since the 23rd April 2003 so I've been to a few places as a vegan traveller including Thailand, India, Sri Lanka, the Maldives, Malaysia, Cambodia, Laos, Hong Kong, Vietnam, Indonesia, Spain, France, USA, Dubai, Ireland, Singapore, Italy, Croatia, Cuba and of course England where I come from.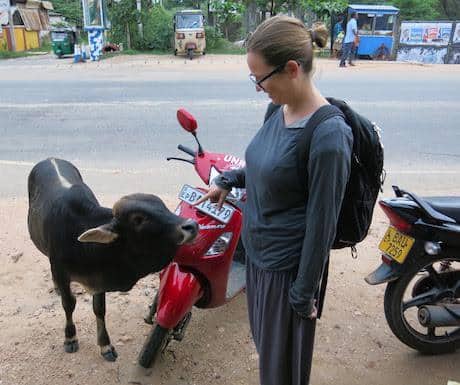 Making vegan friends in Sri Lanka – photo by Vegan Food Quest

What's your favorite place or places you've traveled as a vegan?
If I had to pick it would probably be a Southeast Asian country, Thailand or Vietnam perhaps or maybe Malaysia? Then again Sri Lanka is definitely up there as one of those places where a lot of my good food memories are made. Paul and I love to find street food as well places where we can sit down to some plant based fine-dining so these countries were a dream for us. It probably explains why we have spent so long in this part of the world.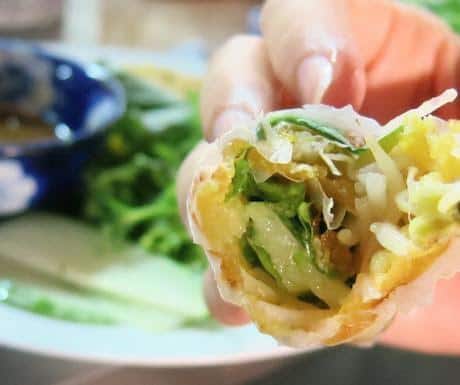 Eating vegan food like the locals in Vietnam is easy – photo by Vegan Food Quest

What was the best vegan meal you've had while traveling? How did you find the restaurant?
Because we get to visit some of the world's best restaurants, hotels and resorts, we're lucky that we get to eat some pretty exceptional vegan food. We've taken vegan afternoon tea high suspended in a bamboo nest high up a rainforest canopy as someone delivered food to us on a zip-wire; we've eaten in Michelin starred restaurants and worked our way through tasting menus which we never wanted to end. But deep down we have a real soft spot for cake and are firm believers in the power of a slice of vegan cake. So our best vegan meal award has to go to Vegan Heaven in Taipei, for their out of this world selection of sweet treats. Cake is a meal right? We found the place by chance, or fate perhaps, and fell in love with the owner who has to be one of the nicest people on the planet and not only because she makes supreme vegan cakes, tarts, cookies and smoothies. we are definitely happiest when surrounded by love and vegan cake and that's exactly what we found in Vegan Heaven.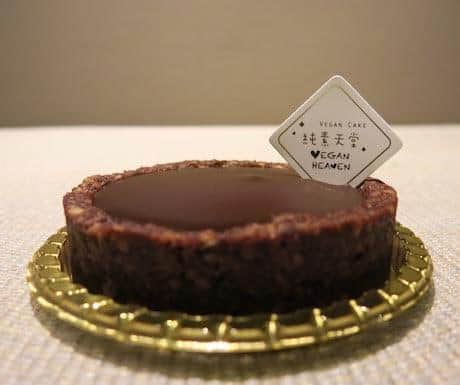 Vegan cake is the best meal of the day – photo by Vegan Food Quest
What was the hardest place to be a vegan? How did you find food? What did you eat?
In truth, there aren't really any hard places to be a vegan in my experience, unless you count being somewhere where there is too much vegan food to choose from and not enough time to eat it? Sometimes it's a bit hard if you don't plan or do your research, or if you are taking a flight and they forget to load your vegan meal but generally we find vegan food everywhere. France was a little challenging in some ways but we always managed to find things to make picnics out of and we made our own food as we were travelling in a camper van with a kitchen. Plus there was always wine and bread.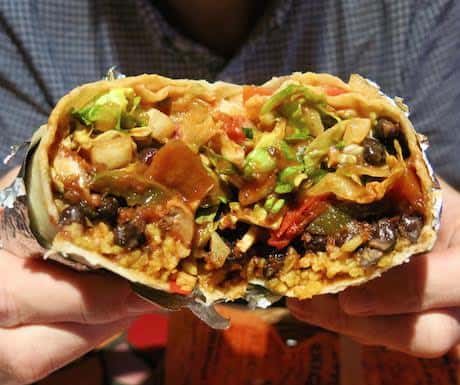 Being vegan is easy – photo by Vegan Food Quest

Where are you planning on going next and what vegan places will you be checking out?
We're currently based in Southeast Asia and are heading to Malaysia and Cambodia next (although I am taking a quick solo trip in between to Ubud in Bali to do yoga and eat vegan cake). We're going to spend time soaking up a bit of vegan luxury in Langkawi, delve in to the heritage zone in the foodie paradise of Georgetown in Penang and then eat our way around Siem Reap several times over. We'll definitely be back in Thailand and have Myanmar in our sights at some stage; there are just so many places that we want to get to and eat all their vegan food.
Thanks, Caryl!
Follow Caryl and Paul on Vegan Food Quest and on Facebook or Twitter to stay up to date on their travels.  Or follow them on Instagram for shots of the best vegan food they find around the world and some pretty amazing beach shots (prepare yourself for some major beach envy, if you're anything like me!).
Want to have the best summer ever this year?  Click here to get your FREE copy of The Ultimate Vegan Summer Travel Guide!
What will you find inside this free 24-page guide?
-The top destinations this summer, chosen for you by top travel bloggers (including Dale!)
-Tips for vegan-friendly camping, cruises, road trips, air travel, retreats & more!
-Groups you can join, such as vegan surf camp in France, vegan tours of Italy and a vegan trip to India
-Packing your vegan bag – the very best cruelty-free suncare, sandals & clothes
-And more!