Today I'm starting my vegan traveler interview series. All of September, I'm super excited to bring to you interviews with some very well-travelled vegans about their best and worst travel experiences, their favorite vegan foods from the road and more. Today's interview is with the lovely Joey from Flicking the Vs. If you haven't checked out Flicking the Vs yet, you should! In addition to finding out about Budapest's Napfanyes Etterem after drooling over her pic from there (I later ate the potato wraps she recommended – and they were amazing!), I had never heard of a garden ruin bar until I read her post, and I am really happy I got to experience one! So without further ado, here's my interview with Joey:
How long have you been vegan? How many places and where have you travelled since you've been vegan?
I've been vegan for around five years, and since then I've been to France, Belgium, India, across Central America (from Mexico down to Panama), Croatia, the US, the Netherlands, Hungary, Spain, Italy, Finland, Denmark and Egypt – some of that was for work, and some for holiday.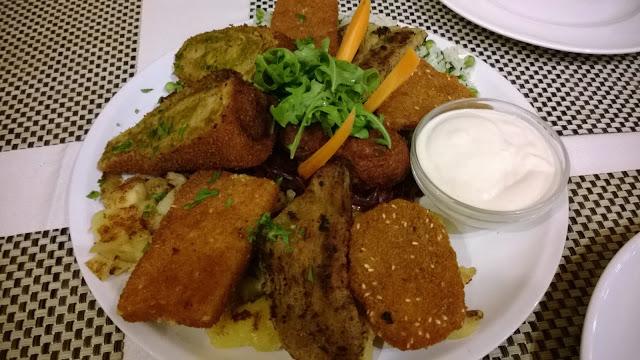 What's your favourite place or places you've travelled as a vegan?
Budapest is certainly up there – a surprising amount of vegan places (most of them phenomenal), including one of the best raw places I've been to. It's just a beautiful place to stroll around in: we kept stumbling onto deserted sunlit squares with tiny pubs ready to feed us beer – the very definition of happiness.
I love Paris for similar reasons, and I think the vegan dining scene is only getting better: the Gentle Gourmet Cafe always gets good write ups, and it's on my agenda to visit for the next time I'm there! I've got a lot of fond memories of Central America too, but that was a budget trip, and meant a lot of eating home-cooked food in hostels kitchens. We still managed to get some good scran though – usually from a small cart serving up cheap goodies, often plantain or refried bean based. I still get misty eyed thinking about tostadas.
What was the best vegan meal you've had while travelling? How did you find the restaurant?
The Honduran super baleada. It's basically a huge burrito-like creature of pancake dimensions, stuffed with whatever veggies and beans to hand. On the island of Utila is a tiny, sweaty restaurant that serves up the best, and the owner greets you with a welcome normally reserved for the return of a long lost child. I couldn't get enough of the super baleada vegetariano sin queso. The restaurant didn't have a name, and it was recommended to us by a kind soul the day we arrived. We went there every day for a week.
What was the hardest place to be a vegan? How did you find food? What did you eat?
Probably Dubrovnik and the nearby area. There was one great veg*n restaurant there, Nishta, but that was it in the way of veg-based dining. There weren't any of the usual staple vegan-fallback options like Chinese restaurants either, as far as we saw. Food was mostly picked up at supermarkets for cooking at home or taking out with us. That said, it's a beautiful place and I'd recommend any vegan go there – just don't expect to be wowed by the food.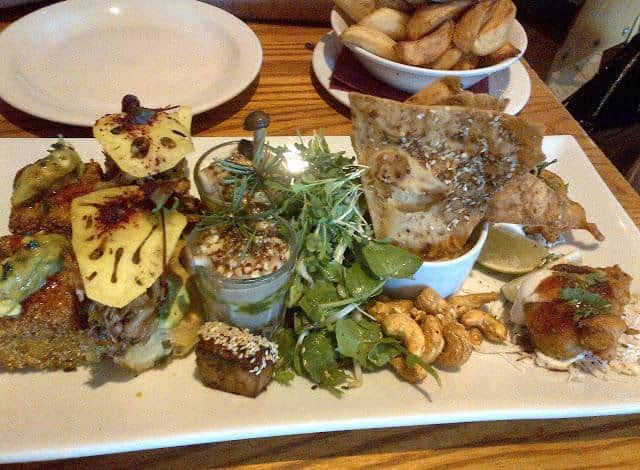 Where are you planning on going next and what vegan places will you be checking out?
It'll be somewhere in the UK – I never get bored of going to Brighton and Bath, as much as for the vegan places to eat as because they're great places. My favourite place to eat in Brighton has to be Iydea, for cheap and extremely cheerful lunch (excellent cake too!) If you're feeling flush, Acorn in Bath and Terre a Terre in Brighton do some good higher-end vegan stuff. I still dream about Terre a Terre's afternoon tea. You get that feeling like a toddler on Christmas morning when you see three tiers of vegan cakes and tiny savouries heading towards you.
Next year I'm hoping to make it Croatia again, though this time to Zagreb – from what I can see, it has a bit more in the way of vegan food than Dubrovnik (and another branch of Nishta, which is good news for anyone). Further afield, I'm dreaming of Chile or Canada.
If you had to give some advice to a new vegan planning their first holiday as a vegan, where would you tell them to go (and what would you tell them to eat?)? Any advice you'd give them?
Not exactly rocket science advice, but Happy Cow is always a good starting point, as is a general Google or Twitter for suggestions. I tend to stay in apartments rather than hotels, so if there's no handy vegan-friendly place nearby, you can throw something together for tea in the apartment. I'm also overly attached to picnics – I love wandering around the local supermarket for bread, fruit, veggies, nuts, weird snacks and oddments in tins, then dragging it to the nearest park. A translation app is always handy – for the obligatory 'I wonder if that means whey here?' moments. My other tip is equally stupid, but has really worked out well for me before – ask the restaurant. I've ended up being dragged to omni places in a group and fearing the worst, but then finding the place was incredibly accommodating and being fed all kind of vegan goodies. Helsinki was like that for me – I always assumed Finland was really meat and fish obsessed like the UK, as indeed it is, but I had some amazing vegan food there.
Check out Flicking the Vs, or follow Flicking the Vs on Twitter if you want to hear about Joey's adventures in Zagreb next year (and potentially Chile?), as well as her fearless kitchen experiments (I love her coverage of new and unusual ingredients!), restaurant experiences and more.
*All photos credited to Flicking the Vs, with thanks for letting me use them for this post
—
This post is part of my Hungerlust series. Hungerlust. That insatiable craving for both food, and travel. Preferably combined. And vegan, naturally. My Vegan Month of Food (MoFo) theme this year is all about feeding it. We'll be doing a journey around the world (airfare not included – sorry!) from the comfort of our sofas – or desks, wherever you happen to be sitting.