Today I'm really excited to be continuing my vegan traveler interview series which I started during Vegan MoFo this year.  I was really happy to interview Nicole from Vegan Nom Noms, who did a great series on her roadtrip around the US during Vegan MoFo.  She's ridiculously well travelled, especially around Europe, and I don't know about you, but I'm pretty jealous that she lives in Berlin, which is one of the best cities for vegans (plus apparently a really cool city, all-round).  And in non-travel news, Nicole just released an app (how cool is that?) and the first issue is on making seitan (you can find more information and how to download it here).  Read on for the interview…
How long have you been vegan?  How many places and where have you traveled since you've been vegan?
I've been vegan since March of 2006. I cannot believe it's been that long, over 8 years! Most of my traveling starting after I became vegan, as I was only 19 during my first year of college. I've lived in Brighton, England for my year abroad in college as a vegan, during which I went on a trip to France and Belgium with my parents in 2007. I lived in Prague for six months after I graduated in 2009 teaching English too. After leaving my jobs in Prague, I completed a big 5-month Eurotrip across Poland, Germany, Austria, France, Spain, England and Ireland, which is where I fell in love with Berlin, where I live now! I've been living in Berlin since August 2011 and have since traveled to Hungary many times, Romania, Poland and Austria again, within Germany some more, Switzerland, back to various places in England often and I even went to Dubai for about two months on two different occasions for business trips!
What's your favorite place or places you've traveled as a vegan?
I think the most vegan-friendly places I've traveled are where I live in Berlin, Germany and also Brighton, England, though I managed to do just fine everywhere. I also quite love visiting Portland, OR in the States for great vegan food, craft beer and coffee, but I also really loved Atlanta, Georgia and Denver, Colorado for vegan food. I don't necessarily seek out only vegan friendly places as an AirBnB with a kitchen and a local grocery store will make anywhere vegan-friendly in no time!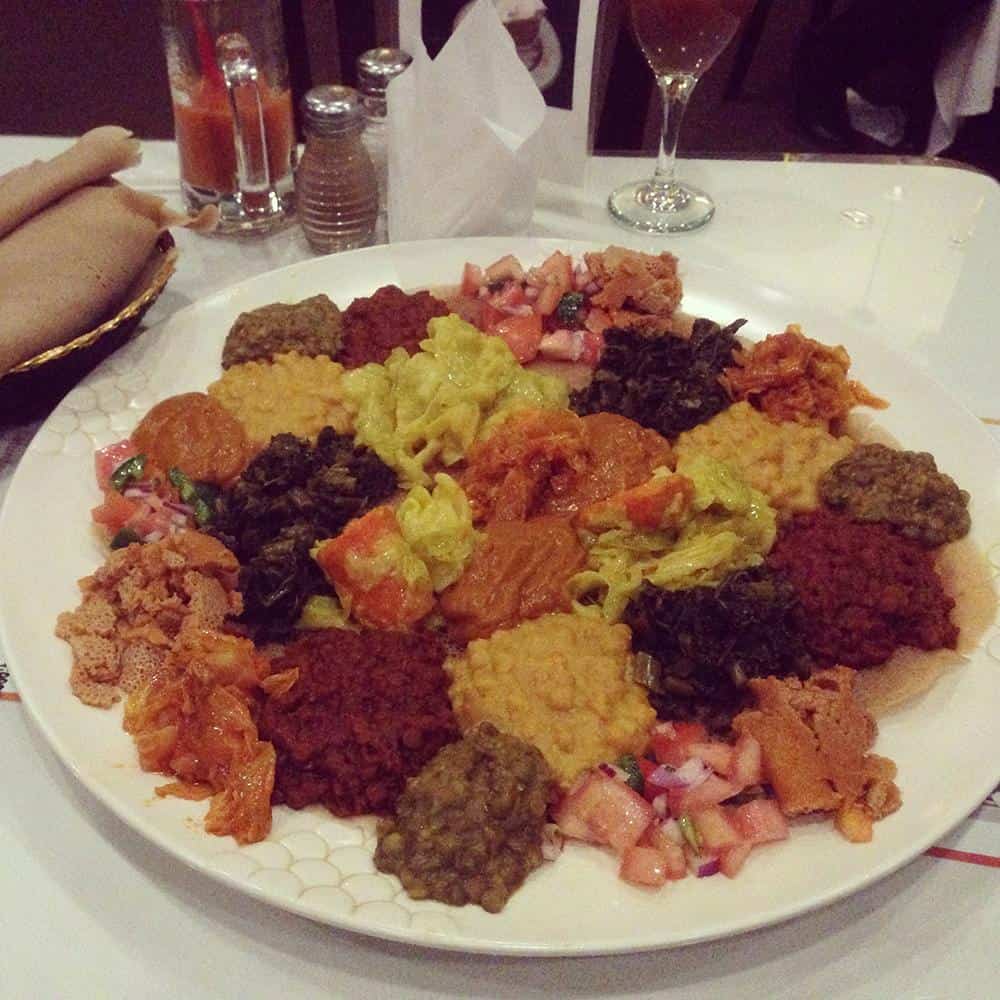 What was the best vegan meal you've had while traveling?  How did you find the restaurant?
New Orleans, Louisiana totally surprised me with vegan food. I quite loved a place called Breads on Oak and one called Seed there. Of course, the Chicago Diner in Chicago absolutely lived up to it's reputation and I had some amazing vegan food in Los Angeles with my vegan Couchsurfing hosts, including an all-vegan Japanese restaurant with amazing sushi and an all-vegan Ethiopian restaurant. I use foursquare constantly while traveling and just search the keyword "vegan" to find places. I also search quite often for posts online from other food bloggers reviewing the cities they've been and their recommendations of where to go.
What was the hardest place to be a vegan?  How did you find food?  What did you eat?
Greybull, Wyoming. I have a whole blog post about it I wrote during MoFo. It was a one-night stopover and the least vegan friendly place I've been. I would have just eaten granola bars and fruit, but I was traveling with a friend and we didn't want to just stay in the motel all night. The fact that everything closed early didn't help either. I went to the only bar open at night with my friend and they didn't even have french fries I could eat. I ended up asking them if they could just cook the vegetables they usually put on the burgers and serve me that and they did. Breakfast I had to send back toast with butter three times even after politely and clearly explaining I couldn't eat butter and when I asked for steamed vegetables I got canned peas. Cross that off the list of places I want to live!
Where are you planning on going next and what vegan places will you be checking out?
After traveling five months of the year this year, I'm staying put for a few months! I plan to head to Finland and Turkey in the spring to see friends and will also be back in Budapest for a week in December, but I'm looking forward to re-building my community in Berlin a bit and saving some more money for future travels!
If you had to give some advice to a new vegan planning their first holiday as a vegan, where would you tell them to go (and what would you tell them to eat?)?  Any advice you'd give them?
It depends on the person and where they're located! If in Europe, definitely come to Berlin! Berlin is vegan heaven! We already have three vegan grocery stores and a fourth is opening soon. There's a solely vegan pizzeria, a creperie with sweet and savory crepes, an all-vegan French cafe and a couple places that do traditional German food veganized so you can even have some local flair! You can't throw a rock without hitting a vegan option around here, going outside is dangerous for my wallet! Not to mention there are tons of quirky things in Berlin, as well as lots of parks, lakes and nature nearby. It's also a huge cycling city. It depends if you're looking for big cities, nature or smaller towns. If you're in the States you absolutely must check out New Orleans and get the vegan beignets from Seed, there is also a Filipino restaurant there with a secret veg menu where I had my first Filipino food ever! Every major city in the States has its own flair though! I've blogged a ton about everywhere I've been, so anyone looking for ideas is welcome to check out the Posts by Location page of my blog!
–
Thanks so much for the interview, Nicole!  Check out Vegan Nom Noms to see where Nicole's heading next, or follow her on Twitter or Facebook to keep up to date on her travels.