This Thursday's vegan traveler is Dale of Angloitalian vegan slow travel blog. Dale and his partner Franca have been nomadic since the summer of 2012. On their blog, Dale and Franca share in their articles their love of slow travel, veganism and how to live locally through house sitting – the cheapest way to travel.
Dale's currently hard at work on a follow-up to their guide to Rome which came out last year, although the new destination is currently a secret. When not writing for Angloitalian, Dale also runs a travel inspiration blog, Travel, Do It.
On to Dale…
How long have you been vegan? How many places and where have you traveled since you've been vegan?
I've been vegan since the summer of 2014, although I wish I'd gone vegan a lot sooner than I did. Since then Franca and I have been house sitting and travelling around Europe and we lost count of how many countries we visited a long time ago.
What's your favorite place or places you've traveled as a vegan?
There are so many great places out there, especially in Europe where it's certainly easier. But the best and most favourite place of all? Berlin. Without a doubt. It's been named the most vegan-friendly capital in the world and having been there every year for the past few years to scoff on everything we can find, it's hard to disagree. There are HUNDREDS of vegan/vegetarian-friendly restaurants. It's hard to keep count.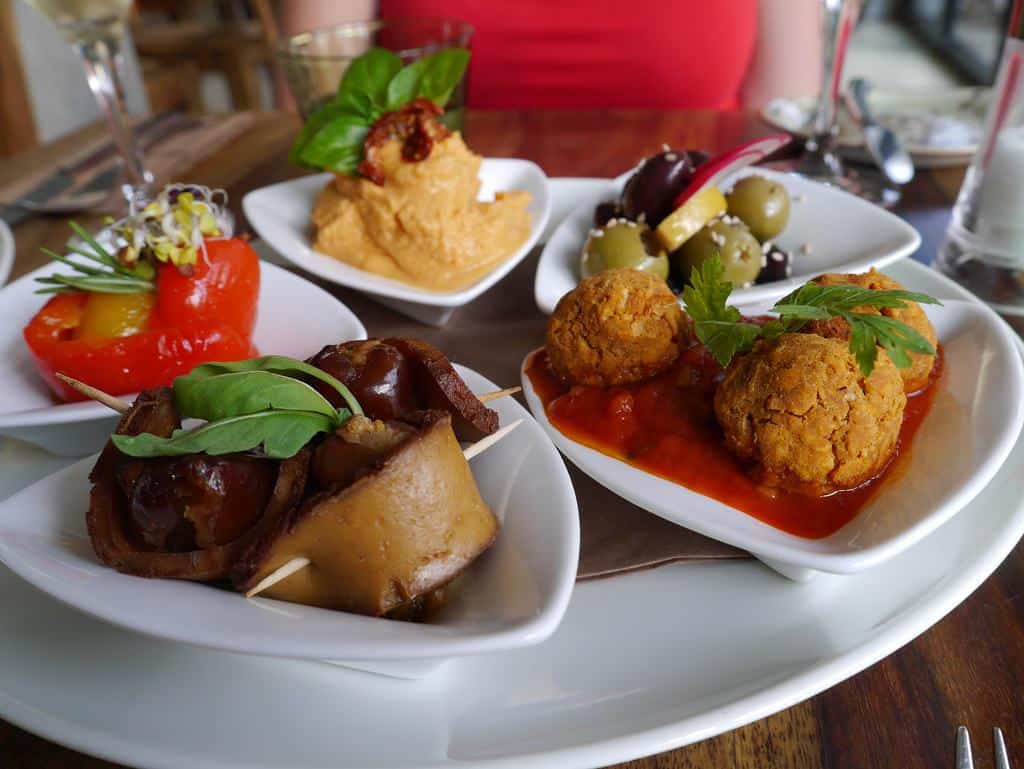 What was the best vegan meal you've had while traveling? How did you find the restaurant?
There's a small healthy eating place in Paris that we learned a few years ago called Sol Semilla. It's one part health food store, one part Peruvian-inspired bistro. They work almost completely from their own ethically imported produce from South America and locally-sourced vegetables.
I can't think of another time where my tastebuds have ever felt so completely overwhelmed by so many fantastic tastes. Delicious.
What was the hardest place to be a vegan? How did you find food? What did you eat?
For a long time before going vegan I thought it would be really hard in places like Spain where meat is on every menu, and pretty much in every dish; so when we travelled there recently and found ourselves getting by perfectly fine just as we would anywhere else, it was both a surprise and a relief.
Thanks to the way we travel – slow travel means we often cater for ourselves in apartments – we have the ease of having our own kitchen for long periods of time, which really helps us to make sure we eating everything we need to stay fit, strong, and healthy.
Also, because we spent long periods in new locations we're able to interact with the local vegan community and learn a lot quicker what's local recipes and menu items are safe for us to eat.
Where are you planning on going next and what vegan places will you be checking out?
Good question! To be honest we're that couple who never really plans ahead of time for a trip. We generally just go with the flow and see where it takes us. However, we're going to be spending the next few months in Scotland so we're really excited to see what vegan produce is available, especially in Edinburgh where we only briefly visited over a weekend in 2015.
Thanks, Dale!
If you want to stay up to date with all of Dale's travels (and be first to find out when his next guide is up – and what the mystery destination is!) be sure to check out Angloitalian, and follow Dale on Twitter and Facebook!