I am loving MoFo so far!  I had a great response to my last post, which was a fresh egg pasta dough recipe using the Vegg vegan egg.  I've also been discovering new (to me) vegan blogs via randomofo, which is kind of like a Stumbleupon for Vegan MoFo.  My theme, which is 'Places I've Been', continues today with a new country.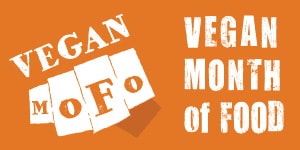 Today's country is China.  I studied Chinese at university, and I always planned to go to China at some point.  I thought I'd study abroad there, but I ended up coming to London instead (and I'm glad I did, because I fell in love with London and stayed).  Instead, after I graduated from university, I did some travelling and spent a few weeks in China, visiting Hong Kong, Shanghai and Beijing.  In Shanghai, I was pleased to discover them giving out guides to Vegetarian Shanghai in the airport.  China is not always the easiest for vegans, as many seemingly vegetarian dishes contain small amounts of meat.  However, if you stick to vegetarian restaurants you should be able to easily find vegan food, as eggs are generally not considered vegetarian (according to Buddhist precepts) and milk products are not often used in Chinese cooking.
The pictures below are from the Forbidden City in Beijing: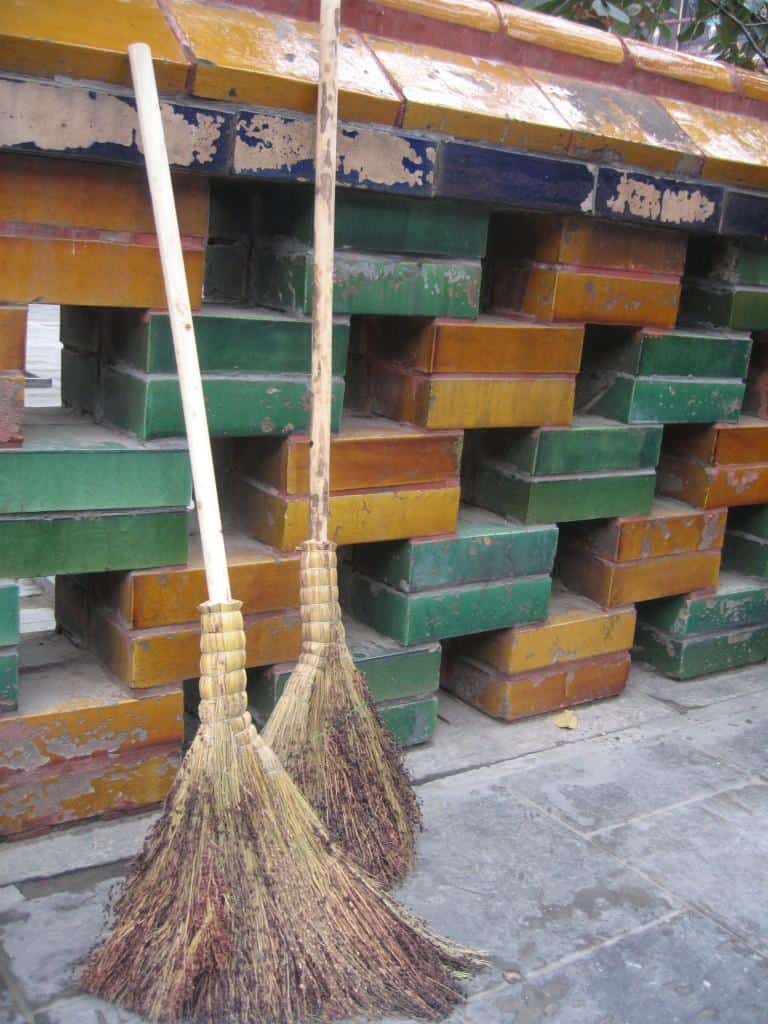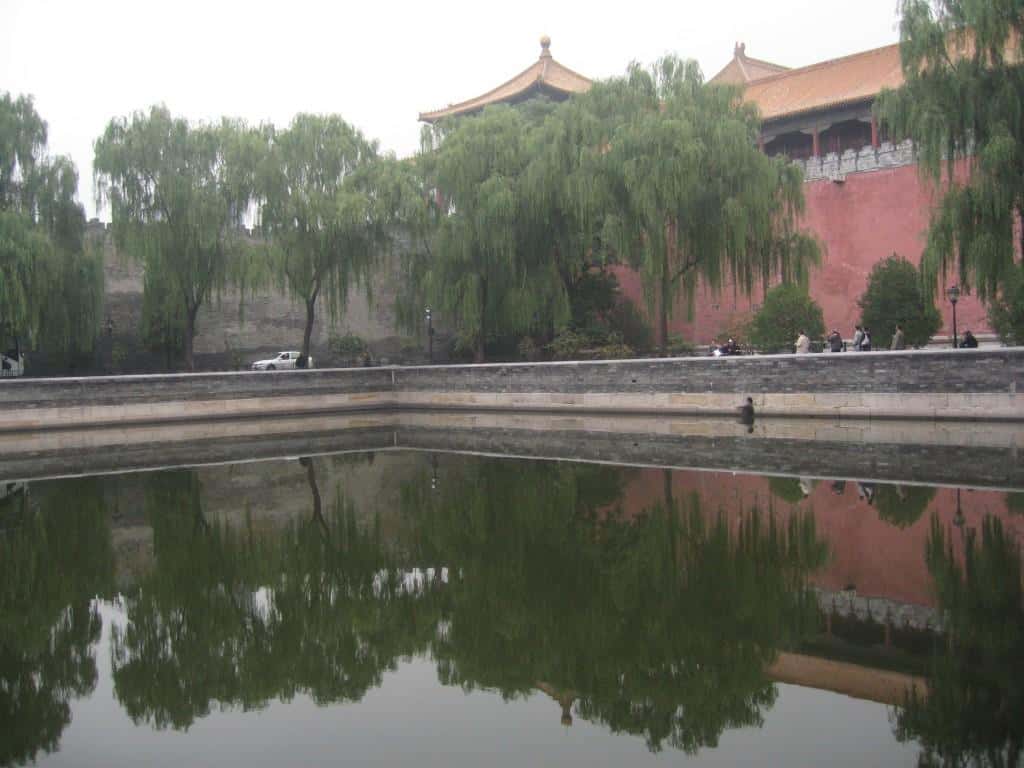 I had potstickers (餃子), or dumplings, in pretty much every restaurant I visited in China, because I like them so much.  My favourite way to have them is fried rather than steamed (because anything tastes better if you fry it!), but you can steam them in a bamboo steamer if preferred.  I find that usually the star of potstickers is the vinegar-soy dipping sauce served on the side, but when I make potstickers, I want the filling to be the star too, which is why I marinate the filling prior to stuffing the potsticker skins and frying them.  I love how after they're fried, you get the crunchy, chewy underside and the soft, silky topside, with a marinated filling inside.
My favourite dumplings from a restaurant in Shanghai: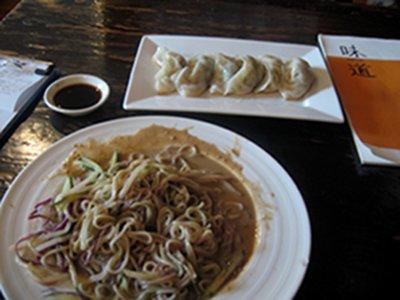 Marinated Tofu and Vegetable Potstickers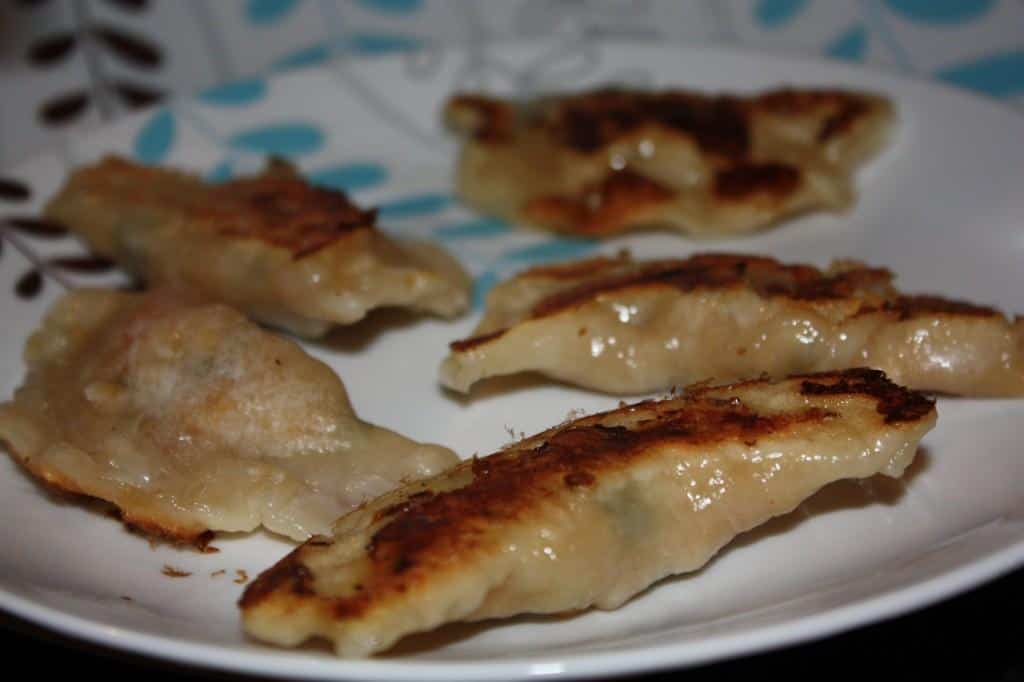 Makes 2 dozen potstickers
Ingredients
1 package vegan dumpling pastry (you can find these in most Chinese supermarkets; make sure they don't contain egg.  Mine look like this and come with around 2 dozen dumpling sheets)
1 carrot, finely grated
2 green onions (tops only), finely chopped
Half a block of firm tofu, pressed and crumbled into small pieces
4 leaves bok choy, finely chopped
2 cloves garlic, finely minced
1 tsp toasted sesame oil
1 tsp dried ginger powder
Pinch of cayenne pepper, optional
Soy sauce to taste
Rice wine vinegar to taste
Vegetable oil
For the dipping sauce
2 tbsp soy sauce
2 tbsp rice wine vinegar
Toasted sesame oil, optional
Instructions
Press the tofu with a tofu press or by leaving a heavy object on top of the tofu for 10-15 minutes to press out the water.  Crumble pressed tofu into a mixing bowl and add grated carrot, chopped green onion, chopped bok choy, minced garlic, sesame oil, ginger powder and cayenne pepper and toss together the ingredients until well mixed.  Add soy sauce, rice wine vinegar, sesame oil, ginger and cayenne to taste and mix together, adding more as needed until .  Let the mixture sit for around 30 minutes so the flavours marinate.
Put approximately 1 teaspoon of filling in each dumpling wrapper, fold the edges to make a half moon, and seal by pressing down and brushing with water.  Heat a tablespoon of vegetable oil in a frying pan or wok over medium heat.  Once the oil is hot (test by sprinkling a tiny bit of water on the oil — when it bubbles or spits, the oil is ready), put as many of the potstickers as you can fit in the wok, and cook for 2-3 minutes.  Add 1/4 cup of water and cover partially.  Turn heat to high and cook until the water has boiled off.  The dumplings should now be sticking to the bottom of the wok (hence the name 'potsticker') but not so stuck that you can't get them off.  Remove the potstickers to a plate lined with a paper towel and continue to cook remaining potstickers in batches until they're all cooked.
For the dipping sauce, mix soy sauce and rice wine vinegar (and sesame oil if desired) in a small bowl or ramekin.