I'm posting twice today because I wanted to cover a few more countries before the end of Mofo! (My theme is 'Places I've Been' so I'm making dishes I had or wish I'd had in various places I've visited in my travels.)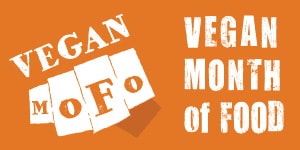 A couple of years ago I spent a long weekend in Dublin.  I wish I'd seen more of Ireland as I leave fairly close (well, just a short plane trip away) yet I've only seen Dublin.  Kind of like how I've lived in Britain for over 4 years and have still barely seen the country (I've only been to Edinburgh, Bristol, Oxford, Hitchin and Cambridge outside London).  It's so easy to ignore things when they're close and seem you can visit any time!  I had some good vegetarian food in Dublin but I don't think I had any typical Irish food.  I also had a good wander around the city centre and saw the Oscar Wilde park, which had a lot of interesting phrases written on the walls (see pics below).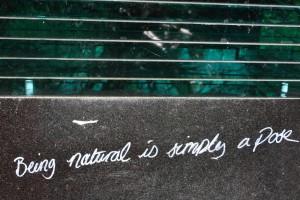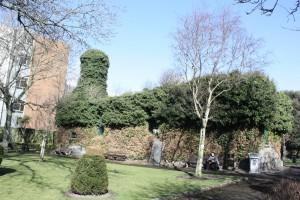 Although I didn't have Irish food in Ireland, I recently made colcannon, which is apparently a traditional Halloween dish, so perfect for tomorrow!  According to what I've read, traditionally charms (and sometimes coins) were hidden in the colcannon dish on Halloween, and any unmarried girl who found a charm was going to get married.  If she found one, she was supposed to hang a sock filled with the charm and some of the colcannon on the house door (hope the colcannon didn't start to rot and smell!) and then the first man to enter the house was her intended.  I didn't hide any charms in my colcannon but I thought it was a delicious, easy to make dish for the season (plus I loved the use of kale), and it was great comfort food!
Colcannon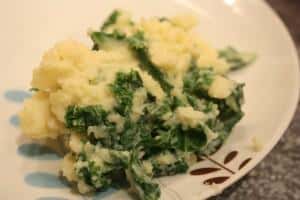 Makes 4 servings
Ingredients
1 lb potatoes, peeled and diced
100 g kale (2-3 large handfuls)
2 tbsp vegan margarine
4 tbsp soya milk, or other non-dairy milk
2 green onions, chopped
Salt and pepper to taste
Instructions
Bring a large pot of water to boil, and boil the diced potatoes until they're tender.  Remove the potatoes from the boiling water and boil the kale for one minute.
In a large bowl, mash the potatoes with the margarine and soya milk.   Once the potatoes are mashed, add the cooked kale, green onions, and salt and pepper and mix.