Brighton is worth a visit for the food alone – but it also makes an excellent day trip if you're visiting London, and fancy a day by the sea (note: the beach is a stone beach, not sand!) in a very alternative and hippy-friendly city. You can spend the day on the beach, exploring the Taj Mahal-esque Royal Pavilion (a former royal seaside retreat), walking the Laines, hunting out vintage bargains and exploring quirky little shops, or simply stuffing yourself with vegan food. As you might guess, that last option is where this post comes in!
Thanks to Brighton's bohemian and countercultural heritage, it is one of the most vegan-friendly destinations in the UK (though it lost its vegan crown to Glasgow a few years ago). And no trip to Brighton is complete without dining on the following local vegan delicacies:
Churros at Terre a Terre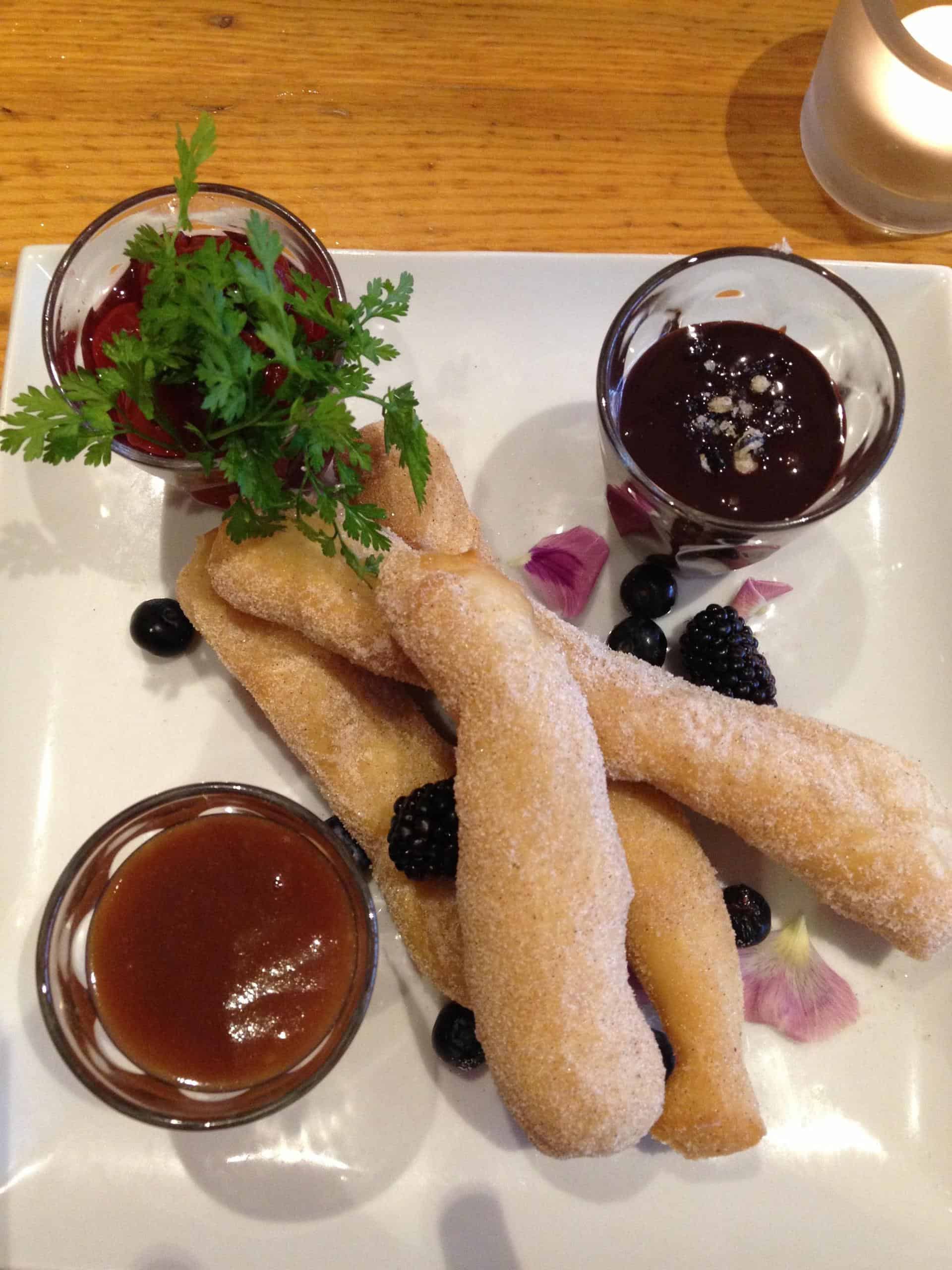 The churros at Terre a Terre were my first love (in Brighton). These little sticks of fried dough bliss come coated in cinnamon sugar and accompanied by a trio of the best. sauces. ever: melted chocolate, sea salt caramel and vodka-soaked cherries. The first time I ate these (okay, and most times after) I made noises that should never be made in a restaurant in polite company, with children seated nearby.
Eat these. You won't regret it. But you may never be able to have "normal" churros with "boring" chocolate sauce again.
Terre a Terre (vegetarian w/ vegan options marked)
Website
71 East Street
Brighton BN1 1HQ
Mon-Fri 12pm – 10:30pm
Sat 11am – 11pm
Sun 11am – 10pm
Tower of Tapas at Rootcandi – CLOSED
The UK's first vegan tapas restaurant recently opened in Brighton, Rootcandi. Originally located above Iydea, a vegetarian restaurant, it's proven so popular that they took over the full space and expanded their opening hours.
Imagine a whole tower of small plates of food coming to your table on what can only be described as a cross between a metal tree and a cake stand (with each branch bearing a different dish). The food is inventive and takes a turn from bog standard vegetarian restaurant food found across the UK. Here instead of veggie mince shepherd's pie or a burger, you'll find tapas inspired by a wealth of different cuisines. The tapas are sorted into three sets which come with 6 dishes per set (but you can mix and match individual dishes if you like, instead of ordering a full set): South American, Pan-Asian and Modern European. Take company with if you can, so you can order more plates between you and try more of Rootcandi's dishes.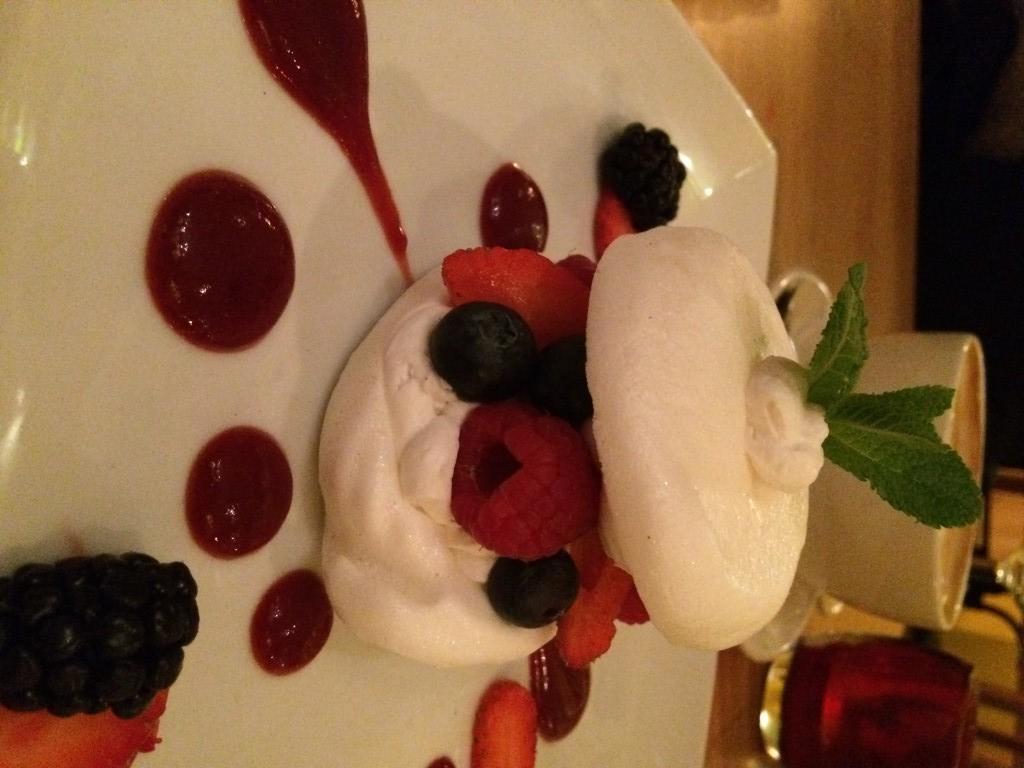 Oh, and for dessert? For now, try vegan meringue, made with aquafaba (chickpea water). I'm secretly hoping they'll one day offer a tower of dessert tapas…
Rootcandi (vegan) — CLOSED
Website
105 Western Road
Brighton BN1 2AA
Mon – Thurs 12pm – 9pm
Fri & Sat 12pm – 10pm
Sun 12pm – 6pm
Peanut Butter "Crack" at Boho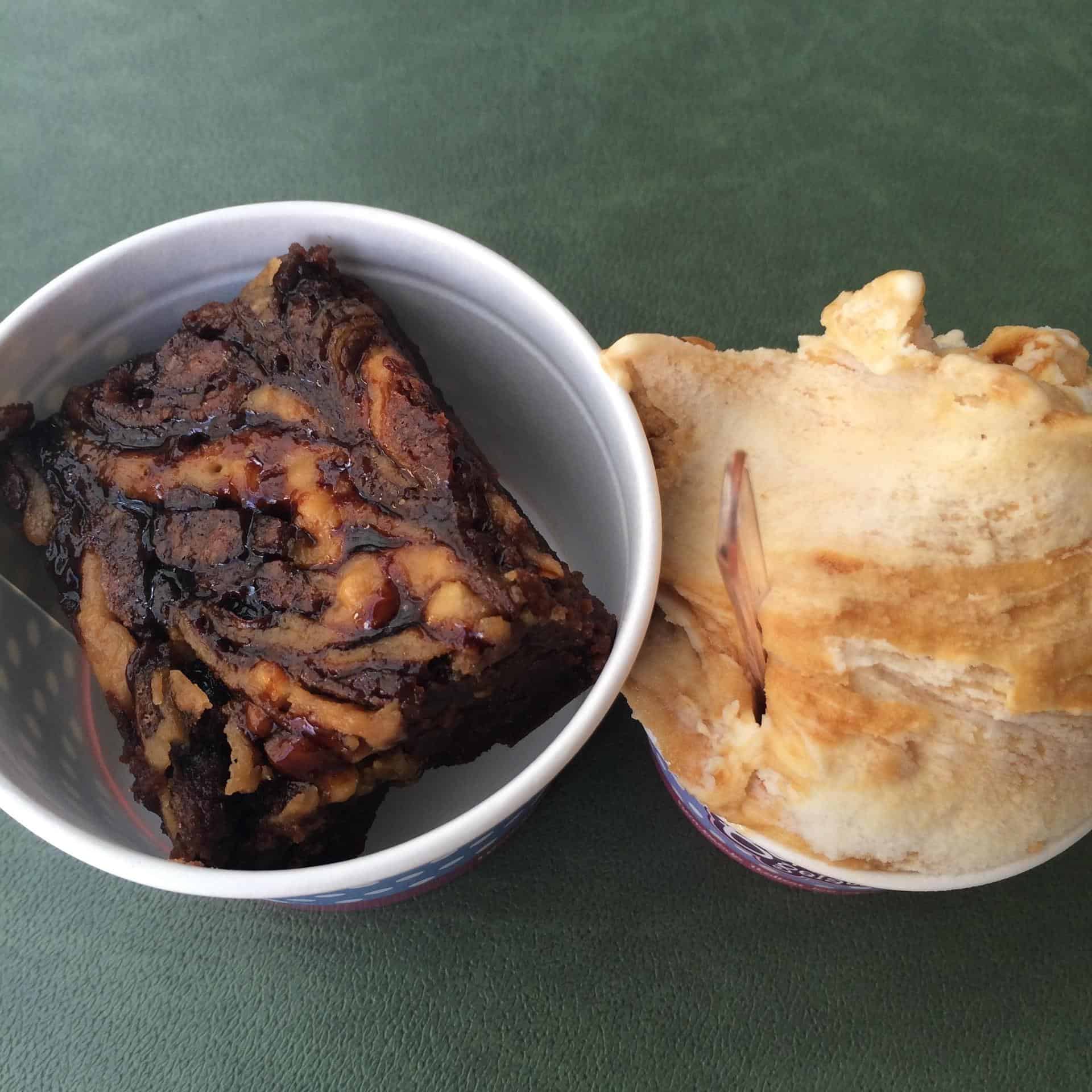 There's a reason this gelato is nicknamed "crack" by locals. Boho Gelato has a range of vegan ice creams, but their most famous (and most delicious) flavour is peanut butter sea salt caramel, affectionately called "crack" by those who can't get enough of it. Get a cup and eat it by the seaside, only a block away.
Boho Gelato (vegan options – ask)
Website
01273 727 205
6 Pool Valley
Brighton BN1 1NJ
Call to check seasonal opening hours
Stuffed Crust Pizza at Purezza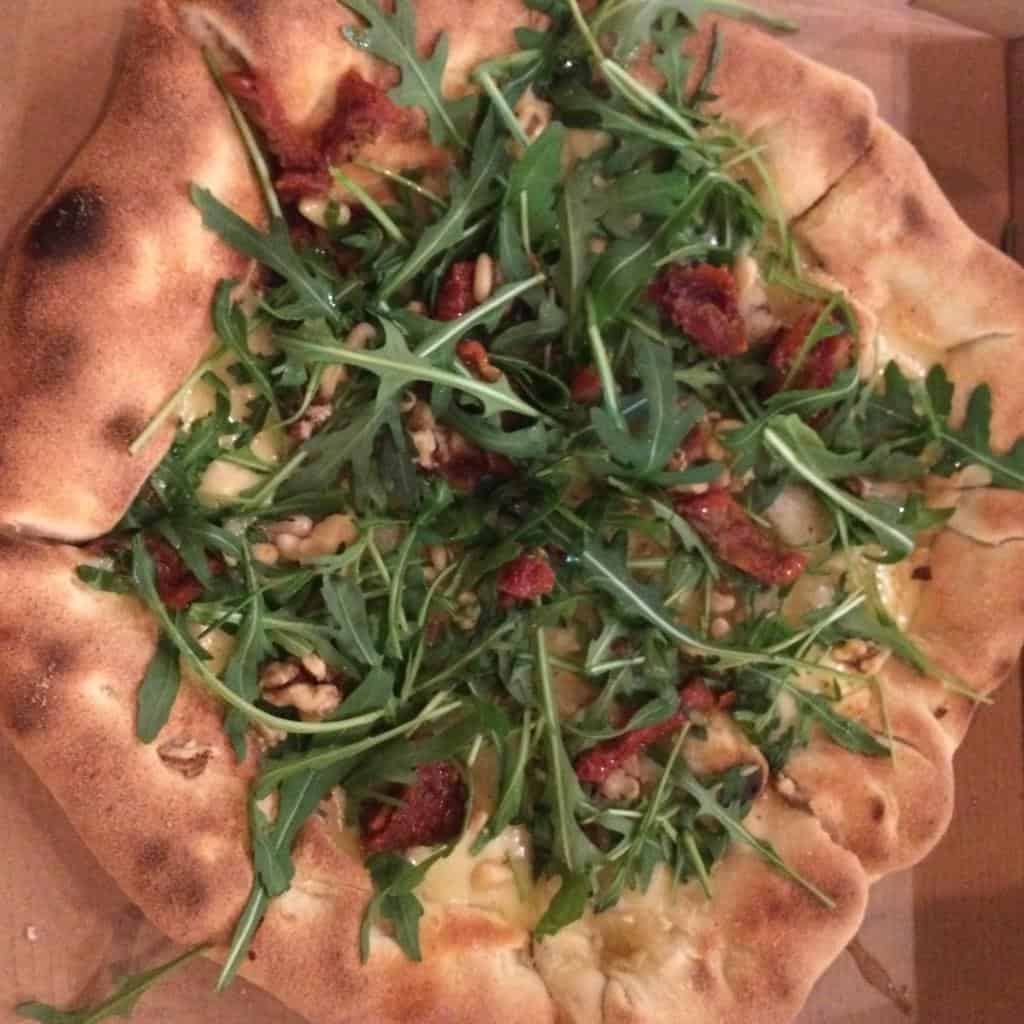 Another vegan first in Brighton, Purezza is the UK's first 100% vegan pizzeria, and in addition to lots of delicious-sounding pizzas one of their most exciting menu features is that they can make any pizza with cheese-stuffed crust! Better still, they use Violife vegan cheese (a current favourite and the only vegan cheese I'll use on pizza). So whether you fancy a pesto base, a white sauce base, a butternut squash base or a hummus base (or any of the other myriad pizza combinations at Purezza), you can get it with a cheesy stuffed crust! The pizza looked so enticing passerby were staring and shouting "that pizza looks delicious!" as I stuffed it in my mouth outside Brighton station. (Or maybe it was just the way I was greedily shoving slices of pizza in my mouth standing in the cold outside a train station that attracted attention – but it was so good it couldn't wait till I was on the train.)
Purezza (vegan)
Website
12 St James Street
Brighton BN2 1RE
Sun-Thurs 11am – 10pm
Fri-Sat 11am – 11pm
Breakfast at Waikikamookau
If you do stay overnight in Brighton, you have to start your morning off right with a proper fry-up at Waikikamookau (yep, that's the name of the restaurant, and it's a mouthful – so is the full English!). A full vegan breakfast is £6.95 and comes with two sausages, an oven baked tomato with rocket pesto, oven baked marinated tofu, hash browns, baked beans, mushrooms wholemeal toast and comes with tea or coffee. And a mini breakfast is just £3.50. The mini comes one sausage, plus everything else from the full breakfast but no coffee/tea. But trust me, the mini is still a very filling breakfast!
Waikikamookau (vegetarian w/ vegan options marked)
Website
11A Kensington Gardens
Brighton BN1 4AL
Mon-Thurs 9am – 6pm
Friday & Saturday 9am – 9:30pm
Sunday 9:30am – 6pm
Click here to download this post as a printable PDF!