It's starting to get cold, rainy and grey here in London…the near-constant drizzle and lack of sun mean that it's definitely autumn. It can get a bit depressing, which is why I find it's crucial in autumn to have comforting food and drink – plenty of soups and lattes to keep you warm and cosy! I won a butternut squash at a pie party last weekend, and I spent several days staring at it and debating what to do. But given the autumnal weather this week, the choice was clear – and so it became a roasted butternut squash soup! This soup is not only filling and delicious, but the colour is beautiful and brightens up any wet, grey day!
Oh, and it won a hearty approval from non-vegans I've given it to, so I'm deeming this one as definitely suitable for non vegans! I had some Henderson's relish that I've been meaning to try, so I added a splash to the soup to give it a bit more flavour. You could also add vegan Worcestershire sauce if you want, but I'm sure it would be lovely with or without.
This recipe is a super simple and delicious roasted butternut soup you dress up with a bit of balsamic vinegar or croutons, if you're feeling fancy. Seriously, it's so easy – and I do not DO easy recipes unless they don't sacrifice on flavour! In the video I also show you the easiest way to roast a butternut squash (hint: no peeling!). You essentially just have to chuck all the ingredients in the oven for awhile and then blend them up (you'll need a good blender for this — find my vegan blender buying guide here).
Easy! So you can spend more time enjoying the autumn leaves. :) Let me know what you think!
If you're not in the UK and can't get your hands on single cream you can make cashew cream or use coconut milk if you don't mind your soup have a slightly coconutty flavour (which I think would be delicious anyway).
Simple Roasted Butternut Squash Soup (video)
My very talented friend Matt helped me with the video. I know absolutely nothing about filmmaking – so luckily all I had to do was show up and chop some butternut squash, while he handled the producing, directing and editing. Amazing!
Let me know what you think of the soup (and the video)! What's your favourite way to eat butternut?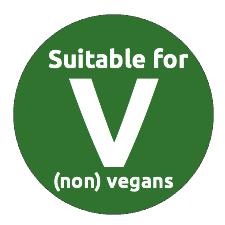 Creamy Roasted Butternut Squash Soup
Ingredients
Butternut squash, peeled and diced
Red onion, cut into strips
2-3 tbsp vegetable oil
Salt and pepper to taste
500 ml vegetable stock
1 clove garlic, finely minced
1/4 cup vegan single cream (also known as half and half in the US)
Splash of Henderson's relish or vegan Worcestershire sauce, optional
Croutons to garnish, optional
Balsamic vinegar to garnish, optional
Instructions
Heat the oven to 180 C. Peel and dice the butternut squash into cubes, and cut the red onion into strips. Place the butternut squash and onion on a baking tray, coat with oil, salt and pepper and bake at 180 C for 40-50 minutes, until the squash is easily pierced with a fork and looks caramelised.
Once the squash and onion are done cooking, place in a blender with the vegetable stock and blend until creamy and smooth.
Heat a small amount of vegetable oil over medium heat, cook the minced garlic until browned, and add the squash and onion puree.
Add the cream, Henderson's relish if using, and cook over low heat for 5-10 minutes.
Garnish with croutons and drizzle with balsamic vinegar if you want.