When you move to another country, you suddenly become really good at really weird things. Like explaining things in roundabout ways in another language – "do you have any of those long, thin green vegetables that are like onions but not exactly?" Or finding versions of old favourite foods from back home. And also at showing people around in a short space of time when they come to stay with you for a weekend. And eventually, at least in my case, writing a vegan guidebook to your adopted city. Click here to find out more about my Barcelona Vegan Guidebook.
If you came to visit me in Barcelona, here's what we'd do in 48 hours…
Day 1:
Breakfast: Start off the day right with a chocolate-filled croissant from Santa Clara bakery.
After breakfast: Explore the neighbourhood of Gracia. It's full of independent boutiques, little backstreets and sunny squares. When you need a break, grab a coffee at any of the many little bars in the neighbourhood (and grab a table in the sun if the weather's nice). Most bars have soya milk.
Lunch: Grab some food for takeaway at the little vegan deli Vegetart. Definitely get the tortilla (the best vegan tortilla in town and on my list of Barcelona must-eat dishes!) if it hasn't yet sold out. Everything's good and really inexpensive (€1.50-3.50). Grab your takeaway and head to Placa del Sol and join the crowds that fill the square and the surrounding steps to eat their lunch al fresco.
Afternoon: If the weather's decent, head down to the beach! Barceloneta is crowded during the summer but you can hardly go to Barcelona without at least walking along the seafront. If you want to beat the crowds, take the metro a few stops further along the L4 (yellow) line to Poble Nou to the less crowded beach there.
If you're not a beach bum, take a walk up to the abandoned WWII bunker for a view over the city and to work up your appetite for dinner.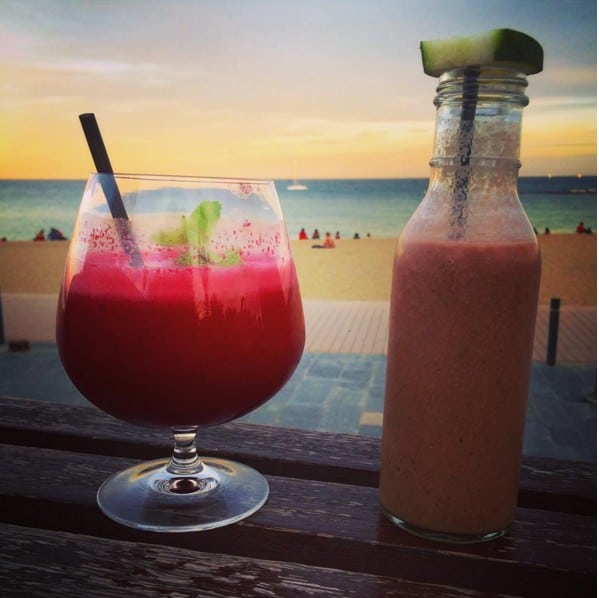 Dinner: Green Spot, near Barceloneta metro station, has vegan and raw options and the food is great (plus the place is dog-friendly!).
Return to your hotel. Click here to find my guide to where to stay in Barcelona.
Day 2:
Brunch: Have a lie-in. It's your holiday! Today's the day for brunch because a holiday should always include brunch. I used to recommend DosTrece but unfortunately their vegan options have gone downhill. Instead, I'd suggest Flax & Kale, a restaurant with vegan and raw options (they call themselves 'flexitarian' meaning they serve fish but are otherwise vegetarian). At Flax & Kale, you can get a bagel with vegan cheese or an acai bowl.
Late morning/afternoon: I usually take visitors on a long walk through the city. The centre is pretty compact and you can see most of the historic/cultural sights by foot. Start at the top of Passeig de Gracia (near Diagonal metro) and walk down Passeig de Gracia, past Gaudi's La Pedrera and Casa Milo. Then walk down to the Gothic Quarter and through the alleyways of the Gothic Quarter to Barcelona Cathedral and then over through Born to Santa Maria del Mar church. We usually get somewhat lost in the backstreets of the Gothic Quarter or Born and stop for a coffee or drink. If you're hungry, grab a bite to eat at Gopal, a vegan fast food place and one of the oldest vegan restaurants in the city.
Dinner: Teresa Carles, for a fancy sit-down meal in beautiful surroundings. I highly recommend their lasanyuki, a flavourful layered vegan lasagne. Whole wheet lasagne sheets are layered with cashew cheese, spinach and pine nuts, mushrooms, masala chai-spiced pumpkin, and a sauce with fresh and sun-dried tomatoes and basil. The perfect way to round off your Barcelona visit.