Green Spot is Barcelona's latest vegetarian offering, and a beautiful one at that. Finally, the Barceloneta neighbourhood gets its second vegetarian restaurant beyond Bar Celoneta, which will be a big boon to tourists this summer and Barceloneta residents. Tucked away on a quiet side street just north of the Barceloneta metro, Green Spot is a refuge from the hustle and bustle of Barceloneta.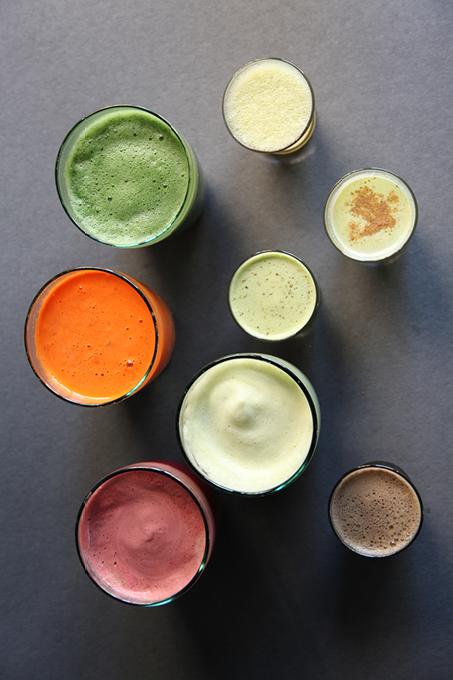 When you enter (slightly confusingly, you walk past the glass walls of the kitchen and keep going doing Carrer de la Reina Cristina until you reach the entrance – no need to wave frantically at the chefs asking where the entrance is, like my friend and I did), you walk through a long hall lined in dark oak panelling, past an atrium filled with plants and light, and into the main room of the restaurant, which is spacious and quite frankly looks like it was plucked off someone's "ideal interior design" Pinterest board. Think wooden tables lit with desk lamps (all the better for taking food photos in low lighting!) and surrounded by low sofas and Eames-style chairs. I wish I could show you but the architect's still putting on the final touches so no photos for now – you'll just have to get down to Green Spot and see for yourself!
As an 80s/90s vegetarian child, I remember old-style vegetarian restaurants we weren't allowed to bring my grandmother to, for fear she might faint at their dirty scruffiness. You also on occasion had to hope for the best in terms of contracting food poisoning from potential uncleanliness in the kitchen. How far we've come – now vegetarian and vegan restaurants are beautiful and Instagram-ready! It also helps when the food is beautifully arranged and just begging to be photographed – speaking of which, on to the food…
We kicked off our meal with cocktails while we cooed over the dog at the next table. My friend opted for the Caipipera (cachacha, pear puree, lime and soda), while I had the Quinoa Temptation, two words I never thought I'd see next to each other (quinoa vodka, orange, cinnamon and some other ingredients I can't recall). My friend said mine tasted like chocolate orange to her – to me I didn't pick up on chocolate but it did taste citrusy, zingy and refreshing.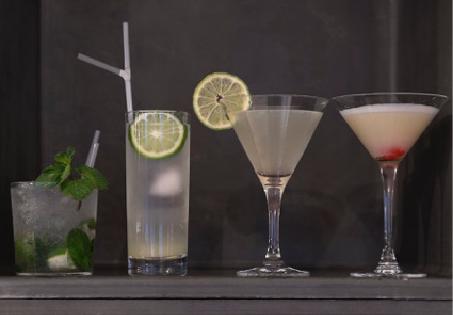 After quinoa vodka, it was necessary to get some food in us, so we started with roasted fennel in an orange and chilli sauce – it was a perfect balance of tart and spicy. But I soon got lost in cashew cheese heaven, when they brought us a dish that we hadn't asked for but they somehow knew we needed. It was a bowl of a variety of vegetables (I know, it doesn't sound that exciting so far) with a trio of dips – carrot dip, green sauce and house-made cashew cheese. Barcelona's artisan vegan cheese scene is still young, with only two places offering it so far (Petit Brot and The Living Food), so I'm always thrilled to see artisan vegan cheese on a menu. The cashew cheese was a delicious, smooth dip (so smooth! How did they get it so smooth?!), vaguely reminiscent of some of the cheeses I've made from Artisan Vegan Cheese, and as I ate it I couldn't stop thinking how well it would go on a pizza.
Vegetables take centre focus at Green Spot – you won't find any mock meats on the menu. The restaurant's ethos is centred around appealing to vegetarians and non-vegetarians alike, and focusing on beautifully prepared vegetables. Case in point, our bowl of veggies with dips.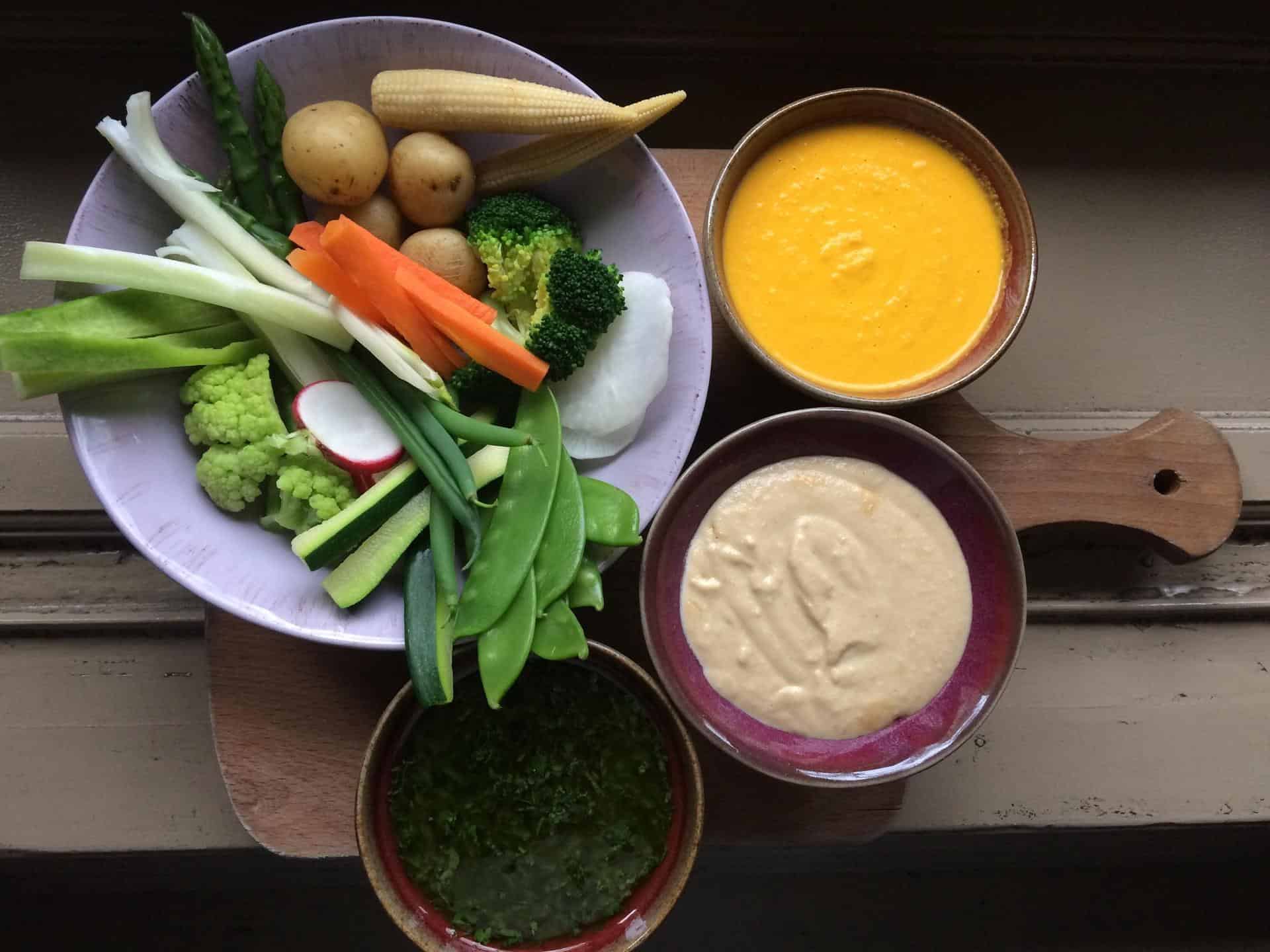 For our mains, we chose from the "world" section of the menu (a blend of Mediterranean, Asian and Mexican dishes) and opted for san choy bao, a mix of tofu, mushrooms, carrots and noodles DIY-style in lettuce wraps and served with a Korean sauce (the filling was delicious as was the sauce, but I do wish they'd constructed the wraps in the kitchen – I did a very botched job at the table and ended up with bits of filling everywhere). We also got the "Spot" curry on black rice. The curry, coconut-based and filled with a mix of vegetables, including asparagus, carrots and mushrooms, was the unexpected star of the meal. Made fresh from scratch in the restaurant, it was a burst of flavours and by far the best Thai-style curry I've had in Barcelona.
Although we were pretty full by this point we obviously had dessert – I mean, it was our duty, right? So, we had carrot cake with cashew cream and brownie, which came with vanilla ice cream. Luckily we had opposing tastes here (my friend preferred the carrot cake, I wanted the brownie) so we didn't break into a fight in the restaurant. The carrot cake was delicious but the cashew cream frosting was too zingy (it's made with lots of lime) for us. The brownie was dense and fudgey and very chocolatey – exactly what I wanted. It was a little crumbly, which I didn't mind (I just hope the other diners didn't mind me using my fingers to scoop it up!).
If you want flavourful, from-scratch vegan cooking in a beautiful setting, where vegetables are the star of the meal, then you'll love Green Spot. Make sure to bring your phone, as you'll be itching to Instagram it.
Green Spot
Website
+34 938 02 55 65
Hours: Wednesday – Sunday: 13:00 – 16:00, 20:00 – midnight
Carrer de la Reina Cristina, 12
08003 Barcelona
Price (for a meal, approx) €25 – 30
Note: the online menu at present doesn't show which options are vegan, raw and gluten-free, but the menu in the restaurant is clearly marked.
Green Spot also do brunch on Sundays from 11:00 to 17:00 but at present the brunch is pretty limited on the vegan options (acai bowl, smoothie or salad).
When to go to Green Spot?
When you want a high-quality, from-scratch sit-down meal in a beautiful setting, with raw and gluten-free options.
If you want to dine with your dog – it's pup-friendly!
Looking for more hidden hot spots in Barcelona? Download you free guide to Barcelona's best-kept vegan secrets here!
Disclosure: Green Spot very kindly invited me to test and review their food but all thoughts and opinions are, as always, my own.