Don't you hate that moment where you're staring at a menu, practically breaking into a sweat, overwhelmed by decision-making fatigue and wondering what the hell to order? Going to a city and trying out new vegetarian and vegan restaurants is the best kind of fun (just make sure to bring your stretchy leggings) but sometimes the choice is overwhelming, especially when we're used to choosing from a miniscule handful of vegan options. All the sudden, confronted with a seemingly never-ending menu we're faced with too much choice.
So don't spend any more time debating what to get…here are the 6 must-eat vegan dishes you absolutely have to try when you're in Barcelona. Don't leave Barcelona without trying these!
Roasted Head of Cauliflower at Sesamo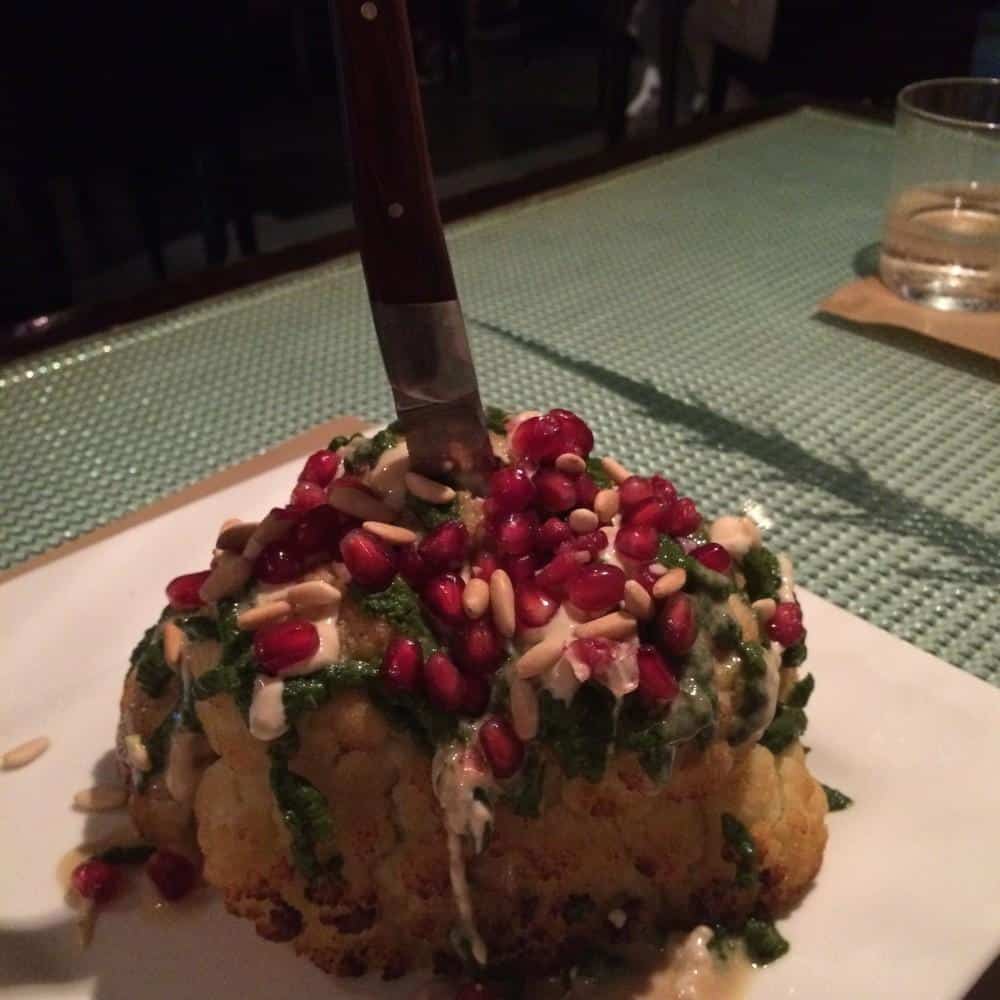 Yes, I am telling you to go eat a cauliflower (is that an insult? If not I feel like it should be – "oh, go eat a cauliflower"). But this is not just any cauliflower, this is a whole head of roasted cauliflower covered in tahini sauce and green sauce, toasted pine nuts and pomegranate seeds. And you should eat it, if only just for the 'wow' factor of a whole head of cauliflower appearing at your table with a knife stuck through it, while everyone in the restaurant turns to look. It *can* get a bit samey – while I love cauliflower a whole head is too much for me – so if you're dining with a companion, I recommend splitting the cauliflower and sharing another dish – the mushroom tart vegan option (mushrooms cooked in a wine sauce, then baked in a puff pastry shell) is also delicious…
Sesamo Restaurante (Sant Antoni): website (Vegetarian w/ vegan options)
Chocolate Croissant at Santa Clara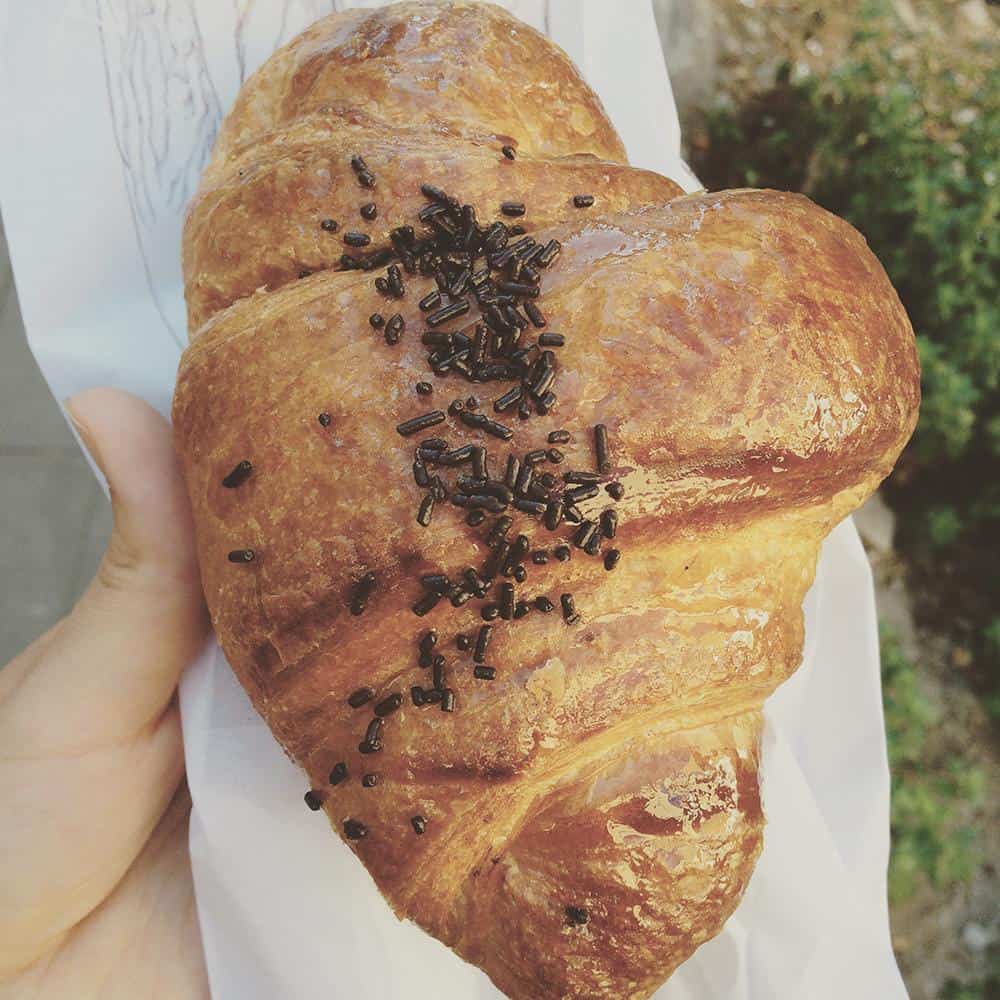 Unfortunately, my favourite vegan croissant place (Knella) closed, but these fill the void. Flaky, chocolate and big – these are croissant perfection. A Parisian friend declared them delicious and authentic, and quite simply these are the best vegan croissants I've come across yet.
They're also great value for money, and you don't feel you're paying extra for them being vegan.
Santa Clara Bakery (Gracia): website (Omnivorous w/ vegan options – ask)
Tortilla at Vegetart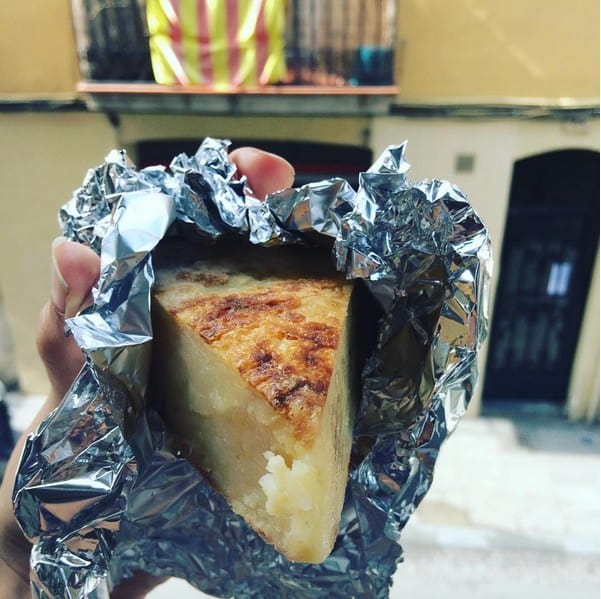 Only €2 for a slice and it's widely known in Barcelona as the best vegan tortilla in the city. Tortilla (also called tortilla de patatas or tortilla espanola) is not tortilla like the kind you wrap a burrito in, but a very popular dish in Spain akin to a potato omelette. Non-vegan versions are made by frying potatoes and onions and adding eggs, then cooking up a huge potato-egg cake and cutting it into slices. Most vegan versions are made with chickpea flour as a substitute for the eggs.
Vegetart do an especially great version, with soft, practically melt-in-your-mouth potatoes. I think they must slightly caramelise the onions before or during the cooking process because to me there's an almost caramelised onion flavour about it and wow, this is potatoey tortilla goodness at its finest.
Vegetart Deli (Gracia): website (100% vegan takeaway deli)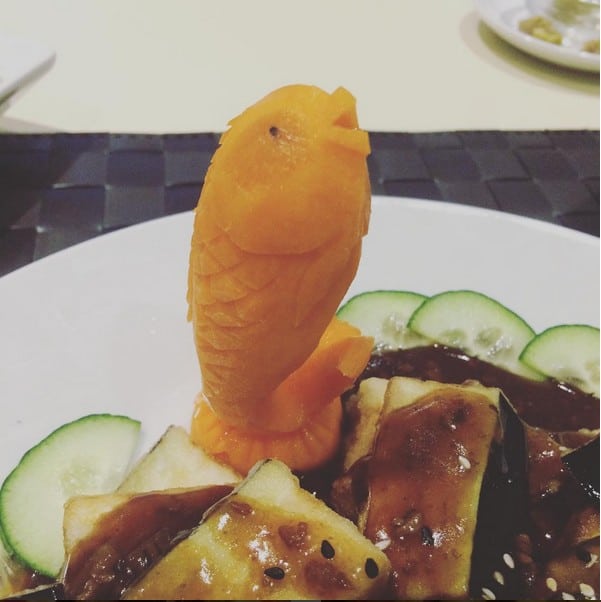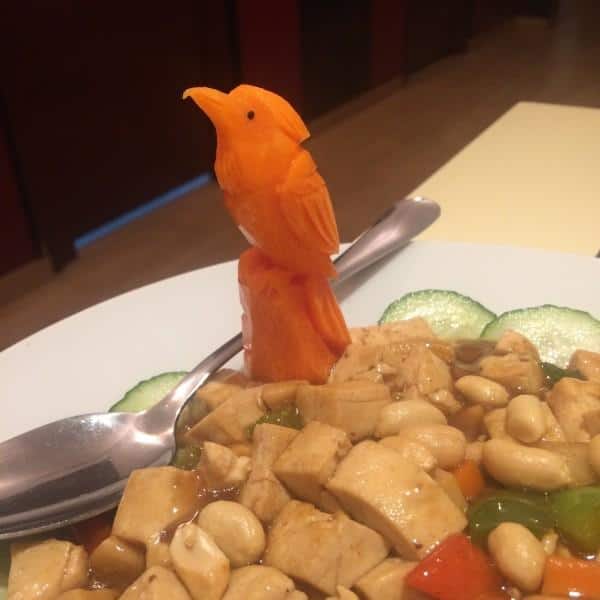 Crispy, salty, savoury and slightly sour, the Yuxiang-style aubergine (eggplant) at Vegesana are a perfect balance. Yes, it might sound slightly weird to suggest Chinese food in Barcelona, but you won't regret this aubergine. On the other hand, if you don't order it, you might develop major food envy like my dining companions have when I've had it in front of them.
As a bonus, it comes with the best carrot art I've ever come across. The chef loves making carrot art, so they buy him extra large carrots to carve his creations into. It almost feels sacrilegious to eat, so I always leave my carrot off to the side like a true believer.
Vegesana Restaurante (Eixample): website (Vegetarian w/ vegan options)
Lasanyuki at Teresa Carles
A classic dish at a Barcelona vegetarian insitution, Teresa Carles, one of the oldest (the oldest?) vegetarian restaurant in Barcelona.
Whole grain lasagne layered with spinach and pine nuts, masala chai-spiced pumpkin, mushrooms, cashew cheese and a sauce made of fresh and sundried tomatoes.
Teresa Carles Restaurante (Gothic Quarter): website (Vegetarian w/ vegan options)
Homemade nut-based cheese at Petit Brot or Living Food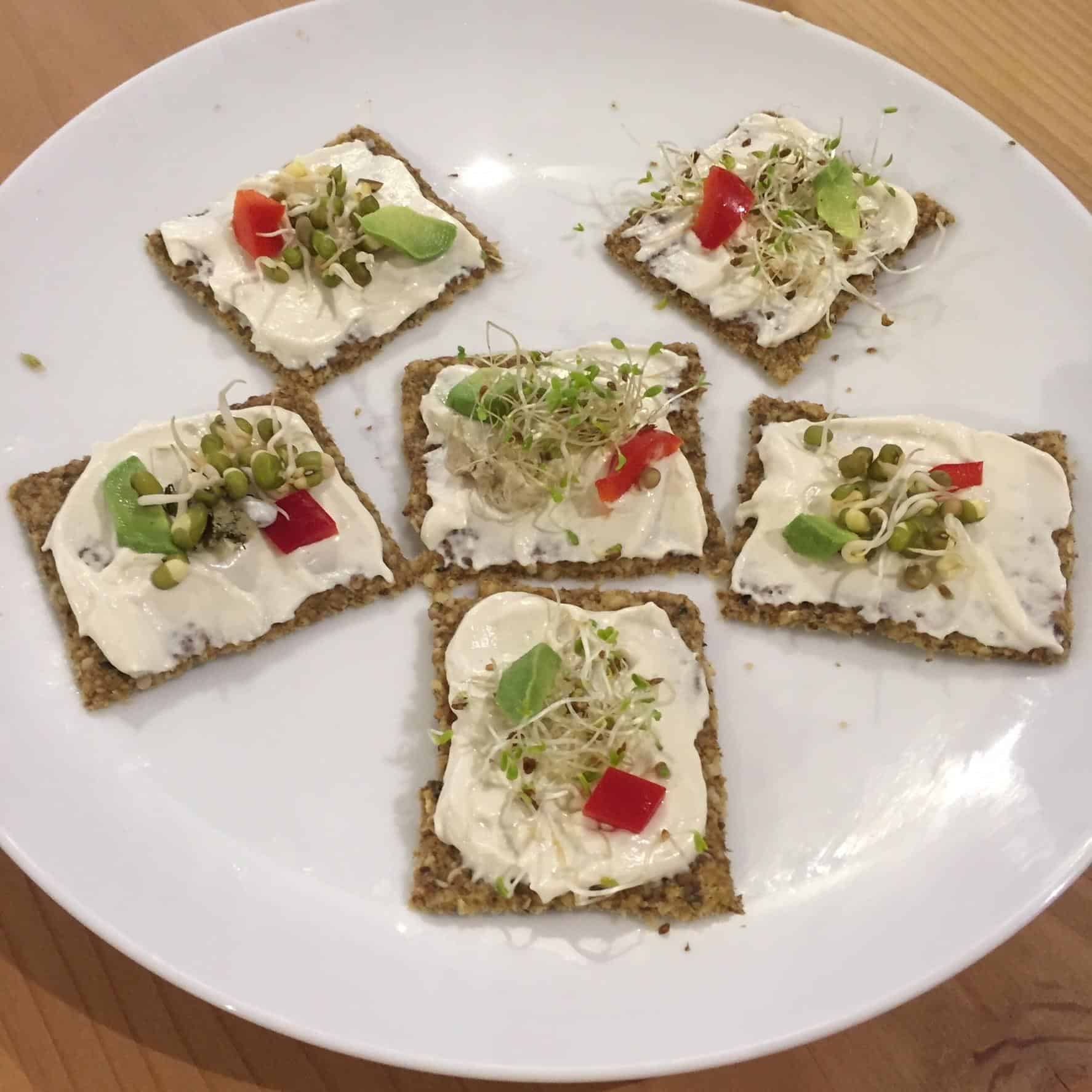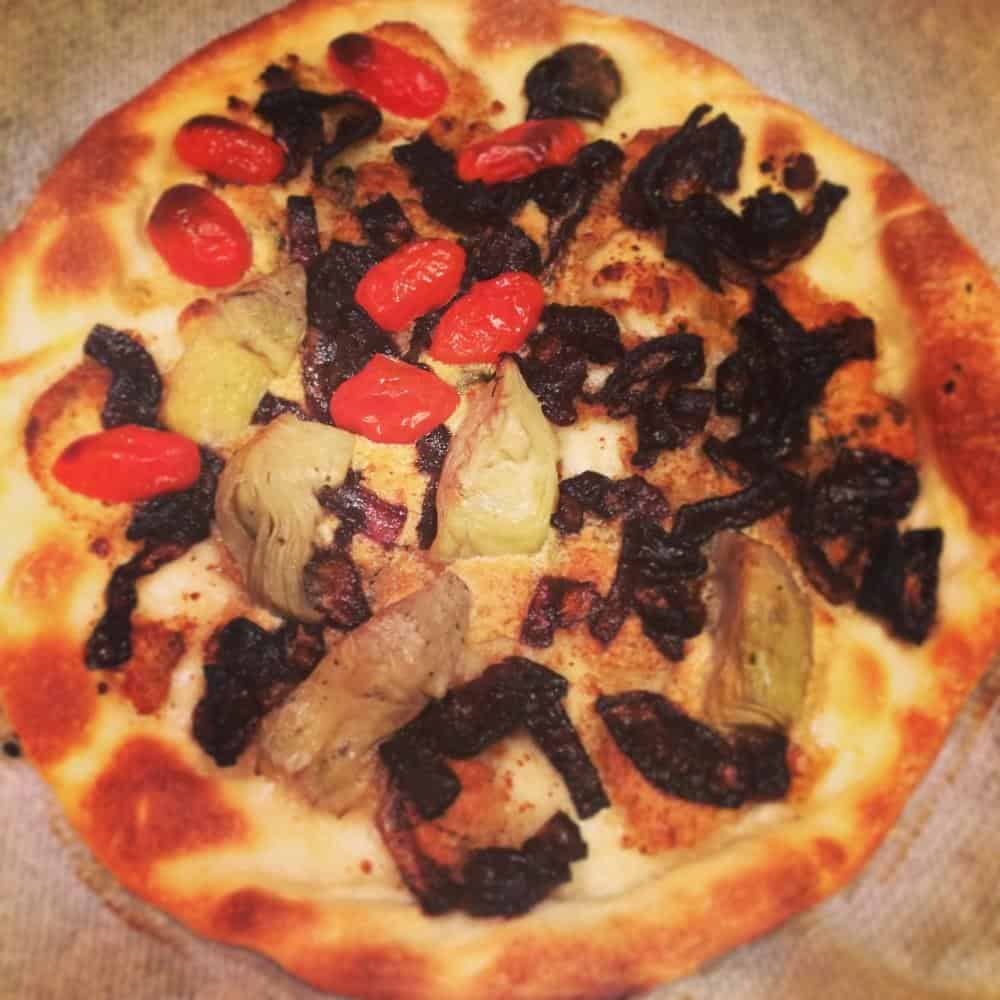 Homemade nut-based cheeses are the best kind of vegan cheese. Raw vegan juicery and cafe Petit Brot sells tubs of their spreadable cheese, perfect for crackers.
Raw vegan shop The Living Food sells a wide range of homemade vegan nut-based cheeses (homemade and raw, expect to pay between €7.50 and €9 for a block, but they will last a long time in the fridge), the best being their vegan gorgonzola, which makes an excellent pizza.
Petit Brot Juicery & Cafe (Raval): website (100% raw vegan)
The Living Food (Sant Antoni): website (100% vegan)
Heading to Barcelona soon, or know someone who is? Click here to download a FREE sample of my Barcelona Vegan Guidebook!