Welcome to day 4 of the Vegan Month of Food (Mofo). My theme is Suitable for Non-Vegans, delicious, non-scary food you can feed your non-vegan friends and family — food that will show them that you're not crazy (well, not crazy for being vegan!). Like my page on Facebook to get the latest Mofo/Suitable for Non Vegans posts.


I wrote an even longer intro to this post, about my path from vegan cake-fearing non-vegan to curious VCTOTW owner to vegan cake obsessive, but it sadly got deleted. All you need to know is this: vegan cake is powerful. It can turn a non-vegan (me in a previous life) to a vegan, purely by its deliciousness. It can make a dessert-obsessed, definitely non-vegan grandmother (mine) declare with joy that she's experienced the best cake in her life. And it is a great tool for making new friends, and showing your existing friends that vegan food is delicious. One tip: if your friend is a bit vegan cake-phobic, don't make a big deal of it being vegan (I'm not saying you should lie, just saying don't play up the vegan element if they're scared of it).
Today's recipe is a muffin, inspired by Starbucks. I eyed the Starbucks raspberry white chocolate muffins for ages. Then it occurred to me the other day I should make a vegan version. Apparently the Starbucks version has raspberry jam filling in the middle, but I omitted that and went for fresh raspberries instead. For vegan white chocolate chips, I used a bag I found in a kosher supermarket in London. You can use any vegan white chocolate chips you like, or if you can't find white choc chips, you can break a white chocolate bar into chunks. If you can't find white chocolate, or don't fancy it, you can use your favourite vegan milk or dark chocolate instead.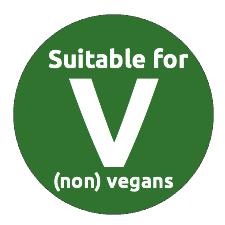 Raspberry White Chocolate Chip Muffins
Makes 12 muffins
Ingredients
1 1/8 cups sugar (120 g / 4.25 oz)
2 cups flour (200 g / 7 oz)
1/2 tsp baking soda
1 tbsp baking powder
1/2 tsp salt
1 cup soya milk (250 ml)
1 tsp vinegar
2 tsp vanilla extract
1/2 cup vegetable oil (125 ml)
1 cup fresh raspberries (100 g / 3.5oz)
1/2 cup white chocolate chips (1oo g / 3.5oz)
Instructions
Preheat oven to 375 F / 190 C and line a muffin tray with paper liners.
In a small bowl or mug, whisk together the soya milk and vinegar and set aside for a few minutes to curdle (when vinegar curdles in soya milk the resulting product can be used like buttermilk in baking).
In a separate small bowl, mix together the dry ingredients (sugar, flour, baking soda, baking powder, and salt).
Add the wet ingredients (soya milk+vinegar mixture, vanilla extract and vegetable oil) to the dry and mix to incorporate. Be careful not to over-mix, just mix until the wet and dry ingredients are combined. Add the raspberries and white chocolate chips and stir until they are incorporated.
Pour the mixture into the muffin cases and top each muffin with 3 raspberries.
Bake for around 25 minutes, or until a toothpick or fork prong inserted comes out clean.