My Vegan Mofo theme is Suitable for Non-Vegans: delicious, non-scary food you can feed your non-vegan friends and family — food that will show them that you're not crazy (well, not crazy for being vegan!). Like my page on Facebook to get the latest Mofo/Suitable for Non Vegans posts.


So, what should you do when you're panicking and you're not sure where to take your friend from uni or your aunt to eat when she visits? You need a place that has good vegan food that also appeals to non vegans, an easy to reach location, a decent drinks menu, and a nice ambiance… Well, if you live in London (or Zurich where the restaurant was started), you're in luck (and if you don't , I'm sorry, but you can still read this post and be jealous!). Tibits is the perfect choice, in my opinion, of restaurant to take non vegans when they visit, for several reasons:
It has a nice ambiance – clean, nice decor, low lighting, plenty of space (there's extra seating in the basement downstairs)
Location – centrally located near Piccadilly Circus (in most restaurants this would mean over-crowding, but Tibits has a downstairs so it manages to be a place you can always get a seat)
It's a buffet, so there's a wide selection of food (it's not all vegan but it's clearly marked) to suit all tastes. And it's a great opportunity for a non vegan to try out a big selection of vegan dishes! Just be careful, because the buffet is pay by weight.
It has a decent selection of drinks, and they are interesting and seasonal
You might run into someone famous – Tibits has been visited by Sir Ian McKellen, Leona Lewis, and Ellen Page, amongst others
The only downside is that the buffet is pay by weight, so it's easy to end up paying quite a bit if you're not careful with how much food you put on the plate (I always need to keep reminding myself this is not an all you can eat buffet!). However the great thing about a buffet is that you aren't limited to one selection for mains, and your non vegan guest(s) will have the opportunity to try a wide range of vegan foods. The buffet rotates, so even if you go back you won't be bored, but favourite menu items that regularly crop up are the beer battered onion rings, spiced potato wedges, falafel, and dried green bean salad (I don't know what they do to them but they are amazing and taste nothing like any other green bean you've ever had).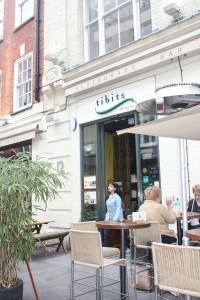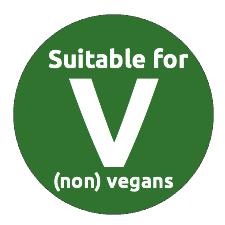 I've taken loads of non vegans here — my boyfriend, a friend visiting from Paris, a friend visiting from Singapore, friends in London… It's actually gotten to the point where I've now taken everyone I know there (and they all loved it, which is why I keep bringing people back!). A couple of months ago, I took a former colleague there; I was so excited to show her the buffet, but when we got there she said "oh, this place! You took me here before!" She liked it so of course she was happy to go back again, but I was slightly embarrassed that I had taken so many people there so many times I'd started forgetting who I'd taken there.
If you're ever looking for a restaurant to take non vegans, vegetarians or vegans, I recommend Tibits since it suits a wide variety of tastes! And if you aren't based in London, where do you normally take your non vegan friends/family to eat?
Click here to get your FREE copy of the Vegan London Travel Guide!