Updated February 2018
Important PSA for Vegan Londoners:
"Where can I get vegan doughnuts in London?"
Are you vegan and doughnut-less in London (or visiting London)? I'm here to help.
I was surprised at a recent vegan event how few people knew that it's possible to find vegan doughnuts in London. They were living doughnut-less! Are you?
Well, no more. London has really upped its doughnut game lately. I've done a lot of doughnut sampling (hard work) and I've found the best ones. I mean the light, fluffy, sugary fried ones, not those heavy, baked ones. Oh no.
Top 3 Vegan Doughnuts in London:
Here are top doughnuts in London (or rather, than top 2 vegan doughnuts plus 1 widely available option).
1. Dough Society (formerly Peanut Butter Bakery): Now with a permanent home in Hackney! Vegan fried brioche doughnuts; their permanent cafe opened in January 2018 and is a large, light-filled space in East London, just off Mare Street in Hackney. Grab a doughnut, oat latte or a toastie here.
These are the best vegan doughnuts in London. And the most imaginative range of flavours in vegan doughnuts (or maybe any doughnuts!) in London – with seasonal flavours like prosecco and rose or red velvet (for Valentine's Day) as well as other original flavours such as Samoa (chocolate, toasted coconut and cashew caramel) or white chocolate caramel Boston creme.
Their prices are now £3.50 per doughnut but the doughnuts are massive; really, they say they're the size of your head, and they're not joking. The biggest doughnuts I've ever seen.
Dough Society
11 Dispensary Lane, London E8 1FT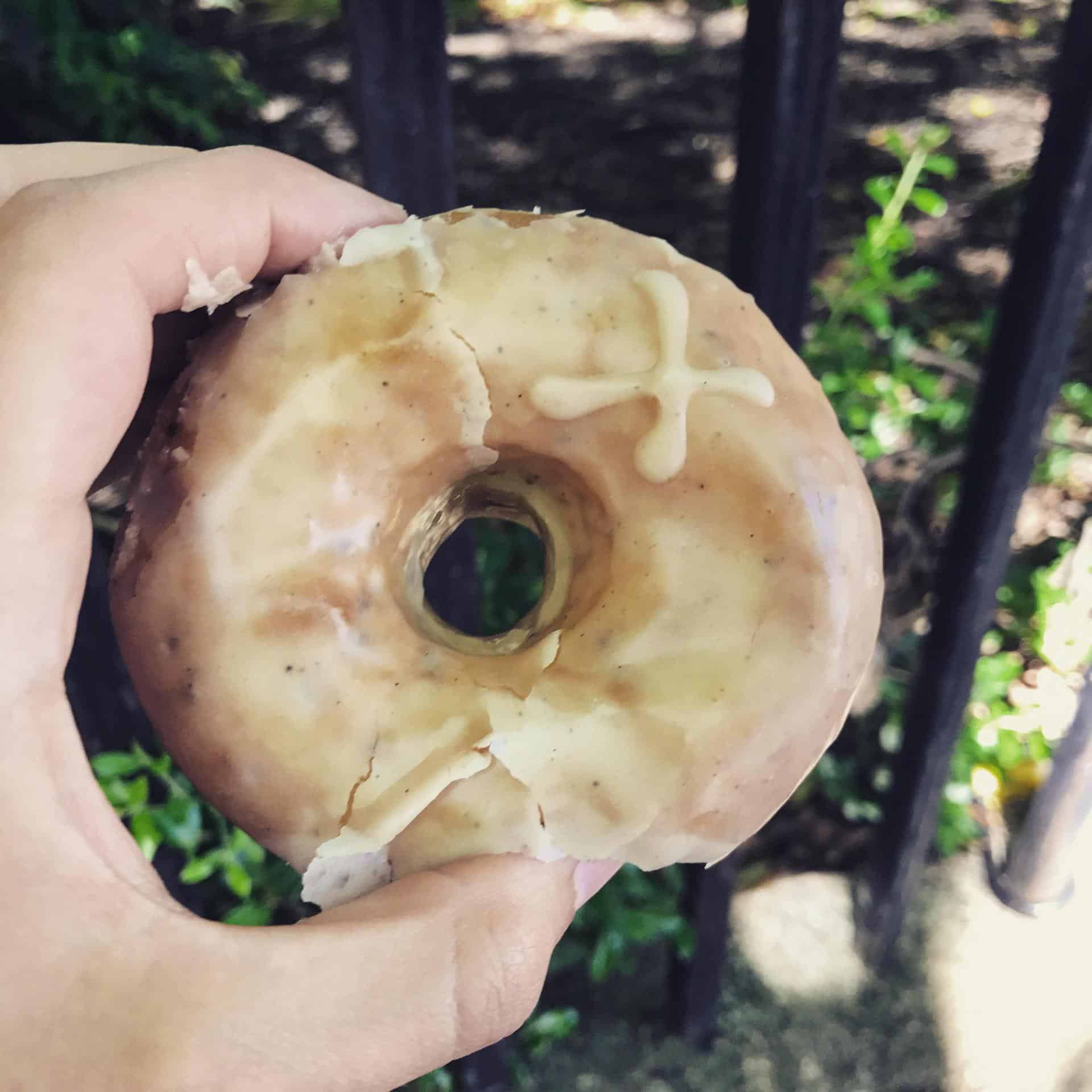 2. Crosstown: Sourdough doughnuts with a weekly rotating vegan flavour (only available Friday, Saturday, Sunday).
Available at their shops and stalls at Victoria station, Kings Cross, Leather Lane market, Brick Lane, Soho, Camden market, Broadway Market.
Check their website for vegan flavour of the week. My advice after trying them all: avoid the chocolate doughnut (the chocolate filling made the texture of the dough go kind of weird), and go for the vanilla or the strawberry elderflower. Oh, and ask them to bring back the vegan cinnamon scroll – a cross between a cinnamon bun and a doughnut – it was the best of all their flavours. Expensive at £3.80 per doughnut.
3. Co-op Food: These aren't the best vegan doughnuts but they're decent and they're the most widely available! Cheap and easy to find, check your nearest Coop for their own brand doughnut balls; the jam and custard ones are vegan! Make sure you get the own brand ones from their bakery (some smaller stores don't have a bakery and sell other brands). £1 for a bag of 5 doughnuts.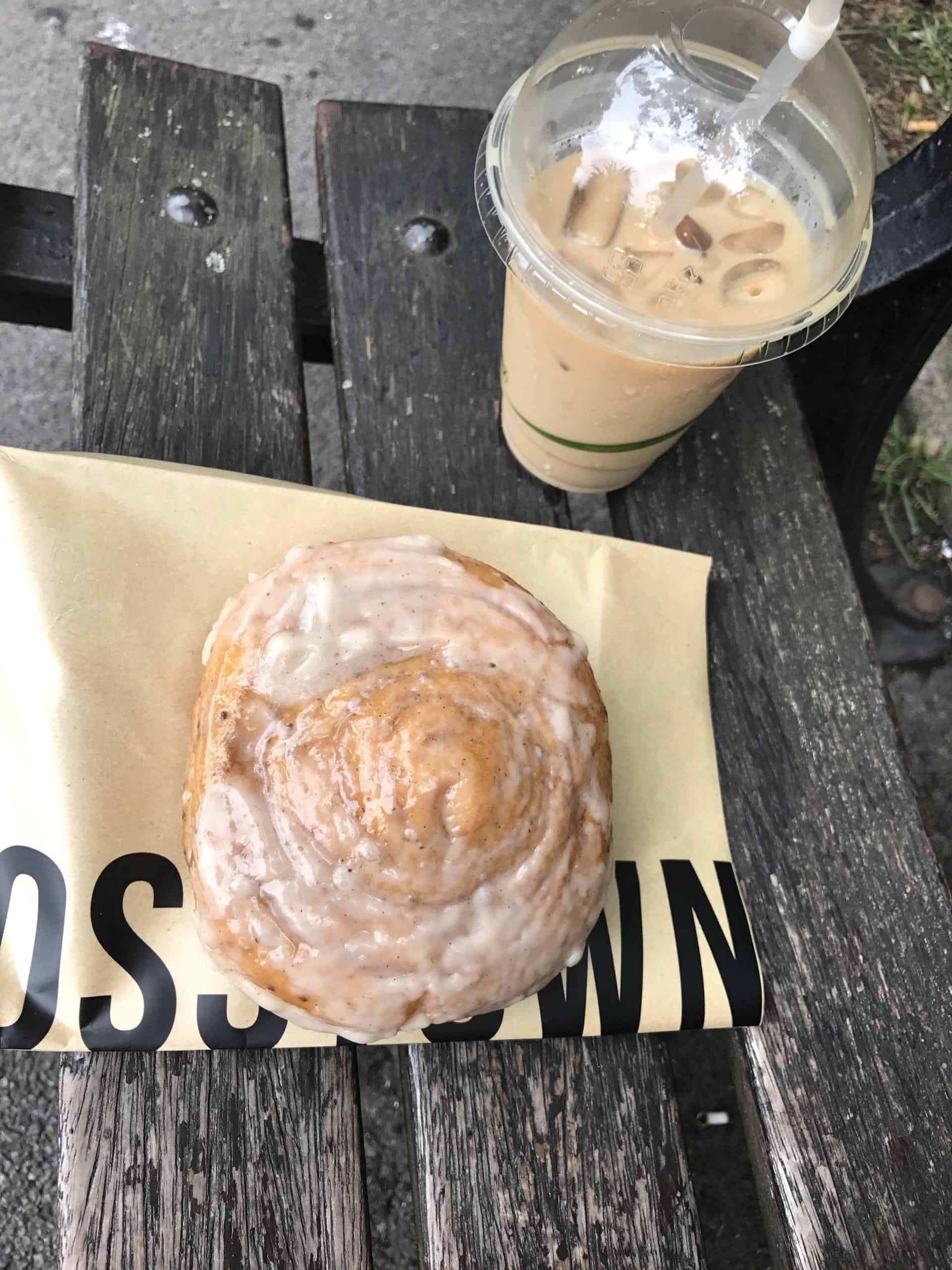 Other vegan doughnut sellers:
Some branches of Tesco and some corner shops (check out the vegan donut post on The Vegan Womble) – these look like the kind of doughnuts you'd pick up in a doughnut emergency (we've all had those) in a petrol station. Fine for an emergency, but not a gourmet experience.
Ruby Tuesdays at Greenwich market (but I believe they're baked and tasted too healthy for me!). I've heard rumours that some Bankside branches of Leon (the 'healthy fast food' chain) are now selling Ruby Tuesdays doughnuts, too
Vx (100% vegan shop on Caledonian Road): always has a few different vegan doughnut flavours sometimes has cream-filled doughnuts
Some branches of Lola's (rumour has it, but I've never seen them in the flesh dough)
Wenzel's in North London (branches in Edgware, Mill HIll Broadway and Brent Cross) – sugared ring doughnuts and jam doughnuts
Vegan Delice: freshly fried hot (!) vegan doughnuts at street markets around London
Donut Time: outposts of this Australian doughnut brand have opened around London, but I was disappointed when I tried their vegan doughnuts. First, they had a strange cake-like texture; second, they are the priciest vegan doughnuts in town but not as big size-wise as Dough Society.
Order online from The Vegan Kind if you want doughnuts to your door
Did I miss any? Tell me where you've found vegan doughnuts in London! I don't mind 'investigating' more sources… ;)