Updated May 2018
Important PSA for Vegan Londoners:
Have you been asking where you can get vegan doughnuts in London?
Are you vegan and doughnut-less in London (or visiting London)? I'm here to help.
I was surprised at a recent vegan event how few people knew that it's possible to find vegan doughnuts in London. They were living doughnut-less! Are you?
Well, no more. London has really upped its doughnut game lately. I've done a lot of doughnut sampling (hard work! ;)) and I've found the best ones. I mean the light, fluffy, sugary fried ones, not those heavy, baked 'healthy' ones. Oh no. These are proper doughnuts.
Top 3 Vegan Doughnuts in London:
Here are top doughnuts in London (or rather, top 2 vegan doughnuts plus 1 widely available option).
UPDATE: SADLY, DOUGH SOCIETY HAS CLOSED. FOR AN ALL-VEGAN DOUGHNUT PLACE IN LONDON, HEAD TO CROSSTOWN (SEE BELOW)
1. Dough Society (formerly Peanut Butter Bakery):
Update: Now with a permanent home in Hackney! Vegan fried brioche doughnuts; their permanent cafe opened in January 2018 and is a large, light-filled space in East London, just off Mare Street in Hackney. Grab a doughnut, oat latte or a toastie here (they're now offering brunch, too!).
Plus, the cafe is dog-friendly (check out my full list of dog-friendly and vegan-friendly spots in London here)!
These are the best vegan doughnuts in London. And the most imaginative range of flavours in vegan doughnuts (or maybe any doughnuts!) in London – with seasonal flavours like prosecco and rose or red velvet (for Valentine's Day) as well as other original flavours such as Samoa (chocolate, toasted coconut and cashew caramel) or white chocolate caramel Boston creme.
What to have? I highly recommend the Samoa if you like chocolate and coconut.
Pricing: Their prices are now £3.50 per doughnut but the doughnuts are massive; really, they say they're the size of your head, and they're not joking. The biggest doughnuts I've ever seen.
Dough Society
Hackney
11 Dispensary Lane, London E8 1FT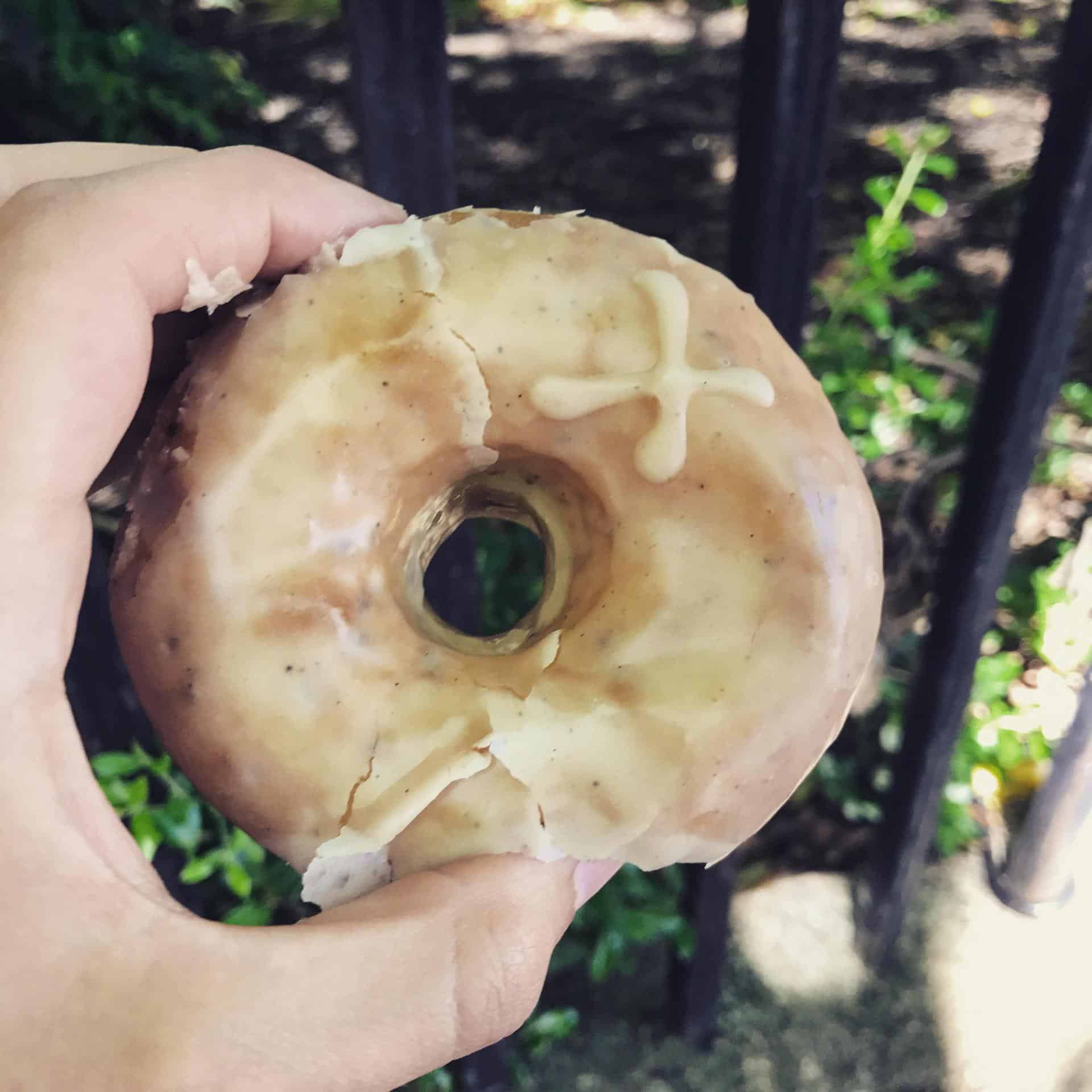 Sourdough doughnuts with a weekly rotating vegan flavour (only available Friday, Saturday, Sunday). Update: Now available daily!
Update: They have opened an all-vegan doughnut shop in Marylebone, near Bond Street station! They also have two vegan flavours (which rotate weekly) at their shops and stalls at Victoria station, Kings Cross, Leather Lane market, Brick Lane, Soho, Camden market, Broadway Market.
Check for the vegan sign or ask them which ones are vegan.
Check their website for vegan flavours of the week.
What to have? My advice after trying them all: get the vegan cinnamon scroll!! It's like a a cross between a cinnamon bun and a doughnut and it is AMAZING! I know other people like it, but I'd recommending to avoid the chocolate doughnut (the chocolate filling made the texture of the dough go kind of weird), and go for the vanilla or the strawberry elderflower.
Pricing: More expensive than Dough Society at £3.80 per doughnut (they're smaller too) but if you don't want to make a trip to Hackney (where Dough Society is), then these are the best vegan doughnuts in Central London.
Stop in to their vegan doughnut shop after shopping on Oxford Street.
Crosstown Vegan Doughnut Shop
Marylebone
5-6, Picton Place, W1U 1BL
These aren't the best vegan doughnuts but they're decent and they're the most widely available!
Cheap and easy to find, check your nearest Coop for their own brand doughnut balls; the jam and custard ones are vegan!
Make sure you get the own brand ones from their bakery (some smaller stores don't have a bakery and sell other brands). Usually around £1 for a bag of 5 doughnuts.
According to a few friends, the Coop doughnuts are the closest to the doughnuts they got by the seaside in British seaside resort towns as children.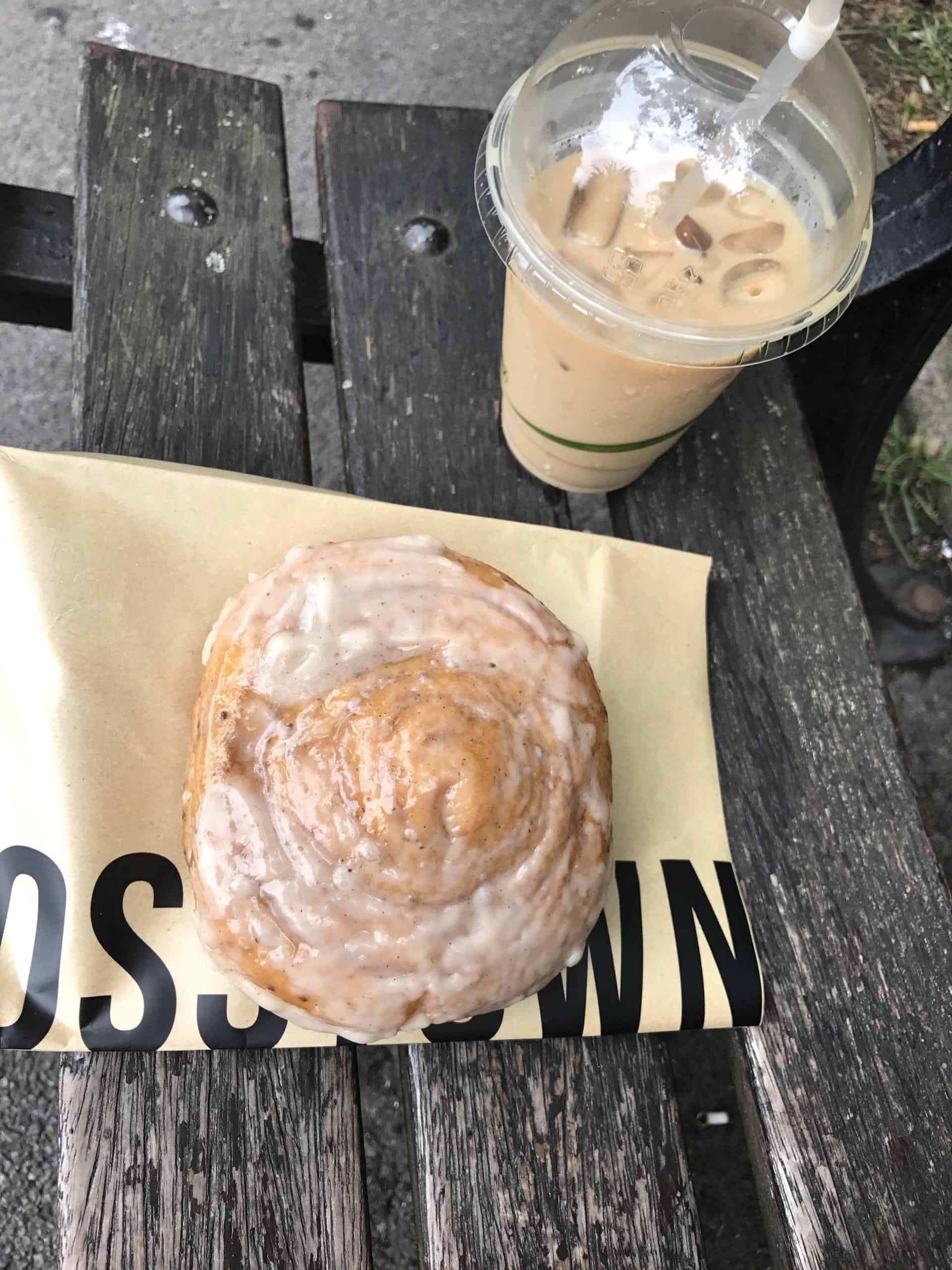 Other vegan doughnut sellers:
Did I miss any? Tell me where you've found vegan doughnuts in London! I don't mind 'investigating' more sources… ;)
Looking for somewhere to stay between doughnut scoffing? Find my list of vegan-friendly hotels in London here!
As an Amazon Associate I earn from qualifying purchases.