We're into the last week of Vegan Mofo, and I've got quite a few countries I want to cover this week!  My theme is 'Places I've Been' and I'm picking various countries I've been to and making a regional dish I either ate there or wished I'd eaten there.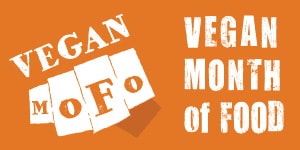 Today's post is about Panama.  Oh, Panama…I'm not really sure how I ended up going to Panama City.  It was a cheap flight from Costa Rica and I thought I might as well see another part of Central America while I was there.  Panama City ended up being my least favourite place I've ever travelled.  I've travelled to many cities by myself, but Panama was the only one where I felt unsafe.  Everywhere I turned there seemed to be people warning me against going anywhere on my own — "don't walk down that road to the old part of town, you'll end up in an area overrun with drug lords and get shot."  "Don't take a taxi downtown, the driver might assault you."  So in the end I barely left my hostel for the few days I was there — I only went to the supermarket to buy food and came back to the hostel, which was in turn overrun by creepy middle-aged men who incessantly hit on me while I tried to check my emails in the common areas.  My final night there, we even heard gunshots   As a result, I had a strange experience of Panama City.  It was such a contrast to Costa Rica, where I stayed in a beautiful B&B in the mountains, and to Santiago, Chile, where I went after that (more on that in another post soon).
My main view was of the barbed wire around the compound: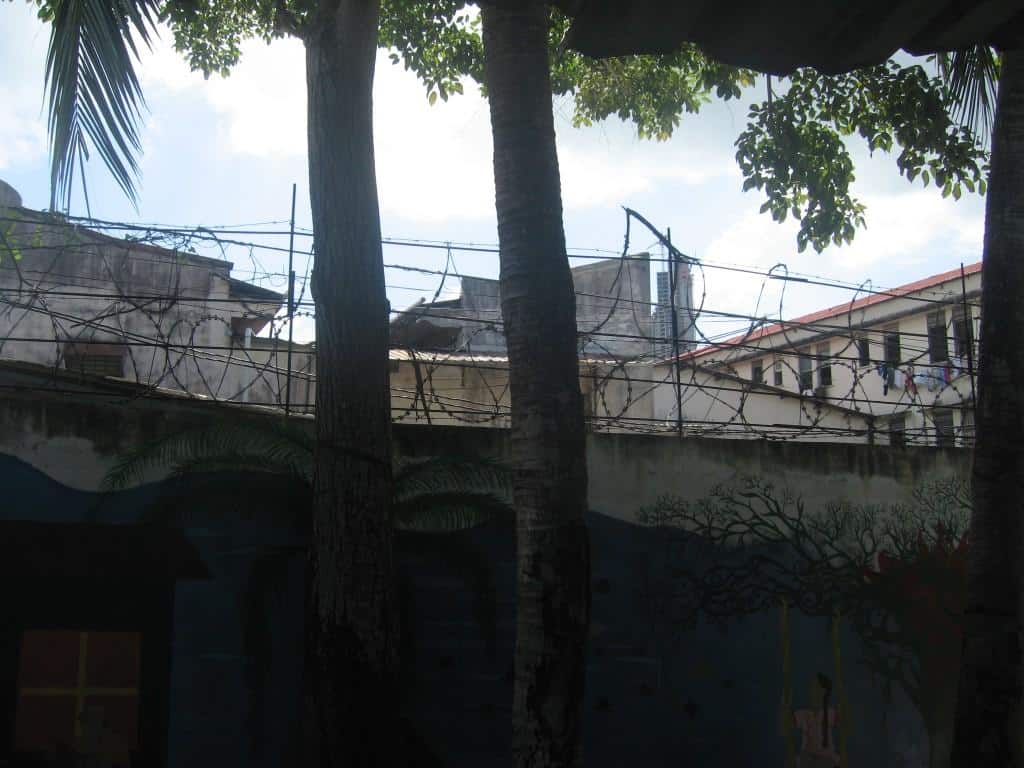 Although I did at least make one friend! :)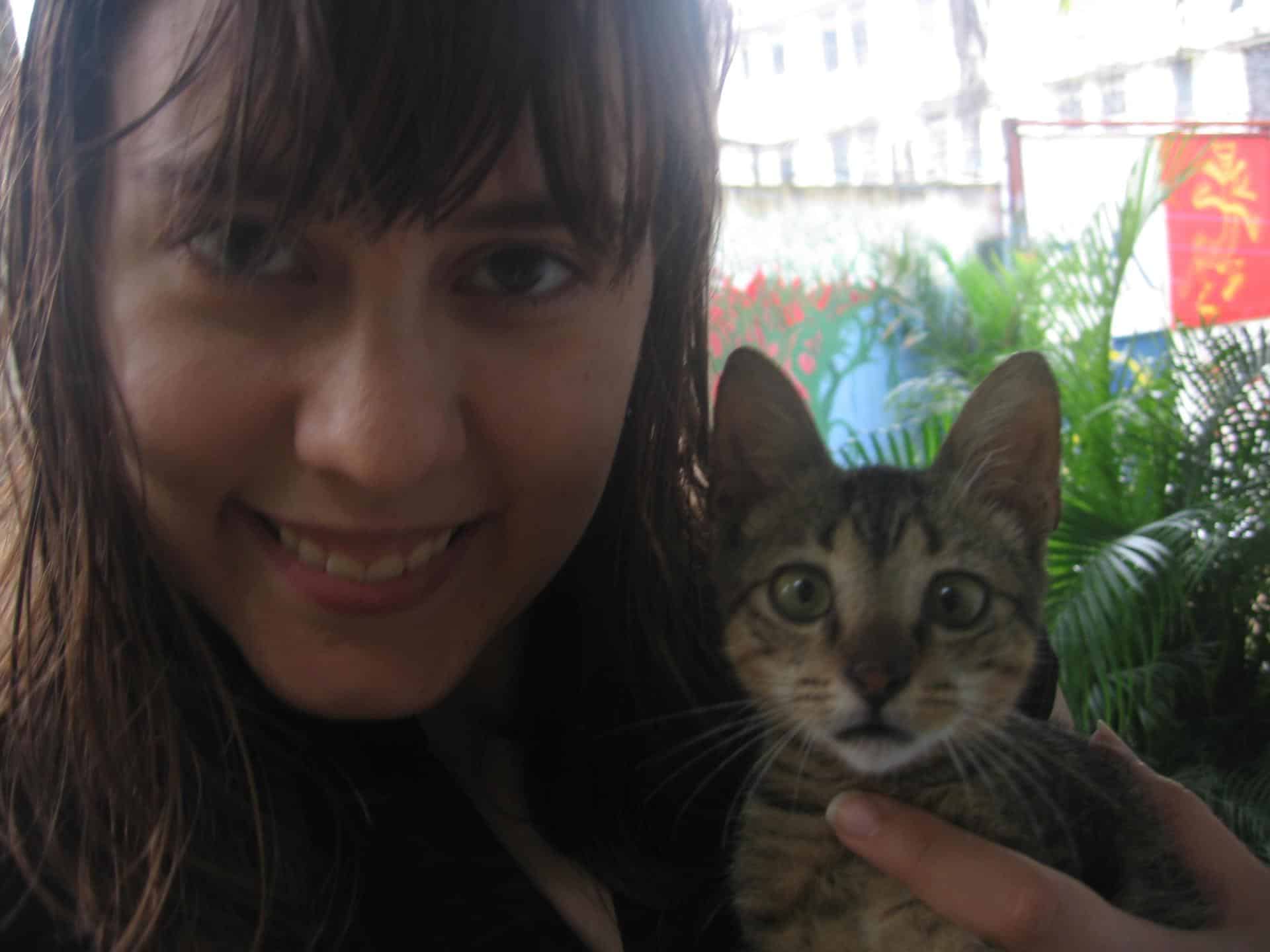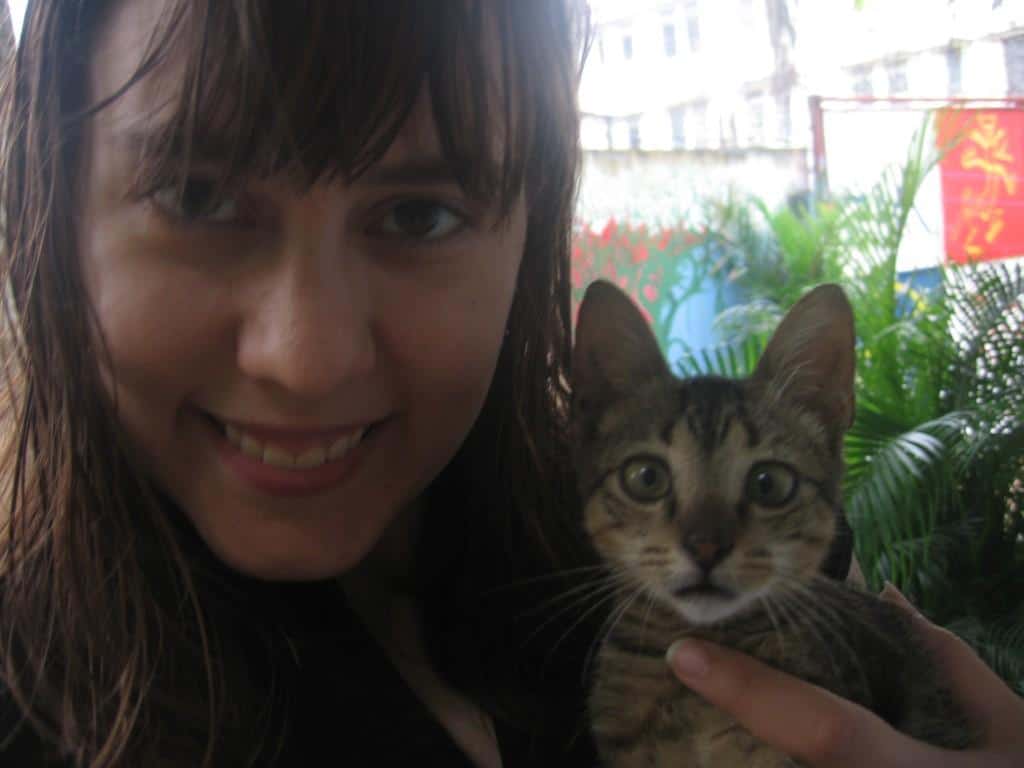 Because I ended up cooking in the hostel each day, I didn't get to experience Panamanian cuisine, sadly.  I mostly ate burritos!  However I recently came across this intriguing pink potato salad, which is apparently popular party fare in Panama, so I decided to veganise it and try it.  The pink is from the beetroot in it.  I ended up buying some vacuum-packed beetroot I found in Tesco — I'd never seen beetroot packed like that before (I think it may be common here though) and it turned out it was precooked.  Because I wasn't cooking it with the potatoes and carrots (as directed in the recipe) I just added a bit of the juice from the vacuum pack to the salad to give it the pink colour.  It ended up being tasty, although not the most photogenic dish!
Ensalada de Papas / Panamanian Potato Salad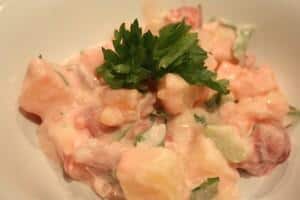 Makes 4 servings
Ingredients
4 large potatoes, peeled and diced
1 carrot, peeled and diced
1 beetroot, peeled and diced
1 stalk celery, finely chopped
1/2 onion, finely chopped
1 clove garlic, minced
1 large handful parsley, chopped
1/2 cup vegan mayonnaise
1 tsp mustard
Salt and pepper to taste
Instructions
Boil the diced potatoes.  When they are about halfway cooked, add the carrots and beetroot and cook until you can pierce them easily with a fork.
In a large bowl, mix together the parsley, celery, onion, garlic, mayonnaise and mustard.  Add the cooked potatoes, carrots and beetroot and mix everything together.  Add salt and pepper to taste.