This is perhaps the most belated review of a vegan snackbox ever, and for that I apologise! I was very kindly sent a box by Vegan Cuts in December for review and somehow this got lost in all the holiday rush. However the review still holds!
—
I've mentioned before that for years I lamented that they weren't any vegan box schemes similar to the US's Vegan Cuts until two came along at once: Vegan Tuck Box (which features goodies and treats that you can't usually get in shops) and The Vegan Kind, a lifestyle box which features household products and skincare products as well as tasty foods. Then I discovered that Vegan Cuts ship overseas. Suddenly there are loads of vegan box schemes to choose from! (Click here to see my reviews of the best vegan boxes.)
Vegan Cuts make two boxes: a snack box (which features lots of goodies which I can't obtain here in the UK) and a beauty box. They very kindly sent me the December snack box for review, which featured a lot of items I hadn't tried before since I can't get them here.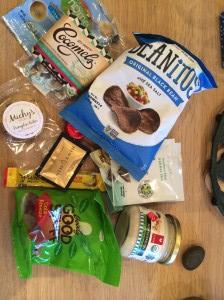 In the box (above) were the following items: mini vanilla cookies, pumpkin chocolate chip cookie, Cocomel coconut sea salt caramels (oh my god), a chocolate caramel from Sjaak's, small pack of Hint Mints, bean chips, several mint tea bags, a banana bar, horseradish flavour spread and gummy cola bottles.
Apart from the Goody Good Stuff cola bottles (which for some reason I thought was made in the UK until I received this package!), everything else was new to me and not available in the UK (as far as I'm away), so it was exciting to try all of it. I'm not a big fan of horseradish, so I gave away the spread to a friend who's a much bigger fan, but everything else was fantastic. The big hits were the Sjaak's chocolate caramel and the Cocomel coconut sea salt caramels, which were absolutely amazing. I'm no stranger to using coconut milk to make vegan caramel, and I'm in love with sea salt caramel (see: the most amazing ice cream ever in Boho Gelato, Brighton, and my addiction to churros dipped in sea salt caramel and chocolate sauce with vodka-soaked cherries, also in Brighton at Terre a Terre), so this was a match made in heaven. Wow. So. Good.
The bean chips also surprised me – I still can't for the live of me work out how you can make a tortilla chip out of bean…but it was good. Like an earthy tortilla chip. Would be good with salsa.
So if you want your own snackbox full of vegan treats, you can order from Vegan Cuts too – and as I mentioned, they ship abroad now! I think this would make a great treat or present for anyone outside the States who want to try some vegan treats that aren't available where they are.
Many thanks to Vegan Cuts for the box!