My Vegan Mofo theme is Suitable for Non-Vegans: delicious, non-scary food you can feed your non-vegan friends and family — food that will show them that you're not crazy (well, not crazy for being vegan!). Like my page on Facebook to get the latest Mofo/Suitable for Non Vegans posts.


I call this dish spinach "crack".  Sort of like how Boho Gelato's peanut butter sea salt caramel ice cream is called crack, with good reason.  Except that this crack is good for you (what?!).  Now, I don't advocate eating healthy desserts or eating something that's good for you just for the sake of eating something healthy — however, I do advocate eating healthy when it's tastes good.  And damn, does this sesame spinach taste good.  It's downright addictive.  I can't keep any in the fridge for more than a day!  Unfortunately it's not the most photogenic of foods but I tried to jazz it up in the picture with some bright panda chopsticks (aren't they the cutest?).
It started out with a recipe I found somewhere for horenso no goma-ae, a Japanese spinach dish topped with sesame seeds, which are normally mixed with soy sauce and rice wine vinegar, and possibly sugar.  At some point, I got tahini involved in the mix, and it created something very addictive.  I made it alongside
okonomiyaki
the other night, and my boyfriend/official non-vegan Taste Tester confirmed that even for the non-vegan, this dish is definitely addictive.
Serve as a side, or make loads and just eat the whole thing for dinner.  But whatever you do, don't plan on keeping any around.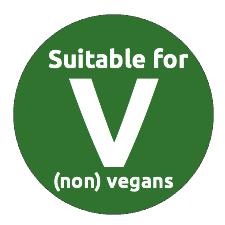 Spinach Crack
Makes 1 serving as a side, or more if you can (somehow!) make it last, but don't count on it

Ingredients
500 g washed spinach leaves
1/2 cup sesame seeds
1 tbsp rice wine vinegar
1 tbsp soy sauce
1 tsp sesame tahini
1/2 tsp agave nectar
1/4 tsp toasted sesame oil, optional
Instructions
Blanch the spinach by submerging in boiling water for 2-3 minutes, then draining and running under cold water immediately.  This preserves a bright colour.  Squeeze all the water out of the spinach by wringing it in your hands and set aside while you prepare the sesame dressing.
Prepare the sesame dressing by grinding the sesame seeds in a coffee or spice grinder, or a food processor, to a fine dust.  Mix the ground sesame seeds with the rice wine vinegar, soy sauce, tahini, agave and sesame oil.
Add the sesame dressing to the spinach and mix (I find it's easiest to do this with chopsticks) until the spinach is coated.  Top with additional sesame seeds if you want.