Mildreds kindly invited The Vegan Word along to the launch of Mildreds Camden.  Our London correspondent, Lucy Jewitt, reports on her experience.
It was only to be expected that our taxi driver couldn't find the new Mildreds restaurant.  It was the first night of its existence after all.  S. and I got out at the right end of Jamestown Road in Camden, a vibrant street of modern restaurants and bars, and tried to work out where number nine could be.  After a couple of moments, we realised the great glass facade we had been staring at had a discrete sign written directly on the window telling us we were there.  Mildreds is no longer limited to a sliver of Soho, it's loud and proud in Camden town.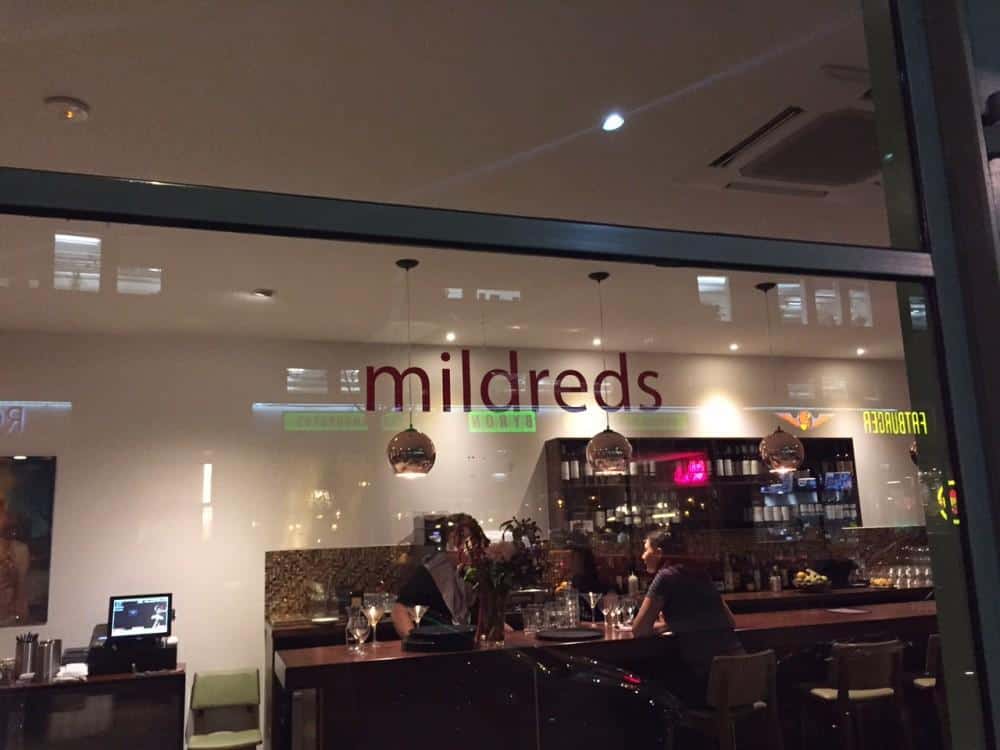 Photo by Lucy Jewitt
Walking into the large buzzy restaurant, my first thought was that mainstream vegetarian dining has arrived.  The low lighting and banquette seating, along with a very stylish bar, was more reminiscent of Crossroads in Los Angeles than a typical veg eatery in the UK.  The restaurant's PR and staff welcomed us to our table and we celebrated new-Mildreds with a toast of prosecco in old-style champagne glasses, which only enhanced the LA noir-ish feel.
The menu was a familiar selection of Mildreds favourites.  We ordered olives to accompany the sparkling wine and started with middle-eastern dips and flatbread.  The babaganoush had delicious smokey depth and the bread was chargrilled to perfection.  I opted for the Polish burger to follow; the taste and texture of the beetroot meant it exceeded anything trying to resemble meat.  I really liked the traditional Polish bun too, lovely chewy bread .  S. had the shiitake and tofu vegetable stir fry which was very tasty, though a little too salty.  We tried the chargrilled cauliflower and salad sides, both were good.  Discovering roasted cauliflower was a revelation to me a couple of years ago.  I don't know what alchemy happens to that often bland brassica when it enters an oven, but was delighted to see it on a restaurant menu.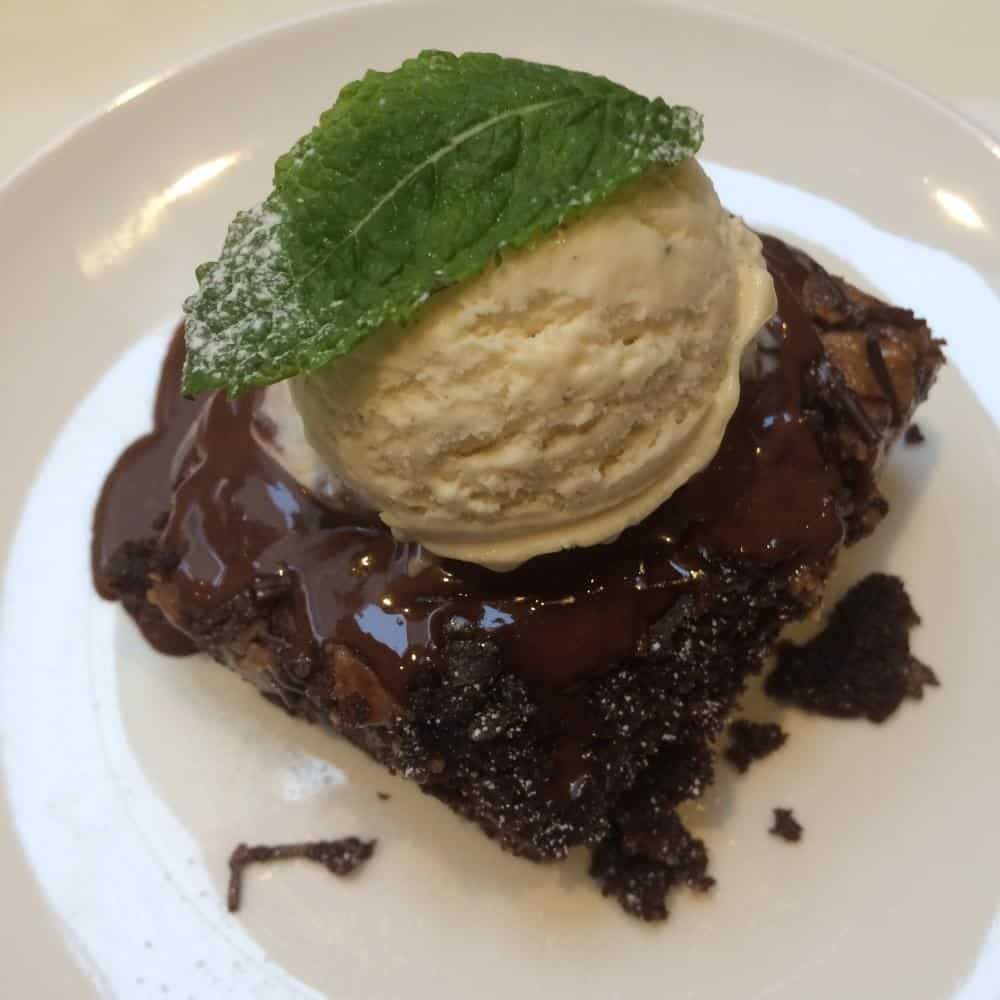 Photo by Caitlin Galer-Unti, taken at Mildreds Soho (along with the burger picture)
At dessert, our inexperience as reviewers really shone through.  We both went for the same thing instead of trying a selection to tell you about.  Blame the famous Mildreds peanut butter brownie.  I was distracted from the job in hand by the thought of warm brownie and cold ice cream united by a swirl of chocolate sauce.  Gorgeous.  And while I'm going off-piste with this review, I want to mention the coffee.  Not usually given a look in I know, but this was excellent and I can't be alone in thinking a meal is brilliantly rounded off or disappointingly let down by the quality of its coffee.
So far, so Mildreds.  The food was just as good as you would expect.  Many who have eaten at Mildreds Soho know that the service can be somewhat hurried; on this opening night, the staff in Camden were all extremely attentive and accommodating and long may it continue.  As above, I really liked the space itself, though it was just a little too noisy.  It's something that seems to be an increasing problem in restaurants as wooden floors and stripped down styling are used to create a clean, modern feel.  Plans for further development to the layout include greater screening between the bar area and restaurant and perhaps adding more to the space will help absorb noise.  The bar itself looked fantastic and I hope to enjoy many a Camden cocktail there in the future. 
For many years, Mildreds has done a wonderful job of giving vegetarians a place they can enjoy as well as somewhere to proudly take non-veggies, who in my experience soon lose all fear of a meatless menu.  I'm delighted that they have expanded to this cool new north London location where the fact it's a vegetarian venue will become irrelevant; anyone who appreciates great food and killer cocktails is going to love this place.
Mildreds Camden
http://www.mildreds.co.uk/
0207 482 4200
9 Jamestown Road
Camden , London
NW1 7BW
Please check the website for the latest opening times.
Mildred's is featured in my Vegan London Travel Guide! Click here to get your FREE copy of the Vegan London Travel Guide!
Many thanks to Mildreds for the invite and Lucy Jewitt for her reporting!