My Vegan Mofo theme is Suitable for Non-Vegans: delicious, non-scary food you can feed your non-vegan friends and family — food that will show them that you're not crazy (well, not crazy for being vegan!). Like my page on Facebook to get the latest Mofo/Suitable for Non Vegans posts.

If you have never had zucchini blossoms/courgette flowers, you need to make these. Soon. Delicate yet crispy, and filled with a decadent and creamy cashew ricotta, these are the best.
My most recent obsession with courgette flowers started on holiday in August to Sicily, where I managed to pick up a few packets for just a couple of Euros. I made some delicious risottos (risotti?) with the flowers, along with roasted courgette (in one risotto) and artichokes hearts (in the other). But I really wanted fried courgette flowers.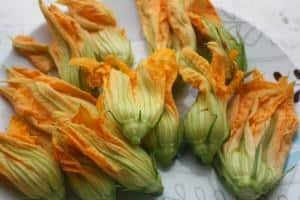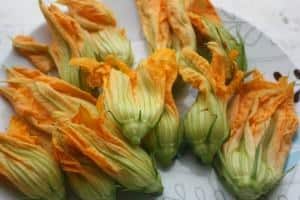 Then a couple of weeks ago I went to Bath one weekend with my boyfriend and we had dinner at Demuth's, a lovely vegetarian restaurant. I was so excited to see they had fried courgette flowers…but then so disappointed to learn they didn't have a vegan version! But I resolved to make my own version at some point, if only I could find courgette flowers. They don't sell them in Tesco or Sainsbury's, and while my boyfriend said we should grow courgettes next year, I was a bit impatient and really wanted them NOW. Then I remembered having seen them at a London farmer's market once, so last Sunday we went up to the farmer's market in Islington and I ran to the courgette flowers as soon as I saw them! I got a discount for two packets, but even so, they were more expensive than the ones in Italy. Still, it was lovely to finally have fried courgette flowers with ricotta. My Taste Tester (non-vegan boyfriend) loved these and kept raving about them, so these are definitely Suitable for Non Vegans. I suggest you make some as soon as you can (and while courgette flowers are still available in the farmer's market!).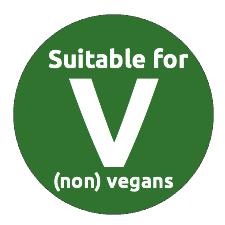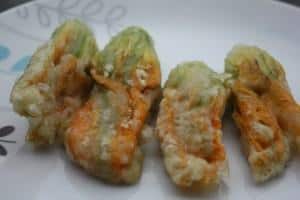 Fried Squash Blossoms (Courgette Flowers) Stuffed with Cashew Ricotta
Ingredients
12 zucchini blossoms/courgette flowers
1 cup + 2 tbsp very cold water
1 cup plain flour
1/8 tsp baking soda
1 recipe cashew ricotta, recipe below
vegetable oil
Instructions
Carefully peel back the petals on the courgette flowers and stuff with one or two teaspoons of ricotta each. This can be done up to 30 minutes before coating and frying them.
Prepare the flour and water coating for the flowers by mixing the cold water, flour, and baking soda.
Very carefully, avoiding splashing any oil, heat the vegetable oil (enough to be around 1/2-inch deep) in a frying pan or wok until it sizzles when you drop a tiny bit of flour-water mixture in to test.
Once the oil is hot, dip a ricotta-stuffed courgette flower in the flour and water mixture until coated, and place it in the hot oil. Repeat with the other courgette flowers, but be careful not to crowd the pan – you will need to fry these in batches!
Allow the flowers to fry for 2-3 minutes, until they are just crisp on the bottom, then flip over and cook for another 1-2 minutes.
Once the flowers are crispy, remove to a plate coated in a paper towel (place another plate upside down on top of the flowers if needed to keep them warm), and fry the other batches of flowers.
Eat while they are still crispy and warm!
Vegan Ricotta
1/2 package (approx 0.5 lb or 200 g) firm tofu, drained and pressed
4 tablespoons cashews
1 teaspoon lemon juice
1 teaspoons olive oil
1 garlic clove, chopped
pinch salt
2 tablespoons nutritional yeast
5 fresh basil leaves, chopped
pinch of black pepper
pinch oof Italian dried herb mix, optional
Instructions
In a spice grinder, grind cashews until fine.
In a food processor, blend cashews, tofu, lemon juice, olive oil, garlic, salt, nutritional yeast, basil, black pepper, and Italian herb mix until it forms a thick paste.
Adjust seasonings to taste.