Have you ever had zucchini blossoms (courgette flowers)? Apart from the sheer novelty of eating a flower, I love zucchini blossoms – they're a little bit floral tasting, a little bit zucchini-esque. They're delicate and yet they stand up to being stuffed with cashew cheese and fried. What's not to love?
When I found out they're a traditional taco ingredient, I have to admit I was floored. First, I had no idea they held any place in Mexican cooking – I'd only ever heard of them being fried, Italian style. Second, I just couldn't imagine what they'd be like in a taco.
The answer: freaking delicious. Get your hands on zucchini blossoms in any way possible (growing them, asking around at the farmer's market, begging a friend with a garden), or wait until you see zucchini blossoms available next (sadly they're out of season in most places now). They're worth the wait.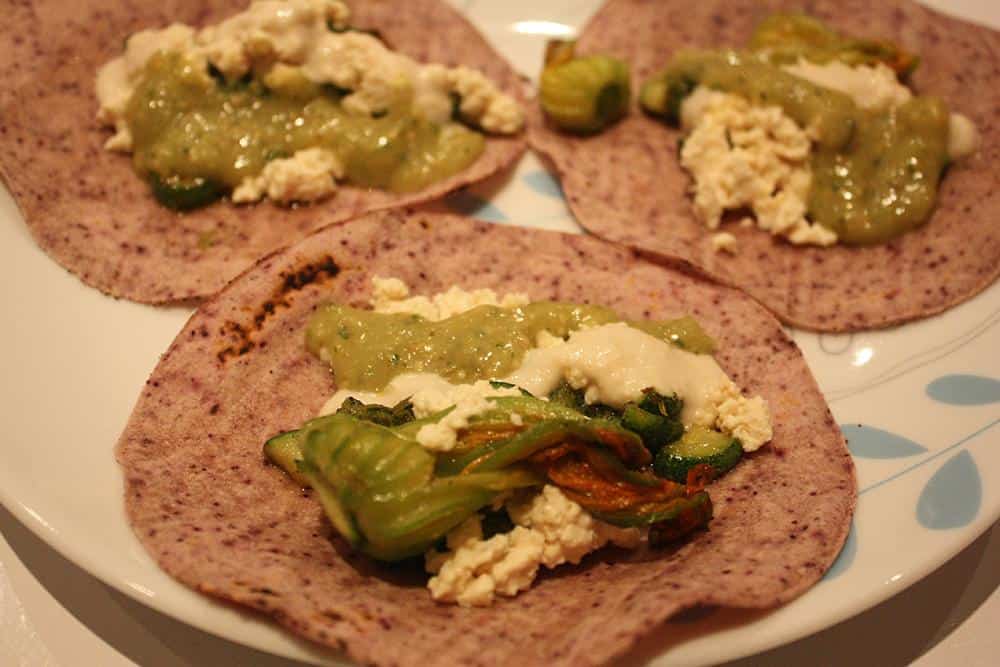 Zucchini blossom tacos (tacos de flor de calabaza) (gluten free)
Ingredients
6 gluten-free corn tortillas, heated up (if you have a gas hob/stove, definitely heat them directly over the flame – they taste slightly charred and so good! Just be careful with the flame!)

12 courgette flowers, fried (or more, up to 24, if you can get your hands on them and they aren't exorbitantly expensive like in London!)

2 tbsp vegetable oil, divided

1 courgette, grated and water strained out

1 courgette, diced very finely

Mexican spice mix (the one I used was onion, Mexican oregano and chilli – use your favourite combination!)

1/2 onion roasted (you can use the 1/2 of the onion not used in the tomatillo salsa)
For the vegan cotija cheese
400 g/14 oz firm tofu, drained and pressed and then crumbled

2 tbsp lemon juice

2 tbsp nutritional yeast

1/2 tbsp salt

1 tsp miso paste (make sure to get a gluten-free variety if you're making this GF)

1 tsp tahini
For the cashew crema
1 cup cashews, soaked in water overnight or ground in spice grinder

3/4 cup water

2 tbsp lemon juice

1/2 tsp agave, to taste

1/2 tbsp salt, to taste

+For the roasted tomatillo salsa

500g/1 lb tomatillos, husks removed and sap rinsed off in warm water (trust me, these guys are super sticky, you will need to rinse them really well!)

2 jalapenos

2 cloves of garlic

1/2 onion, peeled

Vegetable oil

1/4 cup fresh coriander/cilantro

1 tsp lime juice

Pinch salt
Instructions
Fry courgette flowers in 1 tablespoon vegetable oil. Remove from heat once cooked.

Heat the other tablespoon of vegetable oil. When hot, add grated and chopped courgette pieces and Mexican spice mix. Fry until courgettes pieces are soft and begin to brown.

To serve, heat up your tortillas. Then top with the grated and diced zucchini and zucchini blossoms, drizzle crema on top, crumble some vegan cotija cheese on, add some tomatillo salsa and finally finish them off with roasted onion.
For the vegan cotija cheese
Mix the lemon juice, nutritional yeast, salt, miso paste and tahini into a sauce. Mix with the crumbled tofu.
For the cashew crema
Combine everything in blender.
For the roasted tomatillo salsa
Preheat oven to 200 C/400 F/gas mark 6. Line a baking tray with aluminum foil.

Place the tomatillos, jalapenos, garlic (with skins on) and onion (peeled). Peel onion but leave everything else intact. Coat all of them in a bit of vegetable oil.

Roast in preheated oven for 30-40 minutes or until onion begins to brown. Remove skins of the garlic cloves and the stems from the jalapeno. Combine everything in blender.