All photos by Vanessa Vaz
I went to Paris a couple of weeks ago, just as a big snowstorm (well, big by Paris/London standards) hit; however, I didn't let that stop me from exploring.  It was actually really fun to see Paris in the snow, have a snowball fight along the Canal St Martin, and see snowmen and snowboarders across the city.  I was there to visit a friend, who was thrilled to show me around.  The last time I visited her was in autumn of 2011, and the vegan scene seems to have exploded since I was last there!  When I visited in 2011, I was incredibly disappointed by the vegan food; even the highest-rated restaurant at the time, Potager du Marais, disappointed.  This time I tried a number of restaurants that didn't even exist last time I was there.  Now, instead of one vegan restaurant and a handful of veggie places, Happycow lists 8 vegan restaurants. Unfortunately, my mobile was stolen while I was in Paris (it was snatched out of my pocket while I was listening to music, so the music suddenly stopped and I looked up to see a pack of guys running away), so I don't have any pictures of the food I ate.  Instead, my friend has kindly agreed to let me post some pics of Paris scenery that she snapped while I was there. You'll have to use your imagination with the food.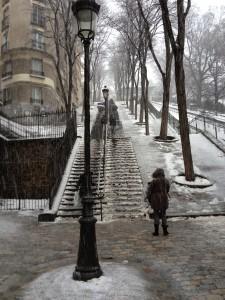 Gentle Gourmet
I arrived in Paris the first night cold and tired after Eurostar delays, so my friend took me to Gentle Gourmet to cheer me up.  And wow, did it work!  I had very low expectations for Parisian vegan food after my experiences in 2011, but Gentle Gourmet blew me away.  Not only was it the best vegan food I'd had in Paris, it rivalled some of the great vegan restaurants in London, like Manna and Saf (although I'd still choose Manna or Saf!).  We both opted for the fondue with bread, which impressed my non-vegan friend, who said it tasted exactly like cheese to her.  For dessert, we got an ice cream stuffed crepe drizzled with salted caramel sauce, and and an ice cream stuffed pain au chocolat (the waiter's own invention).  I was thrilled to have vegan pain au chocolat, as I haven't had it in so long (since the days when it was sold in Vx in London), and I'd never had vegan pain au chocolat in Paris.  It was delicious, and felt very appropriate!  The crepe was slightly disappointing, however; the salted caramel sauce was a perfect balance of sweet and salty  but I thought the texture of the crepe (maybe because it was cold) was a bit rubbery.  I prefer the recipe in Vegan Brunch by Isa Chandra Moskowitz — it is perfect and light, and my French friends all agreed it is just as good as the non-vegan version.
Nanashi
My friend was eager to introduce me to Nanashi, one of her favourite restaurants, a healthy Japanese canteen, so we went there for lunch.  For €16 each (food is expensive in Paris!) we got the bento.  Mine was an assortment of salads with a tofu burger (luckily I was with a native French speaker who was able to enquire about the burger and make sure they made it vegan for me).  It was tasty (and tasted healthy, it was the kind of food that doesn't weigh you down) but I have one bone of contention: I wouldn't have called it a tofu burger.  It didn't have a burger texture; rather, it was more like sauteed and flavoured tofu crumble in a bun, so I would have opted for the term tofu sandwich.  A minor quibble, but it was a bit disconcerting to expect the texture of a burger and get something soft instead.
Cafe Pinson
After our lunch at Nanashi, my friend and I grabbed almond milk lattes at Cafe Pinson, a veggie cafe nearby.  Unfortunately they were pretty disappointing (I'm not sure if we didn't like the coffee or if we just didn't care for almond milk in coffee — I think it might just be that I prefer something a bit creamier/richer in coffee), but I went back for lunch the following day to try out the food.  I got the €17 lunch deal (that's a deal? Like I said, Paris is expensive!), which included soup or salad, a main and a dessert.  I got the root vegetable soup, with risotto as the main (the only vegan option that day) and tried both the chocolate banana tart and raw cake for dessert.  The soup was good, but the risotto was a bit disappointing (it was disconcertingly sweet) and the desserts were disappointing as well.  I was particularly excited about the chocolate tart because it seemed very typically French.  However, the crust was too hard and the chocolate banana filling too bitter.  Still, the atmosphere made up for it.  Cafe Pinson is the kind of veggie cafe you want to show off to family and friends, with a modern, cool vibe inside.  I can also imagine grabbing a coffee and hanging out with a book or laptop, whiling away the hours.  It was also incredibly popular; despite having been open only a matter of weeks, it was packed.  The day we grabbed coffee, there weren't any seats available and even standing room (around the coffee bar) was limited!  It's great to see a veggie place doing so well so soon after opening; I guess it goes to show that Paris is ready for the veggie restaurant scene.
MOB
My last day in Paris we went to sample MOB.  My friend was really excited to check out this vegan burger joint.  I learned that it's the second branch, after the first opened in Brooklyn.  They serve burgers and pizzas.  I was pleased to find a place in Paris that was reasonably priced — finally!  We each had a burger (€4.50) with house fries (€2.50).  The burger came with a slightly spicy sauce, which gave it a nice kick.  It was really filling but I had to try a chocolate chip cookie, so I somehow made room in my stomach.  Now I know chocolate chip cookies aren't the most exciting thing to order in a restaurant, but I was curious to try their take and had read good things online.  I'm glad I did — they were the perfect American cookies, crispy on the outer edges and chewy inside, with plenty of chocolate chips.  A little slice of American vegan heaven in Paris.  :)
There are more places that we wanted to visit but didn't get a chance, so my friend said I'd have to come back to Paris soon to sample some more restaurants — and return to Gentle Gourmet.  I'm not arguing, now that Paris has so many great vegan places to try!