It's a piece of dairy-free cake being vegan at home, when staying in a hotel in New York, Portland or Paris, or even when you're visiting Morocco, Moscow or Miami, but what about when you're trekking 500 miles through rural Spain?
This week's reader question comes from a reader, who's planning to walk the Camino de Santiago this autumn, and asks how she can find vegan food on the trail. The Camino de Santiago is a historical pilgrimage route from the Pyrenees to Santiago de Compostela, Spain. An important pilgrimage site in the Middle Ages, it continues to be popular today, with over 200,000 making the journey each year by foot, bicycle or on horse or donkey (of course, the last option many would not consider compatible with a vegan lifestyle).
Rural Spain is not exactly renowned for its vegan options, so at first glance the Camino de Santiago might not seem like an easy place to maintain a vegan diet. However, I firmly believe it's possible to vegan anywhere in the world. And having written a vegan guidebook for a reader traveling on the Trans-Siberian railway through Mongolia and Russia, I'm firmly convinced that even the remotest rural regions of the world are not out of reach for vegan travellers.
After a little digging, I found that stories of vegan travellers walking the Camino de Santiago abound. So rest assured you'll be following in the footsteps of other non-leather hiking boots. The key, as with all vegan journeys, starts with research and preparation well in advance of your trip!
Anyone doing any kind of trekking is well advised to plan in advance and bring vegan ingredients with them (unless of course going with a vegan tour group!). The Camino de Santiago is no exception. Here's how to survive the Camino as a vegan.
Don't Expect Restaurant Staff to be Familiar with Veganism
Veganism isn't widespread in rural Spain (although it is growing), so don't expect restaurant staff will know what you mean when you ask for vegan food (or even vegetarian food, for that matter). Be prepared to explain what you do and don't eat. Check out my guide here on how to communicate you're vegan in any language.
Learn Some Spanish Phrases
You're planning your trip well in advance, right? So you have some time to learn a little Spanish! Take the time to learn some basic Spanish, including some phrases related to veganism. If you don't manage to learn any Spanish in time, download the Vegan Passport app to your phone (twhich explains what you can eat as a vegan in more than 80 languages).
Prepare your Own Food
The real key to having a successful vegan Camino de Santiago experience is to cooking your own food along the way. Most travellers on the Camino stay at albergues (pilgrim hostels) along the way, many of which have kitchens. If you plan your trip carefully, you can ensure you always stay at an albergue with a kitchen. Then, you can pick up ingredients along the way. Most villages have a place to buy food, but some smaller places don't, so make sure you always have some food in your pack.
As with any kind of trekking or camping experience (check out my book, The Essential Vegan Travel, for loads more tips!), you'll want to stock up on basic ingredients that don't require refrigeration and which are easy to transport. Think pasta, cornmeal, oats, bread, beans and pulses, dried fruit, nuts and fresh fruits and vegetables (note that later in the year, from October on, it can become difficult to find fresh fruit and veg, as some shops don't stock much out of prime trekking season). Make sure you have a good breakfast, and eat plenty of protein to feel fuller and refuel! You'll be walking a lot, so you'll be hungrier and require more food, so don't skimp, go ahead and buy the big pack of pasta!
You'll also save a lot of money by cooking your own meals, as a 'pilgrim's menu' at most restaurants along the way costs 10 Euros on average.
Bring Tupperware
This useful tip comes courtesy of Lessons Learned Abroad, who advises would-be pilgrims to bring a large plastic container along so they can easily pack up leftovers from their breakfast or dinner and eat them on the trail.
Bring Supplies with You (Including Emergency Food)
You should reserve part of your backpack for food (you can always live with fewer clothes, right?) and bring some supplies with you. Powdered soya milk, nutritional yeast and TVP are fairly lightweight and will help round out your meals.
Also make sure you have a supply of emergency food, like energy bars (Clif bars/Raw bars/etc). These should be in reserve and you should only use them if you can't find food anywhere else.
Take Advantage of Vegan-Friendly Restaurants when you Find Them
When you do come across a vegan-friendly restaurant, take advantage. Go wild, and fill up on food! Since you've saved so much money by making your own meals, you can splurge on a good vegan meal every once in awhile.
Here are a few vegan-friendly places on the Camino (note: these may have closed or may not be open out of season, so don't count on going to these places, and make sure you have plenty of food to cook just in case!):
Hospital de Orbigo
Albergue Verde
Fueros de Leon 76
https://www.facebook.com/albergueverde/
Don't miss this vegan and eco-friendly albergue, in which you'll find yoga classes, solar panels and healthy vegan food fresh from the garden.
Pamplona
Baratza Kafea
Travesia Bernardino Tirapu 5 (at Calle Rio Arga)
Vegan macrobiotic cafe with gluten-free options.
Larraisko
Calle Berrioplano, 4
Non-vegetarian restaurant with a vegan menu of the day (15 Euros for 3 courses).
Burgos
Gaia
C/ Fernan Gonzalez, 37 bajo
Vegan restaurant with a changing daily menu. Gaia has a vegan pilgrim menu for 10 Euros.
Cardamomo Vegetariano
Calle Jesus Maria Ordono, 3
Vegetarian restaurant with vegan options.
Leon
L'Union
C/ Florez de Lemos, 3
Vegetarian organic restaurant with vegan options.
El Colibin
Fernando González Regueral, 2
Non-vegetarian restaurant/bar with vegan tapas.
Murias de Rechivaldo
Meson El Llar
Calle Santiago 23
Restaurant with vegan options (owner is vegan) in small village.
Santiago de Compostela
Entre Pedras
Rua Hospitalino 18
Vegan restaurant offering snacks and bocadillos.
TS A Casa
Rua de San Pedro 113
Vegetarian restaurant with vegan options and fresh juices.
Plus plenty more non-veg restaurants with vegan options in Santiago de Compostela.
More vegan Camino de Santiago resources:
Vegan Camino
Lessons Learned Abroad: A Vegan Camino
Camino Adventures: Camino de Santiago as a Vegan
More Vegan Trekking Tips: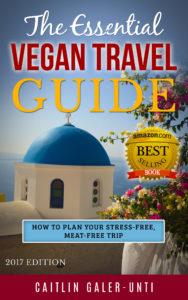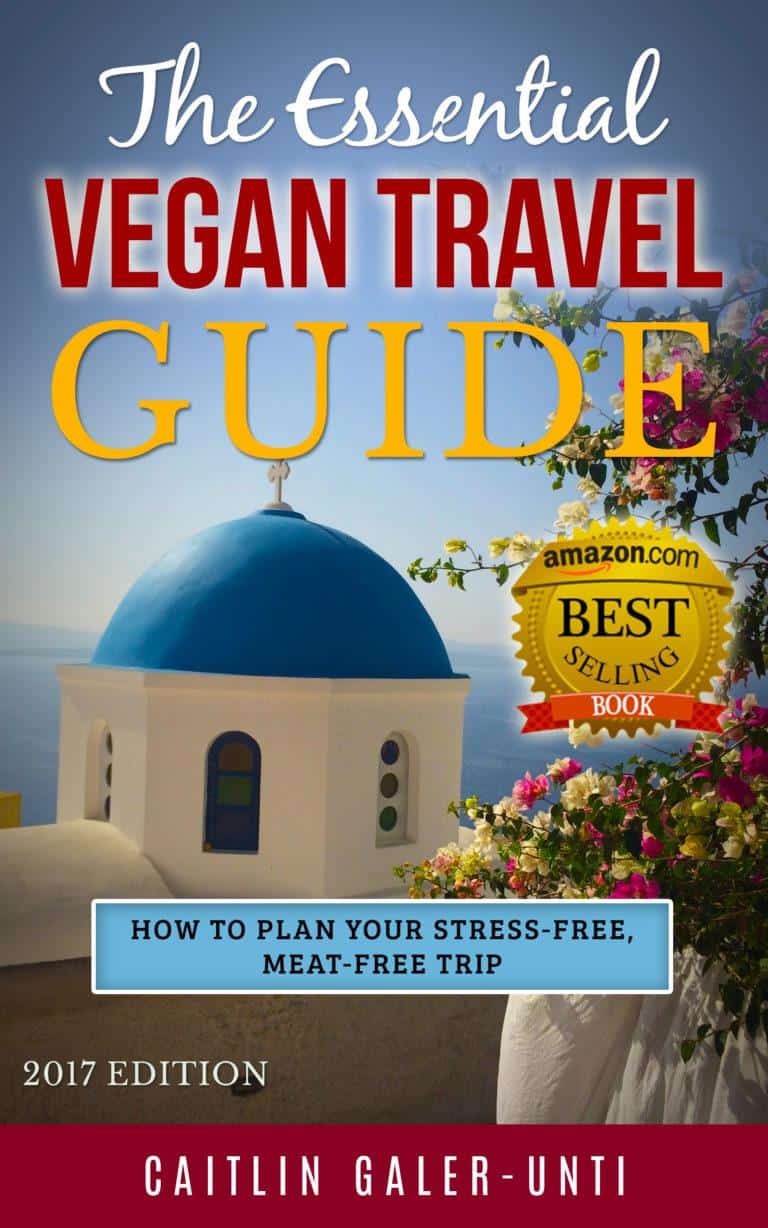 For more tips on vegan trekking and camping, check out the Amazon bestseller, The Essential Vegan Travel Guide. Don't worry, it weighs less than a pound and won't weigh down your pack on the trail!