My Vegan Mofo theme is Suitable for Non-Vegans: delicious, non-scary food you can feed your non-vegan friends and family — food that will show them that you're not crazy (well, not crazy for being vegan!). Like my page on Facebook to get the latest Mofo/Suitable for Non Vegans posts.

I can't believe Vegan Mofo's nearly at an end. For the last three days, I'm going to be doing a mini-series on risotto, prepared 3 different ways. That way, if you're ever faced with leftover risotto (wait…leftover risotto, what?!) you know how to make several other dishes with it. But first, let's start with a recipe for risotto. Don't panic if you've never made it before. Before I'd made risotto I had this vague idea that it was a terrifying dish to make; everything I read about it made it sound like you had to slave over the hob for hours. True, you do have to stir it pretty constantly, but it's not for that long of a period of time, and if you have a stirring helper, that time will pass in no time. If you don't have a stirring helping, I suggest you multitask and read something on your phone while you stir, or give someone a ring and ask them to chat with you for the next 15 minutes.
I tested this dish's suitability for non-vegans on my boyfriend (my official Taste Tester for the duration of Vegan Mofo — boy, is he going to be disappointed when the month's up), but he may be a little biased because risotto is his favourite dish. On the other hand, who better to test a vegan risotto? He was surprised and really pleased to discover that a risotto can be creamy without any dairy, and the vegan version is just as full of creamy deliciousness as the non-vegan version. It's a common myth that risotto needs cream or cheese to achieve the desired creamy consistency, when really the creaminess comes from the starch releasing from the rice as you stir it. Also, it has wine in it, and I don't think you can go wrong with a dish that has booze in.
The first few times I made vegan risotto I added cashew ricotta or other vegan cheese and once I added soya cream, but then when we were on holiday in Sicily I was faced with a vegan cheese-free and margarine-free kitchen and managed to make risotto that was just as delicious. Now I'm convinced you don't need cheese or butter to make a creamy risotto!
So read up for a surprisingly easy way to make risotto, sans cream and cheese. If you want to, you can add vegan cheese to it, but it doesn't need it. Feel free to make it with whatever 'extras' you desire. In the one in the picture I used one bunch of roasted asparagus and the zest of a lemon, but I've also made it with roast courgette (zucchini), artichoke hearts and courgette flowers.
And if you have leftovers, don't fear, because tomorrow and Monday's recipes will teach you what to do with the them!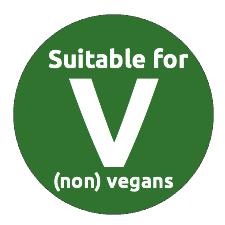 Easy, Creamy Basic Risotto
Ingredients
3 tbsp olive oil, divided
1 onion, chopped
2 cloves garlic, finely minced
300 ml white wine
400 g arborio rice/risotto rice
1 liter vegetable stock
1 tbsp vegan margarine, optional
90 g grated vegan cheese, optional
Extras: i.e. roasted asparagus, lemon zest, roasted courgette/zucchini, courgette flowers, mushrooms, artichoke hearts, etc.
Instructions
Heat the vegetable stock to a simmer and keep it simmering.
Heat 2 tbsp of olive oil in a large saucepan over medium-high heat. Add the chopped onions and fry gently until translucent. Add the garlic, and fry until just beginning to brown.
Add the rice and fry until the rice turns translucent, then add the wine. Keep stirring as the wine cooks off.
Once most of the wine has been absorbed by the rice, begin adding stock by the ladleful, stirring constantly. Once most of a ladleful of stock has been absorbed by the rice, add another ladleful. Once you have used most of the stock, taste the rice to see if it's cooked. You may need slightly more or less than a liter of liquid (if you run out of stock and you find that the rice does not taste fully cooked, you can add some hot water to the risotto). Keep tasting and adding stock until the rice is done.
Remove from heat, add the margarine and vegan cheese (if using) or if not, 1 tbsp of olive oil, plus your extras, and stir well. Put a lid on the pan and let it sit for 2-3 minutes. This is very important — do not be tempted to eat it early, it needs to sit to develop its creaminess!!