My Vegan Mofo theme is Suitable for Non-Vegans: delicious, non-scary food you can feed your non-vegan friends and family — food that will show them that you're not crazy (well, not crazy for being vegan!). Like my page on Facebook to get the latest Mofo/Suitable for Non Vegans posts.

Part 2 of my risotto mini-series, this shows how to use up leftover risotto by making an easy version of arancini, fried balls of risotto.  (Got breadcrumbs?  Good, you can make arancini!) Part 1 was an easy recipe for a super creamy vegan risotto without any vegan cheese or complicated subsitutions.
As soon as I announced I was making risotto for the first time, one of my friends told me I had to make arancini with it.  Arancini are fried balls of risotto, usually stuffed with cheese, and traditionally eaten in Sicily.  It wasn't until I went to Sicily that I discovered that arancini translates to 'little oranges' and therefore these balls are typically quite large — one or two is enough for a snack or even light lunch!  Not knowing this, the first time I made arancini I made tiny bite-sized balls to serve as a starter with some tomato sauce, and I think I prefer these.
My version of arancini are smaller so they have a higher ratio of crispy fried bit to creamy risotto interior, and you can't go wrong with more fried-ness (yes, fried-ness. It's a word because I said so)!  I didn't put any cheese in them, but you can include a small amount of grated vegan cheese in the middle if you'd like, or you could even put the tomato sauce in the middle as filling.  But let's keep it simple, shall we?  All you need for my recipe is leftover risotto, breacrumbs, and oil.  I used panko breadcrumbs for a stupidly easy coating that doesn't involve any egg replacer or flour (I found that risotto is sticky enough to make the breadcrumbs stick on their own); you can get these from any Japanese supermarket and some supermarkets (Waitrose in the UK carry them), but if you can't find them, you can use fine breadcrumbs.  This is so easy it can hardly be called a recipe!
I shallow-fried them in a wok with vegetable oil, but if you own a fryer, you could fry them in there.  However you make them, these are definitely a great way to use up any leftover risotto!  And naturally, like my other recipes for Vegan Mofo month, I tested these on my official Taste Tester (my non-vegan boyfriend).  I think he approved them, because his exact words were something along the line of "you are a bloody good cook".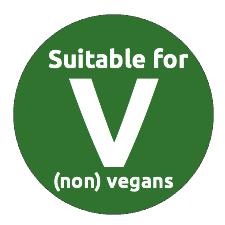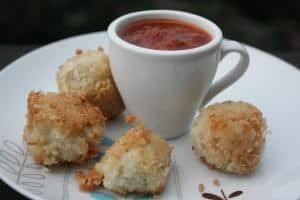 Easy Arancini
Ingredients
Leftover risotto
Panko breadcrumbs
1/4 cup+ vegetable oil
Tomato sauce, optional
Instructions
Carefully heat oil in a frying pan or wok over high heat.  Test if it's ready by sprinkling one drop of water in it; if it sizzles, the oil is hot enough.
Form small balls with the risotto and dip them in a bowl of panko breadcrumbs to coat.
Drop the breadcrumb-coated risotto balls in the hot oil and fry on each side for 5-6 minutes until they are golden and crispy.
Serve immediately, with your favourite tomato sauce to dip, if desired.